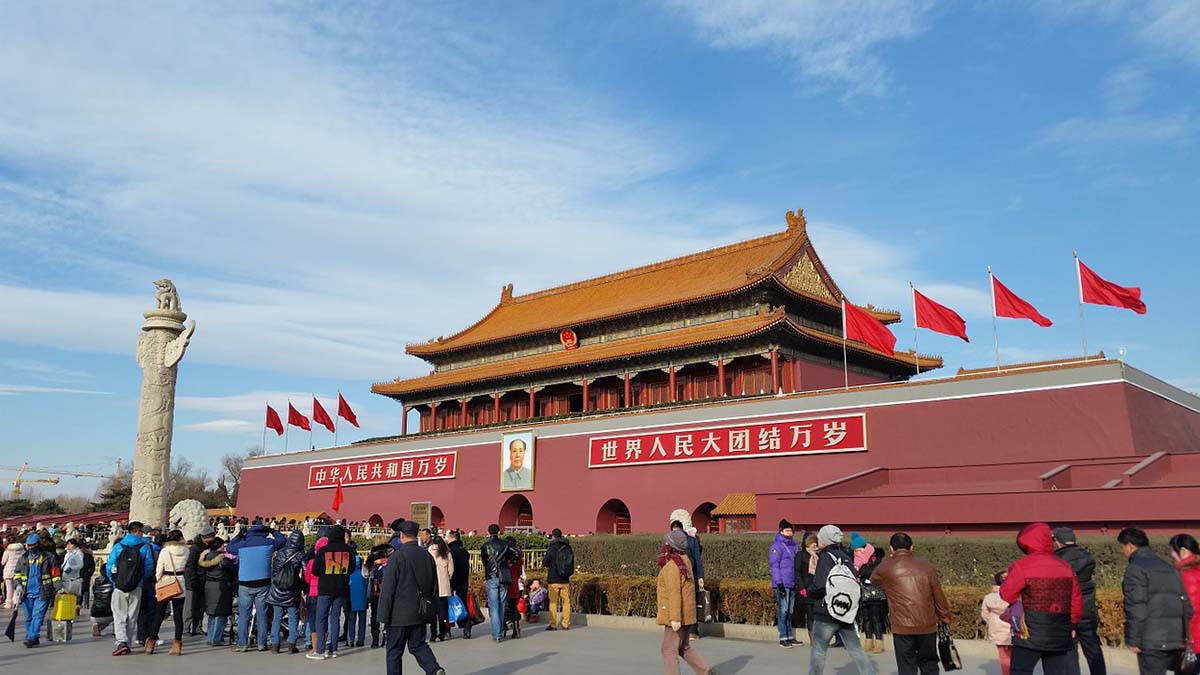 What to See, Where to Go, What to Do
by Marilyn D. Pennell
Beijing is buzzing with activity as it prepares for the 2008 Olympic games. If you're headed there for either business or pleasure, you're in for an unforgettable journey into the history and culture of a 5,000 year old civilization. China's capital city is packed with magnificent historical sites and out of the way alleyways teeming with life, just waiting to be discovered.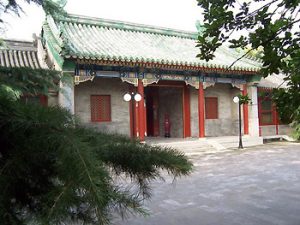 One of the first stops on your itinerary should be Tiananmen Square, the world's largest public square and the site of the 1989 pro Democracy student protests. During the summer, about 20,000 people visit the square every day.
Walking among the throngs, you'll encounter visitors from all over the globe trailing behind tour guides like eager puppies. A delightful sight is that of local residents flying kites and posing for photos next to the stern looking military sentries who stand guard. Much like the guards at Buckingham Palace, the sentries never crack a smile, but it's fun to try to get them to grin anyway.
A visit to the Mao Mausoleum, located in the square, is an eerie and strangely moving experience, Be prepared for up to an hour's wait to get a thirty second glimpse of the embalmed body of the former leader of the PRC.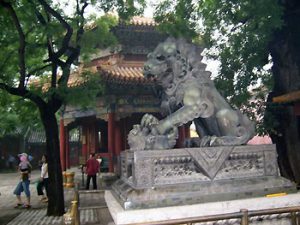 Mao's body has been on public view since his death in 1976. Rumor has it that there are actually two or more "Maos" i.e. the real embalmed body and a wax replica or two. What is perhaps most impressive in the mausoleum are the people of all ages who come to lay flowers at Mao's feet, a testament to his enduring legacy. If you ask a Chinese friend or a person on the street about Mao, he or she is likely to say that he was "Sixty percent right and forty percent wrong."
At the north end of the square, you'll be greeted by a huge portrait of Chairman Mao hanging above the Gate of Heavenly Peace. This is the entrance to the Forbidden City, a 200-acre complex that stretches over a maze of courtyards, towering gates and majestic halls. Yellow, the symbol of the royal family, is the dominant color. The roofs are built with yellow glazed tiles and even the bricks on the ground are yellow.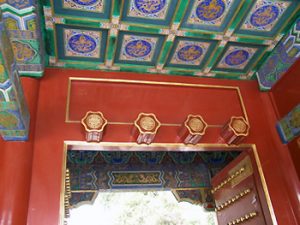 In imperial China, 24 different emperors of the Ming and Qing Dynasties lived here with their families and courtesans. It could take anywhere from two hours to a full day or more to soak up even a small part of the 500 years of history and culture that this vast labyrinth represents.
Even if you aren't a history buff, a visit to the Forbidden City will stir your senses and make you feel as if you have wandered onto the set of the film "The Last Emperor." It' s easy to imagine the Emperor's concubines and the palace eunuchs rustling through the vast halls built with striking traditional architecture. The curved roofs, colorful lacquered eaves and walls of red, gold and green are exquisitely crafted. Look up and you will notice the fine decorative details of dragons, delicate flowers and calligraphy etched on the brightly painted ceilings.
The Temple of Heaven south of the city center should be your next stop. It was originally built as a site for imperial sacrifices and prayer for good harvests. Followers of numerology and feng shui will be impressed with the fact that the temple grounds were designed with these concepts in mind. The three tiers of the altar represent the heavens, earth and mortal realm.
What seemed to attract the most attention the day I visited was The Circular Mound Altar. Here groups of students, seniors and the middle aged gathered, hopping up and down on a circular disc, laughing, stamping and yelling. I'm not quite sure what this was all about but it did seem to make the sound reverberate. It was a very hot July day so maybe people were praying for rain!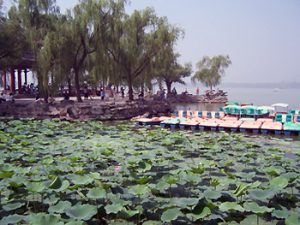 Take a step back in time to the days the Empress Dowager Ci Xi, at the sultry Summer Palace on the shores of Kunming Lake. Ci Xi a notorious and controversial figure in the history of imperial China. She came to the imperial court as a concubine and rose to power under the rule of her young son, The Tongzhi Emperor and her nephew, the Guangxu Emperor. At one point during her rule, she imprisoned her nephew, the Guangxu Emperor in order to establish herself as ruler.
On a bright summer day, the palace grounds are overflowing with throngs of people strolling along the promenade in their summer finery, shielding themselves from the sun with pastel parasols. The lake is covered in sweet green lily pads. Exotic multicolored dragon boats glide along as if floating on air and are available to the public should you desire a ride.
But don't try to hitch a ride on the Marble Boat. This "boat" is a two story, stationary building constructed of marble and stained glass. Ci Xi allegedly had the "boat" built with embezzled funds. Legend says that it was her favorite place to have tea.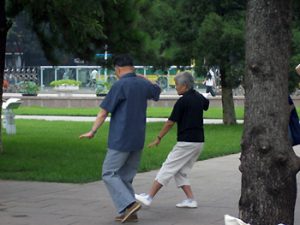 If you like people watching or want a more relaxed visit, go on a Sunday. This is when the locals come out to play. You can watch local people paint calligraphy poems on the sidewalk using buckets of water and big bristly brushes. On Sundays women perform traditional Chinese dances, couples enjoy ballroom dancing and people of all ages practice the slow and graceful movements of T'ai Chi.
One of the most memorable scenes on my Sunday visit was a group of older men playing "Jingle Bells" on traditional Chinese instruments, while a woman in a red dress sang classical Chinese songs nearby and another group of men and women played a lively game of Chinese chess.
The old Beijing is quickly morphing into the "new Beijing." Though much of the ancient charm is still evident, every day old buildings are being torn down and rebuilt, much to the chagrin of many locals. So, to discover hidden gems, one has to search and spend some time away from the crowds. These are just a few of the many "small delights" you may find along the way.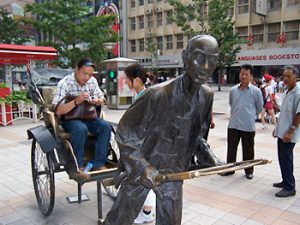 To experience the old Beijing, a visit to a "hutong" is a must. Hutongs are narrow back alleys formed by rows of siheyuan, or traditional courtyard homes. Here, life is lived on the streets. It isn't unusual to see groups of people sitting in the alleys playing cards, hawking vegetables and cooking food on outdoor grills. Though it may seem a bit touristy, a good way to see and experience the hutong is a tour by pedicab. My tour included a stop at a traditional courtyard home where our group helped make a lunch of Chinese dumplings with the family who lives there.
The most visited religious site in Beijing is the Tibetan Buddhist Lama Temple. What makes it special is that it is a place to appreciate the fervent and moving devotion of Buddhists in China. The atmosphere is almost intoxicating. The smell of incense floats among the pagodas painted in red, green and gold, as worshipers light joss sticks and clasp their hands in prayer.
BEYOND BEIJING: THE GREAT WALL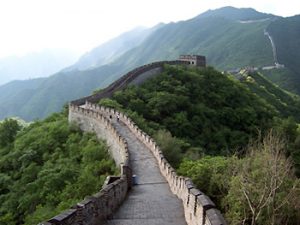 What's so great about the Great Wall? There isn't enough space here to list everything that makes this iconic creation the stuff of legend. It stretches along a winding path from the Yellow Sea to the Gobi Desert, through five provinces and two autonomous regions. Whether seen from a distance or up close, breathtaking is about the only word that can come close to describing it.
The three main public entry points are all about a drive of an hour or two from Beijing. The Great Wall at Mutianyu is located about sixty miles from Beijing. This is the section of the wall that former President Bill Clinton visited. They say his name is inscribed on one of the cable cars.
At Mutianyu the walk from the parking lot to the lowest point on the wall is a strenuous hike. Fortunately, you can also take a cable car. At the wall, after hopping off the cable car, I was a bit surprised to see groups of Chinese businessmen on cell phones, a man dressed up like Genghis Khan and grannies with small children out for a day of hiking.
One of my sweetest memories of my meanderings along the Great Wall is of a young Chinese couple with their toddler-aged son. The little boy couldn't have been more than two years old but he toddled along the rocky path like a trooper.
At the end of our afternoon at the wall, my travel mates and I had the option of taking an alpine slide back down the slope. Since I was loaded down with cameras, I opted for the cable car. But my companions, all of whom were sensible adults, said the slide was a great way to finish the day. If I had it to do over again, I'd take that slide, too.
If You Go:
Beijing Tours Now Available:
Private Walking Tour Forbidden City
Jinshanling Great Wall Group Tour with Lunch
Confucius Temple and Imperial Academy Walking tour
For More Information:
The China National Tourism Office at www.cnto.org or www.chinatravelservice.com.
Getting Around:
Your best bet is to hire a Chinese speaking guide since English is not widely spoken and the attractions are spread all over the city. The prices for guides are reasonable and you'll enjoy the city more with someone who knows the lay of the land. Taxis are inexpensive though most drivers don't speak English. Chinese taxis are not as roomy as Western taxis. Most can only fit four average sized people, at best. If you're headed to the Olympic games a new Beijing subway line built to accommodate the games, will open in summer 2008. The line will run between the city center and the Olympic Green, the park-like complex where the new National Stadium and other prime Olympic venues are located.
Shopping: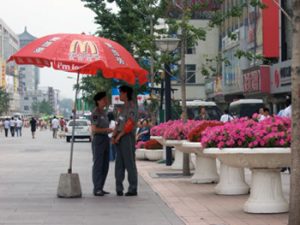 If you like shopping, be prepared to bargain. It's almost a game in China and the salespeople have fun with it. Bring small change. For silk goods and souvenirs, try the multi floor Xiushui Silk Market located in downtown Beijing. Beware of the knockoff designer labels – the market is notorious for fakes. But you can also find some quality silks here, though you should watch out for polyester being marketed as silk! If you're looking for good buys in pearls and jade, the Hongqiao Pearl Market is terrific. There are five floors with all types of jewelry shops. I recommend Sharon's Store for pearls. (This is where international celebrities shop). The market is located near the Temple of Heaven. For ultra modern mall shopping, go to the Wang Fujing Street area. Here you'll find real designer clothing, Starbucks and of course, McDonalds. This is "western style shopping" – no bargaining allowed! The street has two major shopping malls, one of which, Oriental Plaza, sprawls a further two blocks to the east (and another 15 minute walk).
Travel Tips:
Get a business card written in Mandarin from your hotel before you venture out. If you get lost, it can be a lifesaver.
"BYOTP" i.e. Bring your own toilet paper. Public buildings in China usually do not provide it. So, don't leave home without your own supply.
A good way to begin your tour of the Forbidden City is to rent an audio player with headsets at the entrance that can help guide you through the main hall of the complex.
When visiting temples in China, dress appropriately. Women should avoid low cut tops and shorts and men should wear conservative shirts and pants. Be aware that people come to worship so try to be sensitive with cameras. In general, Buddhist monks are not allowed to be photographed.
About the author:
Marilyn D. Pennell is an award winning writer, teacher and filmmaker based in Massachusetts. She recently circumnavigated the globe for four months as a faculty member on the Semester at Sea, visiting 11 ports on four continents. In July 2006 she traveled throughout China as a Fulbright Hays Fellows, studying its history and culture. Contact: Marilynvdp@hotmail.com
Photo credits:
First Tiananmen Square photo by clarkelz from Pixabay
All other photos are by Marilyn D. Pennell.