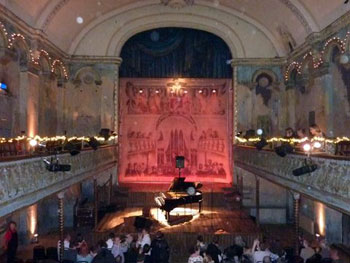 London, England
by Helen Moat
Early evening in London and its dark and cold, just a few weeks off Christmas. Whilst people are thronging the pavements of Oxford and Regent Street, I'm making my way down Grace's Alley, a quiet paved lane somewhere between Tower Bridge and St Katherine's Dock in Wapping.
As the London traffic hums faintly in the distance, I stop outside an old crumbling building, the walls oozing patchy brick-red and mustard-yellow; a cracked wooden double door bearing the last remnants of faded paint. Surrounding the door frame, the stonework is exquisitely sculpted. It feels as if I have stumbled into a Dickensian scene.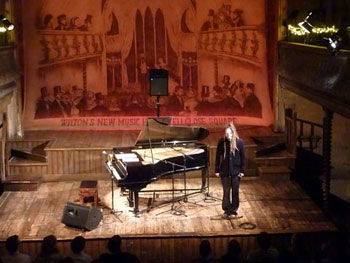 Wilton's, the world's oldest surviving music hall, was opened in 1858. If its disintegrating walls could talk, they would have a few tales to tell. It began its life as a sailor's club (and possibly a brothel); then became a music hall. The burlesque lyricist and performer, George Leybourne, aka Champagne Charlie stepped onto the stage here, as did the dancers of the risqué can-can (only to be promptly banned). Sadly, Wilton's only initially survived a short 20 years as a music hall. In 1877, the hall had to be rebuilt after a disastrous fire. Soon after, this place of twilight glamour was closed down and it took on a series of very different functions from Methodist mission hall, soup kitchen, refugee centre, safe house (from the fascists) to a sorting house for rags.
It was the only building in the area to survive the Blitz. But for years, Wilton's lay empty, neglected and forgotten but for the ghosts of the past. In 1997, Deborah Warner and Fiona Shaw (of Harry Potter fame) reopened it with an impressive stage production of T.S Eliot's Wasteland. It is presently managed by Wilton's Music Hall Trust, a dedicated team of people, who are determined to breathe life back into this magical, living piece of Victoriana.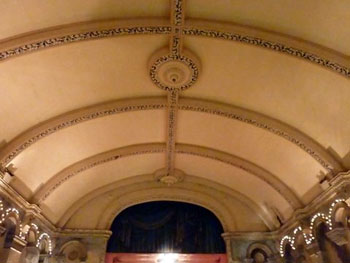 It's an almost impossible task, and the building (in its unsafe state) has come very close to closure. When I was there, I could see daylight appearing through the rafters in places. There were unsafe electrics, leaking plumbing, and floorboards in the bar so rotten that the number of people permitted at any one time restricted. The whole of the second floor was boarded up, unfit for public use. Even the stone walls were eroding in places. Yet, it's this forgotten, neglected state that's given Wilton's its indescribable atmosphere. It has the feel of Miss Havisham's mansion in Great Expectations – as if someone had stopped the clock on time and left the building in a state of decaying beauty.
Money has started to trickle in to save this extraordinary building. The custodians of Wilton's are determined to stop further deterioration and make it safe, but they also want to ensure that the haunting atmosphere contained in its faded glory is kept intact.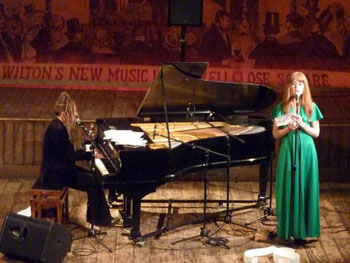 I head upstairs and into the Great Hall. I've walked into a Victorian fable. From the gallery a hundred fairy-lights cascade outwards from the centre of the ceiling. Yet more fairy-lights line the gallery's railings. Pastel frescos fill the peeling walls between great arches. The gilt banister is decorated with delicate, intricate detail. A red silk curtain drapes the stage. Musician and artiste Duke Special enters the stage, eyes black with kohl, long dreadlocks, draping shirt cuffs and velvet jacket. To his left sits a string quartet: Behind him a projector screen. For two hours, he sings and plays the piano – songs he has written to accompany the black and white photos of the renowned early twentieth century American photographers, Stieglitz, Steichen and Strand. The music (commissioned by the Met Museum in New York) is heart-wrenchingly moving, the images haunting. The beauty and timelessness of the music and the photographic images fit perfectly in this magical, ethereal building. A great deal of thought is put into the theatre pieces and concerts that are produced at Wilton's. The art, like the building, is sumptuous. So the next time you are in London, take the tube out to Wapping and to Wilton's Music Hall and step back in time. Book a tour, or better still, one of their exceptional shows. You won't regret it.
If You Go:
More info on Wilton's Music Hall, Duke Special and Stieglitz, Steichen and Strand at:
www.wiltons.org.uk
www.dukespecial.com
www.youtube.com/watch?v=F_VdxPtlnso
www.sphericalimages.com/wiltonsmusichall/index.html (Virtual Tour)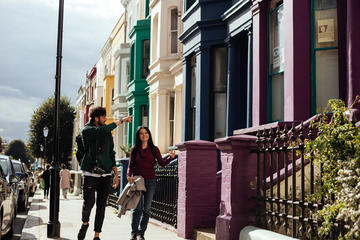 Private London Music & Art Tour
About the author:
Helen Moat is a British teacher and travel writer. She has won several travel writing competitions, including runner-up with the British Guild of Travel Writers, and has been published in The Daily Telegraph. Her greatest passions in life are music, travel and writing (not surprisingly). Find other travel pieces by her at:
moathouse-moathouseblogspotcom.blogspot.com
All photographs by Gail and Michael Watts.