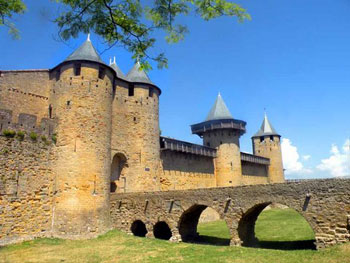 Southern France
by Tom Koppel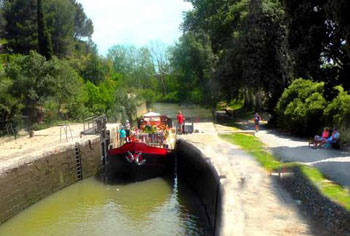 The captain and deckhand swiftly dismantle the roof and windows of our boat's raised wheelhouse as an ancient stone bridge comes into view. We crouch and duck our heads; the vessel just barely fits underneath. Beyond, the boat slips serenely along on a ribbon of green under a shady canopy of plane trees. At the occasional break in the foliage, we spot a tall church spire, sprawling vineyards and the distant snowy peaks of the Pyrenees. Our captain will not need to replace the wheelhouse for days to come. It is May, and the weather remains blissfully warm and dry. Welcome to the Canal du Midi, which crosses Languedoc in the sunny South of France.
My wife Annie and I are among only four guests traveling on a lovely hotel barge, the Caroline, as it wends its way slowly westward for six days along one of the world's most remarkable canals.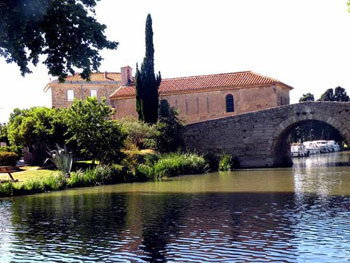 We arrive in the town of Beziers on the 330th anniversary of the canal's official opening. Gala concerts, sound and light shows, and fireworks mark the event. With narrow cobblestone streets, a beautiful hillside park, and inviting little outdoor restaurants, Beziers is the birthplace of Pierre-Paul Riquet, the genius who conceived and spearheaded the 150-mile long canal project, beginning in the 1660s. The goal was to link the Atlantic with the Mediterranean, thereby avoiding the dangerous journey around Spain and past the fierce Barbary pirates. Its design is unlike most other canals, in France and elsewhere, which are excavated trenches that generally follow natural river valleys and draw their water supply from those rivers. The Canal du Midi follows the contours of hillsides and crosses right over natural features like rivers and streams on the raised archways of elegant stone aqueducts. Its source of water is a large mountain reservoir. Near Beziers, the canal leaps up a steep stone "staircase" of nine consecutive locks and later tunnels through a low mountain. A 17th century engineering marvel.
Captain Uli Weber picks us up at our hotel, along with our Australian companions Jan Kenchington and Janette Frost, and drives us west out of Beziers to join Caroline, which we have booked through FranceCruises.com. Built in the 1920s as a classic Dutch sailing barge, the boat is brightly painted with graceful hull lines, upswept both fore and aft, and a broad, spacious main deck. We are greeted by Uli's wife Ute, who takes us below and shows us to our well-appointed cabins.
We had taken a barge cruise in France once before, but Caroline's ambiance is very different. Our previous boat, like so many on French canals, was larger and operated by a foreign-owned company. It was ultra-deluxe, expensive and a bit formal. However attentive and friendly, the staff of five were employees. They wore uniforms and went home at night. The cruise itinerary was arranged in great detail, with all side trips scheduled and both lunch and dinner menus for the week printed in three languages. We enjoyed it, of course, and perhaps that's the only way to organize boats that carry eight, ten, maybe twelve or more passengers. In fact, some may prefer to travel and socialize with a somewhat larger group.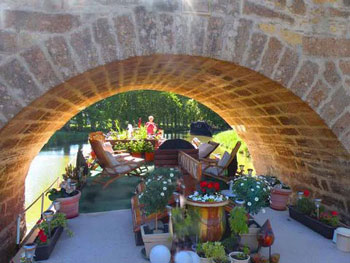 Caroline, however, is a much smaller and more intimate boat. Uli and Ute are the owners. They live aboard year-round and do everything themselves, which allows them to charge considerably less. He pilots the barge, is waiter at mealtimes, and serves as driver and highly knowledgeable guide during side trips in their mini-van. She is the five-star chef, with 250 cookbooks in her collection, as well as chambermaid and deckhand while docking or going through locks. From the first moments, we feel ourselves to be guests in a lovingly decorated home. It is an informal space that is planted with on-deck flower beds and studded with cushioned deck chairs, zany wooden sculptures, even a tiny pond full of fishes and water lilies. Although there is a cozy salon below, with a dining table, sofas and a wood-burning fireplace, we are favoured by good weather and take most meals up on deck.
And those meals are memorable. The first dinner opens with a cleared tomato soup, features breast of duck in a raspberry sauce, accompanied by ratatouille and champagne rice, and finishes with dessert and a wonderful assortment of cheeses. Subsequent dinners feature coq au vin, bouillabaisse, salmon mousse with scallops and black caviar served on a puff pastry, and leg of lamb dressed with garlic and Roquefort cheese. There are marvellous desserts like homemade strawberry ice cream on meringue and a superb creme brulee. Accompanying both lunch and dinner are excellent Languedoc wines, and always the cheeses for which France is so renowned. There are also fine touches, such as Ute's homemade preserves at breakfast and an ever-changing and quirky collection of salt and pepper shakers. Ute even picks wild herbs right along the canal.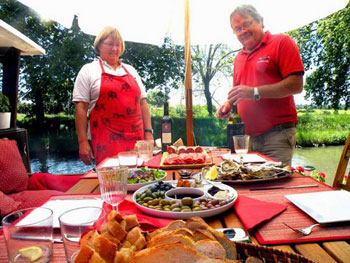 For guests who prefer to sample the many interesting canal-side eateries, the Caroline cruises offer a lower priced half-board option. Guests take breakfast and a large lunch on board but eat most dinners in nearby restaurants at their own expense. We do this one night and enjoy an excellent dinner with wine at a classic auberge within easy staggering distance of the moored barge. Another variation is to have lunch in a market restaurant during a side trip, or to select and bring back the fixings for a picnic lunch or a barbecue on board the boat. Uli and Ute are flexible and open to all suggestions. One side trip takes us to the morning market in a nearby town, where Uli invites us to select anything we want him to purchase for our lunch. There are at least 25 kinds of olives, prepared in different ways, and an amazing assortment of cheeses and dry salamis, with each vendor offering taste tests. I am eager to try the Mediterranean oysters, and Uli knows just who has the best shellfish. Back on board, Ute serves me half of them raw, and they are the freshest and most succulent I have ever eaten. The rest she grills lightly with Parmesan cheese and parsley for the others to taste. They are sublime.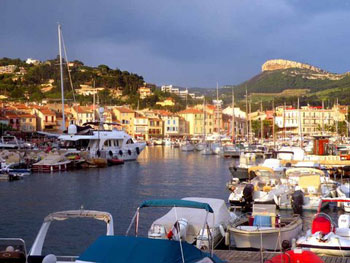 Most side trips, however, are focused on more than food. Languedoc is rich in historical sites. In Narbonne, we view a small excavated section of the Via Domitia, the ancient road that linked Rome with Spain. Hannibal probably passed this way with his elephants to attack Rome in 218 B.C. We tour the fortified hilltop village of Minerve. A little museum with dioramas tells the grim tale of how the redoubt was besieged and captured in 1210 during a papal crusade against the region's heretical Cathar Christians. Nearly everyone, including women and children, was slaughtered in the fighting or burned at the stake afterwards. Uli drives us to a hilltop to view a huge, strangely symmetrical depression in the land that stands out even from Earth orbit. It marks where a lake was drained around 1200 to eradicate mosquitoes. Local monks did this by digging a precise pie-shaped network of ditches that converge at the centre of an enormous circle, now planted in orchards and grape vines.
Nearly every day, Annie and I venture off a bit on our own, either on foot or riding the bikes carried on board, to explore the nearby villages. It is fun to walk ahead along the towpaths, where animals used to pull the barges, and wait for Caroline to catch up at the next lock. At one, there is time for a quick espresso, served by the lock-keeper's wife, while Uli steers the boat in and Ute handles the ropes. At another, the lock-keeper himself is a noted artist, whose off-beat works (mainly of welded scrap metal or carved wood) are on open-air display, and some are for sale.
All too soon, it is time for a farewell dinner and sad goodbyes the next morning. Uli drops us off in the medieval fortress city of Carcassonne, where we spend an extra day on our own, enveloped in the stunning architecture. And we cannot come this far south without spending a few days on the Mediterranean itself. We have heard that Cassis, just east of Marseilles, is the region's most charming little port and beach town. It proves to be the most dramatic as well, nestled between steep mountains with precipitous cliffs that attract rock climbers. We take an exciting boat excursion into the nearby network of calanques, which are short fjords lined by sheer rock walls soaring as high as 450 metres. We watch the men play boules in a park fringed with cafes. And we round out our visit to France by swimming in the Med from a crescent beach lined with palm trees. Our final evening, a rainbow appears in the sky.
If You Go:
France Cruises offers a wide selection of barge and other boat trips on canals and rivers in France.
– www.FranceCruises.com
British Airways has convenient connections to major French cities via London.
– www.BA.com
In Beziers, the friendly three-star Hotel Imperator is centrally located on the main boulevard.
– www.hotel-imperator.fr
In Carcassonne, the four-star Hotel Donjon offers quiet luxury right in the old citadel.
– www.hotel-donjon.fr
In Cassis, the two-star hotel Cassitel is close to the beach, restaurants and lively port action.
– www.hotels-capcanaille.com/cassi.html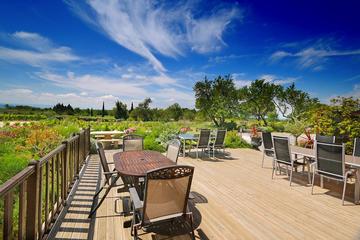 Winery Visit with Food and Wine in Carcassonne
About the author:
Tom Koppel is a veteran Canadian author, journalist and travel writer who has contributed travel features to numerous newspapers and magazines for over 25 years, including the LA Times, Chicago Tribune, Dallas Morning News, Columbus Dispatch, Georgia Straight, Globe & Mail, National Post, Islands Magazine, Sydney Morning Herald and Canadian World Traveller magazine. He recently completed his fifth book of popular nonfiction, about the South Pacific islands.
All photographs are by Annie Palovcik.