Coquitlam, British Columbia
by W. Ruth Kozak
I'm standing in line waiting to enter the big tent in Macklin Park, aware that I am surrounded by French-speaking folks. On this cold West coast evening, I imagine that I could actually be in Quebec. But this is Maillardville, a neighbourhood in the city of Coquitlam near Vancouver, BC.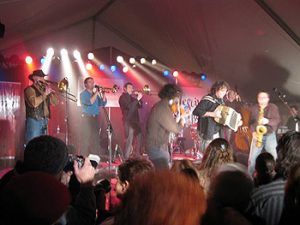 It's almost time for the evening show to go on and the enormous tent is already crammed to capacity. Long tables are set up, banquet style, occupied by hundreds of people, some of them sporting toques and sashes, some enjoying plates of French Canadian cuisine and a glass of beer or wine. The atmosphere is definitely festive.
This is Maillardville's annual Festival du Bois, an event celebrating it's francophone roots. Maillardville is the largest francophone community in Western Canada. It was built up by workers from Sherbrooke Quebec and Rockland Ontario in 1909/10 when skilled workers were recruited to work at the Canadian Western Lumber Company. Soon many other French-speaking people from across Canada arrived. The parish of Notre Dame de Lourdes grew under the spiritual guidance of Father Maillard, and the community took the name Maillardville in 1912.
You'll still hear French spoken in the community of Maillardville. The street signs, business and interpretive signs are in both French and English. Even some of the architecture reflects a "French" style. The Festival du Bois is held one weekend every March to promote French Canadian culture and language with music and dance. The Main Stage, daytime on Saturday and Sunday, offers a variety of artists melding traditional Quebecois, Celtic and World tunes. The highlight is the evening performance on Saturday night.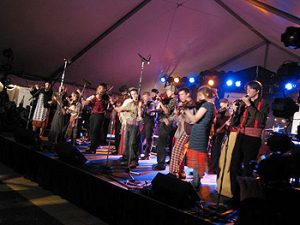 In the tent, announcements are made in French and English introducing the first group of entertainers. The stage is crowded with young adults, teen-agers and some kids no older than Junior High school. The North Shore and Coquitlam Celtic Ensemble (left) is a culturally diverse collection of about two dozen musicians from the Greater Vancouver area who have an international reputation, and it's not hard to understand why. With fiddles, guitars, percussion and wind instruments they perform lively Celtic music that soon has toes tapping and people step-dancing in front of the stage.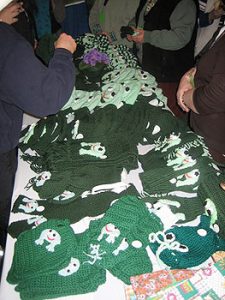 During the intermission there's lots going on. Venders have set up tables selling French-Canadian DVDs and videos. A popular spot is the table displaying home crafted souvenir "Frog" items, everything from frog toques and scarves to knitted booties and frog toys. Out in back there are lots of delicious French Canadian treats for your eating pleasure including Montreal-style corn beef sandwiches, tourtiere and maple sugar pie. I was disappointed to find there was no poutine available Saturday night. A plate of French fries heaped with the popular, typically Quebecois cheese-curd topping would have made the evening complete.
After intermission, the hand clapping and dancing starts again with the distinctly French Canadian foot-stomping rhythms of Juno award winning La Bottine Souriante (The Smiling Boot). This group has been at the forefront of Quebec traditional music internationally for over 30 years. They began back in 1976 in the Lanaudiere region of Quebec and have become one of the most popular tradition-based groups in the world.
The early French colonists called themselves les Canadienes (the Canadians) to distinguish themselves from les Francais (the French) who were natives of France. The Canadienes inherited a rich tradition of songs and dances from Northern France, and this explains the Celtic connection that Quebec still shares with Brittany, Ireland, Scotland and the Maritimes. In time, the French Canadians developed their own music, incorporating and transforming the styles of music played by the British settlers.
La Bottine Souriante melds French, Irish and Scottish sounds. Along with jigs, reels and ballads you'll hear salsa, ska, funk, Cajun, Latino and African melodic and rhythmic influences. Besides several Junos, the group has won FELIX awards and the BBC Folk Award for Best Live Act.
An exuberant, typically francophone mood permeates the tent. There are cheers as the band's lively percussive dancer, Sandy Silva, step dances across the stage, flirting with the fiddler, then dancing a lively foot-stomping duet with one of the other musicians. Strings of people, holding hands, dance up and down the narrow aisle between the tables. The entire tent is bouncing, vibrating to the beat of the music. My own feet can't stop tapping and moving to the rhythm. It doesn't matter if you don't speak French, or if you can dance or not. Like me you will feel part of the celebration, part of the joyous beat of the music and the camaraderie of this unique French-Canadian Festival.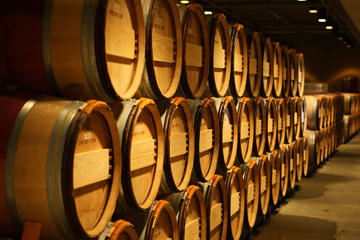 Fraser Valley Private Wine Tour and Bistro Lunch
More Information:
Maillardville's Festival du Bois: www.festivaldubois.ca
The North Shore and Coquitlam Celtic Ensemble: www.nscelticensemble.com
La Bottine Souriante: www.bottinesouriante.com
French-Canadian music: en.wikipedia.org/wiki/Music_of_Quebec
About the author:
W. Ruth Kozak is not only a travel writer, but also a historical writer. She enjoys the music, dance and folklore of many different cultures and growing up in Canada is particularly interested in the history of the French Canadians. Maybe it's her own Celtic roots, because she'd really like to step-dance! www.ruthkozak.com
Photo Credits:
All photos are by Paul Norton.