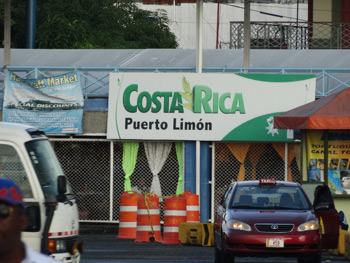 Tayuticha, Costa Rica
by Mary Ann Olson
Every year, thousands of coffee lovers flock to the Hacienda Puerto Limon Plantation to see how one of the world's finest organic coffees is harvested and processed. And for a bonus, visitors get to walk amongst some of the most tranquil countryside in the world and explore a historic hacienda.
Perched high atop one of Costa Rica's Turralba Mountains, the Hacienda Puerto Limon's gorgeous 800 acres offers a haven for hot and tired tourists. The plantation's peaceful vibe calms us down a notch or two from the moment we arrive.
The view and scenery from here are spectacular. Set against the bright blue sky, the Turralba Volcano sends out puffs of white and gray smoke into the clouds. A thick carpet of trees covers the surrounding mountainsides.
Far below us in the valley, we see a small, picturesque village with white houses and red roofs. Woven into a patchwork panorama of green grass fields and tall dark green trees, it looks intriguing. Nearby, a raging river cascades over huge rocks, leaving churning white water. Further away, a calm lake feeds the Reventazon River that flows into the impressive dam at one end.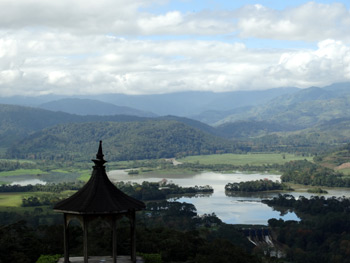 In the hacienda's grounds, we hear numerous varieties of birds singing softly in the trees. Green, violet and translucent blue-winged hummingbirds buzz and zoom around our heads in colorful blurs. They eagerly seek the nectar of the yellow, white and fuchsia flowers bunched around us.
Dogs, cats and goats roam freely around the plantation, lackadaisically raising their heads at our arrival. It's so quiet we almost want to take a nap, yet at the same time desperately want to explore the enticing grounds and hacienda.
We meander along stone pathways past perfectly trimmed tree hedges. Small palm trees and ferns grow among the flowers. The fragrant scent of vanilla and jasmine orchids completes the serene atmosphere.
It's time for the coffee processing demonstrations. We see how the coffee beans are cultivated, cleaned and roasted. And also how macadamia nuts and sugar cane are prepared.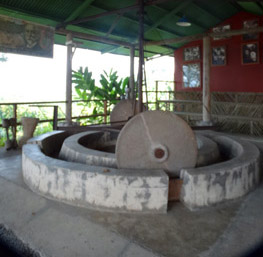 The red coffee berries are peeled and poured into a large concrete circular mill. Two men continuously push a heavy wooden arm around the mill crushing the beans against the concrete walls. We hear a loud grinding and crunching sound.
Now the crushed beans have a ground coffee texture. Finally, the crushed beans are thrown into a fiery furnace for roasting. A heady, powerful aroma of freshly made coffee permeates the entire building. We're salivating in anticipation of the tasting that follows. At the end of the tour we savor a cup of freshly brewed Costa Rican coffee. Bliss!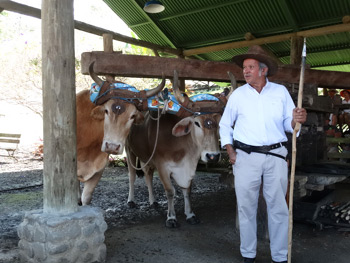 The plantation grows several acres of sugarcane. Brown sugar is extracted by placing the sugar cane stems through a wooden press. Two huge white oxen, walking around a circular dirt path, turn the press's immense wooden wheel. The pressure makes the can juice ooze out from the crushed stems, into a bucket. The juice is then cooked in a hot oven. Three workers then pour the juice into a mold.
We taste the dried brown sugar-it's very sweet. The brown sugar, macadamia nuts and a small portion of sugar cane juice, are hand rolled on a metal slab. Afterwards we taste the fresh fudge—it melts in our mouth.
Lunch follows on a terrace overlooking the valley. We're surrounded by a garden of orchids in an array of colors and dark green foliage. Our traditional Panamanian meal consists of organic black beans, rice, local vegetables, and chicken and sweetened plantains. Herbs and spices taken from the plantation's garden add a tasty flavor to the chicken. Delicious! For dessert: bananas cooked in hot sugar cane syrup-plantains.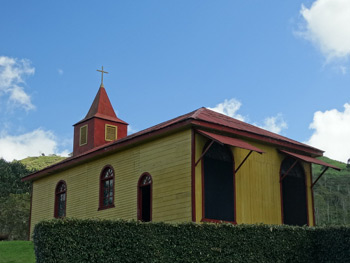 After lunch we walk up a short grassy slope, to the chapel. The Ortuno family chapel, built in 1880, has stained glass windows. The sun reflects brilliantly through them, illuminating the room with warm reds, blues, yellows and golds. Art adorns the walls. Statues depicting Christian figures came from Germany.
Further along the grounds, an elegant copper gazebo has become the frequent site of weddings and wedding vow renewals. Couples on the tour pose for romantic photos.
The hacienda store overflows with plantation products: ground coffee, coffee beans, tempting chocolate-covered macadamia nuts and boxes of organic brown sugar. The store also sells Panamanian crafts.
"If you're a coffee lover or not, this is a tour not to be missed", says one of our companions as we walk back to our bus. Everyone nods in agreement.
We turn back for our last glance of the natural beauty that is the Hacienda Puerto Limon Plantation.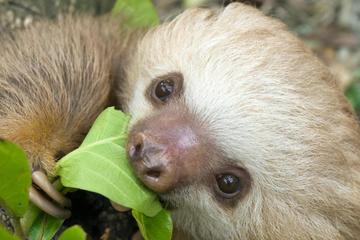 6-in-1 Combo Tour: Puerto Limon Highlights
If You Go:
This tour requires walking across stone pathways not suitable for wheelchairs and walkers. Wear comfortable walking shoes, sunscreen and a hat.
Tayutic Hacienda
Sitode Mata Pavone
3429-1000 Costa Rica
+506 2538 1717
About the author:
Mary Ann Olson is a freelance travel writer and photographer specializing in travel, culture, and nature. She resides in Florida.
All photos are by Mary Ann Olson.