ABOUT US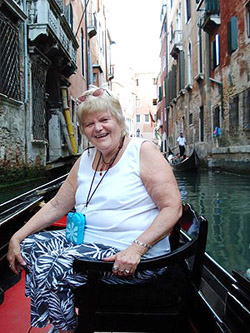 What began as W. Ruth Kozak's personal journey to visit, then live in Greece, motivated by her life-long interest in ancient history, has now emerged into this travel 'zine where other writers can share their experience of travel and life abroad.
Ruth has been a historical fiction writer since her teens and a travel journalist for more than 15 years. She also instructs classes on travel writing, creative and novel writing and memoirs. She has travelled extensively, often solo and always on a budget. She would like to share not only her own travel experiences, but also yours.
From your personal interest in the history and culture of these destinations, to your adventures in exotic places come and join our journey, explore with us and find yourself immersed in other worlds.


"Congratulations Ruth. I just went through your latest (web site) publication and found it to be of high quality and professionalism. The reports are well written and the images evocative. This the kind of travel journalism our industry needs."
- Best regards, Cornelius Myers cmyers444@bellsouth.net. (Mr. Meyers is an award-winning travel journalist, broadcaster and feature writer based in Miami and Monaco.)
Check out Ruth's web site at www.ruthkozak.com.
Read more of Ruth's writings here...
travelthroughhistory.blogspot.com
wynnbexton.blogspot.com
We are a participant in the Amazon Services LLC Associates Program, an affiliate advertising program designed to provide a means for us to earn fees by linking to Amazon.com and affiliated sites. We may also earn revenue from other affiliate links, which helps to defray the cost of maintaining this website.


---