CAPE TOWN: Top Historical Places And Monuments You Can Visit
S. Africa
by William Taylor
---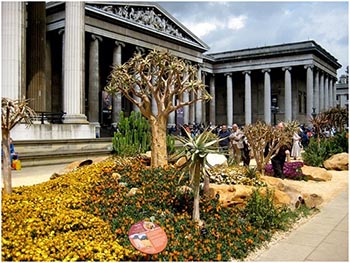 If you are passionate about history and about learning more about other countries' heritage, your visit to Cape Town will offer you a lot of opportunities to explore the vibrant past of the city. You can either go on an organized tour or create your own itinerary to visit some of the exquisite historical buildings and museums of Cape Town.
The city itself is an open museum, with national parks, mountain tops and scenery that will you breathless. Table Mountain in particular, is Cape Town's "watcher". The view of the bustling metropolis is outstanding from the top. As for historical places, avid travelers might want to cross off the following from the list:
1. South African Museum
A good place to start is the South African Museum, which focuses on the anthropological, geological and marine life of the continent. Their collection includes thousands of objects, some of them dating 120.000 years back. You will be able to admire fascinating rock art and stone tools, traditional costumes from centuries ago and objects from the everyday life of the people living here thousands of years ago. The museum also holds animal specimens, like 700-million years insect fossils, whale skeletons and depictions of dinosaurs that once inhabited the South African plains.
2. Bo Kaap
You will be mesmerized at the sight of this neighborhood in Cape Town, as all the houses are brightly colored in contrasting shades of yellow, fuchsia, green, blue and many more, making this area a breathtaking sight and wonderful destination. The romantic cobbled stone streets date back to the 18thcentury, making Bo Kaap one of the oldest residential areas in the South African city. The residents of Bo Kaap are the descendants of slaves that were brought here by the Dutch; after their emancipation in 1795, they formed this community and settled in this incredible place of amazing historical meaning.
3. District Six Museum
District Six is a former residential area of Cape Town that used to be a lively community of former slaves of all ethnicities and races. In 1966, during the apartheid era, the district was declared a whites-only area and more than 60,000 of its inhabitants were forcibly removed, on the counts that it is a crime ridden district that has no chance of improvement. In 1994 the District Six museum came into being, as a reminder of the lively community that once thrived here. The museum has a map of the district depicted on its floor and several formal residents had written notes on the places where they used to live. It's an emotional experience and it will teach you more the struggling past of this wonderful country.
4. Castle of Good Hope
Not only a destination for the history buffs, Castle of Good Hope is a top historical site to explore when visiting Cape Town. This is the oldest surviving building in South Africa and after its restoration in the '80s it is considered one of the best preserved examples of DEIC (Dutch East India Company) architecture in the world. Not only the Castle of Good Hope provides an insight on the country's colonial past, it also hosts numerous art and photography exhibitions for the tourists and locals, being an active cultural site.
5. Houses of Parliament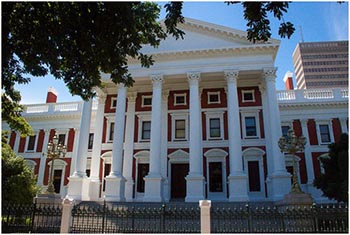 This impressive historic building has been the seat of the National Parliament since 1910 and it opens its gates for tourists each year when the Parliament is in session (first part of the year). Be sure to book a visit in advance if you're travelling from another country and get informed about any closed doors events. You can admire over 4,000 artworks collected by the gallery of the House of Parliament and enjoy a walk around the premises. The guided tours are free of charge and you can also book tours for groups of up to 25 people.


---
If You Go:
Cape Town is outstanding from all points of view. There are lots of other monuments, museums and places of interest travelers can visit. Most of them reveal valuable information about South Africa's culture, customs and traditions. Make sure to check out the ones above, and you'll learn to value the places and the people of the city even more.


---
Photographs:
All photos provided by William Taylor.

---
Contributor's Bio:
William Taylor is a travelling freak who has travelled many destinations around the world. He also loves writing about his traveling experiences and the places he has explored.