PRESERVING HISTORY
Cleveland, Tennessee
by Melanie Harless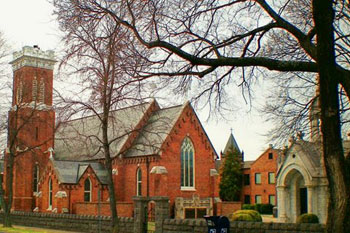 The growing city of Cleveland, Tennessee has a population of over 38,000. In late 2007, it was ranked nationally as one of 50 best places to raise a family by BusinessWeek.com. Also, Forbes Magazine found Cleveland to be one of the top communities in the nation to do business.
While a good place to do business and raise a family, it would hardly seem to be a destination for history buffs, but the town has made preserving history a priority.
When I visited, I headed first to The Museum Center at Five Points, a regional history museum with exhibitions, a store, and programs related to the history of Cleveland, Bradley County, and the Ocoee Region of Tennessee. The museum is located at 200 Inman Street East. The core exhibition uses the theme, River of Time, to trace the history of the area. This theme signifies the importance of the Ocoee, Hiwassee and Tennessee Rivers to the region.
According to Museum Director Lisa Lutts, the name Five Points came from the museum's location. The Five Points District is a place where five streets converge. It was a secondary shopping area for Cleveland and had several factories. In recent years, with the opening of the Museum, there has been a resurgence of development in the area with interesting shops and a Creative Arts Guild.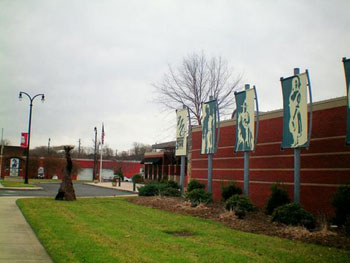 Glass etchings in the lobby depict visual images of living history characters that visitors may watch on videos while walking through the displays. These characters introduce seven time periods, from Coming to the Land (Prehistory-1804) thru Paths to the Future (1979-Present,) while artifacts represent the different times. A real wagon that came to Bradley County with settlers in 1839 can be seen as well as a kayak from the 1996 Olympic Canoe and Kayak Competition on the Ocoee River. There are also hands-on stations throughout for kids to enjoy.
In addition to the core exhibit, the museum has additional exhibits and programs. They are having their annual quilt show through March 12 and then their regional artists from the Tennessee Watercolor Society show March 25-May 20.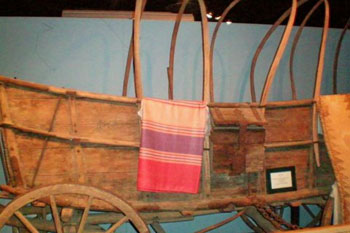 The Museum Store carries one-of-a-kind works created by recognized craft artists in Cleveland and a surrounding 250 miles radius of the southern Appalachian Mountains. You can find blown glass sculptures, hand-crafted jewelry, hand-made dolls, and more.
At the museum, they gave me a guidebook for the Walking Tour of Historic Downtown Cleveland and recommended places I might eat lunch while on the tour. The Museum was number one on the walk, so I had to walk only a few short blocks to see the next four attractions and to stop at number six, "The Spot," at 45 Ocoee Street, for lunch.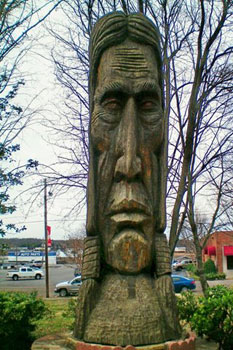 A little hamburger place which first opened in 1937, The Spot was originally known for its unique way of serving hamburgers...by throwing them to customers. They didn't throw my chili dog to me. The chili was made with the original 1937 recipe and was very good. They also told me they were famous for their "Frosty" malts long before Wendy's came along. For a more elaborate meal, Cafe Roma, in a historic building at 220 Ocoee Street that housed several successive newspapers from 1854 to 1936, looked like an interesting place for lunch or dinner.
At stop number five on the tour, Johnson Park, I found the Cherokee Chieftain, carved from a local tree by artist Peter Toth in 1974. It serves as a reminder of the region's significant Cherokee heritage.
Most of the tour is on Ocoee Street. There are many architecturally interesting buildings, including beautiful historic churches. One highlight is St. Luke's Episcopal Church, a Gothic Revival structure built in 1872. The Mausoleum behind the church is the subject of Cleveland's most famous ghost story, "Stains on the Mausoleum."
The Cleveland Public Library is housed in a home built in 1883. Originally about two-thirds the size of the present residence, the house was bricked and remodeled in 1940. In 1987, it became the library. A 5000-square-foot expansion began in 2001. Next door is the Carmichael Library Addition, another historic home recently donated to the library.
Lee University is number thirty on the tour. The site was Centenary Female College from 1885 to 1929. Bob Jones College purchased the property in 1933, and Billy Graham, their most famous student, was enrolled there for a short time. In 1947 the Church of God purchased the campus. It achieved university status in 1998 and is the second largest private university in Tennessee. The Lee Admission office is a beautiful old house, circa 1897.
After Lee, most of the stops on Ocoee are private homes, so I began the walk back to the museum down Broad Street which has a few more stops. The approximate length, round trip, of the walking tour is 2.5 miles.
I plan to return soon to visit other historical places mentioned in the guide that are not on the Walking Tour, especially the Red Clay State Historical Park where the Cherokee were notified of their tragic journey ahead, the Trail of Tears.
---
If You Go:
The City of Cleveland is the county seat of Bradley County, Tennessee, located in the extreme southeastern corner of the state. Cleveland is located 28 miles northeast of Chattanooga, 82 miles southwest of Knoxville, 124 miles north of Atlanta, 172 miles north of Birmingham, and 181 miles southeast of Nashville. It is located on Interstate 75, US Highways 11 and 64, and State Routes 60, 74, 40 and 2.
The Museum Center at Five Points hours are l0-5, Tuesday-Friday; 10-3, Saturday. It is closed on Sundays, Mondays and holidays. Admission is $5 for adults, $4 seniors and children, (under 5 free) The first Saturday of every month is free for everyone.

---
Photographs:
All photos by Melanie Harless.
---
Contributor's Bio:
Melanie Harless, from Oak Ridge, Tennessee, retired from her position as a school library media specialist in June 2006 and began pursuing a second career in freelance writing. Her first publication was a memoir in the Knoxville Writers' Guild Anthology, A Knoxville Christmas, 2007. Subsequently, she was anthologized in A Knoxville Christmas, 2008 and in Motif: Writing by Ear. Last year, she wrote a travel column called Easy Getaways for a local news magazine, Anderson County Visions. She also writes a newsletter for a local educational service organization in which she serves as co-president.