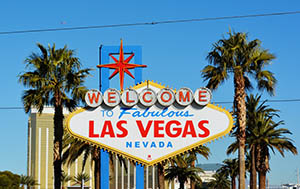 Las Vegas has always oozed glitz and glamour with its multitude of casinos, top entertainers and high rollers. But, no more than in the days of the Rat Pack, Liberace and Elvis, when millions of visitors flocked to a booming Las Vegas – often referred to as "Glitter Gulch" in its heyday. Even today, as people close their eyes and think of Las Vegas, nothing comes to mind more often than those magnificent, pulsing multi-colored neon signs in the middle of the desert that beckoned travelers and guests to fabulous Las Vegas.
Las Vegas wasn't always just desert. At its founding, Las Vegas was more of an oasis. The city traces its name and its roots to a Mexican scout, Raphael Rivera. A member of the Antonio Armijo trading party traveling to Los Angeles along the Old Spanish Trail from New Mexico, Rivera and his compatriots were looking for a watering hole. At the future site of Nevada's largest city, Rivera discovered fresh water artesian wells surrounded by verdant green valleys. The flows from these wells fed the Las Vegas Wash which runs to the Colorado River. In Spanish, Las Vegas translates to "the meadows".
By the early 20th century, water from these artesian wells was being piped into town. As a result, Las Vegas became a well-known water stop, first for wagon trains and later railroads along the trail between Los Angeles, California, and points east such as Albuquerque, New Mexico.
And it was in Los Angeles in 1923 that neon was introduced to the United States by Earl Anthony at his Packard Dealership. Soon after, brightly lit neon signs were capturing the nation's imagination. From the very start these amazingly colorful signs literally stopped Los Angeles traffic in its tracks lighting up the night much to the delight of awestruck drivers and pedestrians alike.
In 1931, construction started on the Boulder Dam, later renamed Hoover Dam during President Truman's administration. Las Vegas' population swelled from 5,000 to 25,000, primarily workers hired to build the dam.
Gambling was legalized in Nevada in 1931, and it didn't take long for word to get out that Vegas' greatest asset was not its artesian wells, but its casinos. Freedoms of the Old West like gambling and prostitution drew visitors and travelers from far and near. The allure of profits in these vices soon attracted East Coast organized crime.
Money from drugs and racketeering built the first of many casinos. Mafia bosses like Bugsy Siegel helped transform Las Vegas into one of the world's top tourist destinations. The transition of Vegas from western watering hole and construction worker bedroom community to its "Sin City" moniker of today was complete. Visitors flocked to the city to partake in the offerings of low-cost luxury and fantasies fulfilled.
In 1941, the El Rancho Vegas resort opened just outside the city's jurisdiction. Other hotel-casinos soon followed, and the section of highway became known as "The Strip."
Small gaming parlors began lining Fremont Street, setting the stage for a revolution in entertainment. Influenced by the neon-lit theaters of Broadway, Las Vegas harnessed electricity generated by nearby Hoover Dam to power Glitter Gulch, the arcade of hotel-casinos that followed the Golden Nugget's opening in 1946.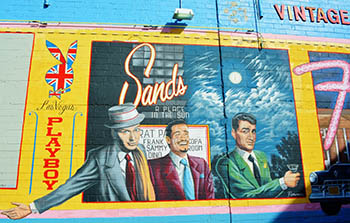 Neon put the "fabulous" in "Welcome to Fabulous Las Vegas". And Vegas was surely at its fabulous peak in the 1950s, 1960s, and 1970s. The "Rat Pack"- Frank Sinatra, Dean Martin, Joey Bishop and Sammy Davis, Jr. and other big name entertainers along with the casinos lured visitors by the thousands to the desert. Light it up and they will come. And light it they did. Vegas became a super nova of light - a dazzling showcase of the entertainment world with its iconic signs like the Vegas Vic, the waving, smoking cowboy, the exotic camels of the Sahara, and the classy star-studded Riviera.
In the 1960s, the tall high-rise emerged as the new building type in Las Vegas. Expanding along with the soaring stories, neon signs grew larger and more detailed. Massive signs began to feature items such as Aladdin's lamp, the Dunes Arab sheik, or the studded high heeled shoe of the Silver Slipper.
Though Vegas will always be famous for its gaudy glitz and glamour, it has not been known for its preservation efforts to keep its vintage history alive. Casinos have come and gone and in the wake of constant refurbishment or rebuilding, many of the old neon signs were replaced or even lost. As buildings were demolished for newer, more modern, gigantic edifices with their new colorful (and more economic) LED lighting, many of the old glittering marquees of Vegas' yesteryear have disappeared forever from the Vegas landscape.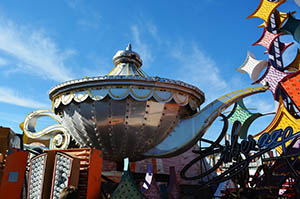 Interest in rescuing these retired signs, however, began in the 1970s with local historic preservation groups. In the 1980s, a committee of the Allied Arts Council began actively saving neon signs. Out of their efforts, the Neon Museum was born.
Located in downtown Las Vegas, the museum is renowned for rescuing these famous architectural landmarks from the graveyard of oblivion and displaying them so the public can once more relive the memories of old Vegas.
The Neon Museum's tour begins in the visitor's center that occupies the historic lobby of the now defunct La Concha Hotel. A brilliantly salvaged Vegas icon of the past, this distinctively shell-shaped building was designed by acclaimed architect Paul Revere Williams. Its fascinatingly curvaceous mid-century modern design is distinctively reminiscent of the era's atomic and UFO Space Age culture.
Originally constructed in 1961 on Las Vegas Boulevard South (next to the Riviera Hotel), the La Concha lobby was saved from demolition in 2005 and moved in 2006 to its current location to serve as the museum's Visitor's Center.
Guides possess extensive knowledge of the neon signs. They relate the history of neon sign production in Las Vegas, tell tales relating to many of the signs on display and stories of the talented people who designed them. Their delightfully informative tour through the artful two-acre outdoor Neon Boneyard is a heart-moving stroll down memory lane. The boneyard is home to some of the most historically treasured and world-famous signs of Las Vegas – from Caesar's Palace, Binion's Horseshoe, Golden Nugget, and the Stardust.
Even before our tour started, the docent described the boneyard tour as "part history, part art, and completely awesome". Once a dying art, the museum has created a new renaissance for neon signs in Las Vegas, and they are regaining popularity. Even the city has gotten involved with an ordinance requiring a small section of historic downtown to keep and maintain their neon signs in order to forever capture and restore traces of a rapidly disappearing Las Vegas with the nostalgic charm of neon. And, according to our guide, the preservation effort continues to gain momentum.
150 vintage neon signs, seven which have been completely restored to date, are located in rows from ground level and higher and can all be viewed up close. The museum's impressive collection of vintage signs represent some of the most celebrated Las Vegas properties and casinos dating from the 1920s to the present.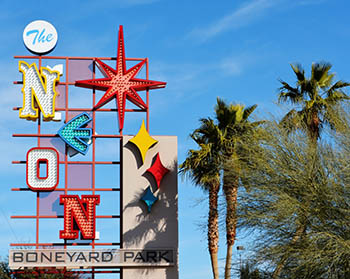 But other historical neon signs have also found their way to the neon boneyard, with their own fascinating stories to tell like El Portal, the first theater and luxury movie palace established in the city of Las Vegas in 1928 on downtown's Fremont Street. The Green Shack was Vegas' longest operating restaurant built in the early thirties, catering to Hoover Dam's construction workers and suppliers. The restaurant was famous for its chicken, steaks and bootleg whisky during Prohibition.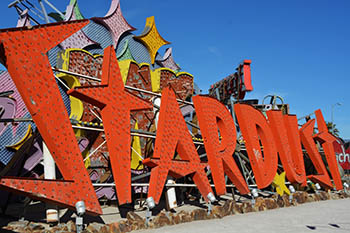 Walking through the outdoor museum, it became increasingly clear that the signs aren't just physical evidence of the once spectacular icons of Vegas- they are the magic moments imprinted on the memories of the several generations who visited the Stardust, Moulin Rouge, Riviera, Sahara and others. Each sign has its own unique story to tell. And in all the razzle dazzle of what is now a newer, bigger, flashier Vegas, it's easy to forget that these iconic places were the ones that literally put Vegas on the map
As Elvis Presley once said about Vegas "if you see it once, you'll never be the same again". Perhaps this is one reason the Neon Museum is such an important part of keeping the Vegas memory alive. Its visitors and patrons long to "remember when". 


---
If You Go:
Las Vegas Neon Museum is located at
770 Las Vegas Boulevard North, Las Vegas, NV 89101
www.neonmuseum.org/


---
Photographs:
All photos are by Noreen Kompanik.
Welcome to Las Vegas neon sign.
Rat Pack painting on downtown Las Vegas wall.
Original Aladdin's Lamp neon sign.
Original Sahara casino neon sign.
Neon Museum Boneyard neon sign. 
Original Stardust neon sign.
---
Contributor's Bio:
Noreen Kompanik is a published freelance travel writer and photographer based in San Diego, California. She is a member of the International Travel Writers and Photographers Alliance and International Food, Wine & Travel Writers Association. She shares her adventures, published stories and photos on her www.facebook.com/Whats-In-Your-Suitcase-322531634589666/Facebook site.