How can I unwrap the gift of time in Italy given to me by my sons? I was a newcomer here, in this adventure in wonderland. Bundled in this cradle of history and antiquity I felt younger.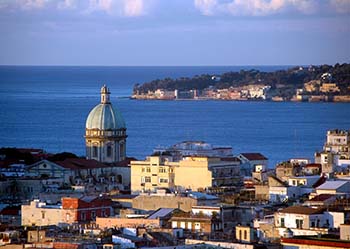 Our first stop was Naples, birthplace of pizza, the song Santa Lucia, the actress Sophia Loren and the oldest opera house in Europe. There we were, standing in the Piazza Dante where the taxi had dropped us off after a wild ride from the airport. Dwarfed by Dante's raise statue, we wheel our suitcases over the piazza, cross the street in the direction Dante is pointing and walk through an arch to our B&B. A funny little elevator on the outside of an old building carries us two-at-a-time up to the third floor. After settling into our rooms we take time to rest then off we go to Bellini's Restaurant to taste their famous pizza before setting off on our Naples Walk.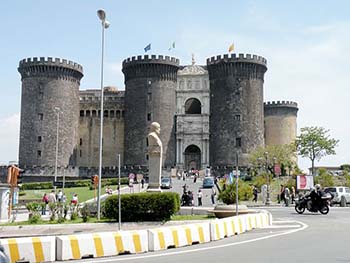 Greeting the locals with "buonjiorno" on our walk to the Palace Museum soon became automatic even though most Italians speak English. The floors of the Museums are paved with magnificent marble. We descend into the catacombs, those underground burial places that were both sanctuary and refuge for Christians during the early centuries of Roman persecutions. After touring the Museum, we ascend the hill to the Castle Nuovo with its impressive views from the terraces. Later we ride up a funicular and watch the sun set over Napoli and the harbour then make the short walk to the Archaeological Museum. Here we see the larger-than-life statues excavated from Rome's Baths of Caracalla in the 1540s. There are also treasures from Pompeii and Herculaneum that were buried under thirty feet of hot volcanic ash when Mount Vesuvius erupted in AD 79.
We say goodbye to Napoli and shuttle south to Minori, the smallest of fourteen towns on the Amalfi Coast. The road winds back and forth in switch-back after switch-back from sea eve up the hilltops and villages that cling on the very edge.
There were seventy-seven steps up to our hotel rooms so for us North Americans who depend on elevators this was quite a workout. The generations of Italians who live on the hillside towns climb up and down the stairs daily.
Later we went to explore the town.
"I'd like to get you a chocolate croissant," my son Ray says as we pass a large bakery. The smell of warm pastries and the sight of counters full of desserts and gelato had earned this place an international reputation. I couldn't resist.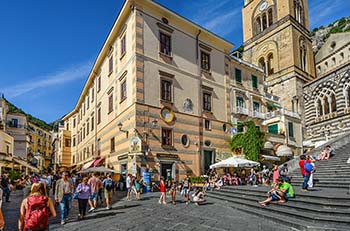 It's easy to take short ferry trips to these hilltop towns of Manori, Amalfi, Ravello and Positano. Each has their own "oh-my-God!" views and cobblestone streets where pedestrians stroll, window shop and explore.
My son guided us through each day's itinerary. Sometimes we entered a cathodal or museum, an ancient Greek amphitheatre or a Roman coliseum, often enjoying a pasta lunch along the way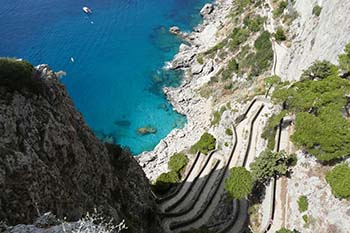 Memories of my mother playing the piano ad singing 'Twas on the Isle of Capri were fresh in my mind when we visited the island. Oscar Wilde, D.H. Lawrence and other writers and artists once gathered here where they could be open about their sexual orientation without being arrested and jailed.
We travelled from the mainland to Messina, Sicily by ferry then boarded a train to Taormina, that wonderful city of 11,000 where we stayed for five days, ending our last evening at a concert of familiar operatic arias. The last number was the rousing Funiculi, Funicula with the pianist, tenor and soprano inviting the audience to clap out the rhythm. This is another one of the wonderful gifts of Italy that will always remain in my memories.
---
If You Go:
www.tripadvisor.ca/Tourism-g187768-Italy-Vacations.html
---
Photographs:
Various Internet sources including Wikipedia.

---
Contributor's Bio:
Alice grew up going to a country school where the teacher read to them on Friday afternoons. Her mother read bedtime stories to her and her grandmother loved reciting poetry. Alice composed her own poems too. Not having a TV to distract her, reading and telling stories was a way of life that she still enjoys. Now as a senior, she loves to write and tell stories about her travels!