DISCOVERING DOLGELLAU
Wales, UK
by Millie Stavadou
---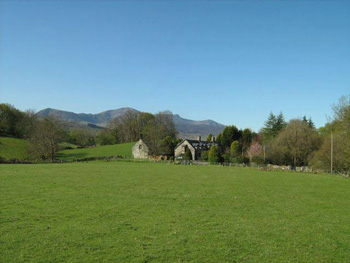 A beautiful but often overlooked corner of the world lies waiting to be discovered in North Wales. Tucked away in the region of Snowdonia lies Dolgellau and its surrounding area.
In search of peace and quiet, I travelled there at Easter, but of course any time of year is good. I stayed with my family in a little stone cottage outside the town of Dolgellau. The cottage was the first source of delight. It was converted from an old 16th century farm building, and although it has been fitted up with modern conveniences – there is no way I would stay anywhere without electricity! - it has kept much of the original character of the place.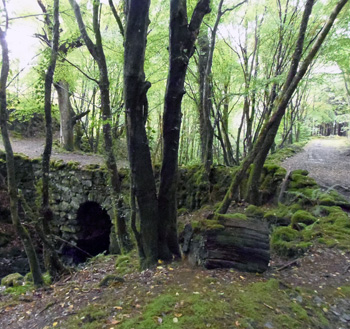 The cottage was in a beautiful setting, with simply marvelous views – who can beat the majestic sight of a mountain rising in the distance?
This meant, of course, that it was an ideal place to go walking, which of course we did. Plenty of space for the children to caper about, while we took things at a more leisurely pace, to enjoy the scenery as well as the exercise. There was an enjoyable walk on the first day, when we simply set out on foot from the cottage across the green landscape with a picnic. It was a beautiful day, and we just wanted to enjoy the fresh air and take in the sight and smell of the place. There was a great sense of peace and serenity all around, punctuated by the occasional cry of a bird or a nearby chirrup.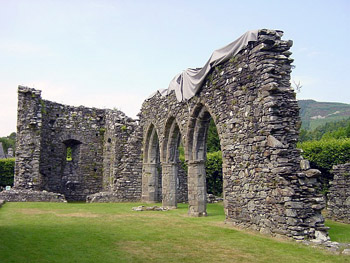 Walking is as walking does, of course, but we didn't want to do that every day. We took the opportunity to explore the nearby town of Dolgellau, about 3 miles, or 5 minutes drive away. This is an ancient town, with history groaning from every corner, seeping from the very walls. The remains of a fort dating back to the days of the Romans have been found nearby, although this is not yet open to visitors.
We were determined to experience something of the long history of the town, starting with a visit to the great ruined arches of Cymer Abbey, founded there in 1198. It was a bit of a walk from the town, around two miles, but we had set off early and had plenty of time, so since it was a lovely day, off we went. It was very interesting to see the sight. The abbey remains are quite substantial, and it is easy to picture in the mind's eye how it might once have been.
Back at Dolgellau, we were in the mood for a traditional tea, and we found just the place. A lovely little tea shop that used to be an ironmongery, with many of the old fixtures and fittings retained. A perfect setting for our traditional cream tea with home baked scones, local blackberry jam and a hot pot of tea. Who could ask for more?
There it was among a pile of leaflets beside the till that we learned of what would form the basis of our activity for the following day: the Quaker Trail. Quakers, it transpires, once had a strong community in Dolgellau, and were persecuted for their faith. Today, you can follow in their footsteps around the town, walking through the pages of a novel that tells their story Y Stafell Ddirgel (The Secret Room) by Marion Eames. There is an organized walk through the key historical sites associated with the Quakers, encompassing the ducking stool, the site of the jail where Quakers were incarcerated for their beliefs, the home of Rowland Ellis, a key Quaker who emigrated to Pennsylvania, Cabel Tabor, the first Quaker Meeting House in the area, and another, Tyddyn Garreg, also the site of the Quaker burial ground. If you go on the organised tour, much will be explained of the history along the way. One usually associates ducking stools and witch trials with such places as Salem, so it was fascinating to discover this dark part of Welsh history.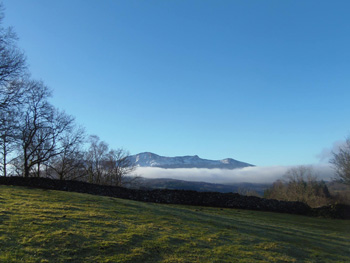 After a couple of days spent in Dolgellau, we decided to change direction. Off we went to Blaenau and the unexpected treat of its steam railway. This was a matter of half an hour's drive from where we were staying, and we were glad that we had hired a car for a few days, as it was well worth it. Blaenau is another historical town, but of another sort. This was the site of the famous slate mines that sent slate all around the world. Today it is a pretty little town, also with its share of teashops. Don't be surprised if the language you hear spoken around you there is not English, for this is still a stronghold of the Welsh language, the beautiful Celtic tongue spoken in the British isles long before the Germanic tribes first landed, bringing with them the languages that would later evolve into English. Welsh is a very different sort of tongue, soft on the ears and a musical pleasure to listen to.
Blaenau, or Blaenau Ffestiniog to give it the full name, is home to a steam railway. Yes, a real one, not a tiny one for small children. You can travel in the original first class carriages, once reserved for the upper crust of society, and this is exactly what we did. The train takes you on a circuit of Snowdonia, going through the mountains and gorgeous landscapes. It really is like taking a step back in the past – and the children said it felt like they were riding on Thomas the Tank Engine!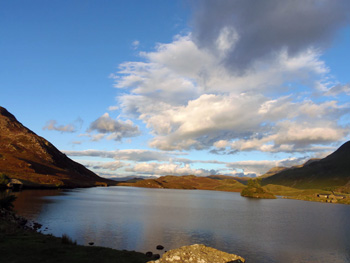 Back to our walking the next day, we decided to drive for a couple of miles and start our walk from another spot, to see something different. We were to be well rewarded with the beautiful view of Cregennen Lake. Looking out over the water, it was easy to see how the great myths and legends of our forebears arose. I could well picture a hand rising up through the mist shrouded waters of just such a lake, or imagine water spirits and goddesses of the land.
For the more active and sporty visitor, there are activities such as white water rafting and mountain biking, but these were not for us. We preferred to ramble and take picnics on leisurely days out in the countryside, for which we were well rewarded with the views. This is a place well worth visiting, and largely undiscovered.

---
If You Go:
♦ www.discoverdolgellau.com/en/about/history.aspx
♦ www.dwsoga.org.uk/quaker-walk-around-dolgellau
♦ www.festrail.co.uk
Where to Stay:
♦ www.holiday-cottage-dolgellau.co.uk


---
Photographs:
All photos are by Millie Slavidou, except #3 from Wikimedia Commons.
View of cottage
Old Drover's path near cottage
Cymer Abbey
Mawddach Estuary from precpice walk
Cader Idris in the distance
Cregennen Lake
---
Contributor's Bio:
Millie Slavidou is a writer and a translator. As well as being a frequent contributor to Jump Mag, she is the author of the InstaExplorer series for pre-teens, which takes young readers on a journey round the world, experiencing local cultures, traditions and languages along the way. jumpbooks.co.uk/category/millie-slavidou