Charlotte, North Carolina
by Roy A. Barnes
Loch Ness, Scotland. Lake Van, Turkey. Lake Hodges, California. Seljord Lake, Norway all have had reported sightings of monsters. North Carolina has its own alleged monster of the waterway called The Lake Norman Monster, or "Normie" to his close friends.
Being an adventurous traveler who'll scour the highest mountains and lowest valleys to get to the truth of the story I headed out to the Carolinas in search of this legendary creature.
Lake Norman is North Carolina's largest man made lake. It was created between 1959 and 1964. It took four years to build the Cowans Ford Dam and two additional years to fill the lake, which is still fed by the Catawba River. This project helps electrify the Piedmont Region of the Carolinas, and provides water to Charlotte, North Carolina.
The Catawba Indians lived off this area and the river for hundreds of years before being settled by the Europeans. It was fought over by farmers against the British at Cowan's Ford (now under water) in the winter of 1781. With industrial progress would come the distinction in 1928 of the Catawba River being "the world's most electrified river", featuring ten dams and twelve power houses. But one more dam and man made lake was in the works to be completed to help flood control. The flood of 1916 lingered in the minds of the locals.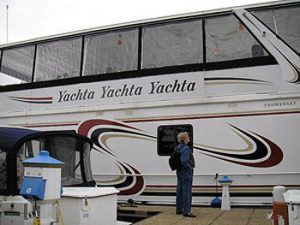 On a map, Lake Norman looks like a giant inkblot, and has some 520 miles of shore line, but is only thirty-four miles long and fifty square miles, holding over 32,000 acres of water (roughly 3 billion gallons). It's not surprising that a monster allegedly lurks here amidst all the lake's nooks and crannies, whose fingers-like shoreline is filled with ostentatious-looking homes and thriving trees from the pine, oak, and willow family. The monster, if it does exist, can hide in 130 feet of water in its deepest part, the south end at the Cowans Ford Dam which is less than fifteen miles from downtown Charlotte. The average depth of Lake Norman is only around thirty feet.
The day before I embarked on the boat, I had a chance to talk with a local boat captain named "Captain Gus", who has lived in this area since 1960 and guides lake cruises and fishing tours. Captain Gus said that when people have claimed to see The Lake Norman Monster, what they may have seen in reality is a four-foot female gar who's spawning and being followed closely by fifteen to twenty male gar who are three feet long. Captain Gus calls this "a Daisy chain", and it gives the impression of a long monster-type fish.
This gregarious fellow is very philosophical about this preoccupation with the alleged monster in the lake. He says that if people talk openly about seeing UFO's or lake monsters such as "Normie", then others think they're crazy. Yet creating a website about these subjects is considered acceptable, which is why you'll find a website dedicated to the Lake Norman monster.
Adding to the mystery is the fact that a species of mysterious freshwater jellyfish have been found in Lake Norman. Two and a half foot long salamanders known as "hell benders" have been spotted, as well as decades-long reports of seeing human-sized catfish near the Cowans Ford Dam. Captain Gus claims he caught one weighing fifty-two pounds! Eels and snakehead fish exist here, too. Could any of these strange creatures of Mother Nature be "Normie"? Other sightings have included seeing long and serpent-like creatures with strange fins. Some have claimed to see a monster on the shoreline. Grass carp were introduced into this lake several years ago to help rid nuisance plants, and given that carp can grow big, were people mistaking them for the sea monster?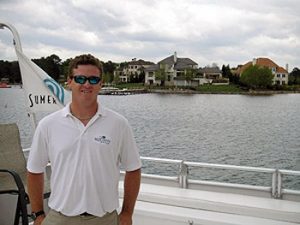 It was a cloudy and blustery day as I ventured out into the southern part of Lake Norman on a large 67-foot vessel called Yachta Yachta Yachta in hopes of being able to say that I saw ol' "Normie". A licensed boat captain named Troy Neil was on board serving as crew member. He's a man who's had well over twenty years of experience on boats, including six years working in the Caribbean on 40-110 foot yachts, where people asked him more about pirates than they did sea monsters. He's guided some of the rich and famous on the waters. He gladly shares his sailing experiences. Captain Neil has some great insights into human nature when it come to folks being fascinated by and looking for sea monsters, then reporting what one supposedly has witnessed.
"It's more urban legend", Captain Neil quips. "From past experience people exaggerate the size of fishes, even on the islands — like dolphins or rays. The cause is human curiosity or wanting to be the person that's discovered it, but it gets misconstrued."
Captain Neil says that he never saw one sea monster, even while sailing on the Puerto Rico Trench. He's seen dolphins, whales, and whale sharks countless times. He goes on commenting as my eyes dart around the bluish-green, calm waters of Lake Norman hoping to see "Normie".
I didn't see anything on my peaceful ninety-minute cruise. Not even one small fish. But talking to such experienced sailors like Captain Gus and Captain Neil gave me more insights into this issue about monsters. On one hand, it's fun to think that such ominous creatures exist in the hopes that you could be of the few to document the actuality of such legends. On the other hand, when facts and established common sense are applied, getting to the actual truth is easier, and sometimes more interesting.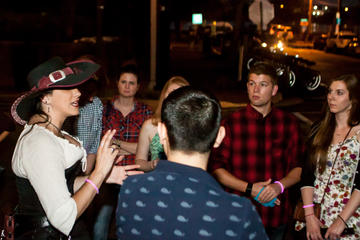 Haunted Evening Charlotte Pub Tour
If You Go:
Besides monster hunting, many other great outdoor activities are available in this area at the 1,300-plus acre Lake Norman State Park, which is found at the lake's north end. Fishing for catfish, yellow perch, and white bass are popular here on the 33 acres of fishing area. Visitors can boat, water ski, camp, hike, swim, and bike ride. While exploring, you might see opossum, frogs, snakes, turtles, pine warblers, wild turkey, and herons, and maybe even the Lake Norman Monster called "Normie". Contact: 159 Inland Sea Lane, Troutman, North Carolina 28166. 704-528-6350. Email: lake.norman@ncmail.net
I stayed at the Country Suites by Carlson Lake Norman. The beds are comfortable and you get free high speed internet as well as a small work desk. I could store my bottled water in the refrigerator, which was in the room that included a microwave. Contact: 16617 Statesville Rd., Huntersville, North Carolina 28078. 704-895-6565 or 888-201-1746.
For more information:
Lake Norman Monster website
Yachta Yachta Yachta Charters
Lake Norman, North Carolina Tourist Information
About the author:
Roy A. Barnes lives in southeastern Wyoming and is a past contributor to Travel Thru History. He's fascinated by the strange, the bizarre, and the unexpected.
Photo Credits:
All photographs were taken by Roy A. Barnes.