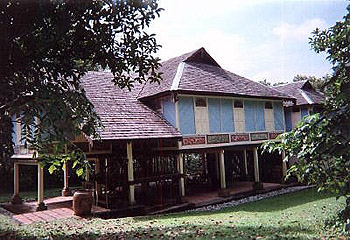 Art In A Tropical Garden
by W. Ruth Kozak
Tucked away on an small acreage just outside of Kuala Lumpur, a Malaysian architect, Hijjas Kasturi and his Australian wife, Angela, have developed a lush garden paradise retreat for artists and writers.
The Centre for Contemporary and Traditional Art at Rimbun Dahan, (the name means "laden branch" because it was once a fruit orchard) includes a botanical garden planted with indigenous South East Asian species of trees and plants, four studios and accommodation for artists, a large dance studio, an underground gallery, and a restored village house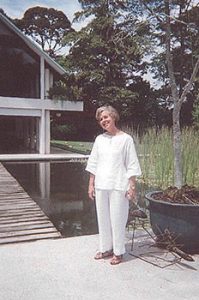 At the entrance to the grounds I am warmly greeted by Hijjas Kasturi's gracious Australian wife, Angela (photo at right). Before we set off on our walk around the compound, she explains the objectives of Rimbun Dahan which supports the development and conservation of both traditional and contemporary art forms, from visual art to theatre, dance and music.
"We accept mainly artists from Malaysia and Australia, for the year-long residency, although foreign artists, mainly those from Southeast Asia, are accepted for short-term residencies," she says. "It also provides residencies for visual artists, students of architecture and ecology, authors, musicians and other creative individuals, allowing them an opportunity to explore and develop their artistic work." The program is supported by the Hijjas Kasturi Assoc. architecture firm, and is a token of appreciation to Malyasia and Australia for the opportunities that have been provided for the Hijjas family.
The Hijjas family home, designed by the architect, dominates the compound. Built to compliment the traditional Malay kampong house which was relocated to the compound and restored, the modern house merges the modern and traditional using environmentally friendly materials, solar panels and pond water for flushing and watering.
Inspired by gardens in Australia where local plants are used to create a specific sense of place, Angela Hijjas landscaped the acreage with a wide range of indigenous forest species and other plants from South East Asia.
The Hijjas's decided to compliment their private collection of art housed in the underground gallery by inviting artists to live at Rimbun Dahan.
"There are no government grants for artists or performers," explains Angela Hijjas. "Although some prizes are awarded for popular artists who have struggled a lifetime to fulfill their talent, there is little support for the artists struggling to develop their art, musical skills or theatrical talent."
Thus the concept of the Hijjas family's unique residency program began.
The landscape, as well as the architecture of Rimbun Dahan raffirms a sense of place and culture in its natural environment of Malaysia.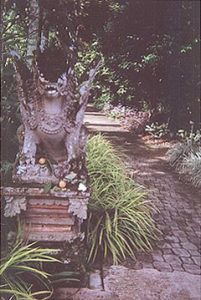 The entrance to the herb garden (photo at left) is guarded by a stone lion draped with a garland of sweet-smelling frangipanni. and sprigs of nutmeg. The gardens use a Malaysian style of landscaping and include indigenous plants from South East Asia. As we stroll the winding pathways under the canopy of tropical trees, we are introduced to many varieties of palms, fruit and forest trees such as the tall keluih trees (a type of breadfruit), betel nuts and fruit bearing durian.
The plants in the herb garden are from Indochina, Burma, Thailand, the Malay peninsula and India. Some are also from tropical America.
Accompanied by the trilling chorus of birds like the yellow vented bullbulls who occupy the treetops, we explore and admire the ornamental and flowering shrubs. The flowers attracts many butterflies, flocks of birds, and bats. Two types of monkeys, long-tailed macaques and dusky langurs hang out in the rambutan trees eating the fruit. There are also many tropical squirrels and palm civets who are mostly nocturnal and solitary. Wild boar often come into the orchard to graze on fallen fruit.
Various species of lizards inhabit the compound, such as the crocodile-sized water monitors The dogs keep check on the population of these biawak, who are sometimes seen basking in the sun or swimming in the reflective pools near the Hijjas' house.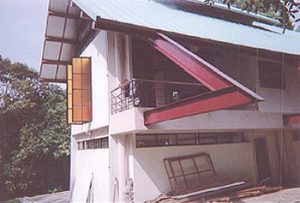 The cobbled and gravel pathways wind through the lush tropical greenery and lead us to a grassy compound where the artist's studios and residence are located (photo at right). There are usually three or four artists living in residence. They benefit from the unique atmosphere of Rimbun Dahan, and the rich experience that emerges from bridging cultural difference as they develop their own artistic practices.
Beyond the artists' studios, we step back in time into a beautiful traditional 19th century Malay house (Rumah Uda Manap) (photo above).We take off our shoes, as is the custom, and mount the steps to enter the interior. The house overlooks the garden of the Rimbun Dahan and is furnished in Malay style, representing a unique blend of Chinese decoration and Malay architecture including hardwood carvings by Chinese artists. Much of the restoration in the century-old village house was contributed by the resident artists including several of the carved panels that depict mythological animals, and the colourful painted carving of an inverted sky dragon.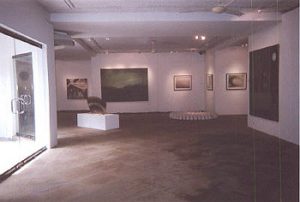 A highlight of the tour is a visit to the art gallery (photo at left). To conserve ground space and to be better able to control the humidity, the gallery was built underground. Each artist in residence contributes two paintings or sculptures to the permanent collection.
Every year Rimbun Dahan hosts Art For Nature, a unique showcase of artistic works created by Malaysian and international artists in support of nature conservation. Half of the proceeds from sales of the artworks in this exhibition go the artists for sales of their work and half to W.W.F. – Malaysia's nature conservation and wildlife protection programmes which include scientific field research, environmental education and policy work with the government.
The botanical garden at Rimbun Dahan is open to the public whenever there is an art exhibition. Private group tours can be arranged with contributions going to the Malaysian Nature Society.
Tours from Kuala Lumpur Now Available:
Private Full Day Tour to Taman Negara National Park
Cameron Highlands Private Full Day Tour
Batu Caves Tour With Fireflies and Dinner
Historical Malacca Full-Day Tour from Kuala Lumpur including Lunch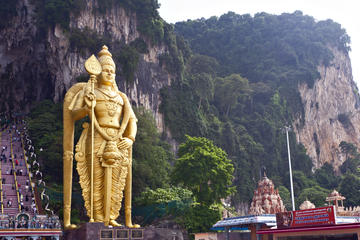 Batu Caves Tour from Kuala Lumpur
More Information:
For information about the artist's residency program and nature tours see the Rimbun Dahan website.
For more information about WWF, Malaysia's conservation and wildlife protection program, see www.wwfmalaysia.org.
For information about the Malaysian Nature Society visit www.mns.org.my.
About the author:
W. Ruth Kozak has been a historical fiction writer since her teens and a travel journalist for more than 15 years. What began as a personal journey to visit, then live in Greece, motivated by her life-long interest in ancient history, has now emerged into this travel 'zine where other writers can share their experience of travel and life abroad. She also instructs classes on travel writing, creative and novel writing and memoirs. She has traveled extensively, often solo and always on a budget. Her website is www.ruthkozak.com.
Photo credits:
All photos are by W. Ruth Kozak.