Travel Thru History is a unique travel blog dedicated to exploring historical and cultural experiences. If you have toured the wonders of Egypt, trekked through Berber villages in the High Atlas mountains of Morocco, explored the ancient ruins of Greece or the Mayan pyramids in Mexico, and immersed yourself in another culture, we'd like to hear from you. This is a site for writers to share their travel experiences in a creative, literary way through travel articles, essays, journals and creative non-fiction memoirs.
We publish stories featuring the historical, archaeological, and cultural aspects of a destination. We also accept stories about literary journeys, visits to the haunts of famous writers and artists, unique museums and art galleries. Explore the exciting and diverse world of other cultures, and take us on exotic adventures.
Readers will be taken on fresh, often overlooked experiences and adventures that will provide a valuable insights into the past as well as the lifestyles of other cultures.
To send a story or query a story idea, please read the writer's guidelines in the Submissions section and review previously published articles.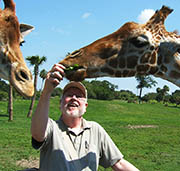 The editor and publisher of this website, Robert Scheer, is an accredited travel writer whose articles have been published in countless newspapers and magazines across the U.S. and Canada.
Robert is a former president of the Travel Media Association of Canada (TMAC), BC chapter, as well as a lifetime member and past president of the British Columbia Association of Travel Writers (BCATW).
The founder of Travel Thru History is W. Ruth Kozak. What began as her personal journey to visit, then live in Greece, motivated by her life-long interest in ancient history, emerged into this travel 'zine where other writers can share their experience of travel and life abroad.
Ruth has been a historical fiction writer since her teens and a travel journalist for more than 15 years. She also instructs classes on travel writing, creative and novel writing and memoirs. She has travelled extensively, often solo and always on a budget. She would like to share not only her own travel experiences, but also yours.
Check out Ruth's web site at www.ruthkozak.com and read more of Ruth's writings at  wynnbexton.blogspot.com and Inalexandersfootsteps.com.
We enjoy hearing comments and suggestions from our readers and encourage feedback either via comments on our posts or by sending us a message via our convenient Contact page.
As an Amazon Associate we earn from qualifying purchases.