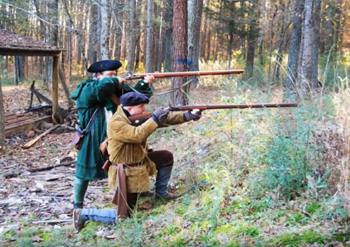 Fort Yargo State Park, Georgia
by Mickey Kulp 
The year 1792 saw the birth of the US Postal Service, the first presidential veto, and the construction of four forts along the restless Georgia frontier regions near Talassee, Commerce, Jefferson, and Beadland. Of those four outposts that once straddled the middle ground between rival Creek and Cherokee people, only one now stands.
Beadland eventually became known as Winder. But the last remaining outpost still bears its original name: Fort Yargo.
Recently, I traveled to Fort Yargo State Park to meet some members of the Fort Yargo Living History Society, a group of volunteers who are dedicated to using period tools, clothing, and techniques to give visitors a peek at Georgia frontier life in the 1790s. They strive for accuracy, and they mean it.
During my visit, the Society was replacing the mud and straw (called "chinking") on the old blockhouse. This is a fun event, especially for the kids.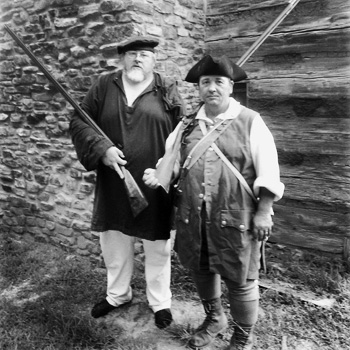 When I arrived, I saw two large mud holes filled with children. And this was not some delicate, mash-the-mud-barefooted activity. This was full-contact mayhem, requiring everyone's Outside Voice. Children were rolling in the red clay muck, happy as a butcher's dog. Possibly, some of the more enthusiastic participants needed to be hosed off before their parents could even recognize them.
William Butler Yeats said, "There are no strangers here; only friends you haven't yet met." I never realized how true that could be until I started talking with the men and women who give up so many hours (and decades) of their time to make a dream into reality. Soon, we were chatting like old pals, sharing stories about our adventures as comfortably as neighbors over the back fence.
Zack and I discussed the plight of the local natives due to European diseases while he slathered a thick layer of red clay between the fort's massive timbers. Unlike modern concrete, Georgia red clay shrinks very little when it dries, leaving a smooth strip of light material between the dark logs.
The July heat and humidity were brutal, but the fort's blacksmith, Chilton, happily worked the furnace. Talking as he shaped glowing iron on his anvil, he was ready to answer an endless stream of questions, even giving visitors an up close look at his blazing forge.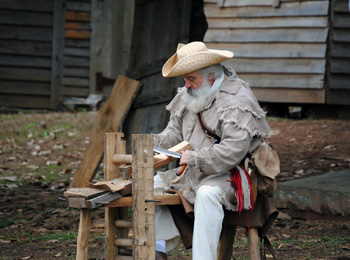 This was not a place where a rope or a "stay back" sign separated you from the action. The Society volunteers let visitors pitch in as fully as safety allowed. A young girl shelled dry corn into a wooden bowl while another waited her turn to grind it with a large pestle. And three tomahawk targets, unmolested today, hinted at more fun that could be had some other time.
Omer and Juanita, a married couple who are some of the founding members, sat in the shade, taking a well-deserved break from the oppressive heat. Around 1980, they both got involved in Living History in California. When they moved to Georgia, they found another group and, around 1995, organized their energies into preserving Fort Yargo.
"Most people didn't even know it existed," Omer said.
Omer, a skilled woodworker, built most of the benches, tables, shelves, and beds inside the fort using traditional tools and techniques.
Throughout each year, the Society invites the public to events ranging from hands-on cooking classes and our chinking party, to ghost stories and a visit with Santa. But, the highlight of the year is the Colonial Market Faire held every spring. In 2016, the Market Faire will occur March 31 through April 3.
The event "seeks to demonstrate colonial life during the late 18th to early 19th centuries." And, to underscore the Society's seriousness, they go to great lengths to assure that all clothing, furnishings, guns, knives, shoes, hats, baggage, eating utensils, and cooking utensils used or sold will be authentic to the pre-1800's .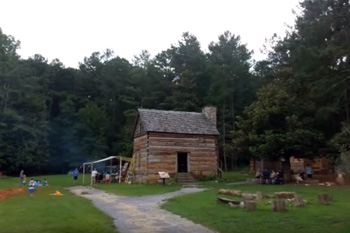 For example, we were discussing the small sheds near the fort. When I asked if you could take a regular shed and add fake woodwork to make it look authentic, Darrell, the volunteer Sergeant of Arms who diplomatically refrained from thumping me on the forehead, was very definite in his response.
The Society is not about making things LOOK authentic. They want things to BE authentic. From the trees felled with an ax to the logs shaped with traditional tools to the dovetails carefully chiseled to fit without nails, this group is united in their collective calling to present the truth of those distant times. As the sun set and the cook fire sizzled, Eddie said he was sure that the old fort was haunted. Wearing a tricorn hat and green breeches with horn buttons, he recounted several compelling stories of his experiences as he turned his steak on the heavy iron grill. Doll, another volunteer, agreed. One night, someone kept pulling her blanket over her feet as she slept inside the fort. The consensus is that this ghost might be a kindly woman who was concerned about Doll's cold toes.
As the volunteers went home one by one, only three of us remained, staring deeply into the fire and speaking in low tones about how to fix the world. While we had various ideas about what was wrong. We all agreed that many ills could be repaired if more people tried out our brand of contentment, requiring only a cool drink of water and a crackling campfire.
That night, I slept soundly in my tent, and my two remaining companions guarded their beloved fort from inside. And if we dreamed of long rifles and dutch ovens full of biscuits, we did not mention it the next morning. Instead, we drank strong black coffee, shook hands, and parted. Strangers no more.
If You Go:
The blockhouse is located within Fort Yargo State Park at 210 S. Broad Street, Winder, GA 30680. There is a $5.00 parking fee, but annual passes are available. The park is open from 7:00am to 10:00pm. Check the park web site at gastateparks.org/FortYargo for updated operating hours and admission prices.
The web site for the Fort Yargo Living History Society is: fylhs.com. The living history group is usually onsite on the third Saturday of each month.
The city of Winder is less than a mile from the state park. You will find many shopping and dining opportunities there.
All photos are by Michael Kulp:
Colonial reenactors showing winter hunting gear.
Patriot reenactors guarding the fort.
Primitive woodwork demonstration.
Fort Yargo, built in the 1790s.
About the author:
Michael Kulp is father of two mostly grown children who successfully survived his shenanigans through smarts they inherited from their mother. He is an Eagle Scout, writer, and passionate outdoorsman who collects tattoos, indulges in fine Viking mead, and enjoys living history events. For his latest adventures, visit www.WehaliBushcraft.com