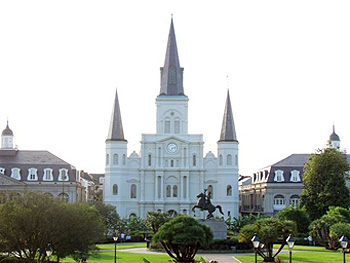 by Larry Zaletel
New Orleans is known as the 'Crescent City' to the residents and the 'Big Easy' to tourists. 'Crescent City' relates to the course of the Lower Mississippi River as it bends around and travels through the city.
The origins of the term 'Big Easy; is not clear, some say that the term was created by the media. In the 1970s a local columnist Betty Gillaud used the term to contrast life in the city to that of New York City. It was also a reference by musicians in the early 20th century because of the relative ease of finding work there and the easy-going, laid back attitude to life that jazz musicians and local residents indulged in.
The name Big Easy also may have originated in the Prohibition era, when the city was considered one big speak-easy due to the inability of the federal government to control alcohol sales in open violation of the 18th Amendment. Or it could refer to New Orleans' status as a major city, at one time "one of the cheapest places in America to live" where everything was slower, simpler and easy-going. Who knows?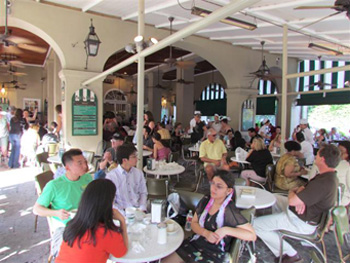 New Orleans is known for many other things: seafood, e.g. crawfish, shrimp, crab and also for its music and musicians. The New Orleans area has the most home grown musicians in the country. They run the gamut from rock and roll, blues, jazz and even classical, from Fats Domino and Professor Longhair to Louie Prima and Louie Armstrong. However if New Orleans is known for anything it is a slogan and an attitude of, "Laissez les bons temps rouler, let the good times roll." And that's the truth! Ask any native New Orleanian.
This was not my first visit to New Orleans. Returning back after being away for a few years I was able to see the changes brought about by Hurricane Katrina. Something surprising I learned is that now everything is classified either pre- or post Hurricane Katrina. For example when people are having a discussion and talk about everyday life, or something that was rebuilt, or something that doesn't exist anymore or has been replaced, they put it into the context of whether it was before or after the effects of the storm. Hurricane Katrina changed that for all time.
My wife and I visited the city of Slidell and our old neighborhood, New Orleans East and Downtown New Orleans. We had resided in Slidell, Louisiana located about 20 miles northeast of New Orleans from 1978-1984. We lived through two floods and two hurricanes, luckily none of which caused us any major problems, because we had boarded up the windows and battened down everything. The second hurricane was more severe than the first one and we did not get to sleep as the sound of the winds emanating from the storm kept us awake. They were howling at over 110 mph and sounded like a locomotive as the hurricane passed over us.
Katrina was its most devastating along Lake Pontchartrain and the North Shore. This area was the hardest hit and as we drove along Highway 11 we saw the remains of the homes and businesses that were ravaged by the severity of the storm. The many homes that once stood along the lake are gone and there is vacant land everywhere. Some of our favorite restaurants and seafood shacks are gone. We passed driveways and concrete aprons that are still visible, also the docks and the pilings extending into Lake Pontchartrain that are standing like wooden sentinels of a bygone era. However the docks emanate from nothing as the homes that they were once attached to are gone, wiped out by the storm surge. I am struck however by one lot where a new concrete driveway and concrete pilings are visible. Apparently someone is planning to build. For sale signs however far outnumber any new construction in the area.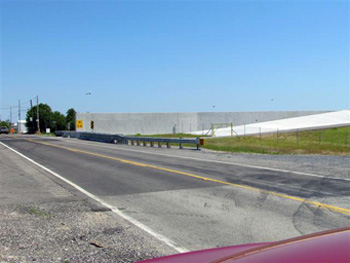 The Slidell Memorial Hospital on Gause Blvd expanded in January 2011 with the opening of the Regional Cancer Center on Robert Blvd. Slidell has prospered since our last visit. There are many new commercial and business establishments. Some old ones are gone and new ones have taken their place.
We visited old town the historic downtown area where we learned how much Katrina affected Slidell. The old part of the city was under water. However Slidell is now bustling and revitalized just as it was when we lived there. Interstate 10 has two new interchanges and new subdivisions were built more expensive than before especially south of Interstate 10 near Lake Pontchartrain. In the 1970s it was the fastest growing city in the United States until the recession hit during the early 1980s when tourism faded and the city's growth declined.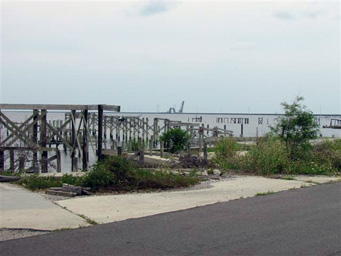 We drove through our old neighborhood which seems the less for wear. Talking with old friends and some of our old neighbors we learn that our old subdivision along Interstate 12 was spared the wrath of Katrina. There are new stores, gas stations and Brownswitch road one of the main routes now has a turnabout at Robert Road reflecting the growth in traffic patterns. Ah, progress.
Irish Bayou can be reached by crossing the old twin span bridge over Lake Pontchartrain that was rebuilt and now has three lanes each way. During Hurricane Katrina the old twin spans suffered extensive damage due to the rising storm surge that pulled or shifted bridge segments off their piers. The new approach to the westbound lanes entrance from Slidell was shifted south to accommodate the new bridge. We veered off Interstate 10 to visit Irish Bayou on our way to Metairie. The old dirt and grass levee on Highway 11 has been changed now to one made of concrete. Irish Bayou seems less inhabited than I remember and there appears to be fewer homes although most home in the bayou were built using pilings or raised platforms. There is also a landmark of an old fisherman's castle which was built in 1981 by Simon Villemarette. He originally planned for it to be a secondary tourist attraction for the 1984 World fair in New Orleans.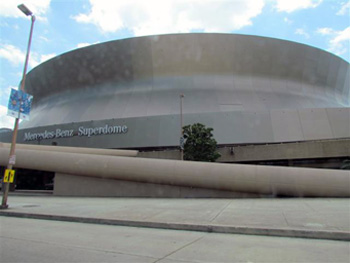 New Orleans East & Metairie was hard hit by water. We drove down Read Blvd through the area where once stood the Lake Forest Mall in New Orleans East. The huge complex is gone, and a building on the Interstate 10 frontage road where I where I was employed for a time is now four walls and gutted. You can see through it, some of the windows are broken. I also remember a restaurant down the street, a Denny's I believe. It is now gone. Katrina did it all.
After the severity of Hurricane Katrina conditions have changed, new levees have been added and others strengthened. However more work still needs to be completed and that it will take many years. One thing I noticed were advertisements on trucks and billboards for various companies whose business is that of raising and placing homes on stilts/pilings.
Downtown, New Orleans is famous for the French Quarter, Canal Street, St Louis Cathedral, and Café Du Monde with their famous beignets and Café Au Lait. The coffee and beignets are still as good as I remember.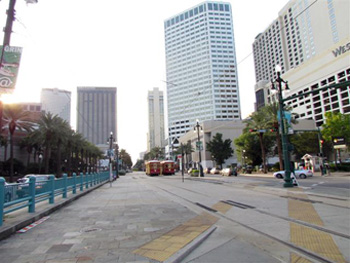 Play tourist and enjoy the ambiance of what New Orleans has to offer. There is a different feeling about visiting downtown New Orleans as a tourist compared to living there and visiting. Stop at historic Jackson Square and enjoy. It was originally known in the 18th century as "Place d'Armes," and later renamed in honor of the hero of the Battle of New Orleans, Andrew Jackson. It is a timeless attraction in the heart of the French Quarter of New Orleans. There is a different view, tourists are everywhere, we walk through the cobbled streets and stop and listen to a jam session featuring a group of Jazz musicians performing, "When the Saints Go Marching In." Canal Street is still vibrant and St Louis Cathedral is peaceful. We visit Harrah's Casino to try our luck. We pass by a familiar face, the Superdome still intact, looking like a gigantic flying saucer. It is good to see some of our old memories.
The night before we leave we visit the Silver Slipper Casino in Bay St Louis. A new casino was built after we moved. Now you can gamble in a variety of ways to your hearts content and enjoy all you can eat crab legs on Friday night, the best I have ever eaten anywhere. The best part was that we came out ahead on the slots.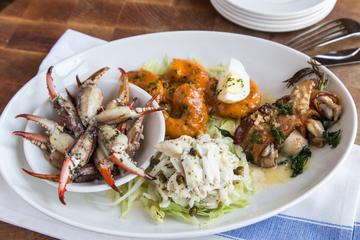 Taste of New Orleans Private Walking and Food Tour
If You Go:
We stayed at the Homewood Suites, 175 Holiday Blvd, Slidell, LA 70460, 985-726-7291 which is new and has friendly and helpful personnel.
One of our favorite restaurants that we used to patronize when we lived in Slidell and is still serving good food after all these years is Young's Steakhouse, 850 Robert Rd, Slidell, LA 70458, (985) 643-9331. Young's has been welcoming guest since 1969 to a warm friendly atmosphere. They are known for their thick, juicy steaks and a variety of seafood dishes, mouth watering appetizers and desserts.
♦ Café du Monde in the French Quarter 800 Decatur Street, New Orleans 70116, (504) 525-4544
♦ Speckled T's, 158 S Military Rd, Slidell, LA 70461, (985) 646-1728, very good seafood.
♦ The Big Easy Diner, 1777 Gause Blvd E, Slidell, LA 70461, (985) 639-8006, a good place for breakfast
♦ Steve's Marina Restaurant, 213 E Beach Blvd, Long Beach, MS 39560, (228) 265-7730, rebuilt after Katrina, very good seafood
♦ Silver Slipper Casino in Bay St Louis, Mississippi 5000 South Beach Blvd
There are many additional fine restaurants in the New Orleans area and information is available on the Internet.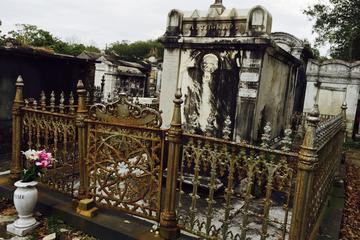 Private Voodoo Temples and Cemetery Experience of New Orleans
About the author:
Larry Zaletel is a freelance travel writer, an avid and dedicated traveler, and a recurring visitor to Europe, the Caribbean, and the Far East. He writes about the various people that he has met and places that he has visited during his travels.
All photos by Larry Zaletel:
St. Louis Cathedral
Café Du Monde
Twin span bridge of Lake Pontchartrain
Levee in Irish Bayou
Destruction on the North Shore of Slidell
Superdome
Famous Canal Street