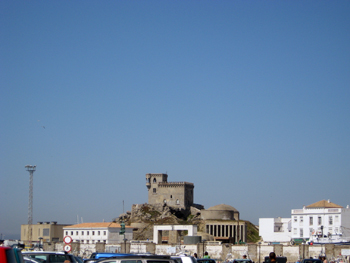 by Ana Ruiz 
During one of my annual trips to Spain, I decided to expand and enhance my adventures by visiting the exotic land of Morocco. There are numerous ferries departing daily from southern Spain in Algeciras or Tarifa that cross the Straits of Gibraltar to Tétuan or Tangier in northern Morocco. Both Algeciras and Tarifa are located in the Andalusian province of Cadiz. Tarifa, situated at the southern-most tip of mainland Europe where the Mediterranean meets the Atlantic, is named after the Berber officer Tarif ibn Malik who disembarked here in 710.
Algeciras, located 25 kilometers northeast from Tarifa, was the first settlement the Moors established in 711.
The first time I traveled to Morocco, I decided to book my hotel and depart from the port of Algeciras. I reserved a few nights here as I was also planning to visit Gibraltar that was a short bus ride away on the other side of the Spanish town of La Linea de Concepción. Upon checking in to the Al Mar Hotel, the hotel arranged my day trip to northern Morocco with a guided tour group departing the following day.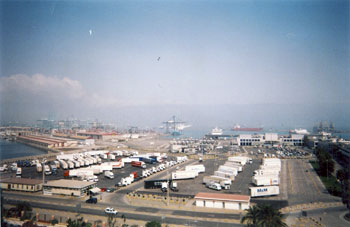 I was delighted to wake up the next morning to a clear view of the Rock of Gibraltar from my window and knowing that I would be spending the day in Morocco. Arriving at the Port of Algeciras just 100 feet across the hotel, I was instructed to wait for my guide as soon as I off-boarded the ferry in Ceuta. Ceuta is one of the two Spanish autonomous communities in North Africa along with Melilla located about 390 further east. Ferries also depart to Melilla on the northern coast of Africa from the ports of Malaga or Almeria that can take over 9 hours across the Alborán Sea.
I boarded the vast two-story high-speed ferry jammed with passengers, cargo, and automobiles and visited the duty free shop then peeked into the executive lounge. When I returned to my seat and gazed out my window, I thought about Tarif ibn Malik crossing the Straits of Gibraltar from Morocco with his army of men over 1300 years ago.
My historic yet bumpy 14 kilometer ride to Ceuta lasted about 40 minutes. As soon as I stepped off the ferry, I immediately recognized our guide by the travel logo pinned on his clothes. An imposing man he was, over 6 feet tall with a thick grey mustache wearing a full length traditional hooded tunic known as a djellaba. Once the other passengers in our group arrived, he identified himself as our local guide and we followed him to the private mini bus that was waiting for us.
Ceuta resembles most other small Spanish cities until you approach the chaotic and overcrowded Moroccan border that is a short bus ride away from the city center. Our guide quickly checked us through customs as we observed the hectic commotion from the comfort and safety of our bus. Lines of cars and at least hundreds of locals were standing in line waiting to cross the hectic border on foot carrying goods, suitcases, large packages, and even their pets.
As soon as we crossed the border to Morocco, our guide grabbed a microphone and began, "Good morning, my name is Mohammed and I am your tour guide." Then with a sparkle in his eye he pointed to our driver and said "and our driver's name is… anybody? …. no?… also Mohammed!" We all laughed as if it was the funniest thing we had ever heard. He continued, "Welcome, we are on our way to Tétuan, but first we will stop at a local BMW plant!"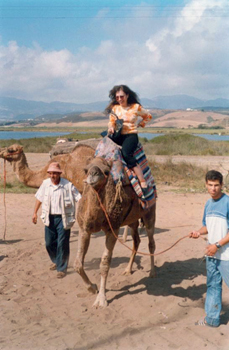 I looked at one of the passengers with a puzzled look that was immediately reciprocated. Moments later the mini bus suddenly pulled off to the side of the road where locals were offering camel rides for one Euro. At first I hesitated, but it took just six words from one of the couples to get me on top of that camel, "You'll regret it if you don't!"
So off I went. The locals spoke only Arabic but with my basic knowledge of the language and their descriptive hand gestures, I understood perfectly. Seconds after I managed to get on the camel, the animal hastily rose up from his back legs and I nearly fell off. Feeling quite proud of myself as I managed to stay on, the camel suddenly raised his front legs and I almost tumbled forward head first but managed to hold on by gripping the saddle for dear life. Just when I was getting than hang of it, the locals motioned to me that the one minute ride was over. The couple had been right!
About a half hour later we arrived in Tétuan, the most Andalusian-influenced city in Morocco situated near the Rif Mountains. We off-boarded the bus and Mohammed swiftly directed us through a maze of winding alleys and meandering streets of the lively medina (city) to the bustling Berbers souqs (markets.) The souqs or bazaars are the crowded and outdoor commercial centers of the medina. The sound of vendors pitching and haggling, the smells of food cooking and incense burning, and the sight of the brightest colors and shiny brass objects abounding, left one with a sensory overload.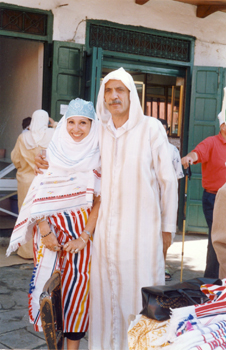 After passing through the chaos of the open air food market, we arrived at the fabric and textile market. On display were hundreds of thick fabrics of the most vivid colors for sale hand woven by local Berber women. Lost in my world I was when suddenly one such woman stopped me and grabbed me by my shoulders.
Communicating with eyes only, I immediately looked at Mohammed with a slight look of concern and he just as quickly reassured me with a quick nod and a wink. The woman continued with her mission never uttering a single word the entire time. She began selecting four pieces of fabric of different sizes and colors from the many displayed on her table and proceeded to drape them over my clothes. The first and largest piece of bright stripes was fastened under my arms as a dress; the second was wrapped over my shoulders, and the third piece was draped under my chin while the final fourth crowned my head securing the third piece nicely in place. Meanwhile, I hadn't realized that I was attracting a crowd of locals and tourists while the rest of my group scattered about taking photos. In under a minute, I was transformed into a Berber as Mohammed stood proudly beside.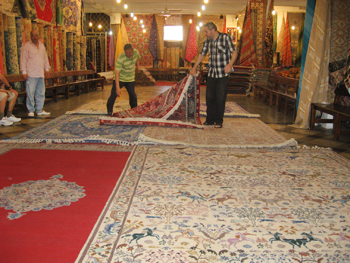 The next stop was the carpet demonstration. Here, we were led into a showroom where traditional mint tea was offered while we waited for the 'show' to begin. One by one, they rolled out these works of art, each more exquisite and intricate than the last. By the time the demonstration was over, the prices were greatly reduced. No-one in our group had any intention of purchasing a rug yet the vendor instructed us to individually say 'yes' or 'no' to every single carpet that they had rolled out. After these very uncomfortable minutes were over, we quickly departed leaving the disgruntled vendors mumbling to themselves while they hastily rolled back the carpets.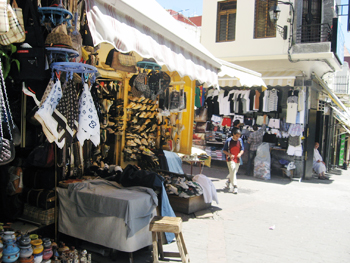 We were now on our way to the spice and pharmacy market; a welcomed relief as the 'pharmacist' dressed in a white lab coat was quite the comedian. The small room resembled a medieval apothecary with all sorts of jars and containers of all colors, shapes, and sizes filled with oils, fragrances, creams, herbal remedies, spices, and teas that cured everything from anxiety to hangovers. The pharmacist/comedian demonstrated the wonders of the selected products that we smelled, rubbed on our skin, or whatever we were instructed to do. Each of us bought a few cosmetic and medicinal items as we did not want to offend this vendor as well.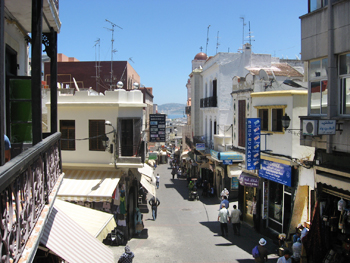 Next on our busy itinerary was a one hour bus ride to Tangier, the "Gateway to Africa" founded in the 5th century BCE. I was especially excited as it was here where my grandparents worked, met and married nearly a century ago. Upon arrival, Mohammed took us through another quick walk through the zigzag alleys and corners of the medina to the Mamounia Palace Restaurant. The restaurant, filled to capacity with other tour groups, was lavishly decorated with crimson and golden tapestries, deep red tablecloths, and plush sofas. I immediately took a photo of the lovely view from the balcony window.
As we were seated to our tables, live musicians greeted us wearing white djellabas and burgundy Fez hats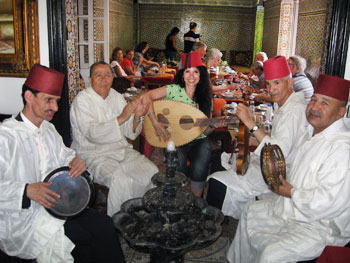 We each took turns posing with the musicians for a small fee and the quartet began to play traditional Moroccan music with such instruments as the hand drum (darbuka), lute (oud), tambourine (riq), and violin (rababa). Moments later, our lunch was served consisting of lentil soup, a briouat or meat-filled pastry, hummus and bread, chicken with couscous and vegetables, followed by a slice of melon with mint tea for dessert. Halfway through the meal, a blonde belly dancer in a purple and gold costume whirled her way into the center of the room and entertained us to the lively music of the band.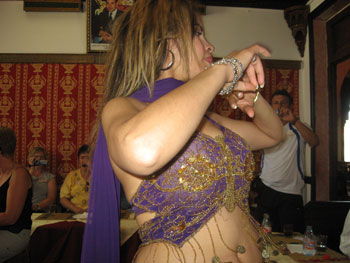 Shortly after our lunch, were once again whisked to the bus and into a department-sized store in the center of Tangier selling the finest Moroccan handicrafts, gifts, furnishings, rugs, leather goods, pottery, clothing, jewelry, and quality souvenirs available. We were told that we had a half hour to shop and encouraged to purchase as much as we could. This would be the last stop on our itinerary and right on schedule, after 30 minutes, we made our way back to the bus.
After all the excitement of the day, I truly appreciated the tranquil and relaxing ride back to Ceuta, gazing out my window admiring the splendor of the Moroccan sunset over the dramatic North African landscape. Fittingly, Morocco is known in Arabic as 'Al Maghreb", translated as "The Land of the Setting Sun".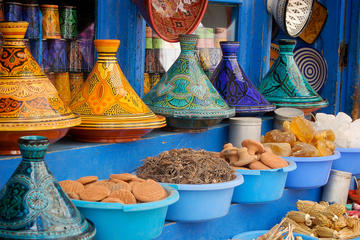 Full-Day Tangier, Morocco Tour from Gibraltar
If You Go:
Getting to Morocco from Spain:
♦ Your hotel in the Costa del Sol or Andalusia can arrange for you to be picked up at the hotel (or one nearby) by a guided tour bus that will take you to the ferry port in Algeciras or Tarifa. Tours departing from Tarifa arrive in the old port of Tangier while those that depart from Algeciras arrive in either ports of Ceuta or Tangier Med, a new cargo port built in 2007.
♦ Rates are approximately 80 Euros per person that includes the ferry ride and all transportation after, the guided tour, and lunch. The stops on the tour accept Euros so there is no need to purchase Moroccan Dirhams.
♦ For ferry information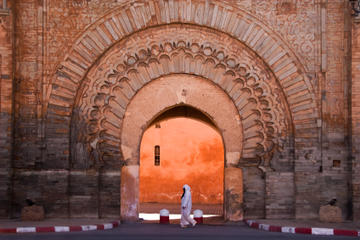 5-Day Morocco Tour from Malaga: Casablanca, Marrakech, Meknes, Fez and Rabat
About the author:
Ana Ruiz was born in Spain and is the author of several books on Spanish and ancient Egyptian history. Visit: ana-ruiz.weebly.com
All photos are by Ana Ruiz:
Zastillo de Santa Catalina, Tarifa
The Port of Algeciras
Camel ride in Tétuan
Mohammed and the author
Carpet Showroom
Tangier Medina
Mamounia Palace View
Musicians with the author
Belly Dancer at Mamounia Palace