DICKENS' LONDON: I'M DREAMING OF A DICKENS CHRISTMAS
England
by W. Ruth Kozak
---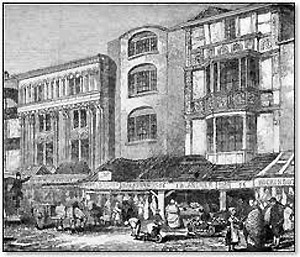 It's that time of year again when Charles Dickens' "A Christmas Carol" is replayed on TV. I love watching the old classic with Alistair Simms playing the role of Ebenezer Scrooge. I have enjoyed Dickens' stories since I was very young so when Hollywood began making them into movies and some were adapted for the stage, such as the musical "Oliver" it was delighted . I saw "Oliver" performed during it's first run in London. And I've seen adaptations of "A Christmas Carol" on stage as well.
I've always dreamed of celebrating Christmas in London, a real Dickens' Christmas where the famous writer once lived. A Victorian Christmas with all the old traditions set right in the place where they all began. "A Christmas Carol" was written during a time of decline in the old Christmas traditions. Dickens wrote it as a serial for the newspaper at a time when he was financially strapped. The English poet Thomas Hood said, "If Christmas, with its ancient and hospitable customs, its social and charitable observances, were in danger of decay, this is the book that would give them a new lease. As a result of his Christmas "ghost story", first published on December 19, 1843 with illustrations by John Leech, Charles Dickens probably had more influence on the way we celebrate Christmas today than any single individual.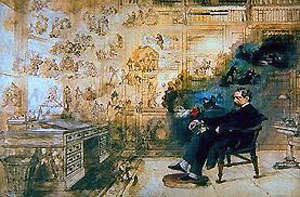 During Dickens's time, Victorian London was the largest city in the world with a population of around a million. During the Industrial Revolution it both reaped the benefits and suffered the consequences. There was a sharp contrast between the fashionable parts of the city like Regent and Oxford Streets. The middle class citizens lived in poverty and filth in close proximity to these wealthy areas. London's streets were crowded and noisey with a cacophony of merchants hawing their wares and street traffic which sometimes included herds of cattle being driven to market. As a result of thousands of horse-drawn vehicles, street sweepers were hired to clean up the piles of manure. In many parts of the city, sewage flowed into the streets and emptied into the Thames River. At night, the streets were lit by faint gas lamps or not at all. Consequently pickpockets, prostitutes, drunks, beggars and all sorts of vagabonds loitered everywhere. Dickens describes these scenes in his stories.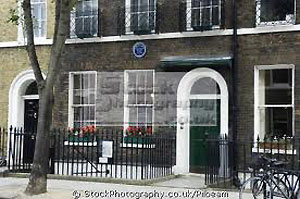 I once visited Dickens' home in London, now a museum full of furnishing in the style of the 1800's. Dickens moved to the house at 48 Doughty Street in the Spring of 1837 along with his wife Catherine and their new baby Charles, as well as Dickens' brother Fred who worked in the counting house of Dickens' first publisher. Catherine's younger sister Mary Hogarth was also a frequent visitor. At this time Dickens was on the threshold of fame with his successful Pickwick Papers. Soon after the family moved in, Mary Hogarth died of heart failure at the age of 17. Dickens was so shocked he couldn't write and his publications of the Pickwick Papers and Oliver Twist, which ran as a newspaper serial were halted. Eventually he resumed writing and in his later fiction novels such as The Old Curiosity Shop, "Little Nell" was based on Mary.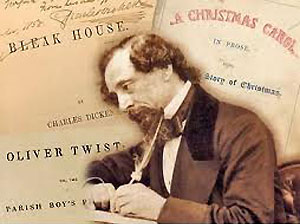 In the study of Doughty St. house you can see the desk that Dickens' used until the end of his life. The room is depicted in an engraving "The Empty Chair" by Sir Luke Fildes. Dickens always worked with fresh flowers on his writing table.
At the beginning of the Victorian period, the celebration Christmas had been in decline, And during Dickens's time, the Industrial Revolution allowed little time off for celebrations. Dickens had a great influence on the way we celebrate Christmas today. His stories such as A Christmas Carol rekindled the Christmas spirit in Britain and America.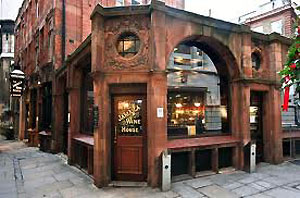 There are other places in England where Dickens lived and each holds celebrations at Christmas. The Dickensian Christmas is a must with the aromas of roasting chestnuts, the traditional Christmas goose and plum pudding, skating on frozen ponds and caroling in the streets. And one of these days I want to participate and be part of a real Dickens Victorian Christmas, remembering the famous words of Tiny Time "God Bless us Every One."




---
If You Go:
Dickens London
charlesdickenspage.com/christmas.html
charlesdickenspage.com/dickens_london.html
Dickens London Tours
www.walksoflondon.co.uk
http://www.timeout.com
http://www.gpsmycity.com
Dickens Museum
www.dickensmuseum.com
---
Photographs:
All photos from various Internet sources and archives.
---
Contributor's Bio:
Ruth has always been a fan of everything Dickensian. She has visited London often, but never at Christmas time. Ruth writes historical fiction, travel and memoirs and instructs writing classes. You can see her blog at www.ruthkozak.com