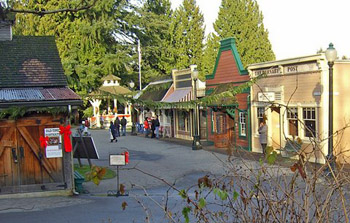 British Columbia, Canada
by Rick & Chris Millikan
Every December, Burnaby Heritage Village in Burnaby, B.C. Canada reopens for its heritage holiday schedule. Festively dressing up and entertaining guests with special activities, it's an opportunity for visitors to rediscover the true meaning of Christmas.
Entering this charming 1920's village, families cross a bridge above a murmuring creek and step back to a simpler era. The narrow roadway curves upward between an old schoolhouse and a tiny cabin. Just below sits a high peaked church, where a children's choir practices melodic carols.
Opening the door of Seaforth School we feel like new students as the plainly clad school-marm sternly teaches all grades, all subjects. Evidently she's directed her class to adorn this one-room school with classic handmade decorations, making it very Christmassy!
A plaque posted on the two-room log home tells us that Tom Irving and Bob Moore first built this house near Burnaby Lake. Tom prospected in the Yukon and later helped build BC's early tram line, represented nearby in a barn sheltering a beautifully restored 1923 interurban tramcar and model toy train diorama. Tom never married and died in 1964 at the age of 100. Like most of the thirty structures there, this cabin's interior, dons early Christmas trimmings.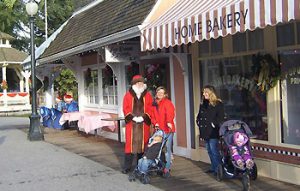 Red-ribbon bows and greenery decorates the corner bandstand and drapes over the village's main street. Spotting Father Christmas, we follow him into the Village studio to snap a few photos of this Yuletide hero. The bewhiskered chap proudly tells us, "You'll notice I'm not dressed in red and white like today's chubby elf. Coca-Cola created him in their 1931 ad campaign. My long, brown fur-trimmed robe and cap represent apparel of that fourth-century gift giver and famed Turk, Saint Nicholas."
Peering through Burnaby Lake General Store's windows, we see a bygone wish list and examples of popular toys of that era. And outside the soda fountain, a brass band plays familiar Christmas melodies. Listeners mingle with still costumed Footlight Theatre Company performers, who'd just staged a children's tale in the cozy Village Theater. Inside the soda fountain, we sip cups of mulled cider. Exiting later, we watch a clown perform mirthful magic in front of the old-fashioned Home Bakery.
Weaving in and out of shops, we check out paper lanterns in the Chinese herbalist shop, pick up seasonal bookmarks at the print shop and admire little Union Jack flags ornamenting the Royal Bank's fir tree. At the end of Main Street, a one-room cabin is decorated as a gingerbread house; a costumed gingerbread gal skips mischievously about, posing with visitors of all ages.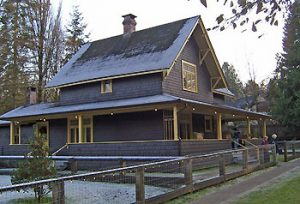 Remaining on its original site at the other end of town, the Bateman family home is authentically furnished with 1922 décor. This December, their home depicts "The Night Before Christmas," an old red sleigh sits on the verandah and a large toy mouse sleeps in its spacious living room. Their garage was converted a few years ago into a playhouse stocked with vintage toys for ageless girls and boys.
A popular family attraction is the festively decorated C. W. Parker 1912 Carousel. There's not enough time to take a spin, or hear the costumed carolers serenading visitors each evening. But, before departing we pop into the Love farmhouse. Simple decorations hint at this home's jolly winter gatherings. The tweedy-suited interpreter reports, "The Loves were Burnaby's first landowners. Building in 1893, they added this kitchen and living room in 1911. These rooms were important for big Christmas get-togethers, when Grandpa took the train from Vancouver, bringing a turkey, goose and his fiddle…"
And long may these merry celebrations continue!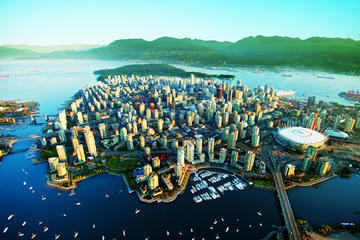 Full Day Best of Vancouver Private City Tour and Beer Tasting
If You Go:
It's easy for visitors to find. For drivers: it's just off Trans-Canada Highway 1 at Exit 33 and left on Canada Way for one block to its colorfully quaint entrance on Deer Lake Avenue. For public transit users: take Bus 144, 123, or 129.
Check out the Burnaby Village Museum website to learn about seasonal schedules, special events and programs.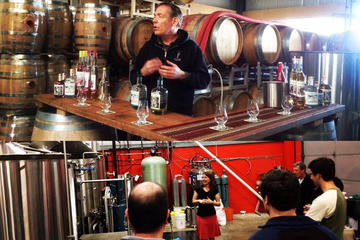 Vancouver Craft Beer and Distillery Tour
About the authors:
Much-traveled freelance writer/photographer team, Chris and hubby Rick Millikan reside near Vancouver, BC. Former educators, they now present travel as an inviting 'curriculum', globe trotting in search of historic, cultural and zany adventures, their accounts appear in many BC Newspapers, local magazines, in-flight magazines and occasionally the Vancouver Sun or Province.
Photo credits:
All photos are by Rick and Chris Millikan.