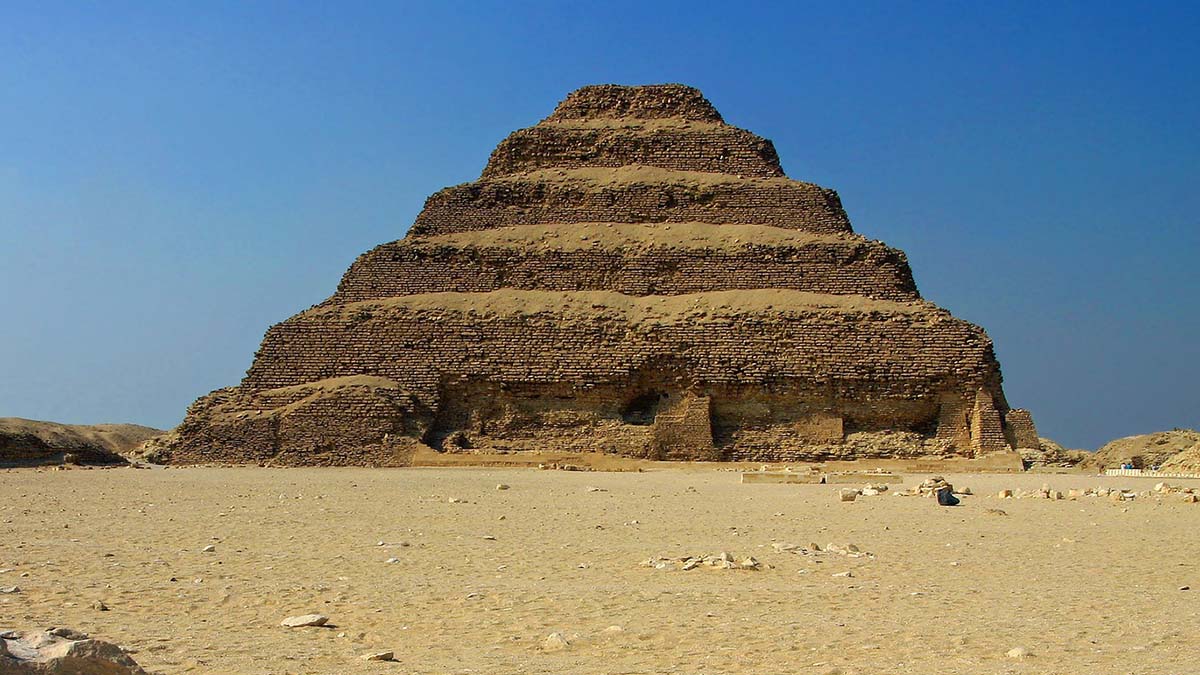 by Doug Matthews
It's only halfway through the African Football Championship match, Egypt against Cameroon, and already Cairo streets are full of cars, not much different from any normal night, just noisier and slower. We are stuck in the middle of the celebrations in what has to be the most massive traffic jam I have ever seen in my life. I'm trying to catch an overnight train to Luxor, having cut short my tour of the Egyptian Museum in order to navigate through the traffic. We eventually pull up to the Giza train station with minutes to spare.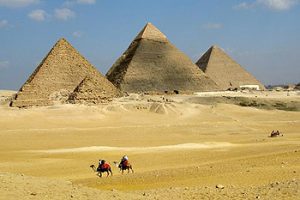 I'm in Egypt on a three-week research holiday to study about ancient celebrations for a future book project. An important part of that research was to be the museum and I am annoyed that my visit has been cut short. However, I have managed to see the various mummy rooms and the indescribable treasures of Tutankhamen, jewelry and craftsmanship so ornate that its beauty brings tears to the eyes, considering it was created over 3300 years ago. I quickly schedule an additional full day to re-visit the museum upon my return to Cairo in 10 days. The other main component of my research is to be visits to temples in Upper Egypt (the southern part of the country south of approximately Luxor, as the Nile flows south to north). However, the first part of my trip up to the departure of the train to Luxor has also included the sights in and around Cairo and Alexandria on the Nile delta.
There is no question that "pyramid power" draws millions of tourists to Egypt every year. Indeed, the pyramids are worth the visit by themselves. It sometimes amazes visitors that the pyramid-building phase of Egyptian history only lasted for a relatively short time, from about 2700 to 1800 BCE, mostly during what was known as the Old Kingdom. Another surprising fact is that there are more than 100 pyramids documented in the country but only about four or five are significant tourist destinations. These include the three large pyramids at Giza, the earliest pyramid called the Step Pyramid at Saqqara, and the Red Pyramid and Bent Pyramid at Dahshur. During my first few days in Egypt, I manage to visit all these. Because of the crowds at Giza, I opt to go inside the Red Pyramid at Dahshur, about 64 km south of Cairo where it is much less crowded. The Red Pyramid is actually the third largest in the world after those of Khufu and Khafre at Giza. As luck would have it, I am the only person inside during my visit and can spend time enjoying the double burial chambers, albeit devoid of sarcophagi and treasures! A long steep climb down and up a low-ceilinged shaft may be the reason fewer people choose to visit inside, but by all reports, it is the best preserved. Consider that, in their day, the pyramids would have been covered in white limestone polished to a high sheen and topped with a tip of pure gold, all of which would glisten and reflect the sun over the valley below. Amazing!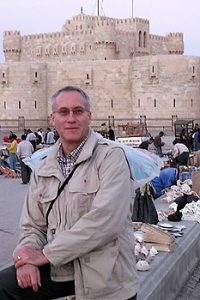 Throughout my Egyptian escapades I am accompanied by private guides and separate drivers in air-conditioned cars. In Cairo and Alexandria my guide is Dr. Aziza Ganam, a professor of history at Cairo University who supplements her income with guiding. She is extremely knowledgeable, and explains every detail of each sight to me, taking time to patiently answer my never-ending questions. An added advantage to this form of sightseeing is that it affords one the opportunity to learn more about the culture on a personal basis, and I take advantage of this to delve deeply into Egyptian politics and the religion of Islam. The gulf between cultures becomes noticeably smaller as a result.
My visit to Alexandria is just such a time. We chat constantly for the three hours it takes to drive the distance from Cairo to the coast. Once there, we begin at the new library of Alexandria, the "Bibliotheca Alexandrina." With an eventual collection of 8 million digitized volumes, the library is a reflection of the ancient library, a world centre for scientific excellence during Ptolemaic times, between 300 BCE and 400 CE. Other stops include a well-preserved Greek theatre and the Qaitbay Citadel (right), a fortress built in 1477 on the exact spot of the ancient Pharos Lighthouse, one of the seven ancient wonders of the world.
Alexandria, although as crowded as Cairo, is very beautiful if one ignores the traffic. A promenade lines the waterfront and many other tree-lined boulevards appear throughout the city. Unfortunately, there are almost no traces remaining of the original city, started by Alexander the Great in 332 BCE, and try though they might, archaeologists seem to be fighting a losing battle in their attempts to locate such important treasures as the tomb of Alexander and remnants of the old library.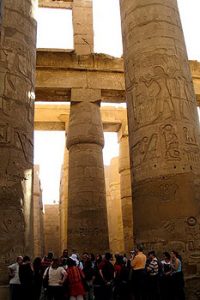 Two days later, I am at the station in Cairo awaiting the overnight train to Luxor. It passes comfortably in a first class sleeper, with dinner and breakfast served right to my private compartment. Arriving in Luxor at 6:00am, I'm greeted by my new guide for Upper Egypt, Mr. Abdelhamed Megaly, a 27 year-old history major with a wealth of knowledge. We immediately strike out for the Valley of Kings, once again in a private car, across the Nile from Luxor on the West Bank. This valley, deep in sandstone hills, was chosen by Pharaohs after the pyramid-building phase of Egyptian history in order to hide their tombs from treasure-seekers. Unfortunately, this was not successful and the many tombs found there today contain only the spectacular frescoes on the walls and ceilings. The one exception of course, is the tomb of Tutankhamen, found by Englishman Howard Carter in 1922. The only reason it was not looted was that it was hidden below another tomb. As my guide states, "Imagine what the tombs of greater kings such as Ramses II would have contained if they were still intact. Tutankhamen was just a minor king." The valley is now organized completely as a tourist attraction and receives thousands of visitors each year.
From the valley we return to Luxor and spend the afternoon visiting the magnificent temples of Karnak and Luxor (above). Both these were part of an annual festival which I am studying in my research, the Opet Festival, so I am relentless in my questioning. Both temples are amazing. Karnak is one of the largest religious complexes in the world. Like all other temples in Egypt, it was constructed in a specific shape and was dedicated to a local god, in this case Amun-Ra. Pictures do not do justice to the immensity of it, but en evening sound and light show gives us some perspective. Following the show, we board our ship, the Sherry Boat, for four days of peaceful cruising up the Nile to Aswan, with stops at temples in Edfu and Kom Ombo. The ship is well-appointed, meals are substantial and staff very polite. Abdel, my guide, eats with me and once again, I am provided with a wonderful opportunity to make a good friend and to learn more about his country.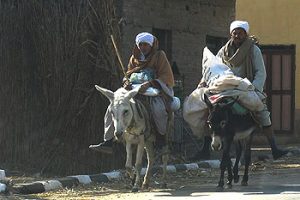 Our final destination, Aswan is picturesque and peaceful. I immediately like it – much better than Cairo, with virtually no traffic. Instead, the streets are full of a curios mélange of horse-drawn carriages, donkeys laden with heavy sacks, motorcycles, goats, and assorted other sights. My camera never stops as we take a carriage ride around the older parts of town. The next day we visit the High Dam, built to harness the annual Nile floods, the result of which was the gigantic artificial Lake Nasser, stretching 300 km south to Abu Simbel. In fact, we take a convoy across the desert from Aswan to Abu Simbel beginning at 5:00am the following day. Convoys are the only way tourists are allowed to travel by land in remote regions, mainly for security purposes, and ours is about 100 to 150 vehicles strong. The trip is worth the time. The huge temples of Ramses II and his queen Nefertari were completely dismantled in the 1960s to preserve them from the rising waters of Lake Nasser, and today they stand inside artificial hills looking almost exactly as they would have in ancient times, only several hundred feet above their old location..
Similar convoys over the next two days take us to visit temples in Abydos and Dendara, and finally across the eastern desert to the resort town of Hurghada on the Red Sea for some rest before I fly back to Cairo.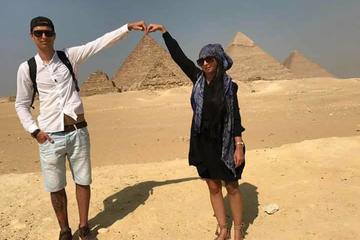 Private Tour Giza Pyramids, Sphinx, Memphis, Sakkara
If You Go:
Egypt is filled with the 5000 year-old stories of kings and deities that ruled the greatest ancient civilization ever known – and that is the reason I and most tourists visit. It takes at least two weeks to barely grasp the immensity of this civilization. Here are some tips that might help if you decide to go there:
• At least take a course or watch some videos on Egyptian history before going. It will really improve your understanding of the culture as it can be overwhelming at first.
• If I were to do it again, I would personally minimize my time in Cairo and concentrate on Upper Egypt, with the exception of the pyramids and the Egyptian Museum. The many artisan shops were not for me but they may be for others. The traffic is relentless and just plain annoying.
• Don't drink coffee before the long convoys. Usually, there are no planned stops and it could get embarrassing!
• The desert gets very cold at night and in the early morning. Take warm clothes.
• Be open to cultural differences. The continuous barrage of touts trying to sell something can be unnerving but that is how they do it. They are polite but one must also be firm in saying no. People are otherwise extremely friendly and will almost always go out of their way to please. Enjoy it, even though it may require a small tip or "baksheesh."
• Don't attempt to arrange a first visit without a guide, either private or part of a group tour. The culture is just too different.
My experience was first-rate. The company I booked through, A-Z Tours is well-organized and efficient. They can be reached at www.a-ztours.com.
Egypt Pyramid Tours Now Available:
Private Day Tour to Giza Pyramids Sphinx and Egyptian Museum in from Giza
Private-Day Tour to Dendara and Abydos temple from Luxor
Private Day Tour to Saqqara, Memphis and Giza from Cairo with Guide
Aswan Day Tour Visiting Philae Temple, Unfinished Obelisk and High Dam in Aswan
About the author:
Doug Matthews is a writer and educator based in Vancouver, Canada, with previous careers as an aeronautical engineer and special event producer. His writing ranges from technical engineering papers to general interest pieces for newspapers and magazines, as well as original music and mini-plays. He has also published three books on special events. Check out my blog about special events at www.specialeventguru.blogspot.com
Contact: gear6@shaw.ca
Photo credits:
Saqqara step pyramid by Enrico Nunziati from Pixabay
All other photos are by Doug Matthews.