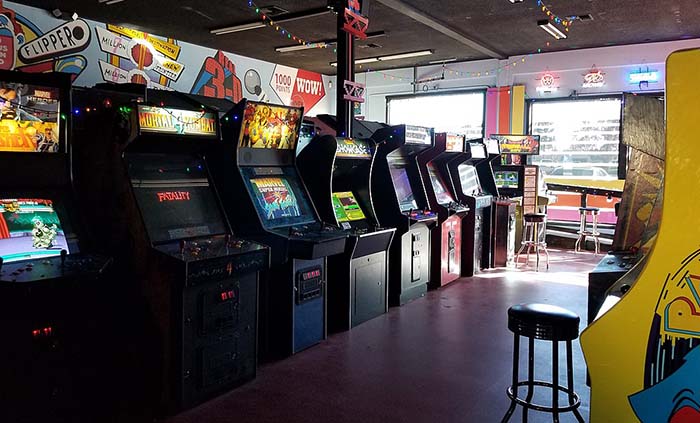 Video games provide a break from reality, but what if there were places where the two merged in seamless acquiescence? If you are a gamer yourself, you are going to love visiting the destinations on this list because they are well known for their gaming-friendly spots.
Loading Bar, London
There are two Loading Bars in London and one in Brighton. You will find the most popular and the first Loading Bar at 129 Stoke Newington High Street, N16 0PH, and a comparatively newer establishment at the ground floor of the Mountview, 120 Peckham Hill Street, SE15 5JT.
Both Loading Bars in London have retro arcades from the Golden Era of course, but there's more. The Loading Bar has retro style PlayStation, Xbox, and Switch arcade machines too! Admittedly, the place is completely dedicated to consoles and arcades, but that suits their entire theme. Coupled with good food and drinks, it's the perfect spot for friends to bond over video games and drinks.
Two-Bit Circus, Los Angeles
The name may not sound as inspiring as it should, but the Two-Bit Circus is the ultimate spot in Los Angeles for gamers. The place is so big that it's categorized as being a micro-amusement park. You can book the place for a private event, or you may simply pay them a visit with friends and family. Be sure to book in advance for ensuring availability of admittance.
From arcade machines and eSport counters, to midway games in augmented reality, they have pretty much all aspects of gaming covered in there. However, the VR decks and pods are their prime attractions. Each VR game is augmented with real-life elements such as weather effects, ground rumbling, external 3D sound effects, and more. Whether you have tried VR games before or not, it would be nothing like what you will experience at the Two-Bit Circus's Hologate, or Hyperdeck.
House of Nerds, Oslo
Another uninspiring name with excellent potential for gamers to have a superb time. However, things work differently inside the House of Nerds than your average gaming bar. Unlike the ones mentioned before, this one is wholly dedicated to PC gaming. Powered by the latest AMD gaming laptop models and desktop builds, all games run buttery smooth inside the House of Nerds. You are free to visit the bar as a guest or hire a portion of it for a private/corporate party.
Huis Ten Bosch Game Museum, Nagasaki
The entire nation of Japan is filled with more video game stores, venues, arenas, bars, amusement parks, and museums than any other country in the world! Among them, the Huis Ten Bosch Game Museum in Nagasaki is special because of its wide collection. There are active arcade machines here that apparently originated in the 1950s or 60s! Other than that, some of the preserved items on display here are practically worth millions because of their potential collector's value.
The truth is that video games are intricately connected with pop culture. As long as you are travelling in a major city, rest assured that you will find a gaming hub or two somewhere in the city. Nevertheless, the ones mentioned here are among the best places to let your inner gamer come out, even when you are on the road.
---
Photo credit:
Retrovolt Arcade – Arcade Machines Arcade Perfect, CC BY 2.0, via Wikimedia Commons