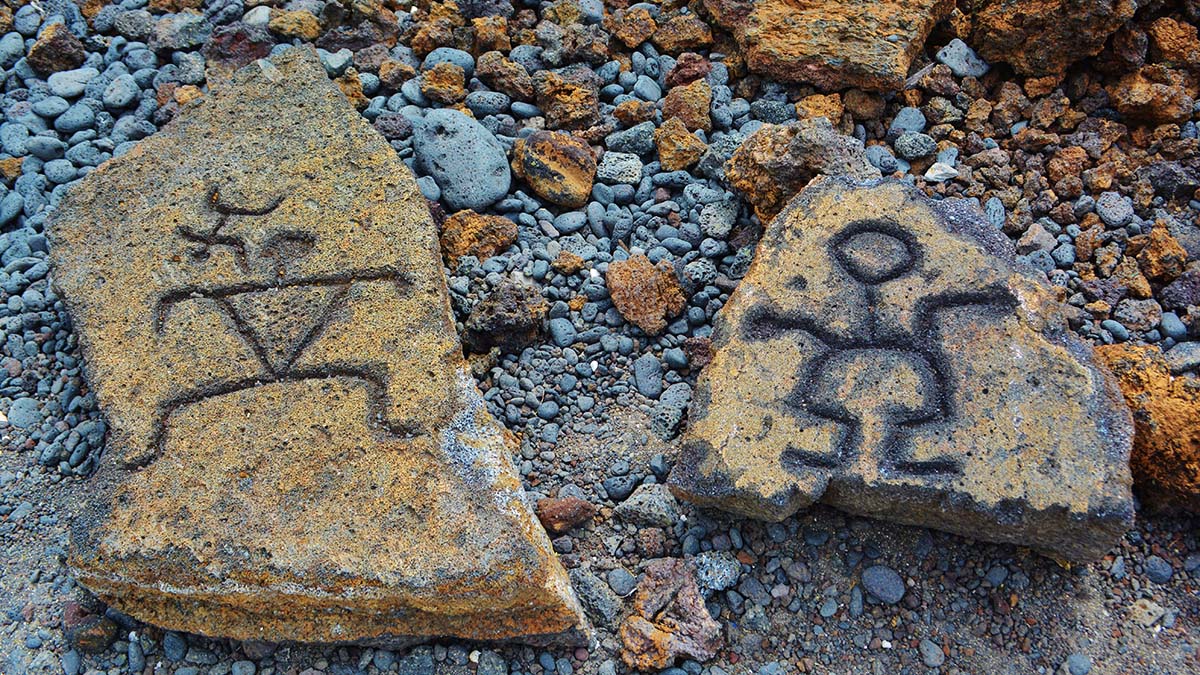 by Noreen Kompanik
Most visitors to the Big Island of Hawaii are searching for volcanoes and waterfalls. But on a recent visit, we yearned to find out more about its fascinating history. To do this right, we had to step back in time searching for petroglyphs and ancient ruins.
Petroglyph Fields
"Petroglyph" comes from the Greek words, petros for rock, and glyphein to carve. Hawaiians call this form of rock art k'i'i pohaku, or images in stone. Though petroglyphs can be found in at least 100 sites on all the Hawaiian Islands, the largest concentration of these mysterious carvings is on the Big Island of Hawaii.
Though the true meanings behind these ancient rock carvings dating back at least 400 years or more are unknown, it's widely believed they commemorate a wide range of significant occurrences in the lives of the ancient Polynesian Hawaiians.
With early Hawaiians possessing no form of written language, these figures carved into lava rocks are thought to record not only births and parts of rituals, but also statements of place and other significant religious, social, and political events that occurred in their lives long before the native Hawaiians' contact with western cultures.
Some of the petroglyph images are clustered near historic land boundaries or along footpaths cut through lava fields, but the full reasons for their location and cryptic creation may forever remain a mystery.
Our journey back in Hawaiian history began with one of the best preserved petroglyph sites on Hawaii's Big Island—the Waikoloa Petroglyph Field on the western Kona side of the island. It's believed Hawaiians settled this coast from 1400 to 1700 AD and going to and ventured inland to quarry stone for abrading tools. But some historians believe the island could have been visited as early as 1,000 AD.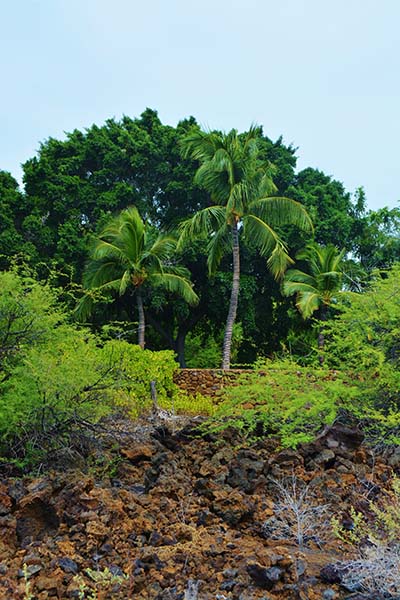 Petroglyphs were often left made as a recording of the ancient Hawaiian's visit and a wide variation of these carvings were found intact within these craggy lava fields. Shallow caves thought to have been made as weather retreats are also found here. And this area, just a short distance from an upscale shopping center is the most accessible petroglyph field on the island.
Puako Petroglyph Archeological Preserve just a few miles to the north from Waikoloa is a 1.4 mile roundtrip trek in one the largest petroglyph sites on the Big Island.
Found just a short walk from the stunningly beautiful ocean-side Fairmont Orchid Resort, this site contains thousands of well-preserved etchings, some of oldest found on the island. The petroglyphs were discovered during the development of a golf course for the Fairmont. The area however was kept intact and the 233-acre preserve was respectfully established to protect these ancient Hawaiian remnants.
Carvings of humans, canoes, sailing ships, turtles, chickens and even family groups among other symbols are messages left in stone. Others show soldiers yielding weapons. One can only wonder at the messages they were passing on to future generations. Or if within these fields, the ancient Hawaiian mana still lives here.
The unpaved trail is accessed through a kiawe (thorny tree) forest. Signs are clear for visitors to never touch or climb on these ancient archeological treasures but explanations about the historically significant petroglyphs remain mysterious and sparse.
Other numerous petroglyphs are also located at the coastal end of Chain of Craters Road in Hawaii Volcanoes National Park. Unfortunately this area can be closed at times for safety reasons due to high levels of sulfur dioxide content in the air.
Hawaiian Village Remains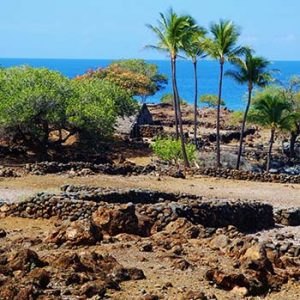 For a fascinating self-guided tour of a historic Hawaiian village on the leeward coastline of Kohala, Lapakahi State Historic Park provides the chance for visitors to feel the winds of time and history blowing through this magnificent place.
As settlers sailed into magnificent Koai'e Cove some 700 years ago, they rejoiced at the opportunity to safely land their canoes. The rolling hills and gulches provided a rare sheltered cove from the strong Pacific winds along this rugged shoreline. The sea was rich in food and the soil nurtured their crops.
The ruins here are surprisingly extensive. Black stone walls and many remnants still fairly intact today cling to the hillside alongside a breathtaking seaside landscape.
Lapakahi was the place for fisherman and farmers. Though most families lived along the shore to fish, some moved inward to grow kalo (taro) and 'uala (sweet potato).
Though there is no recorded history of the people here but what remains on the land helps cultural archeologists put some of the pieces of the puzzle together.
Trails through the Lapakahi village contain two loops. An interpretive brochure from the visitor's center details the numbered markers along the path identifying the various structures, foundations and their purposes.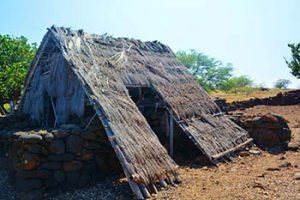 Of particular interest is the reconstructed Historic Hale or house site built with a bamboo frame, pili grass thatching and rounded basalt pebbled floor. The house was occupied into the early 1900s.
Hawaiian settlers dug wells, made their own salt, fished using the luhe'e lure made with a cowry shell and rock sinker specifically designed to catch the he'e (octopus).
A fishing shrine was built as a place to leave offerings to the Gods to ensure abundance from the sea. Mua, a family religious site was built for prayers and offerings.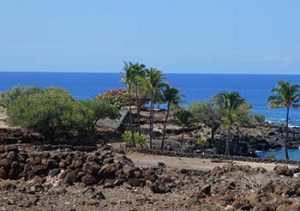 Stacked rock walls remain as remnants of a large residential complex. A Halua Wa'a was a thatch-roofed long walled enclosure to store canoes near the canoe landing. Of particular interest to us was a Papamu, a checkers-like game played on a stone board with black and white pebble pieces.
No one knows for sure when the walls of the village were constructed or the people who first journeyed to Lapakahi but one thing remains clear. They probably came for the abundance of the sea. And from its captivating bluffs, fishermen could watch the changing of the ocean and the presence and movement of the birds, fish and mammals that dwelled among them in their new abode.
By exploring ancient archeological sites such as the petroglyphs and Lapakahi we can appreciate even more the Hawaiian's intense belief that it's past must be preserved for future generations to better understand who they are.
There are so many more sites to explore — and they call us to return on another day.
As they say in Hawaiian "E malama no keia mua aki (follow in the footsteps of those who came before). The journey to discover some of ancient Hawaiian history and culture was truly an experience we won't soon forget.
If You Go:
2. Puako Petroglyph Archaeological Preserve
3. Lapakahi State Historical Park
About the author:
Noreen Kompanik is a published freelance travel writer and photographer based in San Diego, California. She is a member of the ITWA and IFWTWA and shares many of her adventures, stories and photos on her website whatsinyoursuitcase.net and What's In Your Suitcase? Facebook site.
All photos by Noreen Kompanik
Waikola Petroglyph Field
Puako Petroglyph Archeological Preserve
Lapakahi State Historic Park
Reconstructed Hale at Lapakahi State Historic Park
Rock Walls at Lapakahi State Historic Park
Exterior Structure of a Historic Hale