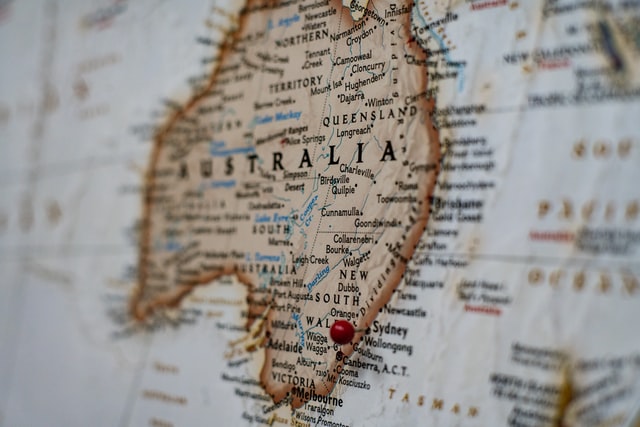 Australia is, by no means, a hidden gem. Still, for some reason, most people forget there is much more to it than Sydney and its famous attractions. To be frank, if I hadn't married an Australian a couple of years ago, I probably wouldn't be writing this article now. But the fact that most of this vast, beautiful country still hasn't been brought into the spotlight might just be what inspired me to dig a little deeper in search of unique sights and odd places to visit. And although it probably seems counterintuitive to tell the whole world about something you wish would remain somewhat under the radar, I firmly believe these places deserve to be heard of. So, without further ado, here are 6 strange places you can only find in Australia.
1.      Squeaky Beach
Wondering how this seemingly ordinary beach got its name? You'll realize the moment you step foot on it – quite literally. The beach is comprised of fine quartz sand, and its rounded grains are the culprits behind the sounds you will hear while walking on it. Moreover, your ears are not the only ones that will get a treat. The turquoise water, white sand, and incredible views of neighboring islands are a true sight for sore eyes.
Squeaky Beach is located in Wilson's Promontory National Park in Victoria, and it is surrounded by massive granite boulders, making it all the more spectacular. While this might not be the strangest place you can explore in Australia, it certainly is well-worth visiting.
2.      Umpherston Sinkhole
The New Year is nearing, and one thing you should definitely include on your list of resolutions is visiting the Umpherston Sinkhole.
This strange place, also known as the sunken garden, is located in South Australia's Mt Gambier. It used to be a cave, and it became what it is today when the top collapsed in the 19th century. In 1886, James Umpherston, a farmer and politician, turned the sinkhole into a garden.
Here, you can expect to take many fantasy-movie-like pictures, feed possums, and even have a drink and a snack yourself!
3.      The Pinnacles
This list of strange places you can only find in Australia wouldn't be complete without the Pinnacles – one of the most peculiar sights you can see in the Nambung Desert. These unique rock formations, some of which are up to four meters high, provide a genuinely otherworldly experience. While the limestone that comprises the Pinnacles was shaped by natural erosion, the Aboriginal owners believe that the rocks represent people who died in the quicksand.
If you decide to include this unique place in your itinerary, make sure to bring a camera as the shadows created by the rock formations make for a stunning backdrop for photos.
4.      Devil's Marbles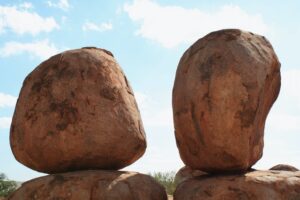 The Devil's Marbles are another rocky surprise of the 'Land Down Under.' The circular rock formations made out of granite are located in Warumungu in Northern Australia. Otherwise known as Karu Karu by the Aboriginal owners of the land, this sacred area is a must if you want to experience Australia's spiritual side.
Millions of years needed to pass for the massive boulders to be shaped. Some of them balance gracefully on top of each other, making the place that much more unusual.
5.      The Twelve Apostles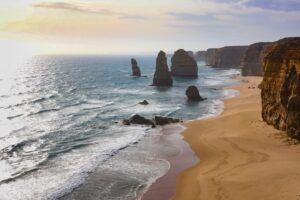 The limestone stacks, otherwise known as the Twelve Apostles, are located in Port Campbell National Park in Victoria. Despite the name, you can only see seven stacks – one of them collapsed in 2005, and the rest are located a little further from the group. Once again, nature is the artist behind this beautiful attraction.
The best way to get to the Twelve Apostles is to go on a road trip down the Great Ocean Road, along which you will be able to enjoy Australia's stunning coastline.
6.      Wave Rock
The last on this list of Australia's strange places is Wave Rock, a 27 million-year-old granite cliff that looks strikingly like a wave. Although it seems man-made, this rock formation is entirely natural. And climbing it is a one-of-a-kind experience undoubtedly worth the four-hour drive from Perth. If you get to the top, you'll be able to enjoy a stunning view of the surroundings.
Want more?
These 6 strange places you can only find in Australia are only a fraction of what this beautifully unusual country has up its sleeve. If you decide to visit some of them, one thing you need to know is that you will crave more! If you choose to move from the US to make Australia your backyard, make sure to get some help from the professionals. Only this way will you be able to relocate to the other side of the world without losing your hair.
If you go:
Unless you are visiting from New Zealand, you will likely need to acquire a visa. Research the requirements before you do anything else!
Proof of vaccination and a negative COVID test taken up to three days before your flight are necessary if you want to travel to Australia.
One of the reasons Australia is so popular among tourists is its beautiful weather. Still, remember that with plenty of sunshine come plenty of harmful UV rays. Make sure to protect your skin by wearing sunscreen whenever outside.
The Land Down Under is not a small place. To explore the strange places you can only find in Australia, you will probably need to utilize different forms of transportation, from rental cars, buses, and trains to planes.
About the author:
Sadie James is a blogger and avid traveler. History and culture are her passions, and she cannot imagine a trip without trying local delicacies and exploring everything a place has to offer. Moreover, these experiences are what she draws inspiration from for her articles and stories. When she is not traveling or planning another trip, Sadie likes to spend her time at home, relaxing with a good book or movie.