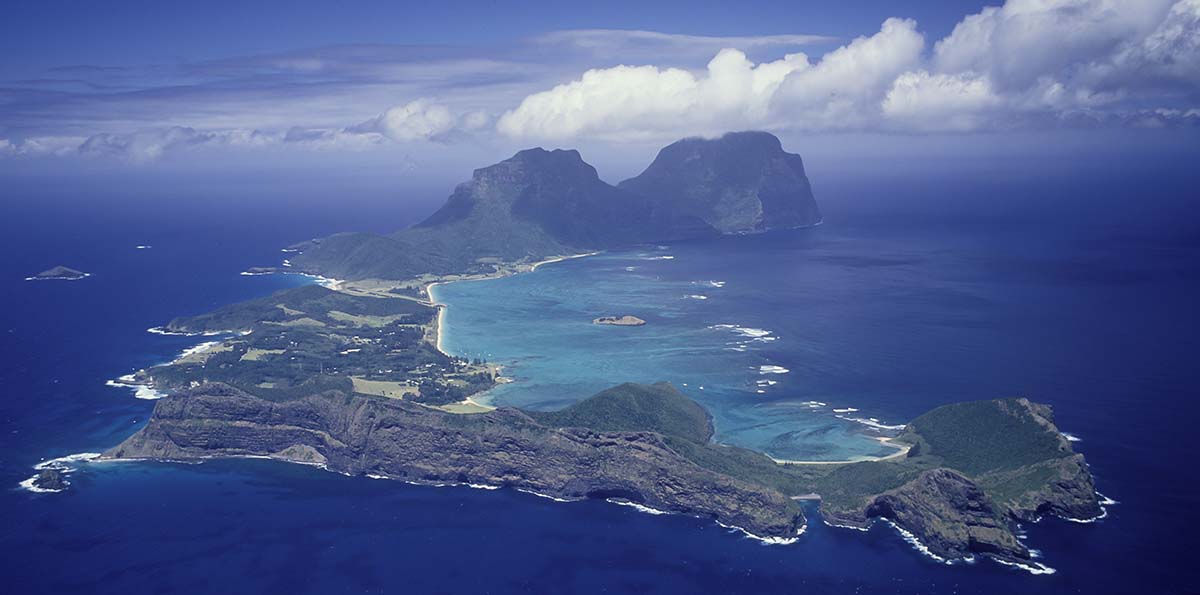 by Bill Arnott
A roaring Dash-8 took us northeast from Sydney over the Tasman Sea. Two hours of flying surrounded by nothing but blue—bright cloudless sky with deep open water below. The closest piece of land was a thousand kilometers east—Norfolk Island, the former penal colony and eventual home of the Pitcairn Islanders, descendants of the crew of HMS Bounty. I gazed into the blue, feeling anything but, recalling their story as we travelled the mutineers' route.
After serving as Captain Cook's Master on the Resolution, William Bligh took command of the Bounty, his task to gather Tahitian breadfruit—a cheap, plentiful food source to feed slaves in the Caribbean. Bligh was meticulous in his mapping and research, a skilled navigator, cartographer, and botanist, displaying the best traits of James Cook and Joseph Banks.
The breadfruit work took only a few weeks, but the crew of the Bounty stayed on Tahiti for half a year. The time was productive, Bligh gathering volumes of scientific information, but eventually decided it was time to leave. The rest of the crew, however, didn't share the captain's sense of urgency, feeling their time would be better spent enjoying Gauguin scenery, eating roast pork and sleeping with dark-haired Polynesians. Who could blame them?
Fast forward a few hundred nautical miles. The Tofua volcano was erupting nearby, an ideal backdrop to the escalation of tempers aboard the Bounty, a director's symbolic dream. Clark Gable, Marlon Brando and Mel Gibson all portrayed Master's Mate Fletcher Christian, born from a long line of sailors who led the mutiny, effectively giving the crew the choice of carrying on to England with the Captain in a dinghy or joining him in taking the Bounty back to Tahiti where they could, in theory, live happily ever after.
Following the mutineers return to Tahiti, some stayed to live the good life, taking their chances with the long but very slow arm of the law, while Christian and a few others sailed on, escaping to Pitcairn Island. Remarkably, they destroyed everything, trashing moai heads (viewed as false idols) and burning their ship, ensuring they were all in their predicament together, albeit marooned a thousand miles from anywhere. At that point, I suspect a few good months of hedonism on Tahiti before passage to England and hanging may not have seemed so bad after all.
(In a lonely museum in Oamaru, New Zealand I saw the only moai head that survived the mutineers ravaging on Pitcairn. It wasn't one of the monsters that litter Easter Island, but a simple little guy the size of a garden gnome that got missed, or possibly hidden by some less puritanical member of the mutineer crew.)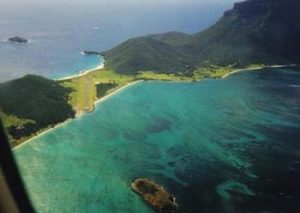 By the time I was in the area the only appeal to Norfolk Island was a haven of duty-free shopping which I was happy to give a miss and instead go directly to quiet, isolated Lord Howe Island. The twin turboprop banked sharply, giving us a steep view of the island—a narrow, seven-mile atoll with a flat-topped mountain at each end, holding it in place like two craggy pushpins jammed in the sea.
Dash-8s need about a thousand meters of runway to stop, we'd been told. Lord Howe's bitumen airstrip was closer to nine hundred, all that could fit in the compact space between sand and sea. But apparently, factoring in headwind and a sharp descent, this can do in a pinch. Plus, we learned, the runway grew a bit in hot weather. I doubted it grew a hundred meters, recalling a Woody Allen line that treacherous flights made him particularly uncomfortable, being an atheist. Our landing, however, was fine, the pilot nestling the plane between grazing goats and a couple of cows, methodically munching grass by the runway like glassy-eyed lawn mowers.
Accessing Lord Howe, a UNESCO World Heritage Site, was strictly limited, the number of guest beds—a few hundred, roughly equalling the number of residents. Our lodge owner greeted us at the open-air shelter that served as a terminal, fronted by a white picket fence. Tossing packs in the back of his beat-up ute, we bumped across the island, stopped at a store to buy groceries and overpriced Victoria Bitter, then carried on to our lodging.
From the window of our simply appointed room we looked onto a horse paddock where two chestnuts stood nose to tail. There was a grass tennis court and a concrete shuffleboard area, which made me feel we were aboard a hundred-year-old ocean liner, playing alongside passengers dressed like Mark Twain. After a few games we felt odd, new muscles straining in our sides, and gimped our way to the beach before supper, where a leathery old man stood in the sea, feeding bloody offal to a swarm of silver kingfish, thrashing around him like piranhas.
A massive Moreton Bay fig tree grew from the shore like a squat old castle. A knot was tied in one of its thick, hanging vine-roots, which I used as a stand-up swing, doing an impression of Tarzan, albeit with more clothes and less muscle. As sun slid down, the ocean changed colour, moving through the spectrum like a watery rainbow.
We dined family-style in a casual eatery adjacent to someone's home—platters of salads and fresh fried kingfish – this peaceful setting a far cry from the violent display these gamefish put on an hour earlier. Following sunset, the island was cast in blackness. Generators stopped for the night. We couldn't see a thing, but a friendly local walked us home with a torch and we learned to always carry a flashlight to dinner.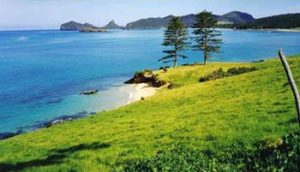 Next day we golfed. The island had a simple nine-hole course, every hole with ocean views. The only structure was a small, open hut at the first tee with loaner clubs leaning outside. There was an honour box for greens fees, and other than a guy riding a mower up and down one fairway we were the only ones there. Later on, we trundled down the little island on ancient, single-gear bikes and made our way to secluded Lovers' Beach, where we lay in the sand and gazed at the Tasman. Norfolk pines threw some shade, but exposed sand was hot as a griddle and I hotfooted it to the water like a dancing chicken.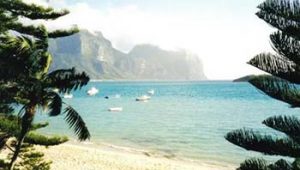 The sea was private, an endless expanse of sapphire and freedom. At least I thought it was private. I splashed around, porpoising in shallow dives until a snake wound past, bobbing at the water's surface. It looked about two feet long, but with all the S-curves was probably closer to three. It had black and white bands like a monochrome barber's pole and an open, angry mouth of teeth that somehow made it look dimwitted, like a small, mouth-breathing barracuda. I did my best to back-paddle, a graceless thrashing of arms and legs, the way I had while swimming in the Okanagan when a deer emerged from shoreline trees to enter the water. I'd swum in from an anchored boat, enjoying the encounter with a real-life Robert Bateman painting, until the deer pissed in the water like a garden hose on full nozzle. The only thing impeding my rapid retreat was my laughter, trying to keep my mouth shut as I swam back to the boat, head craned from the water like a turtle.
Back in the Tasman, I managed to avoid the bobbing sea snake and splashed my way to shore. The pull of the surf moved the serpent in a southerly direction, and it seemed unlikely it would hit shore anywhere nearby. At a little beach hut down the road that rented snorkel gear and beach paraphernalia, I asked the guy about the snake, describing what I'd seen.
He nodded.
"Are they poisonous?" I asked.
"Nah," he said in soft Australian twang. I was relieved, wanting to get back in the water. Then he leaned in and added, "Not poisonous, mate. Venomous. You bite him, you should be fine, but he bites you; well, then yer' f*cked."
If You Go:
Lord Howe Island is 600 km northeast of Sydney, Australia. Qantas flies from Sydney and Brisbane. The climate's temperate year-round but remember June, July and August are winter, with less favourable weather. School holidays are December and January and can be busy. Most spots are unpretentious; dress is casual. The UV factor's high. Do the Aussie slip, slop, slap – slip on a shirt, slop on sunscreen, slap on a hat. There are plenty of good swimming beaches; watch the surf report for tides and any danger. The entire island's ideal for birdwatching, fishing, and scuba. Try the kingfish any chance you get – grilled, fried or sashimi. When you're asked if you want salad with your burger, it can mean beetroot and carrot in the bun (rather than lettuce and tomato); yummy, but foreign to most North Americans
Reference resources:
Lord Howe Island
 by Robert Etheridge
A History of Lord Howe Island
 by Max Nicholls
Death By Muttonbird: A Lord Howe Island Murder Mystery
, by Simon Dodd
About the Author:
Author, poet, songwriter Bill Arnott is the bestselling author of Gone Viking: A Travel Saga
and Dromomania: A Wonderful Magical Journey
. His articles and columns are published in Canada, the US, UK, Europe and Asia. When not trekking the globe with a small pack, weatherproof journal and horribly outdated camera phone, he can be found on Canada's west coast, making friends and generally misbehaving. @billarnott_aps
Photos by Bill Arnott