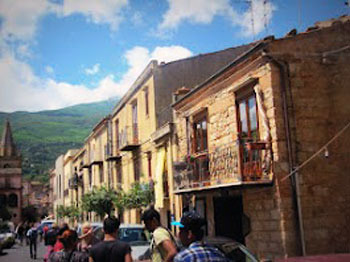 Palermo, Sicily, Italy
by Raluca Maier
Palermo is a playful mix of traffic, tiny streets full of motorcycles and cars trying to make their way through the crowds walking up and down, people of all colors, noise, parties in the street, loud music, markets where all sorts of smells mix together, sellers trying to market their products by shouting out loud, like in old times, but also many hidden treasures, like: Palazzo di Normi, Santa Caterica Church, Capuchin Catacombs, Santa Maria Assunta Cathedral, Capella Palatina, Massimo theatre and many others.
Situated in the northwest of the island of Sicily, Palermo has architectural and cultural influences from Northern Africa, Greece, but also Spain and Italy – although in Europe, makes you realize since the first moment you step on the Palermiam ground, that this is not typical Europe at all and not even Italy, the way we knew or imagined it.
It's the kind of place where the multiculturalism becomes so obvious, that even the names of the streets are written in three different languages: Italian, Hebrew and Arabic.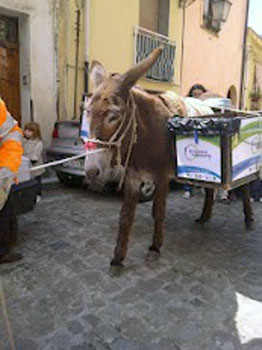 The city was founded by the Phoenicians, but named by the Ancient Greeks as "Panormus", which then became "Palermo", with the basic meaning of a place "always fit for landing in." This aspect becomes pretty clear once to see all the people coming from Tunis and Northern Africa, for whom Palermo represents a way to make some of their dreams come true and the Tyrrhenian Sea is their only escape to a better world.
These poor people coming from the Third World are making a living nowadays in Palermo, through selling jewelries and souvenirs or washing windows of cars in the city centre – Piazza Centrale.
One of the Tunisian men selling jewelries in this Piazza was actually a very good marketer. He told me that the jewelries were good quality, real silver, because he wouldn't sell some material that is not good and that would affect his reputation as a seller. He told me, "You, as a client, will tell someone else and I will lose a client. But if the product is good, you will tell someone else about it, to a friend or to your family and I will get more clients." This seemed practical advice.
What to visit / What to do?
In Palermo, you can enjoy a refined trip, full of culture while walking on the magnificent streets in the city centre and visiting the most important treasures left by the ancestors. At the same time you can have an exotic trip, full of shocking discoveries. It all depends on which side or quarter of Palermo you choose to visit.
If you want to visit the most well-known "tourist places" in the city, I would suggest you don't miss out on Palazzo dei Normanni, one of the most beautiful Italian palaces and a notable example of Norman architecture. It also houses the famous Cappella Palatina, which you've probably seen in many pictures by now. Zisa and Cuba are are magnificent castles, which served as hunting places for the kings of Palermo in the past. Palermo Cathedral is the main church of the city – a blend of different, if not opposed architectural styles. The cathedral can be found on Corso Vittorio Emanuele, corner of Via Matteo Bonello.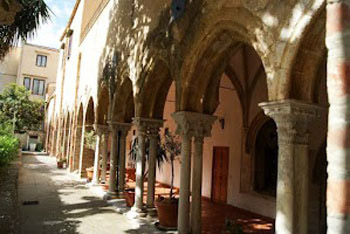 Another place of great interest for all tourists is the Capuchin Catacombs, with many mummified corpses in varying degrees of preservation. The main attraction is a little girl, who looks as if she was really still alive.
If you want to enjoy the seaside and get tanned, Cefalu is the best place for that. Palermo is right by the sea, but there aren't any sandy beach in the city, just the port and heavy rocks. Cefalu is a half an hour away from Palermo and you can get there by bus. It has a beautiful cathedral, tasty restaurants and one of the most beautiful beaches I've ever seen.
If you want to see the more exotic side of Palermo, visit Ballaro, one of the really poor quarters of the city, with huge markets. Here you can see the way sellers market there products right in the street. Ballaro is also interesting during the night. It's full of street parties, pubs extending on the street with chairs and tables next to the cars that drive close, scaring some of the tourists. People of all colors and nationalities mix together and dance in the middle of the streets. Drinks are sold in small plastic glasses that cost around €2 to €3. A beer can be €1.50, depending on the brand, and you can find mostly any brand from all over the world. I even noticed Guinness being sold in the market place.
Basic Precautions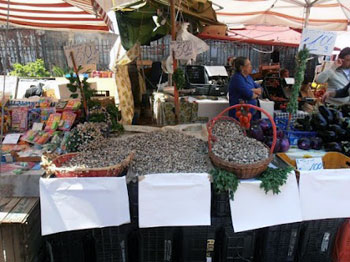 You might have heard of Palermo as being a dangerous place to go to, with stories of all the Mafia present around the streets. I've walked all alone or with just one other companion in Ballaro, one of the most dangerous quarters in Palermo and never encountered anything scary or frightening.
Most of the Palermiam people and those who came to live in Palermo, are easy-going and friendly. The only thing that I would consider as a danger in Palermo is the traffic. There are many cars, but especially many motorcycles, making their way in the middle of the crowds or in tiny streets so you have to pay special attention when you are walking. The traffic lights don't matter that much either, so whenever you want to cross the street, you'd better follow an advice one Italian girl gave me: just make sure they notice you out there and if you're not sure they did, just hold one hand straight, directed to the left or right, depending where the cars are coming from. This will definitely make them stop and wait for you to cross.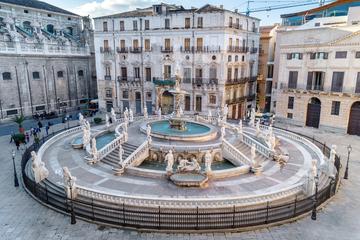 Palermo 2-Hour Private Guided Tour
If You Go:
Palermo is usually a nice, hot place to go to, but there are times in the year when the weather is nicest.
Autumn tends to be the wettest time of the year, but you wouldn't expect a lot of rain though, as Palermo doesn't experience that much rainfall compared to other parts of Europe. Temperatures usually range between 11°C / 52°F and 17°C / 63°F.
Winter is quite short – between December and February and with temperatures that don't fall under 10°C / 50°F, which makes Palermo the perfect place for Italians living in other parts of Italy, to escape from the cold winter.
Spring in the best time of the year to visit Palermo, as temperatures range between 10°C / 50°F and 18°C / 65°F.
During May and June, it's even warm enough to take a bath in the sea and get tanned on the beach.
Summer can be a bit too hot, but it all depends on your preferences – expect high temperatures in July and August, starting at 28°C / 82°F and getting even higher. If you want to enjoy time by the sea, it's the perfect time.
Have a great escape in Palermo!
For visitor's information: palermo.com
About the author:
Raluca Maier is originally from Romania, with half-Austrian origins. She enjoys traveling a lot. She studied Journalism and Communication Studies and is an editor of a women's magazine in Romania – Belva.
All photos are by Raluca Maier.