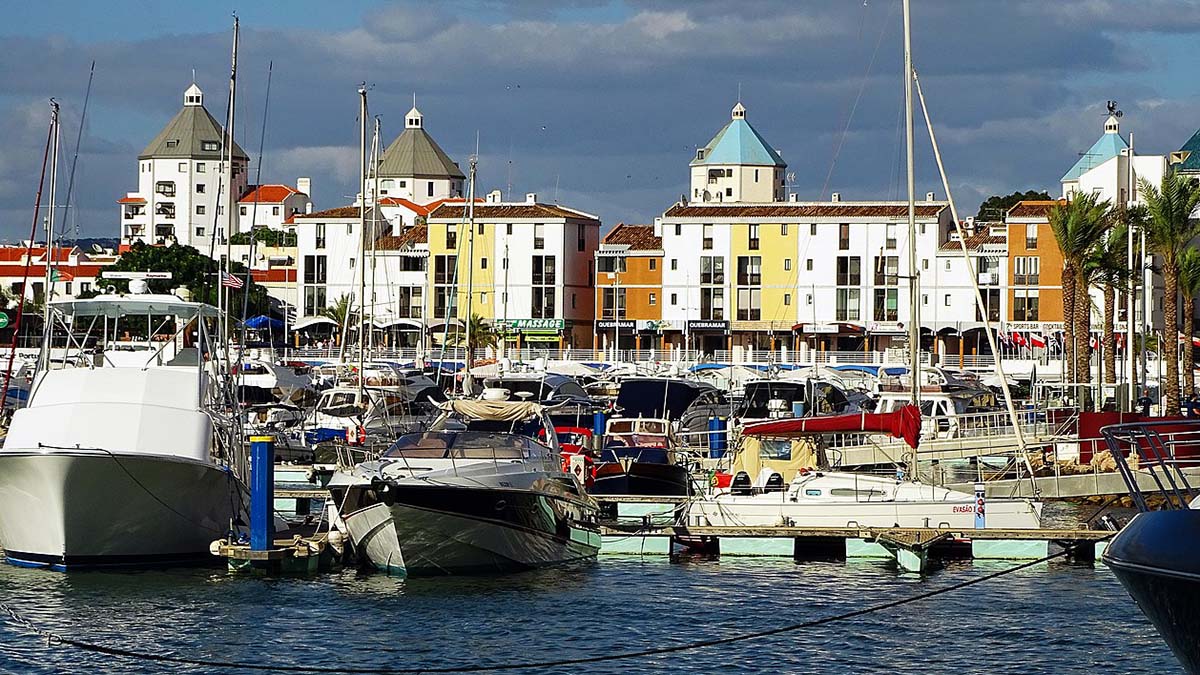 by Polly Allen
The Algarve region of Portugal is full of culture, combining the influences of Arabian, Phoenician, Roman and Portuguese society. The rich historical legacy left behind is definitely worth a visit, whether you're a fan of ancient architecture, you wonder where Algarvian pottery comes from, or you want to know about Henry the Navigator, the governor of the Algarve during medieval times who became an important explorer.
The History of the Algarve
The area has been invaded by many different groups during the course of its history, with the Arabs, or Moors, making the strongest mark. 'Algarve' comes from the Moorish word Al-Gharb, which means west, as the region was the most Westerly point that the Moors had conquered. You can still see Moorish influences in the everyday buildings of the region that have small windows and flat roofs. Three towns are still guarded by forts (though there aren't any menacing invading parties now), and you'll find them at Castro Marim, Lagos and Silves. At Lagos you can also see the impressive town walls, which are largely still standing.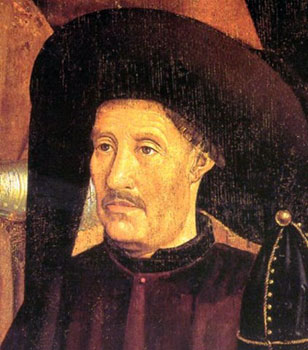 In 1418 Henry the Navigator became Governor of the Algarve, although at the time he was only plain Prince Henry. He founded a School of Navigation in the town of Sagres, which helped to put Portugal on the map in terms of seafaring and plotting long voyages on the ocean waves. Sadly the school was destroyed by the army of Sir Francis Drake in 1587. Henry the Navigator's other achievements were to discover new territories in Cape Verde, Madeira, Sierra Leone and the Azores.
A major event which literally shook the very foundations of Algarvian culture was the Great Earthquake of 1755, which damaged settlements all across Portugal and destroyed the capital city of Lisbon. Much of the damage done in the Algarve came from the resulting tsunami, leaving many important buildings – as well as homes and businesses – in ruins. The earthquake is still remembered every year on its anniversary of November 1st. During the rebuilding process it was discovered that traditional Portuguese tiles provided damp-proofing for buildings, which has led to many old houses in the Algarve being covered in them. Look out for quirky prints and patterns as you walk through the well-trodden streets.
Places to Visit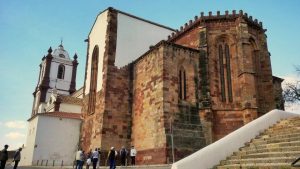 Silves is a brilliant place to start your Algarve adventure as it's the former regional capital. This ancient city contains the largest castle in the region, which has eleven towers, and it can still be explored today. You can walk around the battlements, peer through the gateways and glimpse stunning views over the surrounding landscape. Children will also love a visit to the castle as it's an enchanting place. The reddish tint to the castle comes from the colourful sandstone of Portugal, which gives the walls a distinctive colour. Once you've been to the castle then head to the 13th Century cathedral, called Se Velha.
The Capela dos Ossos is an unusual sight that can be found near Faro. This is one of Portugal's bone chapels, which are literally made from the remains of devout monks who served in local parishes. In this case the Carmelite monks who built the chapel managed to include 1245 contributors to their grisly – but visually stunning – task. Even the walls are made from the large femur bones. This type of chapel is certainly not exclusive to Portugal, with many other religious groups taking on similar projects in Austria, Italy, the Czech Republic, Peru and France. So why did they do it? The use of body parts helps to symbolise that material possessions aren't important and that death is a natural part of life. Whether or not you are religious, it's an incredible thing to visit the Capela dos Ossos. You can hardly miss the one skeleton covered with gold, which forms a focal point of the chapel.
Local Traditions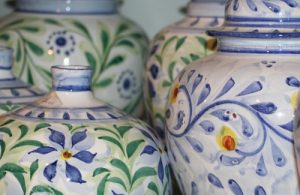 You may notice that pottery is everywhere here. That's because the locals love their azulejos – glazed tiles that are blue and white, used for decoration around the home or in public buildings, which have been popular here since the 15th Century. If you want to go to the hub of Algarvian ceramics then a trip to Porches is highly recommended. This rural town has several pottery outlets which you can visit and see the craftsmen and women at work. It's amazing to watch the workers producing pieces in the same way that generations of potters have done before them. Try popping into the Olaria Pequena (The Little Pottery), which is painted blue and white to match its wares, which you can also buy on-site. These distinctive pots and tiles, lovingly hand-painted, make excellent souvenirs for family, friends or yourself, whether you choose to have them personalised or you would like the original designs. There are also individual makers of azulejos in small Algarvian villages, such as Sylvain Bongard in Ferragudo, who has a studio that is open to the public. Ceramics really do give a flavour of the real Algarve.
Food-wise, there are also some important traditional dishes (and drinks for afterwards) that have been prepared here for decades. Head to Portimao, in the centre of the region, which is known as the capital of sardines, and where even the municipal museum is housed in an old sardine processing factory. Seafood is one of the key things that the Algarve is famous for, as it's based on the coast and you are never more than a few minutes away from a beach or fishing port. Cod is another big Portuguese fish choice, and the salted variety is everywhere here, known as bacalhau, whilst other options include clams and sea bass.
Aside from seafood, Piri-Piri chicken is very popular here, which uses a blend of spices and peppers to make a hot and delicious dish to be served alongside vegetables or potatoes. You'll be spoilt for choice with desserts, with smooth crème caramel (known as Pudim Flan) and Tarte de Amêndoa, or almond tart, as favourites. Citrus fruits also make an appearance in many desserts as Portugal is a great natural environment for growing them in. The bright citrus colours are also mirrored in Portuguese décor, with lemons being a popular motif. If you're feeling fired up after tasting the real Algarve then why not finish your meal with one of their legendary spirits? Aguardente, or fire water, is a warming drink that is incredibly strong and made from sugarcane. It's not for the faint-hearted but it is a memorable way to end your cultural visit to the Algarve as the liquor hits the back of your throat.
As you can see, this beautiful region of Portugal has a rich history to share with travelers, and there's so much to explore. You can see why so many invaders wanted to establish themselves in the area, with vast beaches, traditional architecture and a wealth of natural produce. Make your next historical holiday one in the Algarve and you won't be disappointed.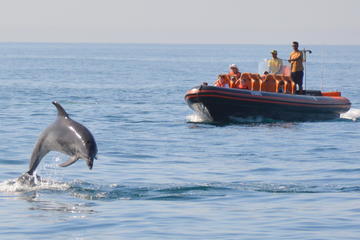 Private Dolphin Watching and Cave Tour from Albufeira
If You Go:
Plane:
Faro airport is right in the heart of the Algarve and is served by many major airlines. easyJet Holidays flies direct to Faro from many major UK and international airports.
Train:
Lagos train station has connections to Seville in Spain and Lisbon in Portugal.
Accommodation:
The Algarve is an affordable destination, with a range of accommodation to suit all budgets. Popular resorts include Albufeira and Vilamoura, both of which are coastal towns with plenty of amenities. Vilamoura is also the home of golf in the Algarve. If you are looking for a more rural destination then Tavira is a great choice, and you can even stay in a converted monastery.
Best Times to Go:
February to April is when it won't be too hot and you'll see plenty of wildlife. The peak summer season is between June and September, when many holidaymakers choose to take advantage of an average of 12 hours of sunlight per day. Traveling between September and November will mean that resorts are more peaceful but you can still be in the great outdoors.
On the Web:
http://holidays.easyjet.com is a comprehensive guide to Algarve holidays.
www.visitportugal.com is the national tourist board.
www.visitalgarve.pt is the regional tourist board.
Photo credits:
Vilamoura city by Jose A. / CC BY
Henry the Navigator: Nuno Gonçalves / Public domain
Sé Catedral de Silves by Bextrel / CC BY-SA
Porches pottery by Juliet  Swift under the Creative Commons Attribution-ShareAlike 3.0 License.

About the author:
Polly Allen is a journalist and destination marketer based near London. When she's not writing, she enjoys exploring cultural places around the world, including the Algarve, Edinburgh and New York. She currently writes for easyJet Holidays at holidays.easyjet.com