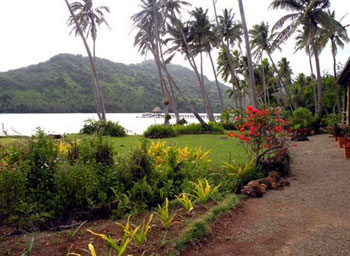 by Mari Kane
As we emerge from our van in front of the Jean-Michel Cousteau Fiji Islands Resort, I hear music. Outside, a Fijian guy is playing guitar and singing a welcome home song. Beside him, a Fijian woman is offering us colorful drinks with tiny umbrellas. I want to wave them away with an "aw garsh, ya shouldn't have," until I realize that every guest is serenaded upon arrival. After a ten-hour flight from Los Angeles and a one-hour flight in a six-seat plane from Nadi International Airport, their song is a symphony to our jet-lagged ears.
The five-star resort is a collection of thatched roof bures spread over a former coconut plantation on a lush peninsula on the island of Savusavu. Named for the son of the world's most famous diver, the resort is unsurprisingly eco-friendly. Not only does it run a marine preserve in Savusavu Bay, it also employs a full-time marine biologist to guide visitors through its underwater backyard.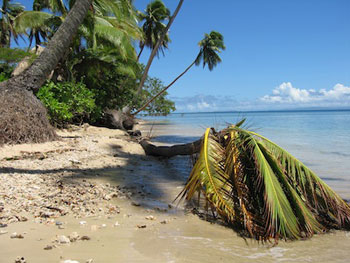 We arrived in mid-March 2010, one week after a category-four cyclone had torn through the Fijian islands and destroyed buildings, homes and roads. Driving from the tiny airport, we saw lots of damaged structures and broken tree limbs being chainsawed into manageable pieces. The once-verdant jungles, stripped of foliage and flowers, were tinged a mottled shade of brown. At the Cousteau resort we saw numerous downed trees, and a tour of the organic vegetable garden revealed a heartbreaking mess of broken seedlings. From the pier, we could see how the coral had taken on a variety of beige tones, and on the beach, piles of broken pieces had washed up, free for the guilt-free taking.
Still, the sun was high and the air was warm, and the Fijians kept saying "Bula, welcome home," as if we'd returned to a place we'd been before. That cyclone suddenly seemed so last week.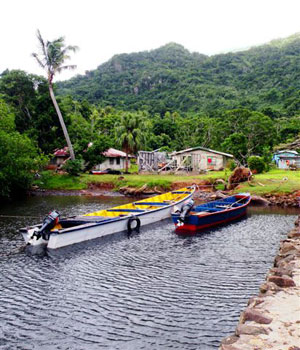 The size of our oceanview bure rivaled our Vancouver apartment, with enough closet space to keep our stuff hidden. Two walls were plantation blinds, the domed ceiling thatched, and the entire bathroom earthy-tone tile. After being briefed on everything from the best way to keep mosquitos out and the various organized activities, we were given a foot bath and massage on our porch. Talk about a fine howdy do, this was an effective way to make a visitor feel welcomed home. It made me want to curl up on the beach with a good book.
But with so many things to do at Cousteau, who has time to lay on the beach? Every day offers something new. We starting several mornings with yoga on the beach, or if it rained, the group stretched in the children's Bula Club among the giant chess pieces. Outfitted with snorkeling mask and fins, we took launches out on Savusavu Bay where I got my first look at a white-tipped shark. On another day, we rode a school bus across the island, high up to the Waisali Rainforest Reserve for a hike to a waterfall under which we swam in the clear pool of mountain spring water. The scene was like out of a movie.
Then there was the kava. Also known as kava-kava it's made from the roots of the Piper methysticum plant and is used as a sedative and anesthetic. Here, kava is a ceremony, where ground kava root is mixed with water in a traditional wooden bowl and is scooped out in a coconut shell and passed from person to person. Before and after drinking the metallically vegetal-tasting juice, we are told clap once, which can be tricky when you're holding a coconut shell full of kava in one hand.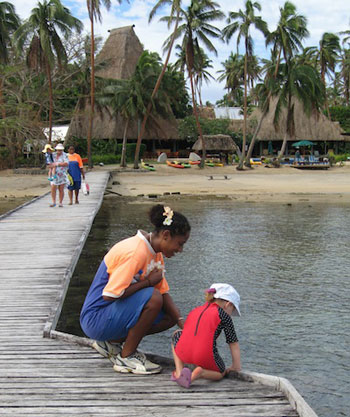 Before, during and after dinner we were entertained by the Cousteau's house combo, the Bula Band, a group of young men who sang and played guitars. These guys were big on kava and encouraged us to sing and drink along. Joining them became a great way to relax after a long day of, well – relaxing.
To prevent our minds from going completely to mush, the resort presented stimulating ecologic-related programs each evening before dinner. One night, whale photographer Bryant Austin discussed his style of capturing high resolution pictures while free-diving among whales and he showed slides of his full-sized whale photographs, which his exhibits in whaling countries. Another evening, the resort's resident marine biologist used video produced by Jean-Michel Cousteau to discuss the nature of sharks. From him we learned that sharks don't actually bite people; they're just getting a little taste. That's a relief.
When it comes to dining, Cousteau is famous for its cuisine. The open-air Serenity dining room, overlooking the infinity pool, offers a menu of beautifully presented three-course meals on a fourteen-day rotation. So, if you stay two weeks you never eat the same thing twice.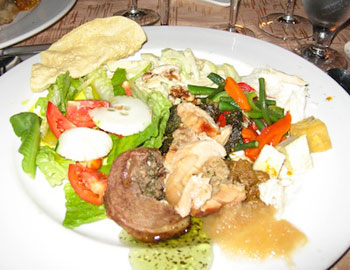 On our first night, we were treated to a traditional Fijian feast, cooked mostly in the lovo – a fire pit lined with heat-resistant stones. All afternoon, the smoky savoriness wafted over the resort, piquing our appetites. The buffet included lovo-cooked pork, chicken, beef as well as a whole walu – or Spanish mackerel – and were augmented with chunks of baked taro, sweet potato and plantain, smoked to perfection.
What I loved the most was a dish called palusami. This is a mix of onion, tomato and other veggies wrapped in taro leaves and soaked in coconut milk. Coconut milk is a key ingredient in Fiji and is made fresh at the Cousteau resort. Cooked in the lovo, palusami is satisfying enough to turn me into a vegetarian.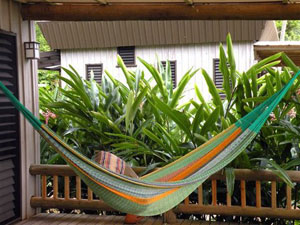 The good eats are not limited to the Serenity dining room, however. True romantics can have a table set up at the end of the pier for more privacy, an arrangement we saw working nicely until the wind and rain forced a quick evacuation. The kitchen will also load a gas grill, tables and chairs into a boat and set up a full lunch on Naviavia Island out in the bay, an event that impressed the large party of Californians who participated.
The mellow Fijians who run the Cousteau resort have a gift for making guests feel at home. live in a nearby village and live off the land and sea. I asked our boat pilot – who doubles as a kayak wrangler and grounds keeper – how he liked working at Cousteau, and he laughed and said, "I can just pull off my shirt and jump in the water whenever I want. What can be better than that?"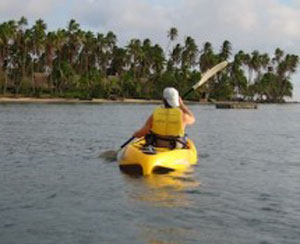 Our waiter told us he had worked on Fiji's big island and it was expensive and a tough place to live, "but here, I can pull down a coconut or catch a fish to eat and it's free." Sounds pretty idyllic to me, although the village suffered some big-time crop loss in the storm. To support the village, the resort requests donations for a fund to benefit their Fijian employees and their families. Assistant Manager Bart Simpson – his real name – told us the Fijian's hospitality comes naturally. "A lot of the nice things they do, we don't ask them. They just do it."
By the end of our week we couldn't pass up a fragrant massage in one of the spa bures on the beach, where the only sounds are lapping water, breezing palms and the breath of the Fijian masseuse as she rubs me down with floral-scented oils. Nor could we resist taking a couple of the kayaks out on the bay along Sauvusavu's coastline, to see the vivid brownness of the shore and the beige coral through our glass bottoms.
The Cousteau resort may be seductive to couples, but from all appearances it's also dynamite for families. The Bula Club spans a large swath near the vegetable gardens encompassing two freshwater pools with slides plus a mushroom pool for toddlers, a jungle gym, a sandbox, and two open-air club houses for doing art projects or playing giant chess. I saw a crowd of pre-adolescents going nuts on the deep-pool slide, and while their Fijian nanny stood close, occasionally calling admonishments, she pretty much let them cut loose.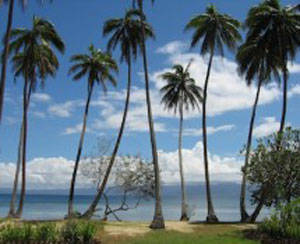 The resort's nannies are available all day, so parents can have time alone if they want. Although kids are not allowed in the Serenity dining room, families can dine together in an equally beautiful space on the other side of the infinity pool. This separation of kids and adults is not only a welcome respite from the noise and frenetic energy of children, it also make you appreciate them more.
One of my favorite times was when nannies brought the kids out on the resort pier to spot fish and coral in the morning's low tides. The way they were mesmerized by the underwater life made me realize that for all our differences, one thing children and adults always have in common is the appreciation of nature. For this reminder alone, I loved having these kids around.
As we depart the Cousteau resort – rested, relaxed, tanned and well fed – we are again sung away by the bula guys and the managers. They make us feel that instead of going home, we are actually leaving it.
If You Go:
♦ Flights to Nadi International leave from Los Angeles four times per week via Air Pacific. The 10 hour flights range from $1,363 – 2,357 depending on the month.
♦ Flights to Savusavu from Nadi run several times per day and range from $246 – 527.
♦ Depending on the season and the bure chosen, rates for two adults start at $820 per night, including all meals, soft drinks, Fiji water, teas, coffee, the activities mentioned above, Bula Club for children and return vehicle transfers from the local airport.
♦ Additional charges apply to spa services, alcohol, diving equipment, island lunches and pier dinners.
♦ Read more about Fijian food at tastingroomconfidential.com/eatin-fijian
About the author:
Mari Kane is a writer, blogger and internet marketer based in Vancouver, BC. As a member of the BC Travel Writers Association, Mari won her trip to Fiji in a drawing at the BCTWA annual gala and is grateful to them and the PR Counsel at Tourism Fiji.
All photos by Mari Kane, © 2010.