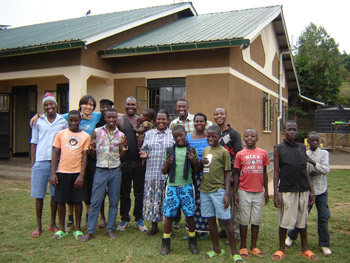 Uganda, Africa
by Wayne Gatley 
The gears of poverty grind down dreams from generation to generation. Illiteracy is its linchpin."
– Carl Sagan.
Fine red powder coats the dashboard, floor and seats of the Toyota Ipsum as our team of twelve Vancouverites bounce along the rutted road from the Rwandan border to Kabale. Terraced, fertile fields and banana palms dwarf the one-room, mud houses that cluster at crossroads. They looked charmingly rural.
"Their homes have no electricity, no water, no bathrooms," My son, Darren, says. "Most people in Kabale are poor and unemployed. They abandon their children if they can't feed them, or the little guys run away to beg and steal their food. Tyler and Michelle built Humura homes for those boys. You'll meet them after lunch."
Darren's tall frame is tucked under the low ceiling of the van. "Tomorrow," he says, "training starts and you'll meet the girls from the Akanyijuka orphanage/school."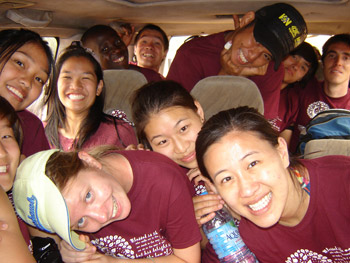 During the two years since Darren's first trip to Uganda, he has pulled together this disparate team to partner with local youth and run three-day camps for young children. We are a typical Vancouver mix: five Chinese, three Phillipino and three Caucasian. The youngest are fifteen and I am the oldest at 71.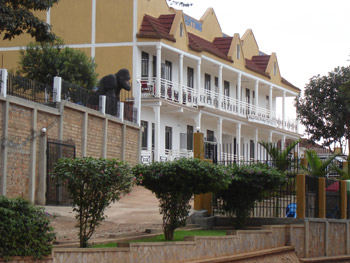 "Here we are," Darren shouts, as the Ipsum swerves hard right and climbs the short distance to the Albertine Graben Tourist Resort Hotel, where Tyler and Michelle have booked rooms for us. It's colonial style with white pillared colonnades along both floors. The roof is peaked with ochre dormers.
After lunch we drive through Kabale. Pink walls and rainbow patio umbrellas draw my attention to God's Mercy Unisex Salon and nearby, the Jesus Saves Salon. Christianity is expressed openly and in perplexing ways to my Canadian mind.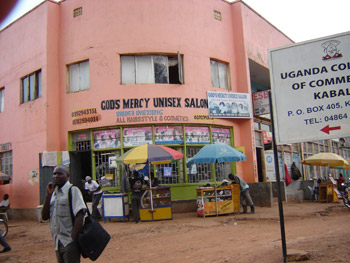 Fields of cabbage, plantain and potatoes blanket the valley. We leave the road at Bubaale, a small village with just a few tin-roofed mud-brick houses and turn onto a narrow, dirt road that winds upward through the terraced hillside. During daylight, people live outdoors. Women in patterned dresses and head wraps walk to the creek or the village spigot for water. Even small children carry a yellow jerry can.
Near the top of the hill, we drive through the open gate to the Humura homes. The vehicle lurches and pounces into the compound. A few boys stand and watch. Older teens shoo goats and chickens out of the way as they approach the minivan. The two handsome residences are concrete-block, painted a red-earth colour with white trim. They overlook the dusty, smoky valley. The site lives up to the meaning of Humura: lifted up and dusted off.
When I step out of the van, a teenager, taller than myself, slim and with a happy smile opens his arms wide and calls out, "Papa Dan!" He reaches his long arms around me and pulls me close. The boys can't articulate Darren's name, so they call him Dan. Hence, I am Papa Dan. Arophat spent ten years on the streets of Kabale where he foraged for food from garbage bins and was beaten by police. In his two years at Humura, he has completed Grade Seven and will go to High School next year.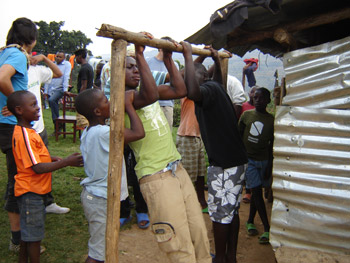 The boys entertain us with African dance, songs and feats of strength: chins, pushups and backflips. They tell me that their tribe, the Bukiga, are strong men and if you hire them, they work hard.
That evening, Michelle takes our Canadian team to dinner at Customer's Joint off Garage street, the dirt road frequented by homeless boys and drug addicts. "Guys," Tyler says, "Look after the girls."
"Yeah," Jessica says. "When I was in the market in 2012, a man proposed. "Marry me, I can give two cows for you."
Tyler says, "I told him, 'I am her guardian. Two cows are not enough.'"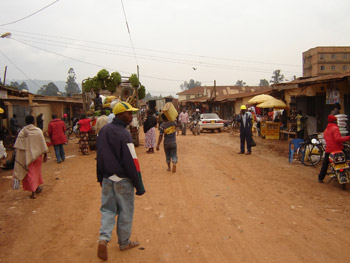 Tyler parks in front of the restaurant beside a hitching post. The server takes us through a room containing four tables and a bar. Behind that, we step down to a sunken floor and crowd around a table with bench seats. A steamy, pasty smell emanates from the courtyard behind the restaurant where a woman stirs a large pot of something sticky and grey-white. The shed behind her is cluttered with cooking implements and sacks of corn meal and potatoes. Another woman washes clothes in a deep metal basin.
The choices are poshoe (mashed corn), Irish (potatoes), Matoke (cooked and mashed, starchy plantain), beans and chicken. For beverages, we choose from Fanta, Stony and Coke. Stony is an African ginger-ale that I find pleasantly spicy and thirst quenching. Michelle orders everything on the menu and we serve ourselves. Not fancy, but filling.
The next day, we meet the Humura boys and Akanyijuka girls at White Horse Inn, high above the city where the air is clear and fresh. It's a premium accommodation in Kabale, situated next to the local golf course. The Inn and its pyramid-roofed cabins surround a grassy expanse where we'll do the training.
The first session feels dry and clinical, but while we wait for lunch the girls skip with double ropes, boys ride piggy-back and they all compete in a limbo dance. Frances, the Humura goat-herder, climbs a tree and ventures out so far on a branch that it breaks and he falls to the ground. The laughter and open-spirited play dissolves inhibitions and produces powerful bonding within the team.
Our second day of training is at Lake Bunyonyi Eco Resort, on Kyahugye Island. Our driver, Boaz, parks close to a precipice that drops to the lake and the dock where two large, motor driven dugouts wait to take us to the Island, just five minutes away.
Our young leader-trainees laugh and joke as we cross – it's a race, it's a carnival ride, it's great fun.
"There are no fish in this lake," Boaz says. "Too shallow, but people swim here. It is the only lake in Africa free of Bilharzia. Makes you very itchy."
On the island, we climb the hill to Lake Bunyonyi Eco resort. The guesthouse, a pavilion partly open on the sides could accommodate a good sized banquet. The massive thatch roof stretches over the entire floor space.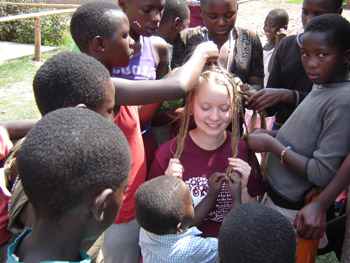 The full-service, island resort accommodates tourists in view bungalows or hotel suites. The open air restaurant and bar provide quality meals and drinks, including local specialties such as Louisiana red swamp crayfish, cooked with organic herbs and spices. They are not imported, but fresh from the lake which was stocked in the Seventies.
After the training, we take the nature trail around the island's free-range animal park. Just outside the pavilion, we see a De Brazza monkey with its arc shaped brush of top hair, close set brown eyes and white beard. As the only monkey on the island it carries the distinguished title, 'President of the Island.' The water bucks, zebras, crested cranes, and Ugandan kob, an antelope emblazoned on the country's coat of arms, seem tame, but we keep our distance just the same.
The training is so successful that on the third day of camp, when we arrive late, the Bukiga volunteers have started the program. About 250 children sing, make crafts and play games that illustrate the lessons, which I give in English and Bruno, the smallest Humura trainee and part pigmy, translates. At noon, the children devour a hot, filling meal, likely their only food for the day. In the second week, we take the program to a school in the hills and close to 300 children come.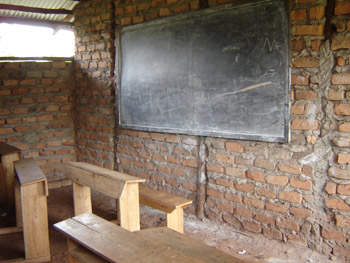 We had invited the village of Bubaale to come to Akanyijuka Primary School for a carnival on the last Saturday. A large, white gazebo is raised and a loud speaker system prepared for speeches. Hundreds line up for poshoe and beans, but just as the last few are served, a torrential storm drives everyone into the buildings or away to their homes, ending the carnival. We crowd into one of the old wood-plank, school classrooms and bid a tearful goodbye to our strong, Buchiga trainees.
The night before leaving, Our Canadian team has dinner at White Horse Inn. In a large room with a towering, pyramidal, thatched roof, we savour a buffet of sautéed vegetables, poshoe, tilapia, roast chicken, rice and French fries.
After dinner, I wander the grounds and breathe in the cool fresh air. Lights from homes across the valley dot the hillside and fuse into a soft glow from Kabale. It's one of those magical moments that give the impression that all is right with the world and the future is bright for this small city in the hinterland of Uganda, the jewel of Africa.
Literacy is a bridge from misery to hope."
– Kofi Anan.
If You Go:
Uganda has been a stable country for the twenty-seven years its president, Yowari Museveni has been in power, but it is considered 'very corrupt' by Transparency International, losing 286 million dollars every year due to corruption. Its population is 38 million and one Canadian dollar was worth 2285 Ugandan shillings at the time this was written. In Kabale, banks will only exchange U.S. cash that is not older than ten years. The quickest route to Kabale is by Air Amsterdam to Kigale, Rwanda, then by bus or taxi to Kabale.
Documentation:
A Visa to enter Rwanda is required.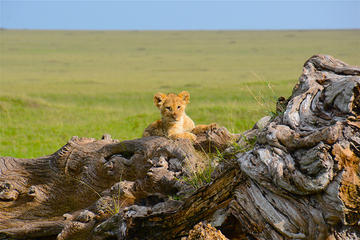 7-Day Best of Uganda Gorilla Safari and Wildlife Experience
About the author:
Wayne Gatley is a retired high school administrator and university instructor. He has taught in Canada, England and Germany. He believes that education is the world's most powerful tool for change. After this trip, six of the Buchiga volunteers graduated from primary school and went on to further studies.
All photos by Wayne Gatley.