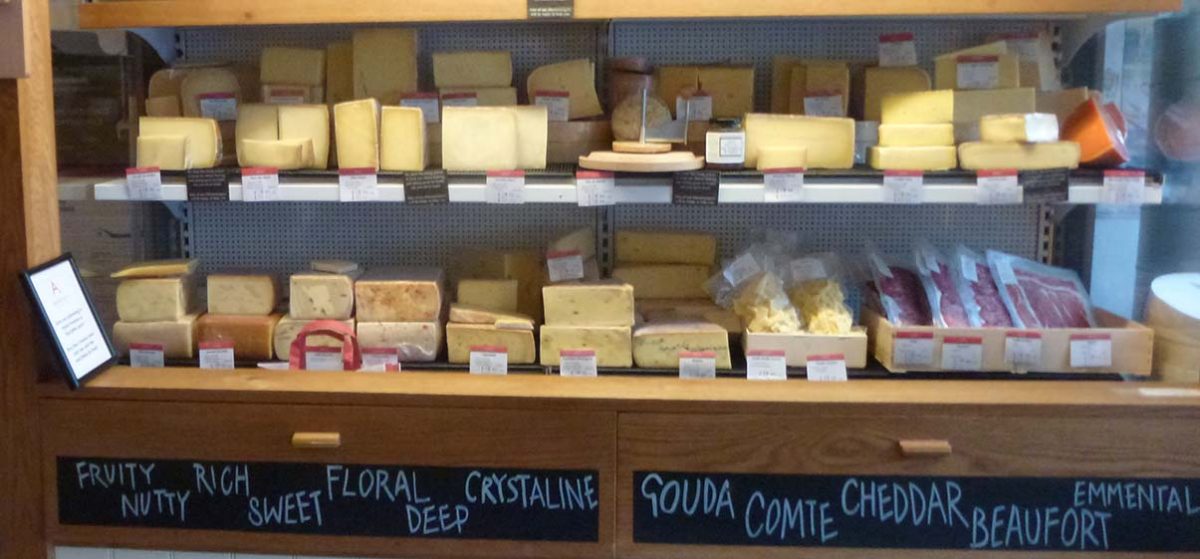 by Shirley Moskow
I'm early for the 10 am food tour of London's East End so I wait on a wooden bench for our guide to arrive at Old Spitalfields Market. Meanwhile, I'm watching vendors set up their stalls. A baker arranges baskets of breads and rolls. Next to him, a fellow constructs pyramids of fresh oranges. Nearby, a woman wearing a babushka is folding silk scarves into neat columns.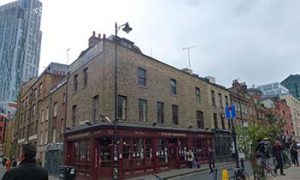 One or two at a time, other travelers begin to arrive. Our guide, Pryia Bhamrah, says that with 14, we are a larger group than most of her Eating Europe (formerly Eating London) Tours.
My companions are couples and singles. They come from New Zealand, Egypt, Scotland, and the U.S., including brothers from Utah and a couple who recently relocated to Massachusetts from Texas. We range in age from early twenties to eighties. What our gregarious group has in common is a curiosity about food and history.
Pryia begins by telling us that Spitalfields is on the site of an ancient Roman burying ground, discovered about 1638. King Charles set aside a rectangular plot on Spital Fields for a meat and produce market to feed the growing London population. There's been a market here for more than 350 years.
The East End is near the docks. Poor immigrants from many nations sought refuge from political and religious prejudice in England and settled here when they got off the boats that brought them. Pryia, whose family came from India, grew up here. "As recently as ten years ago, it was regarded as a disreputable area," she says. "It was best to stay away."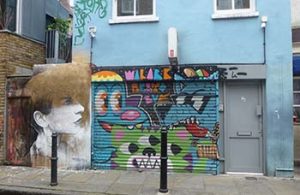 About a decade ago, artists looking for cheap living and working spaces discovered the East End. They rehabbed and painted. They repaired leaky roofs and replaced broken windows. Developers, then millennials followed. No longer gritty, today the neighborhood is trendy. Murals and modern sculptures are at home alongside the cobblestone streets. And small Mom and Pop restaurants serve the authentic cuisine of many nations.
The vintage red brick buildings are protected historic structures, and Spitalfields covered market is considered one of the finest Victorian market halls in all of London. It's the go-to place for gourmet foods, fresh vegetables, souvenirs, and crafts. Every other Thursday, there's a specialty market with antiques and vintage clothing.
I've never been here before, but I'm not surprised to experience déjà vu. The multi-cultural East End is the setting for Jennifer Worth's 1950s memoir Call the Midwife. I'd watched the popular public television program, which was filmed here.
It's only a block to our tour's first stop, St. John Bread. Pryia says that the owner/chef Fergus Henderson was a friend of television gastronome and NY restaurateur Anthony Bourdain. "They shared a devotion for natural food, bread made with organic flour, and a commitment not to waste food."
Henderson uses every part of the animal, she says, "a nose to tail eating experience." That doesn't sound appetizing to me, but she assures us that he'll keep the menu simple for our group. The interior is simple too, white walls and natural wood picnic tables. His recipes are printed and arranged like post cards on a shelf for us to take.
 I'm served "the legendary bacon sandwich." It's delicious, Canadian style bacon on fresh bread with two sauces, a slightly spicy tomato and herb condiment, and mustard. I understand why it's always on the menu. I'm tempted to eat a second helping, but I remind myself that this is only the first stop. Seven more dining experiences await.
Next, it's another short walk to Brushfield Street, which borders Spitalfields. The English Restaurant, a 17th century building is "listed," which means that it's an historic landmark so the architecture is protected. It can't be changed. Like much of the area, it was dilapidated when a woman named Kay fell in love with it.
Ignoring the advice from her friends, she restored it. Now it's a charming pub with tiny windows and vintage prints decorating the walls. The gleaming dark wood bar sports ornate brass taps for dispensing local beers and ale. My bread-and-butter pudding arrives with a petite pitcher of clotted cream. Charles Dickens would feel right at home here.
Then it's into Old Spitalfield Market, where two brothers operate a cheese shop at 10a Lamb Street. There are more than 700 named British cheeses. Master cheese mongers Leo and Alex Androuet are fond of Englsh cheese, but they have a special affection for fine French cheeses.
They are descended from French Hugenots who found refuge in London from religious persecution. Wheels and loaves of many types of cheese are stacked on open shelves and behind glass refrigerator doors. I can't resist their invitation to sample some.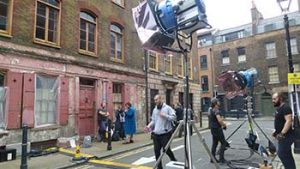 Afterwards, the tour takes me through neighborhoods of Victorian and medieval buildings. I stop to watch a film crew shooting a period movie. We're within walking distance of the Tower of London, and we pass the massive quarters where King Charles's cavalry was billeted.
By now it's lunch time. The tour stops for a traditional treat at an award-winning shop so popular that the line of customers stretches out the door. Soon I'm on the sidewalk with others, enjoying fish and chips lightly sprinkled with vinegar and wrapped in a newspaper cone. The atmosphere is festive. We wash down lunch with English beer and cider at a neighborhood pub.
But I'm not done yet. There's more walking, talking, and eating, before the tour ends at an old factory and a choice of luscious desserts.
If You Go: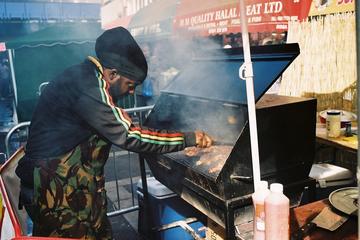 London Food and Culture Tour
London has fantastic public transportation. Three stations are less than ten minutes from the Old Spitalfields Market, 16 Horner Square, London E1 6DW. For directions, a map, and market hours go to the Old Spitalfields Market website.
Wear comfortable walking shoes. It's four hours or a little more over cobblestone streets to visit the eight restaurants plus historic sites.
Bring an appetite. Restaurant portions are generous. The 10 a.m. tour was my breakfast and lunch.
There may be more than one tour on a particular day, but space is limited, and reservations are required. For information about availability go to Eating London Food Tours.
The cost of the tour varies according to the dollar/pound exchange rate. Figure approximately $90 +/- for adults; $75 +/- for ages 13-17; and $55 +/- for the first child 4-12 years, less for additional children.
Eating Europe also offers other London neighborhood food tours as well as food tours in Rome, Florence, Amsterdam, Prague, and Paris.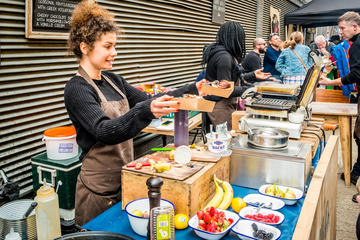 Full English: London Food Experience with a Local
About the author:
Shirley B. Moskow is a Boston, MA-based, freelance writer who specializes in the arts and crafts, design, history, and travel. Her articles appear in metropolitan newspapers and magazines in the U.S. and abroad. She has written two books and contributed to anthologies. When she not traveling or at her computer, she may be found on the tennis courts.
Photos by Robert Moskow