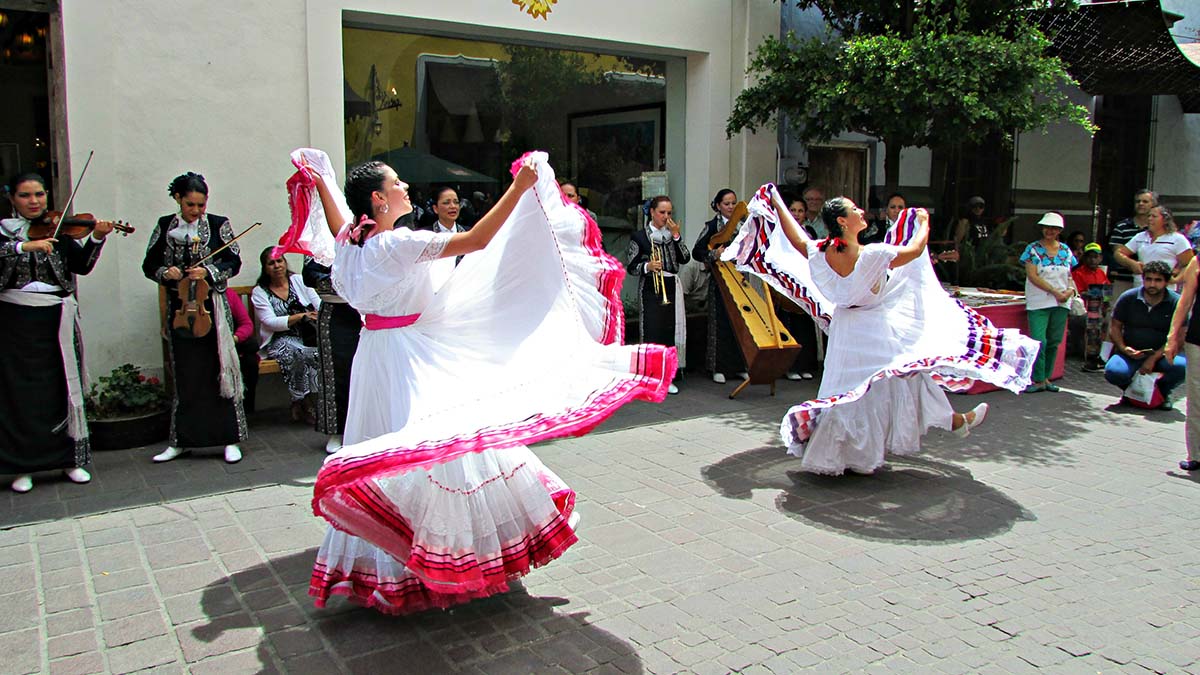 by Barb Harmon 
Author James A. Michener once said, "If you reject the food, ignore the customs, fear the religion, and avoid the people, you might better stay at home."  Wise words, wise man. To me, travel has always been about immersing myself in the culture of the area I am visiting…food, customs, a better understanding of the religion and getting to know the people. It enriches your experience. I recently had the good fortune to visit the village of Ajijic and the other small communities that make up the Lakeside region of Mexico. I fell in love with a capital L and will be returning with husband in tow in the very near future.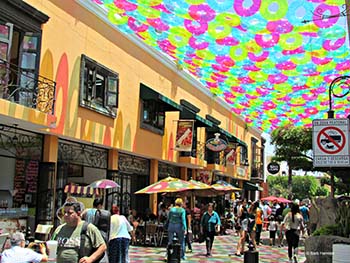 While in Ajijic I visited Tlaquepacque. I thought it would be "touristy" but I was wrong. The scores of local people experiencing the magic Tlaquepacque offers, put that myth to rest.
Though small at 105 square miles, the municipality of Tlaquepacque is known for its high quality arts and crafts housed in spectacular old mansions. With two churches, two pottery and ceramic museums, a bevy of restaurants, and more shops than you can count, you will be entertained for hours. The pedestrian friendly Independencia Avenue is the 'main street' but I encourage you to explore the side streets as well. There is more to Tlaquepacque than first meets the eyes. Here is my list of four 'not to be missed' attractions.
Female Mariachi Band at El Patio
Mariachi music as we know it, started in the 19th century. It is more than music, its cultural…heritage. Most Mariachi bands are male but on Sundays you will find a female Mariachi band at El Patio Restaurant [TOP PHOTO]. These women are talented! They sing like angels and play their instruments with pride and fiery passion. Once they step outside with their dancers to perform, a crowd forms immediately. This was a treat and is not to be missed. If you should be hungry, follow them inside the restaurant for an authentic experience.
The Jardin Hidalgo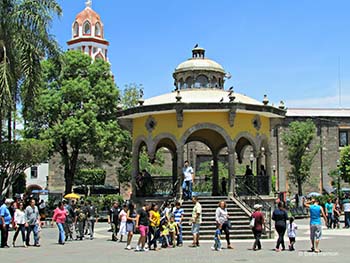 The Jardin Hidalgo filled with laughter, music, chirping birds, and happy people is the heart of Tlaquepacque. Its melodious fountains, numerous flower beds and shady trees, provides a visually stunning space for those seeking to get away from the crowded avenues. The colorful bandstand draws those who are seeking shade on a sizzling sunny day. Surrounded by Tlaquepacque's two churches, you are sure to hear the ringing of church bells. Take time to walk around the square, you will not be disappointed.
Easy to find…look for the Church tower
The street artisans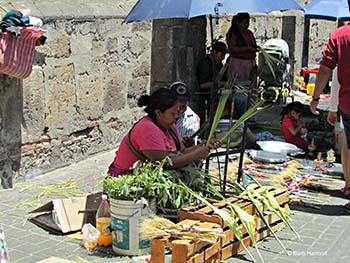 While there are many shops to tempt you with handmade items, interesting items for sale can be found if you just look down. While walking in front of the Santuario de Nuestra Senora de la Soledad Church (behind the Jardin Hildalgo), I spotted this artisan creating crucifixes out of palm fronds. Her hands were magical. I was captivated by the speed with which she fashioned a frond into a crucifix. There are many artisans like this scattered around town, just keep your eyes open and you are bound to find a special souvenir.
Imaginative bronze sculptures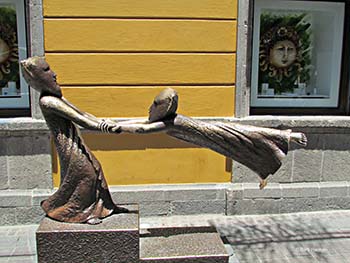 Amazing sculptures are scattered throughout Tlaquepacque. They run the gamut from life like to surreal. What they have in common is detail, exquisite detail. My favorite is by Sergio Bustamante. Born in Mexico, he is an artist who has worked in all mediums but is best known for his sculptures. As I stood in front of this sculpture, a gentleman shared that Bustamante was fascinated by the thought of children flying and often had dreams of flying as a child. This sculpture, according to him, was based on that theme.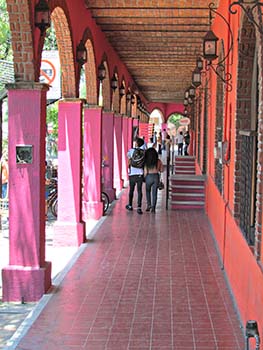 Bustamante has a gallery on Calle Independencia. I walked inside hoping to find out more about the flying theme. It was a weekend and they were busy. The next visit will be mid week…I am planning on having my questions answered.
The magic
The magic that is Tlaquepacque will get into your soul. The smiling faces of folks enjoying the day, the food…the treasures around every corner.
Once you visit, it will capture your heart.
If You Go:
Transportation
Cabs are plentiful from Guadalajara. The journey takes about 15 minutes and is US$6. From Ajijic it's 45 minutes with a price of US$25.
Eat
El Patio offers an extensive menu to suit virtually every palate. Remember, this is where the female Mariachi band performs on Sundays.
Independencia #186
Visit
Galeria Sergio Bustamante, Calle Independencia #238
About the author:
Barb Harmon is a freelance travel writer. Time spent in the Netherlands as an exchange student fueled a passion for travel. She has lived in Switzerland. As empty nesters, she and her husband are frequent travelers. She is a member of ITWA. Her blog is www.chasingthenextchapter.com
All photos are by Barb Harmon
Female Mariachi Band with their dancers
Calle independencia
Jardin Hidalgo
Skilled street artisan
Sculpture by Sergio Bustamante
A colorful arcade