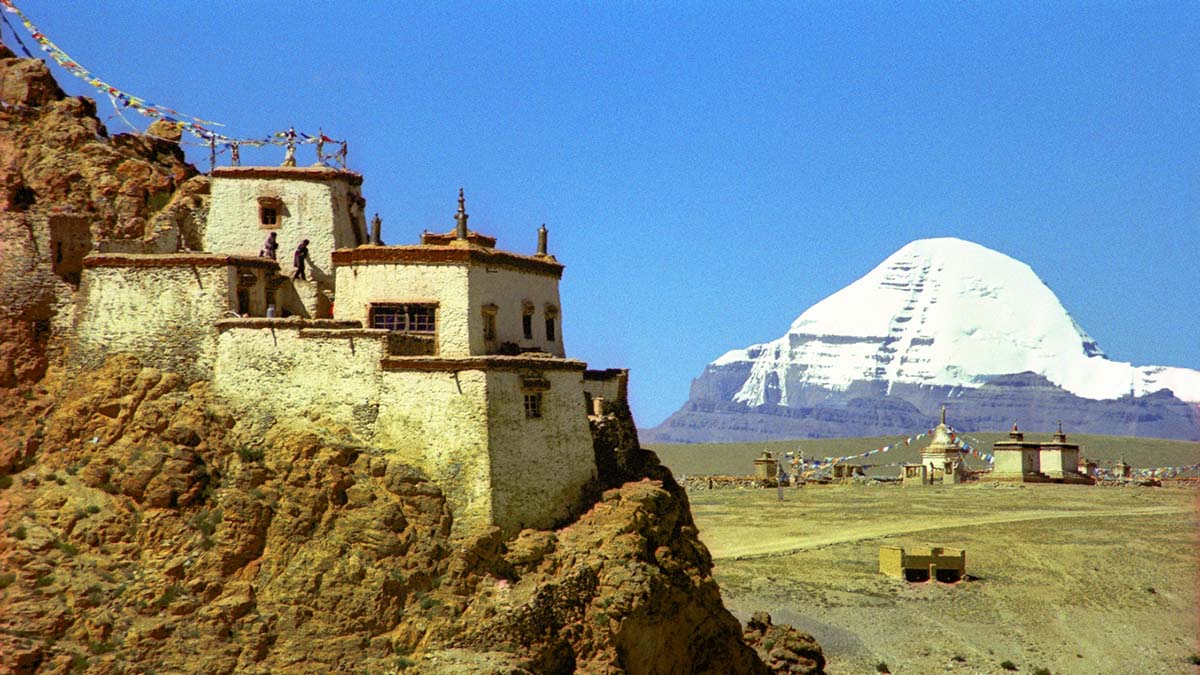 Himalayan Rhapsody: A Mountain Pilgrimage in Tibet
by Nayna Chakrabarty
Are you living your life on the edge? I used to prefer leading mine with a safety net. My outlook towards vacations took a U-turn from beach resorts, jungle adventures and spa packages when I was hypnotized by the golden hue radiating from the pristine, snow-capped mountains. It was then that I got my calling to come and seek the blessings of Lord Shiva.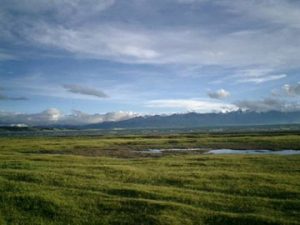 Mount Kailash, in Tibet, is revered in Hinduism, Buddhism, Jainism and the Bora faith. The Hindus regard this place as the abode of Lord Shiva, the God of destruction and regeneration, while the Tantric Buddhists believe this to be the home of Buddha Demchok. According to the Jains, their founder Rishabhadeva attained enlightenment here and the Bon religion, predating Buddhism in Tibet, consider this area as the center of spiritual power.
I knew that Lord Shiva is a God who is easily pleased if a devotee is ardent and sincere in his worship. With this faith, I packed my gear and headed to Tibet.
The first stop was at Nepal to sign up with a tour operator. This had several advantages as they are well-versed in handling visas and permits. Their packages include lodging, food and medical assistance. The key players of such expeditions are the Sherpas who are extremely adaptable to the outdoor lifestyle and familiar with the topographical layout. Nepal has its own charm with its lively ethnicity and heritage. But I didn't get to spend much time sight-seeing as our group headed directly to Tibet.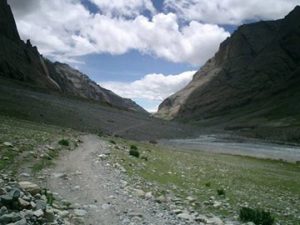 The roads became treacherous after we crossed the China border. The rugged terrain made me feel as if I had lost control over my sense of balance. The rock-strewn ground slashed the tires of our vehicle causing problems for the driver. Other times, it was fun to pass through small streams, splashing water, leaving a trail for others to follow. At sunset, we huddled in shanty settlements sharing accommodations with four people from the tour group. It was a difficult journey, but a small price to pay, as most Hindus believe that getting to Mount Kailash is a once in a lifetime opportunity. If you can make it there and back then you are one step closer to getting liberation from the cycle of birth and death.
On the fifth day, we were at the threshold of heaven, Darchen. From here, we had to start the clockwise trek around Mount Kailash. In Hinduism, walking in a clockwise direction around a temple, a sacred mountain or a river is known as Parikrama or Pradakshina. This kora (circumambulation) should be done in humility as a sign of respect towards the presiding deity. The fifty-two kilometer (thirty miles) trek was divided into three days. There were horses available on hire to make this journey easier. But I declined. Instead, I preferred a guide who would accompany me on this scenic pilgrimage. Lord Shiva was definitely glad with my decision because I was given three guides for the price of one – a beautiful girl, Prema, her son Thantri, and their dog Ouna. Despite the language barriers, with our hand gestures, we managed to communicate. This was Prema's ninth trek. She stayed faithfully by my side, carrying my backpack. Whenever I stopped to rest, she handed me my water bottle and food packet.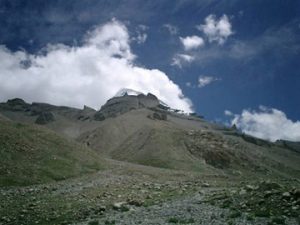 It was easy to get mesmerized by the clear, blue sky and the glowing beauty of the snow-capped mountains sparkling in the bright sunlight. The clouds seemed to pass at slow pace, exchanging pleasantries with the snow. The icy wind pinched my skin, yet there was gentleness in its touch when it ruffled my hair. Prema made sure that I did not rest long and usually pointed at her watch, signaling, "Time up. Keep moving." Her son, Thantri, was a like a mountain goat, skipping and hopping over loose stones. Their dog walked ahead, barking when we lagged. He seemed to be the captain who didn't like his troops slacking.
At sunset, the Sherpas assembled the tents and cooked dinner. The tour members huddled in their sleeping bags to rest while I sat gazing at the twinkling stars, the bright moon and Mount Kailash. The Divinity had spread its arms, embracing those who acknowledged it. The aura of the mountain was of unparallel beauty. It was beyond something that I had ever experienced perhaps because I was in peace with myself.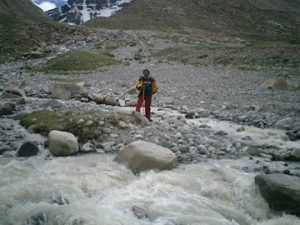 The following day, we had to climb to the Dromala Pass, 5650 meters (3.511 miles). Within ten minutes of the walk, I was breathless. The icy wind parched my throat and the hot water in my flask was already half gone. The boulders were high and stones jagged. I rested every five minutes. I thought I wouldn't be able to keep going, but Prema's actions renewed my spirit. As she climbed, she cleared the path, placing the large stones to one side thus performing a great service for future pilgrims.
Finally, we reached Dromala Pass where prayers were offered. The place was adorned with multi-colored prayer flags and the fragrance of incense filled the air.
The next hurdle was going back down the steep decent of the mountain. I tightly held Prema's hand. The small stones crunched under my feet and the larger ones loosened, rolling down rapidly. I slipped several times and wished that I could tumble down in a greater speed to cover more area. In one of my falls, I grabbed a bush for support not knowing that those wild shrubs were adorned with thorns. The sting was excruciating. A few thorns had embedded in my skin and my palm swelled and began to itch. Prema pointed to a stream where I washed my hand, but that did not help.
After walking for nine hours, we finally reached the camp at sunset. Every joint in my body ached. My mind was a blank. The biting wind overpowered my weary body while my itching palm was a reminder that I was still conscious. Then all the pain and exhaustion melted away as I looked back and saw Mount Kailash, gleaming in the divine light, making me realize how fortunate I was to be there.
Today, when I look back on that remarkable journey, I wonder how I managed to do it. I strongly believe it the grace of Lord Shiva. If you seek, you shall find.
If You Go:
World Pilgrimage Guide: Mount Kailash
Tours to Tibet: Holy Mt. Kailash
Mount Kailash Tours Now Available:
Holy Tour To Kailash for 17 Days
Private 15-Day Tibet Tour from Lhasa Including 3-Day Mt Kailash Trek
Shared Kailash Everest Tour Coach and Tibetan Local Guide
15 Days Mt Everest and Mt Kailash kora pilgrimage group tour
About the author:
Nayna Chakrabarty enjoys writing fiction and non-fiction. She also enjoys adventure sports and any activity that creates an adrenaline rush whether it is riding the tallest (456 ft), and the fastest (128 mph) roller coaster on earth at Jackson, New Jersey, taking a chartered plane to get a closer glimpse of Mount Everest or white water rafting against the wild currents in Rishikesh, India. Her varied interests in wellness, spirituality, creativity and the paranormal are available on www.nayna.in/blog
Photo credits:
First Mount Kailash photo by Jan Reurink from Netherlands / CC BY
All other photos are by Nayna Chakrabarty.