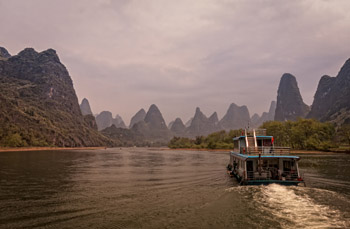 Yangshuo, China
by Karen Pacheco
"You don't have to work next week, Karen, your class is going to military camp."
I'm a grade seven English teacher in Shenzhen, a mega-city of over ten million in Guangdong Province, Southeast China. The hourglass sands dwindle on my stay in China. And with them dwindles my hope to view the cone-shaped, limestone karst (rock formations) scenery from the deck of a Li River ferry.
Then, a colleague announces all grade seven classes must attend a one-week military camp. With no students to teach, whatever will I do with this free week? My warp-speed decision is easy – while students perform marching exercises, I will march, or rather fly, directly to Guilin, for a Li River cruise.
I cajole the school leader into allowing a travel mate, the grade seven head English teacher, Miss Yang, or Snow (her English name). Other teachers are left behind to read books and write assignments while I head for the Li River with an amicable, Mandarin-fluent companion, known to be a formidable haggler.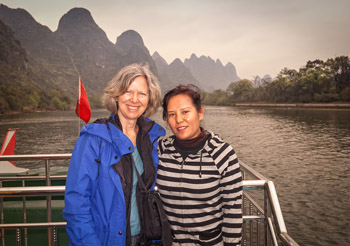 After a 75-minute flight from Shenzhen, we arrive in Guilin, Guanxi Autonomous Region, taxi to our hotel and arrange our river trip through the hotel concierge. Luggage deposited, and ready for lunch, Snow suggests we b-line for one of many street shacks to enjoy some of Guilin's famous rice noodles or mifen (mee-fnn). We dollop the noodles with our choices of self-serve condiments: soybeans, scallions, fried peanuts and pickled white radish in chili sauce. This bargain-priced specialty's spicy, seasoned broth simmered for hours, makes it.
Tummies content, we stroll to Guilin's most famous karst, Elephant Trunk Hill (shaped like an elephant bending over to drink). Two-storey Puxian Pagoda built during the Ming Dynasty (1368-1644) rests on the pachyderm's back. Our evening saunter ends along the Li's banks fronting our hotel. Dusk paints the karst backdrop in pale pinks and mauves as locals fish, tend their bamboo boats and wash their clothes in the multi-use Lijiang (jiang is the Chinese word for river) or Li River.
We depart early for our four-hour river journey from Guilin to Yangshuo. Tourist vans and buses fill the adjacent parking lot. Hundreds line up for tickets. A fleet of boats nestled in the harbour braces for the throngs. Chinese tourists, as well as those from other countries, flock here. Once aboard, we navigate towards the front of the two-level boat where others gather, cameras clicking.
Shrouded in a grey-blue veil and lush, green vegetation, the pinnacles appear otherworldly; Frodo could live here. In a your-turn-my-turn moment, a tourist surrenders his prime position. Snow and I quickly replace him at the bow, the best vantage point for photography. Around each bend another formation materializes along with its accompanying folklore. The karst terrain, waterfalls and caves provide a fitting setting for their legends. One myth explains how Nine Horse Fresco came to be. The Monkey King once tended horses in Heaven, became bored and left for Earth with the horses. Nine of them escaped and lived freely until discovered and turned to stone. Legend is, if you can identify all nine horses, you will be a top scholar. Beyond the horse formations at the river's edge, water buffalo forage and resurface munching aquatic plants. 'Boatmen on their bamboo rafts float by and shoreline villagers wave. The Lijiang pulses with activity.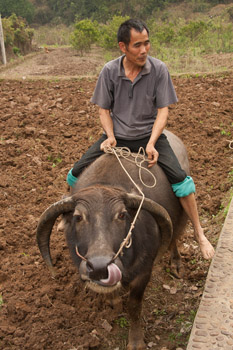 The magical passage ends in Yangshuo where rows of open-air market stalls greet us: souvenir scroll paintings, bamboo items, ethnic minority handicrafts and vibrant pashminas.Yangshuo's famous Xi Jie (West Street) oozes with shops for tourists to leave a few Yuan. Prices are flexible.
We roll our suitcases into our Chinese-style tourist hotel, a good rate negotiated, thanks to Snow. The innkeeper, a good-humoured widow, directs us to a nearby restaurant. Dinner tonight: 'choose your fish from those swimming in the tank', and I get to choose. Hunger overtakes my reluctance for the executioner role, and I select. Before long, an eye-pleasing platter of Beer Fish (Pijiu Yu) appears. A Yangshuo specialty, Beer Fish, is typically carp caught nearby and braised with spices in a wok with local beer and vegetables. Whatever guilt I feel over issuing the death warrant dissipates after a few morsels of this tasty fish.
Next day, our helpful innkeeper sets us up with her friend's son, Zhao. He wants to learn English so he can tour guide. We don flower head leis bought from a street vendor outside our hotel, rent bikes and try to keep up with young Zhao. Peddling along the wide edge of the road from Yangshuo to Moon Hill, we traverse Dragon Bridge, a 600-year-old stone arch structure. Bamboo boats dot the Yulong River it crosses, offering more opportunities for tourists to travel amidst the karst surroundings. Along the rural roadside, a farmer and his water buffalo till a field. A rope through the buffalo's nostril controls the muscular bovine, a single wooden yoke over its withers holds the plow. Reading my mind, Snow asks the farmer if I can take a photo. The petite, agile farmer obliges. He removes the yoke and leaps onto his workmate's back.
The next day Zhao will take us to Xingping. His uncle has a raft there. We need to see the karst terrain up close and more personal before we leave.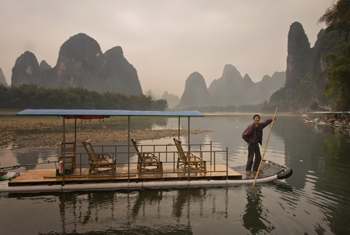 We board the Xingping minibus at Yangshuo's bus terminal. A regional centre in 265 AD, Xingping was replaced by Yangshuo around 590 AD. We stride past architecture reflecting history – flying eaves and black tiles on sloping roofs dating back to the Qing and Ming dynasty. Goal-focused Zhao hurries us through narrow, uneven streets, heading for the pipe-raft docks along the Li River.
Grinning and waving from the dock, Zhao's uncle enthusiastically greets us. His open-air, motorized pipe raft composed of PVC pipes fastened together, gently bobs in the river. A wooden platform tops the pipes, then bamboo seating for six. A blue tarp awning completes this simple, yet efficient pipe raft prototype. Zhao's uncle proudly takes the helm, and we're off.
This is the way to see the karst landscape. Uncle's an accommodating boatman willing to slow or stop his engine for the best vantage points. No waiting for our turn to get the best views. We break for lunch at a riverside village of Dong people, one of the many Chinese ethnic minority groups. Here two cormorant fishermen are preparing their gear for a dusk catch. Fishermen masters ring the long necks of cormorants so they can't digest larger fish. Trained to dive for and yield their catch to owners, these birds make great fishing partners.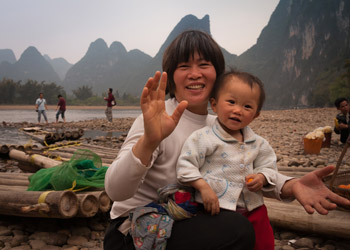 After a tasty snack of dried fish, we motor back to Xingping. We pass the karst scene on the back of Chinese 20 Yuan note, a panoramic arrangement of taller karsts on either side of lower, background ones. We say farewell to Zhao's uncle and race to catch the last minibus of the day returning to Yangshuo, again trying to keep up with Zhao.
On our final day, we buy some scarves and dried persimmon for colleagues left behind. I observe Snow in action; her reputation as a great haggler obviously well deserved. In rapid sequence we hug our charming innkeeper, promise a return visit, and leave a gift for Zhao. Snow haggles successfully for a van ride back to Guilin. En route we stop for our final feast of mifen. As the van nears Guilin Airport, I smile, reflecting on the fortuitous timing of that military camp.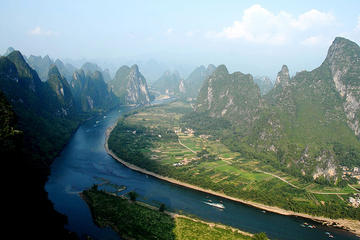 3-Night Best of Guilin Private Tour: Li River Cruise and Yangshuo Countryside
If You Go:
♦ Allow at least three days
♦ Good to purchase Guilin to Yangshuo cruise tickets in advance and to avoid visiting during any Chinese national holidays (Spring Festival – late January to early February, National Week in October, also school vacation – July and August)
♦ Consider traveling directly to Yangshuo for a raft cruise of the Lijiang (Xingping or Yangdi). The time will be shorter, but you'll experience the best scenery less expensively
♦ Yangshuo Insider: current info by locals and expats, in an organized, user friendly website
♦ Liu San Jie Light Show, Yangshuo: a must to take in during your stay, set amidst karst scenery, choreographed by the creator of the 2008 Olympic opening ceremony
♦ An Entry Visa for China is required. Plan in advance as it may take a while to get one.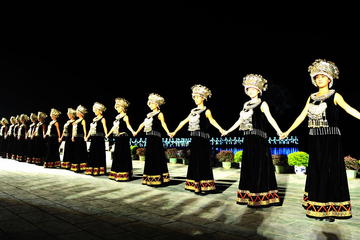 Li River Cruise from Guilin to Yangshuo with Liusanjie Show, Bamboo Rafting, or Yangshuo Biking
About the author:
Karen is an award-winning photographer, CAPA (Canadian Association for Photographic Art) trained judge and past president of the Delta Photo Club. Her thirty-year teaching career ended with a secondment in China.
All photos are by Karen Pacheco.