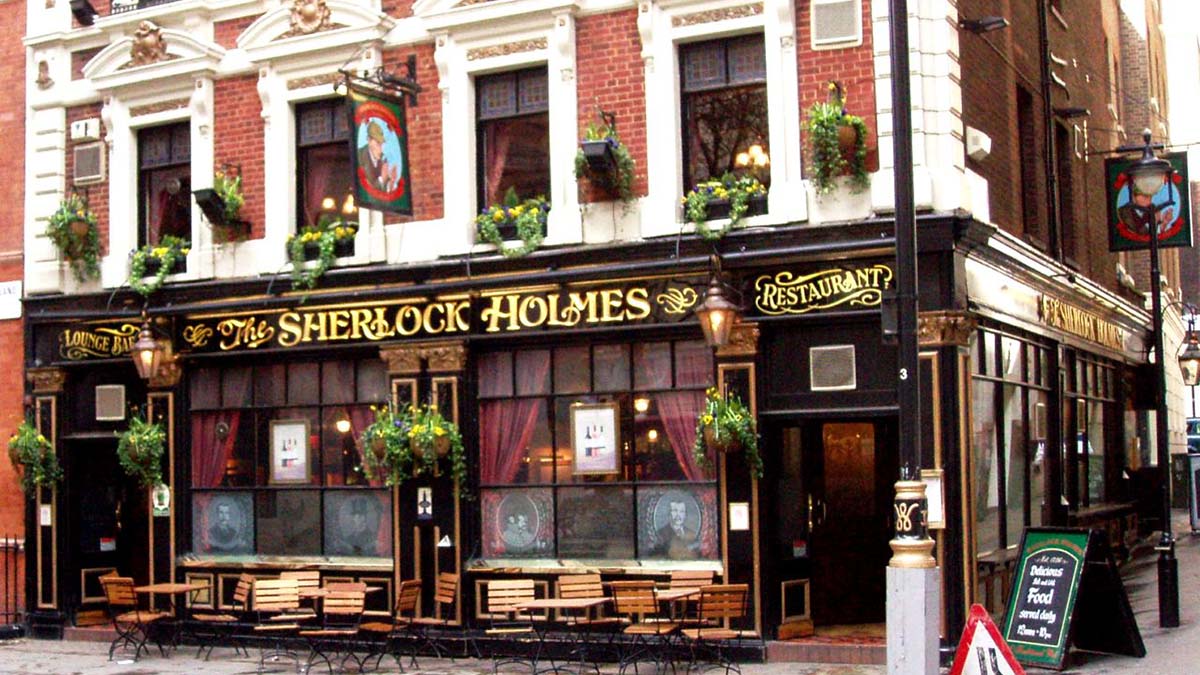 Sherlock Holmes
by Norman R. Rubin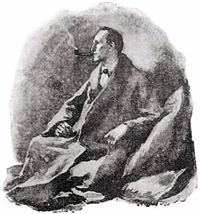 Throughout generations loyal fans have followed the career of the fictional amateur detective Sherlock Holmes, thrilled at his ability of solving criminal cases through his adept sleuthing.
"Come, Watson, come! The game is afoot", was the cry heard in the exploits of Sherlock Holmes. With the faithful Dr. Watson at his side, he has earned his place in our lives and in the annals of literature. And through the good doctor, Sir Arthur Conan Doyle, who recorded their adventures we are able to follow the career of Sherlock Holmes.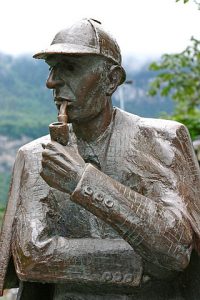 It was a blessing for Sherlock Holmes fans that patients didn't go to the office of the new eye doctor, Dr. Arthur Conan Doyle, the creator of this fictional consulting detective. It was there in his Harley St. consulting room while waiting for patients to come that he turned to the possibilities of being a writer and thus Sherlock Holmes was created. No wonder the good and able Doctor Watson sometimes neglected his practice and joined Holmes in his exploits.
"It's Elementary, My Dear Watson!' is echoed on one's mind when touring the much visited Sherlock Holmes Museum at the former Victorian lodging house at 221b Baker St., London where Sherlock Holmes and Doctor Watson lived during the Victorian era according to the stories written by Sir Arthur Conan Doyle. Mr. Holmes's armchair is by the fireside where he sat opposite Dr. Watson, comfortably seated as they discussed the case at hand. The gasogene, probably a siphon soda bottle, is on the nearby small table to splash a bit to mix with their dollop of whisky. The Persian slipper for his tobacco and the coal scuttle for his cigars are on the mantel of the fireplace. The visitor can imagine Sherlock Holmes stretched on his sofa scraping on his fiddle or reaching for the needle of cocaine bored with no cases to solve for his ingenious mind. Then in the imagination of the mind, one can see Mrs. Hudson come into the rooms with an urgent message from Scotland Yard's best, detectives Gregson or Lestrade and we are in a hansom cab rattling through the foggy streets to the railroad stations of Waterloo or Charing Cross.
"Come Watson, come! The Game is afoot…"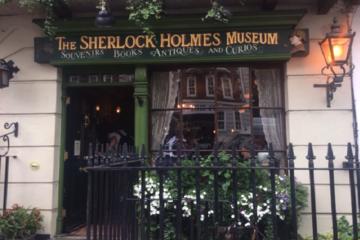 Private Sherlock Holmes Walking Tour in London
If You Go:
The Sherlock Holmes Museum is run by The Sherlock Holmes International Society, a non-profit making organization.
www.sherlock-holmes.co.uk
The Sherlock Holmes Society of London founded in 1951, is open to anyone with an interest in Sherlock Holmes, Dr John H. Watson and their world during the Victorian era.
www.sherlock-holmes.org.uk
Outside Baker Street station of the London Underground, by the Marylebone Road exit, is a 9-foot-high bronze statue of the celebrated detective in his familiar deerstalker hat that will direct you to the museum at 221b Baker Street.
There are many questions about the various episodes in the Sherlock episodes that need answers, which the author Sir Conan Doyle gave no clues:
a) The housekeeper had never been implicated in being helpful in the solution of any of the crimes.
b) We would gladly hear more of Mycroft Holmes, Sherlock's older brother and his Diogenes Club.
c) Why did the Scotland Yard detectives Gregson and Lestrade gradually fade out in the later stories?
d) And why did Billy the pageboy constantly remain a phantom?
e) And a question asked over and over again – was Dr. Watson's wound from a Jezail bullet in his leg on in his shoulder?
OTHER SHERLOCK HOLMES MUSEUMS:
In Switzerland, there's a Sherlock Holmes Museum at Meiringen, Bernese Oberland. It is near the Reichenbach Falls where Sherlock Holmes was locked in the death struggle with the evil Professor Moriarty. The museum has a carefully reconstructed room of his lodging at 221b Baker St. where the famous consulting detective worked and received anxious clients and Scotland Yard detectives. Imagination is the word as you look at the desk where Sherlock Holmes worked with his pipe, magnifying glass and pencil ready at hand.
Sherlock Holmes Museum: c/o Parkhotel Du Sauvage "Englischer Hof"
3860 Meiringen, Tel. +41 (0)33 971 42 21
info@sauvage.ch – www.sauvage.ch
And in Denmark there is a small museum dedicated to the famous consulting detective and his able companion Dr. Watson. The exhibition, the second largest below the one in London, contains mostly books about Sherlock Holmes – including pamphlets, booklets, comics, articles, pictures and so on. A visitor can view all sorts of memorabilia and written testimonies about Sherlock Holmes. For instance a brick from 221b Baker Street, Holmes' violin, a copy of his Persian slipper in which he kept his tobacco, Sir Arthur Conan Doyle's suitcase and a small vial of sand from the Reichenbach Falls where Holmes fought against his arch enemy Professor Moriarty, the Napoleon of Crime. You can purchase a tasteful souvenir: doll, mugs, stamps, etc. pertaining to Sherlock Holmes. If your have a moment or two to spare, you can sit on a comfortable chair, smoke if you wish and a cup of coffee or beer will be provided while you will read one of the books in their small library. Sorry, books cannot be borrowed.
www.sherlockian.net
About the author:
Norman R. Rubin is a former correspondent for the Continental News Service (USA), now retired – busy writing stories and articles for Net sites and magazines worldwide. See 'igoogle.com ' under the author's name for a review.
Image credits:
Sherlock Holmes Pub & Restaurant in London by Ewan Munro from London, UK / CC BY-SA
Sherlock Holmes drawing by Sidney Paget / Public domain
Sherlock Holmes statue by Juhanson / CC BY-SA