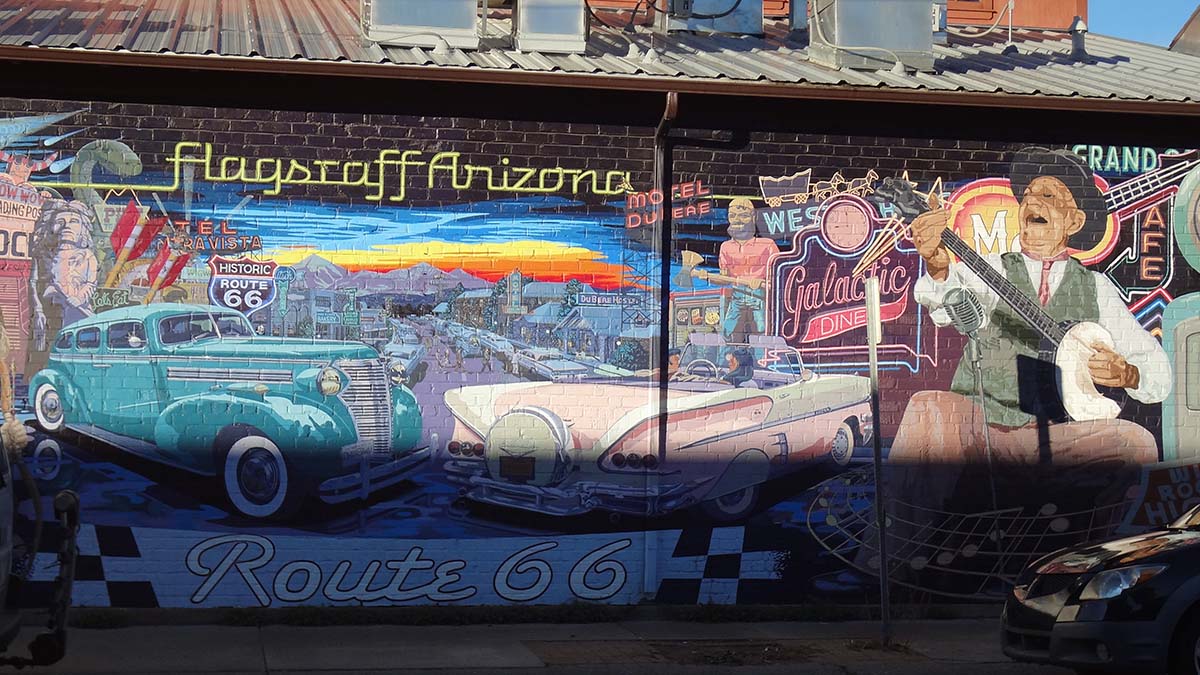 by Rick Neal
I reach Flagstaff, Arizona beneath a twinkling canopy of stars. The drive from Phoenix only takes a little over two hours, but a missed plane connection in San Francisco and a credit card foul up at the car rental agency have delayed my arrival by several hours. At least the traffic is light, and the Northern Arizona sky is breathtaking.
My heart skips when I spot the familiar road sign that leads to my hotel, and not just because I'm relieved to finally be here. For the next few days I'll be residing on the Main Street of America: Route 66. Spanning nearly 2,500 miles from Chicago to Santa Monica, California, this iconic roadway is one of America's most revered highways. That night I sleep like a newborn, waking only once to the melancholic trill of a distant train whistle.
The next morning I wake up way too late for my hotel's free continental breakfast, but that's hardly a setback. Right across the road sits the legendary Galaxy Diner, one of the few remaining retro-style diners that once dominated Route 66 until the route was gradually superseded by freeways in the late fifties. With its red vinyl booths and photos of legendary movie stars that cover every inch of wall space, the Galaxy Diner evokes a bygone era.
Washed down with a steaming mug of robust coffee, my corned beef hash goes down "real good". The service is excellent until a leather-clad French motorcycle club pulls up on their Hogs and occupies over half the restaurant. My server tells me that motorbike fanatics come from around the globe just to cruise the fabled Route 66.
After breakfast, I stroll over to Flagstaff's historic downtown district. I gaze up at the San Francisco Peaks mountain range rising dramatically above this vibrant highland city. The mountains are cloaked in sweet-smelling ponderosa pines. Though it's a balmy seventy five degrees Fahrenheit here in the city, the mountain tops are dusted with fresh snow.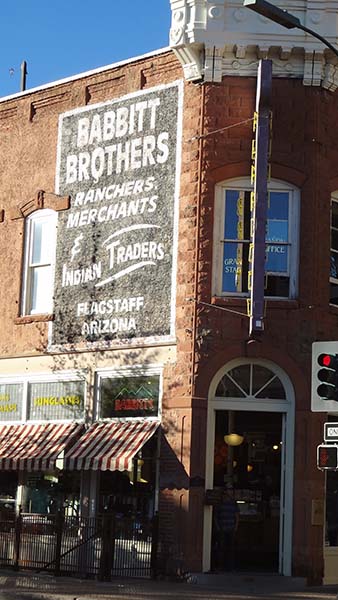 In fifteen minutes I reach the historic center, a memorable assortment of 19th century architecture that is perfect for exploring on foot. There are few specific tourist attractions here, but wandering the hodgepodge of 1890s-era redbrick buildings, many of which flaunt stone and stucco friezes, conjures up visions of the Old West. When the downtown area became rundown in the 1960s, city officials considered demolishing many of the worn structures to build carparks for the increasing numbers of tourists. Thankfully, they realized that if they tore down all the old buildings there would be little reason for tourists to visit.
Ongoing restoration efforts have breathed new life into the area, though the old fashioned diners and taverns now share building space with trendy brewpubs and hip espresso bars. Cowboys and Indians still walk the footpaths, but they now share the sidewalks with college students from nearby Northern Arizona University. It all combines to give this highland hub city an unassuming, offbeat vibe that is downright irresistible.
I wander onto Santa Fe Avenue, which is more or less the main drag, and which used to be Route 66 before it was re-routed. Next to the road is the line for the Santa Fe Railway, which has been chugging through the heart of Flagstaff since the 1880s. Now I know the source of the plaintive train whistle I heard last night.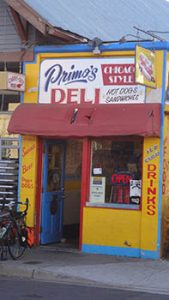 From Santa Fe I stroll along bustling Humphrey and Beaver Streets, passing a myriad of bars and eateries that pull in the local college crowd. Shops and galleries offer an impressive selection of handmade Native American arts and crafts, antiques, and New Age essentials like wind chimes and healing crystals. A handful of outdoor stores cater to the area's numerous outdoor activities by selling fishing, hiking, skiing, and trekking gear.
On Leroux Street, the wraparound second storey veranda of the Weatherford Hotel makes it one of the downtown core's most arresting brick structures. Open since New Year's Day, 1900, its guest list has included President Teddy Roosevelt, famed lawman Wyatt Earp, and old west writer Zane Grey. The Zane Grey Ballroom contains beautiful stained glass windows and an antique Brunswick bar shipped from Tombstone. Employees and guests are said to have observed the ghost of a mysterious woman floating across the ballroom. Unfortunately, she seems to be on her day off when I pop my head in.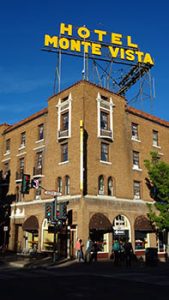 If one haunted hotel isn't enough, Flagstaff boasts two. The Hotel Monte Vista, a block east on San Francisco Street, oozes historic charm. For years after its opening in 1927, the brawny redbrick high-rise was the primo place to bed down in Flagstaff. Its celebrated guest list has run the gamut from Clark Gable to Jane Russell to Humphrey Bogart. According to local legend, the famous hotel room scene from Casablanca was shot here, though there's no hard evidence to support this.
The neon sign hanging outside the main floor cocktail lounge calls to me, so I stop in for a cold one. My server informs me this was Flagstaff's first speakeasy, and during prohibition the site of a successful bootlegging operation. Today its cool retro décor and live music make it one of the city's hippest nightspots.
And yes, she tells me, the Monte Vista also has its share of poltergeists, including a pair of murdered prostitutes and a drunken bank robber. The most famous apparition is a bell boy who knocks on room doors and yells "room service," only to vanish when the door is opened. Other guests have witnessed the bell boy standing outside Room 210. John Wayne supposedly saw the bell boy ghost when he stayed there in the 1950s. Reportedly, the Duke wasn't at all bothered by the presence of the forthcoming specter.
When I head back outside I find the sun has almost disappeared behind the now muted outline of the San Francisco Peaks. I'm famished, so I belly up to the dark oak bar at nearby Maloney's Tavern alongside the locals. The affable bartender says that today is Thursday, and Thursday is one big Happy Hour. For a ten dollar bill I get a tasty bacon cheeseburger and lip-smacking Alaskan Amber Ale served in a frosted mug the size of a flower vase. I strike up a conversation with some hipster dudes from Northern Arizona University who are majoring in Sustainable Housing. "Flagstaff is an awesome place to live," they enthuse, "people here are totally open to non-traditional ways of thinking." As far as I'm concerned, that's just one more reason to love Flagstaff.
Somehow I manage to finish my mega-sized beer, and then venture out into the chill evening air for the trek back to my hotel. As I happily teeter down Route 66 beneath the jagged stars, I hear the wail of a nearby train whistle.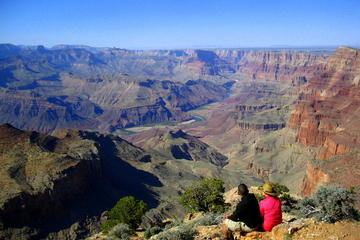 Full Day: Grand Canyon Complete Tour from Sedona or Flagstaff
If You Go:
GETTING THERE
Most visitors to Flagstaff arrive by car, as this is the best way to delve into the plethora of nearby attractions like the Lowell Observatory and the Grand Canyon, and to access great hiking trails in the many state parks. Many vacationers fly into Phoenix's Sky Harbor Airport and head north along Highway I-17. The 150 mile drive takes a little over two hours. Once in Flagstaff Highway I-17 changes into Milton Road, which leads to Route 66 and the downtown center.
WHEN TO GO
Falgstaff's 7000 ft. elevation means temperatures seldom exceed the 70s Fahrenheit, even in mid-summer, when the city often receives afternoon showers. Winter brings snow and freezing temperatures, which is great for the local ski hills. Spring days are typically clear and sunny though still a bit on the cool side. When I visited in early October daytime highs were a balmy 75 degrees Fahrenheit, with evening lows dipping into the 40s. No matter what time of year you go it's always a good idea to pack a jacket or pullover.
PLACES TO STAY
Accommodations run the gamut from historic downtown hotels dripping in character to welcoming bed and breakfasts to chain hotels that offer the usual comforts. I stayed at the Day's Inn (1000 W. Route 66 +1 928 774 5221). For CDN$74 per night I had clean, comfortable digs with a nice breakfast, and it's an easy fifteen minute stroll to the downtown core. There are a lot of reasonably priced hotels on the outskirts, but it means having to drive downtown. No matter where you stay, book ahead for the best rates.
PLACES TO EAT
Flagstaff's popularity as a tourist destination has brought a wealth of superb dining options, from European fine dining to vegan to Mexican and of course old fashioned American comfort food. The funkiest spots are found in the downtown core.
Brix Restaurant and Wine Bar (413 N. San Francisco St +1 928 213 1021) Brix is an intimate fine dining eatery that obtains ingredients from local farms. The menu offers a rotating variety of seasonal dishes that may include seared duck breast, cavatelli with sausage, and homemade ravioli.
Diablo Burger (120 N. Leroux St. +1 928 774 3274 ) Recognized by USA Today for serving the best burgers in Arizona, Diablo offers inventive burgers served on English muffins and made from grass-fed and 100% hormone free beef. Communal seating is conducive to socializing. For something different try the db house topped with homemade pesto and a fried egg, over easy.
About the author:
Rick's travel career began as a college student when he impulsively signed up for an international student exchange program and spent that summer working in Turkey. "Don't go there!" the naysayers said, "it's not safe!" Luckily, Rick ignored their advice and discovered that the outside world is a place of wonder worth exploring. Since then his wanderlust has taken him to Central and South America, England, Vietnam, Morocco, and China, where he spent an unforgettable year teaching English. Rick makes his home in East Vancouver, Canada, where he writes for various travel publications.
All photos by Rick Neal