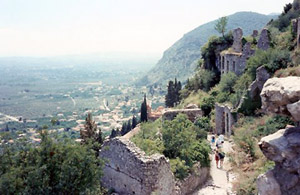 by W. Ruth Kozak
My journey began with a dream: my deceased mother pointing to a spot on a map and saying "This is Mystra. You must go there."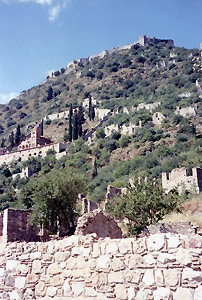 Mystra, a ghost city near the Peloponnese city of Sparta, dates from the Byzantine period. Usually I prefer exploring the Classical or Bronze Age sites of Greece. But who can ignore a mother's guidance? I packed my tent and began the five-hour trip to Mystra at the bus terminal in Athens.
The highway hugs the sea coast north of Athens and crosses the Corinthian canal, a deep slash cut through the rocky Isthmus that joins the Aegean Sea and the Gulf of Corinth. Passing ancient Corinth you have a view of the distinctive mountain, Acrocorinth, where once the famous courtesan-priestesses of Artemis plied their trade from the Goddess' temple.
Leaving the Gulf shores, the road winds inland through harsh, stony terrain and mountains covered with holly-oak and scrub pine forests. My first stop is Sparti (site of ancient Sparta) located on the Lakonian Plain and surrounded by high, snow-capped mountains. Irrigated by a river and mountain streams, the Plain is lush with orchards, citrus and olive groves, and vineyards. Spartans were noted as the most dauntless warriors of the old world though not much remains of the ancient site. I have time to visit the Museum and walk the flag-stone pathways where oleander and wild flowers bloom among the ruins.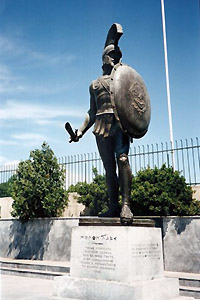 A troupe of children follow me to the Sanctuary of Artemis Orthia, near the river, begging me to take their photos. The place is haunted by the spirits of Spartan youths who, on reaching puberty, came to this shrine to honour the Goddess in a rite of passage. At Artemis' altar they were flogged until their blood splattered the stones. Some did not survive the beating, others who did proved themselves worthy and went on to become warriors, like Leonidas the Spartan hero of Thermopylae, whose statue stands outside the Stadium nearby.
I catch the local bus to the village of Neo Mystra, six kilometers away. Neo Mystra is a picturesque little village of quaint stone houses with red-tiled roofs, twisted lanes lined with fragrant rose gardens, and magenta bougainvillea spilling over white-washed stone walls and balcony trellises. Yellow flags bearing the double-headed eagle of Byzantium fly from every wrought iron balcony, and each lamp post is stamped with this golden symbol. In the centre of town, at the cross-roads, I come upon an ancient oak tree, its thick trunk entwined with roses. It has grown around the spigot of a spring where cold drinking water still gushes. I fill my water flask here before venturing up the hill to the hold city, just as pilgrims might have done in medieval days.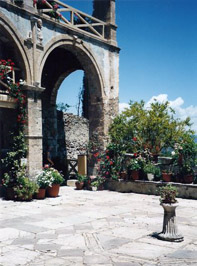 Built on the slopes of Mount Taygetos, the Spartan's sacred mount, the ruins are two kilometers up the mountain. One of the most important cities of Byzantium, Mystra once had a populations of 45,000 and was occupied until 1830. Villas, monasteries, restored palaces and churches are strewn up the steep, uneven mountainside. The gabled houses had balconies and decorative arches and are the best preserved examples of Byzantine city houses. On the peak of the hill, Castle Myzithras rears up like an imposing warrior on guard.
It is a bright, sunny May morning. I saunter along narrow streets and pathways and wander through arched lanes. Except for an occasional tour group of Greek seniors, the medieval city lays petrified and still, the silence disturbed only by the trilling of birds, humming of bees, and a faint sound of music echoing up the hillside. Wild flowers bloom everywhere. I feel as if I am on the edge of paradise.
Later, I sit in the courtyard of a monastery savouring the feeling. Gradually, a composition I used to play on my mother's piano comes to mind: In A Monastery Garden. I realize that this setting with its roses, potted plants, flowering shrubs and burbling fountain is exactly as I used to imagine as a child. Inside the chapel, I sit on one of the little wooden seats along the wall and think of my mother whose presence I have felt all day, and I thank her for guiding my way here.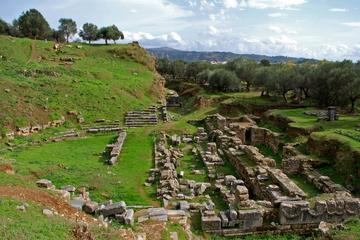 Sparta Mystras Private Day Tour
If You Go:
Late May, early June is best for wild flowers.
Sparta Museum: 8.30 am – 3.00 pm Tuesday to Saturday. 8.30 am – 2.30 pm Sunday
Mystra site opening times: 8 am to 6 pm (summer) 8 a.m. to 3.30 pm (winter)
There are frequent buses from Sparta.
ACCOMODATION in Mystra (also spelled Mystras or Mistra)
There are small guest houses in Mystra but only one hotel.
Castle View Camping has a swimming pool and good facilities,
Hotels are available in Sparta.
About the author:
It is true that a dream encouraged W. Ruth Kozak to visit this remarkable Byzantine city ruin in the Peloponnese. Her interest in history and archaeology also compelled her go and live in Greece for several years and she now considers it her second home. Ruth advises everyone to 'follow your dreams'. You never know where they will take you!
All photos are by W. Ruth Kozak.