by Anna Nguyen Thi Quynh Nga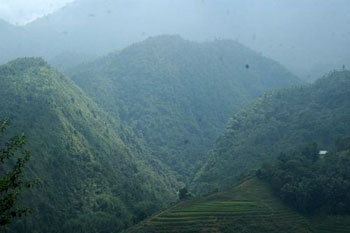 My friends and I arrived in Sapa at 6am. We gathered our luggage, hoping to catch the morning market. Our friend, May, was waiting for us at the train station. He would be the tour guide for our trip. May is a teacher from Ha Noi, the capital of Vietnam. He had moved to Sapa to teach the children here seven years ago. He was among many other city dwellers who came to Sapa to volunteer and then fell in love with this little town. We would take a cab to Ta Phin village where we would live with a family of the locals for three days.
I looked forward to this wonderful opportunity to experience and the rare tradition of the 'love market' in Sapa. However, we were told that by the time we caught a bus to reach the "love market", it would be 8am and the market would be closed. In Sapa, 8am is considered late, while for many of us from the city it is still sleeping time. So we learned a new lesson right on the first moment in Sapa.
Sapa greeted us with a thick layer of fog. Never before had I seen a whiter shade of green where long rows of trees along the winding road are only half existent behind many layers of fog. Maybe here, because it is so high, the clouds are being mixed up with the scenery. I wondered if this is how it looks like in heaven.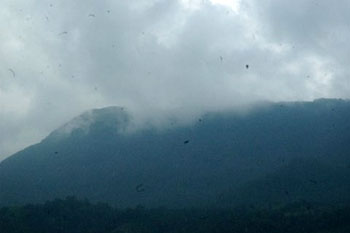 At about noon, the fog subsided. We took a walk around the village. At a playground near where we stayed, there was a swing that was at least 4 times taller that the swings I normally see. You are not supposed to sit on the swing. You have to stand on a small piece of bamboo on the swing and let it swing for at least half a circle back and forth. It must have been at least 10 metres.We had to stand on two long bamboo trees and walk as if the bamboo trees were our feet. Of course we all fell. None took more than two steps successfully. Yet all the children there could do it, they did it very well, swinging in the air every round!
The swing was not the scariest thing we were faced with. We had to cross a bridge to get to the other side of the river. The bridge was made of only one thin bamboo tree. We stepped on the pole and kept ourselves from falling by holding to a rope tied loosely on the trees on two sides of the river.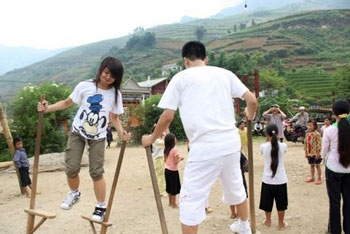 In Sapa, people have no Internet connection and no telephones at home. Their only social meetng place is at the morning market. Once a week, people come down to the valley from different mountains, bringing along their best products and hoping to exchange for something they lack. People walk instead of driving cars or riding motorcycles. They hardly travel out of the vicinity of their homes except for important occasions. The morning markets have become such precious opportunities for people to meet that it has been known more popularly as the "love market". Local girls and guys in this central meet-up take the opportunity to express their affection for each other. Girls and guys are shy to show too much intimacy in public, so they express their love through songs. It is said that the water drank from the mountain sweetens the voice of local girls. Through their voice, you will feel the tears, the joys, the tenderness and the passion these lovers give to each other.
There were tasty finger foods along the streets. I was especially impressed by the sight and taste of barbecued eggs. A dozen of eggs were placed on a small oven and hot coal. The shop owner tactfully fanned the oven and turned all eggs equally and quickly without breaking one single egg. After the eggs have turned slightly golden, she stopped fanning the oven, yet still continued to turn the eggs. After another three minutes, the eggs were served, fragrant, steaming hot, rich in flavour and enhanced with layers of crispiness, stickiness and softness from outside in.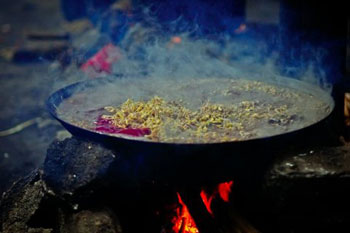 On the second day, May took us to a Sapa restaurant. In this restaurant, all customers sat on the floor and gathered around a long bamboo table. Eight of us were served a large hot pot called "Thang Co". The pot was so large that it looked like a mini bath tub to me. It smelled like Chinese medicine and we were told that this pot was made from one whole big horse, not excluding any part at all. The recipe of this horse steam boat is said to be very good for men. It was served with a vase of wine. It looked exactly like a large vase and was as tall as me sitting up. It had holes for us to put in the straws. We were supposed to use the straws and drink right from the vase/ bottle of wine. The alcohol was very strong and had a mild taste of rice.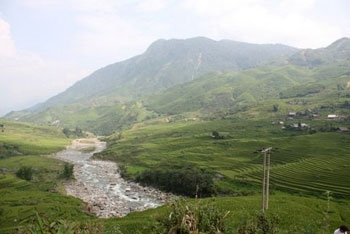 The scenery in Sapa is beautiful. Trees stand side by side with a background of mountains and hills. A river flows in the middle of the village. The water is so pure that we could see rocks of different shapes at its bottom. Once in a while, we pass by a stretchy paddy field. These green mini trees are always swinging as if they are following the dancing tune of the flow of wind in the air.
After dinner, we visited a coffee house. The house was made of wood. It was small and looked beautiful among the vastness of natural scenery. People from Sapa are exceptionally friendly. The owner of the coffee house offered to sit with us. Together we sang songs and shared stories of our life. He even asked his son to walk to his neighbour and borrow a guitar for us. After a while, a group of eight became a group of twenty, singing and having fun together. The house become so small for the friendliness that some even stood outside the window and sang along.
In the evenings, we laid our sleeping bags and slept on the second floor of our host's wooden house. Before we left, I had made friends with their lovely little boy. He was three years old, cute and smart. I taught him to count and he walked with me around their garden. When I left, he cried. At that moment, I wished I could stay there forever.
Three days in Sapa passed like the blink of an eye. On the train back to the city, we missed the town, the friendliness of its people, and the unique peacefulness that nowhere else we would find. We all promised to ourselves we would come back to Sapa one day very soon.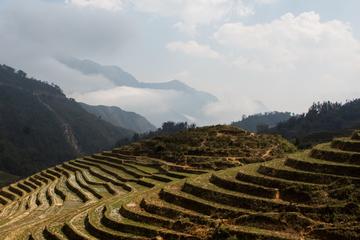 MOUNTAIN AND RICE TERRACE FULL DAY PRIVATE TOUR FROM SAPA
If You Go:
Getting to Sapa
Sapa is 37 kilometers from the town of Lao Cai, Vietnam, a bus ride of about one hour. In order to get to Sapa, you must first get to Lao Cai. You can either go to Lao Cai from Hanoi, the capital of Vietnam or from Kunming, the central city of Yunnan province, China.
From Hanoi, the best way to reach Lao Cai would be to take a night train. The train has bed cabinets and is furnished with air-conditioning. It leaves Hanoi daily at around 9pm and reaches Lao Cai between 5am and 7am.
From Kunming, China, you can take a train to Hekou, which is 500km away and leaves twice daily. From Hekou, it will take you only 5 minutes to cross the border and reach Lao Cai.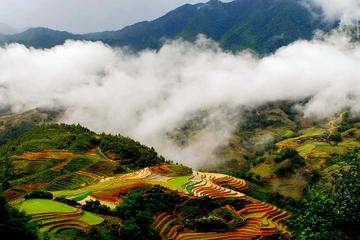 2-Night Sapa Tour from Hanoi by Overnight Train
Weather in Sapa
The weather in Sapa is highly seasonal. In summer, the weather will reach about 29°C in June, and in winter, it sometimes snows in the month of December. The rainfall season lasts from May to September, with the highest rainfall in July and August.
The best time to visit Sapa is inthe  spring when the wild flowers blossom and the weather is cool and dry.
The weather in Sapa often varies widely within one single day, with cold weather in the evening and early morning, and warmer weather during the rest of the day.
Accommodation
There are many places for you to stay in Sapa at a reasonable price. Some recommendations include:
Sapa Rooms
18 Fansipan
T: (020) 387 2130; F: (020) 387 2131
Boutique Hotel
41 Fansipan
T: (020) 387 2727; F: (020) 387 2678
Sapa Submit Hotel
Thac Bac, up near the top
T: (020) 387 2545; F: (020) 387 2969
Cat Cat View Hotel
Cat Cat Rd
T: (020) 387 1946; F: (020) 387 1133
Gem Valley View
The road to Cat Cat
T: (0912) 84 9753;
Chau Long Hotel
24 Dong Loi Rd
T: (020) 3871 245; F: (020) 3871 884
About the author:
Anna is a Vietnamese currently residing in Singapore. She has been working as a freelance writer since 2010. Her favorite topics are food and travel.
Photo Credits:
All photographs are by Nam Tran:
1. People in Sapa
2. Sapa
3. Foggy Sapa
4. The Scary Game
5. Thang Co
6. Sapa Scenery
7. Singing Along