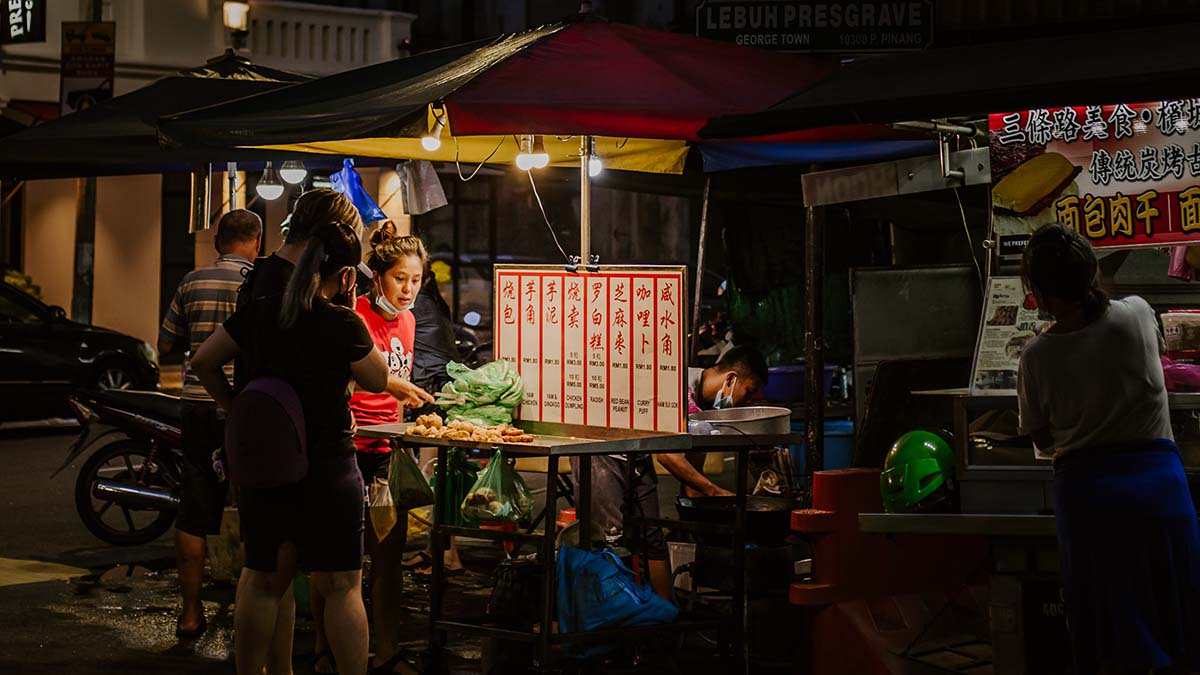 by Alice Driver
In Penang, Malaysia, the Jalan Sungai Pinang is a street crowded with food stalls, and frequented nightly by local Penang residents who come out to savor their toothsome treats.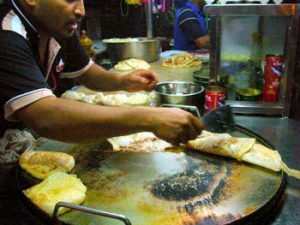 Buttery roti dough is stretched tissue thin by expert hands and then thrown onto a hot griddle. It is filled with eggs and chicken (roti murtaba), condensed milk (roti bon) or eggs (roti telur). Vendors throw the dough into the air, balance it on one finger and spin it around until it becomes thin. It is folded like origami, and tasty ingredients are wrapped inside. Roti milo, the height of roti decadence, is filled with sweetened condensed milk, powdered chocolate, sugar and dollops of butter. It is slit from the middle to the edge and folded counterclockwise into a golden trumpet. Roti cost only .60 to 3 Ringgit (3.75 Ringgit = $1). The meal is often accompanied by the sticky sweet teh tarik; this popular drink is a mix of tea and sweetened condensed milk.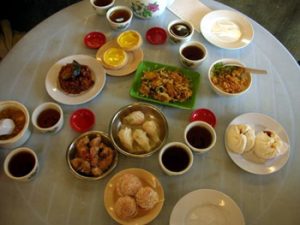 For breakfast there is no more tantalizingly gluttonous option than Dim Sum at "Bali Hai" on Gurney Drive. Dim Sum restaurants offer small portions of traditional Chinese dishes, allowing travelers to try lots of new food. Lining the counters of the restaurant are freshly baked Portuguese custard tarts, fake shark fin soup, yams covered in coconut, dumplings of all kinds and sticky rice desserts. You can choose as many bite sized dishes as you like and sit down to a view of the ocean. Locals spend all morning there drinking tea, eating and reading the newspaper. The restaurant is lined with large tanks of fresh seafood, and at night converts into a seafood paradise.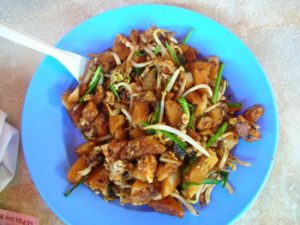 Some of the richest gastronomic experiences can be had in the markets of Penang. Street vendors at these markets prepare hot dishes with fresh ingredients right before your eyes. Popular dishes include Char koay teu (fried flat rice noodles vegetables and chicken or seafood), burbur nasi (rice poridge), pau (Chinese buns with various fillings), nasi lemak (rice, coconut milk and anchovies), apam balik (Malay pancakes with brown sugar, peanuts or sweet corn), ais kacang (shaved ice, red bean paste, sweet corn, flavored syrups and ice cream) and jus belimbing (star fruit juice). Markets also sell delicious fresh tropical fruits and juices: watermelon, durian, pineapple, custard apple, mango and papaya. Most dishes cost 1-2 Ringgit.
When you're not eating the Botanical Gardens provide a relaxing place to walk, run, observe monkeys or nap in the sun. More adventurous travelers can plan a hike up Mt. Penang, also known as Penang Hill. The book Nature Trails of Penang Island, published by the Malaysian Nature Society, is an excellent guide to hiking trails in the area. The hike up Penang Hill takes 2-3 hours depending upon individual fitness and rewards a panoramic view of the city. There is also a Funicular railway train to take visitors up and down the hill. For visitors considering hiking Mt. Kinibalu, the Mt. Penang hike is good preparation. The hike will leave you tired and hungry – ready for another good meal.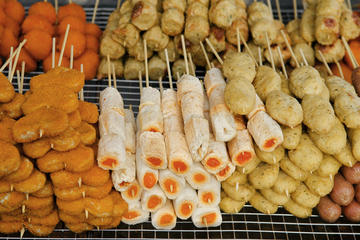 Eat Like A Local: Penang Street Food Tour
If You Go:
Language classes provide an excellent opportunity to learn more about the food and culture of Malaysia. Dynamic Language Center offers private and group classes in Malay, as well as Arabic and Chinese. Although most residents of Penang speak flawless English, they will be happy to help beginners practice Malay. Language skills are especially useful to travelers planning to visit rural areas or pursue independent projects. Classes may include trips to local markets, and can be tailored to the needs of each student. For more information about classes visit the Dynamic Language Center website at www.dynamiclanguagecenter.com or email them at dicinfo@po.jaring.my.
About the author:
Alice Driver is a Ph.D. student in Hispanic Studies at the University of Kentucky. Her travel writing has appeared in Cultural Survival, Abroad View and the travel guide To Vietnam With Love. She and colleague Joshua Jennings Tweddell recently published an interview with Colombian film director Víctor Gaviria in the 2008, volume 12 of the Arizona Journal of Hispanic Cultural Studies.
Photo credits:
First Penang restaurant photo by Wan San Yip on Unsplash
All other photos are by Alice Driver.