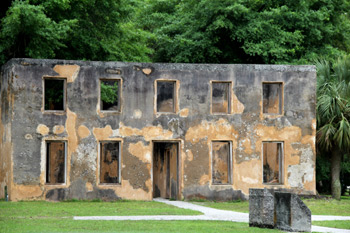 Jekyll Island, Georgia
by Theresa St. John
Catching sight of the stark remains of Horton House, a two-story tabby structure now tucked beneath the shady branches of Jekyll Island's Live Oaks, I felt as if I'd taken a step backwards in the pages of a history book.  This was once a thriving plantation that became a prime target during the Spanish raid in 1742,
During my recent stay on Jekyll Island, the hotel manager asked what I was interested in doing while vacationing there. I explained that I loved history and wanted to learn about anything historical on the island. He laughed out loud and told me I'd need more than three days to see it all, but he'd be glad to give me some suggestions. Horton House was on the top of his list.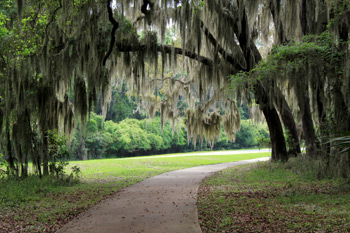 He explained that Horton House was one of the oldest standing tabby structures in the state of Georgia. When I looked at him strangely, he laughed again.
"Most people don't know what tabby is, don't feel bad." he said." It was the typical building material of the 18th and 19th century. People would burn oyster shells and use the ash, otherwise known as lime, then fold in equal parts of sand, water and crushed shells. This gave them a significantly strong and thick mixture." He continued to explain the process to me.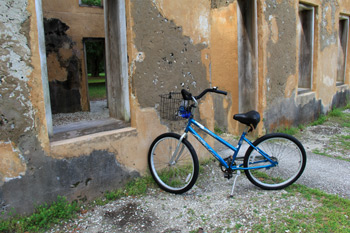 When I told him I was interested in hearing more, he continued:  "They'd pour it into large forms that had been made with two parallel planks of wood These would measure the length of the structure's outer walls. When each tabby mixture had set, the boards would be moved upwards repeatedly, until the desired height of the home was reached. If you really love history, you don't want to miss this piece of it!"
He pointed his finger to the right and said "It's about five miles, that way." I decided to jump on the old-fashioned bicycle I'd rented for the day and pedal along the winding bike paths, while getting a feel for this beautiful 22-mile island. I'd take in the sight of its picturesque oak trees, with their strong branches draped in heavy moss, bending over the roads and walkways, while keeping a keen eye out for the old manor.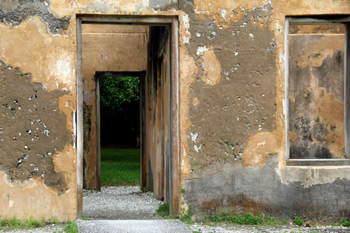 The moment I caught sight of the ruins of Horton House, I stopped short. With its scarred openings for windows and wide-open doorways, this deserted house echoed with the drama of its last inhabitants. Its two-story structure stood proudly beneath the overhanging beauty of gigantic tree branches. I jumped off the bike and parked it nearby.
I took my time and studied each of the reader boards placed around the property, wanting to learn as much as I could about Jekyll Island's 18th and 19th century history.  As I read more about the unique building material called 'tabby' and wandered around both inside and outside of this open-air building, I could clearly see the remaining shells in every wall.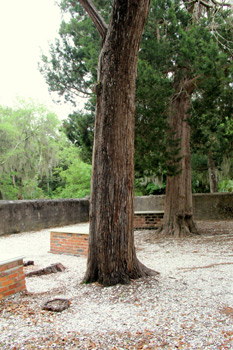 The house was built by Major William Horton, second in command, serving under General James Oglethorpe and in charge of troops that were entrenched further North, on St. Simon's Island. Horton House is surrounded by rich land, which was perfect for harvesting cotton and indigo, as well as hops and barley. Horton actually produced Georgia's first beer and supplied ale to the troops and settlers at nearby Ft Frederica. I wondered what a cold glass of that had tasted like, way back when!
The structure standing today is actually Horton's second home. The first was a wooden building, destroyed by fire after the Spanish were defeated in 1742 and made a hasty retreat from the area, having lost the battle of Bloody Marsh.
Horton, the first Englishman to own property on the Island, obtained these 500-acres by means of a land grant in 1735, when he sailed to America on the Symond, a passenger ship.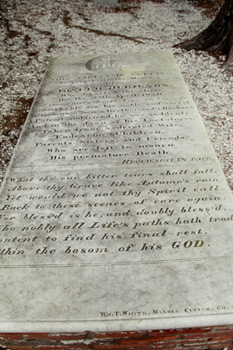 One of the land grant conditions stated that Horton would have to bring 10 indentured servants with him from England, one for each fifty acres of land. He was also required to have 20% of the land cultivated and sustainable, within the first ten years of his settling in Georgia.
When he initially came to the Island, it was extremely isolated. His closest neighbors were at Frederica, another settlement further North,on St.Simons Island. Fort Frederica is where Horton was promoted to Major, and became second in command under Oglethorpe. The fort served to protect settlers from Spanish and Native American attacks. In 1742, the British withstood an onslaught there, in the battle of Bloody Marsh, a siege now firmly ensconced in Georgia's rich history.
William Horton is also responsible for cutting a road across the north end of Jekyll Island, running East and West, from his house to the beach. Today, it is still called Horton Road. Horton passed away in 1748 while in Savannah.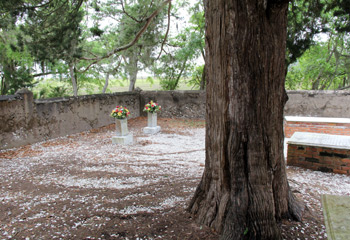 In 1791, four Frenchmen from Sapelo Island jointly purchased Jekyll Island. Later, one of them, Poulain du Bignon, became the sole owner. As a young officer, Poulain served in the French Army in India, fighting against Great Britain. Later, he commanded a French Naval vessel. He moved into Horton House in1792, several years after the American Revolution. Bignon died in 1825. He was eighty-six.  He's buried with other members of his family, across the street from Horton House, with a peaceful view of Bignon Creek. A single oak tree marks his passing.
I have always loved historic graveyards and was excited to see that this one was a little different than others I'm used to, due to it's simplicity and size. A tabby enclosure surrounds the small family plot and you can sit on a wooden bench nearby, overlooking the creek. It was windy the morning I went and it was as if I could hear voices from the distant past, carried on the breeze that whispered through the swaying tree branches.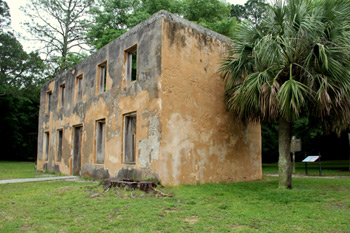 The remaining Bignon family continued to own Jekyll Island, working together to manage the plantation and it's crops. Eventually they decided to sell the property to a group of millionaires in 1886. They, in turn, promptly formed The Jekyll Island Club, a playground for the rich and famous. Many of the world's wealthiest families became members in it's heyday. Most notably were the Morgan, Vanderbilt and Rockefeller empires.Today, the Jekyll Island Club is a luxury resort and a member of the Historic Hotels Of America.
Jekyll Island lies off the coast of Georgia and is known as one of the Golden Isles. It's one of four barrier Islands, which also includes St. Simons Island, Sea Island, Little St. Simons Island and nearby Brunswick. It's exquisite beauty and warm invitation to the endless adventure there is unrivaled. With museums, hotels, gorgeous beaches and historic places preserved with great diligence and care, you won't mind paying the $6 to gain entrance and you won't want to miss this amazing piece of history.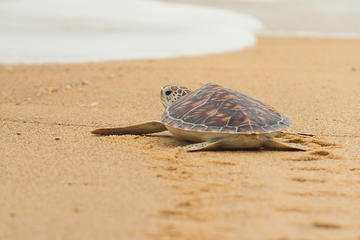 Jekyll Island Tour
If You Go:
Jekyll Island Chamber of Commerce
About the author:
Theresa St.John is a freelance travel writer and photographer based in Saratoga Springs, New York. Even though history was not on her radar while in high school, she has a deep interest in all things historical now. She has been on assignment for several magazines and is published in both print and on-line venues. Last year she traveled to Ireland on assignment, which, she states " was a trip of a lifetime." She landed the cover photo and feature article in Vacation Rental Travels Magazine highlighting her adventures there. She has written for Great Escape, International Living, Saratoga Springs Life Magazine, The Observation Post newspaper, Discover Saratoga and is a successful contributor to many stock photography sites. She is the proud mom to two young men and Nonnie to 5 rescued dogs, 2 Chinchillas and a bird. Life is good, she says. Theresa vacations in Fiji this Fall and looks forward to another great travel writing/ photography opportunity in the South Pacific.
All photos by Theresa St. John:
Front view of Horton House
Bike path way with Georgia's Live Oaks and hanging moss
Rustic bicycle outside Horton House
Tabby, typically used in the 18th and 19th century
Cemetery
Carved headstone
Cemetery with lone Live Oak tree
View of Horton House from distance