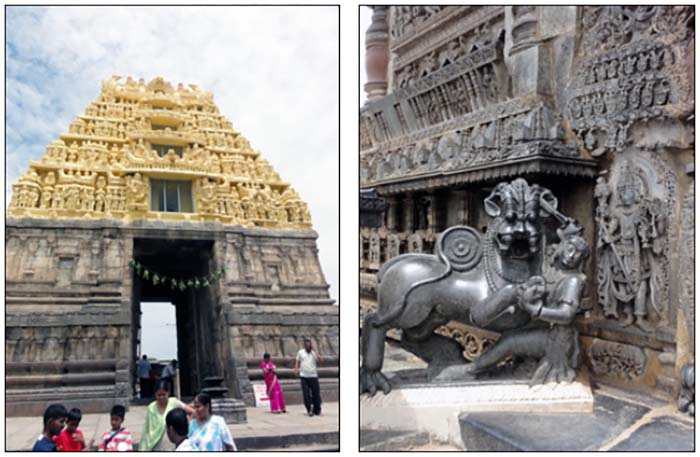 by Rashmi Rao
Chikmagalur or Chikkamagalur a town nestled in the beautiful Malnad region is a little short of 300 km from Bangalore. Tranquil environs, lush green surroundings and tall mountains are a slice of what you can expect in this wonderful town. Easily accessible by road this place is a great weekend getaway from the capital city of Bangalore. Given its proximity to a number of sightseeing attractions, it is an extremely popular tourist destination.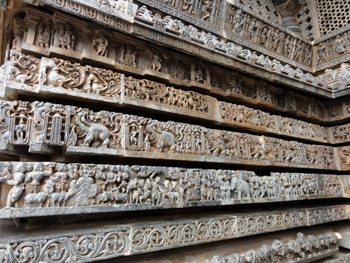 While closer to Chikmagalur, we decided to take a quick detour to visit the renowned temples of Halebid and Belur, both located about 30 km (though in different directions) from Chikmagalur. Both these temples are characterized by ornate pillars, detailed panels, intricate carvings, beautiful sculptures and are the finest examples of the Hoysala school of architecture. The Hoysaleswara temple in Halebid, dating back to the 12th century has it walls covered with myriad sculptures which depict a wide variety of Hindu Gods, mythological birds and animals. It is indeed a marvel that no two sculptures here are the same.
The main attraction in Belur is the Cheenakesava temple. Equally splendid, with its share of ornate pillars and sculptures this temple was built by king Vishnuvardhana in the early 12th century. Legend has it that it took 103 years to complete the building of this temple, with the Darpana Sundari (Lady with the mirror) carved on the walls being one of the highlights of this place.
Both these proposed UNESCO World Heritage sites are a must visit for a first timer.
As the hues of the trees turned deeper and the surroundings cooler, we knew that we had arrived in the "younger daughter's town", which is the literal translation of "Chikmagalur" in Kannada. The serene surroundings with the Western Ghats as the background makes you feel instantly rejuvenated. At a height of 1090 meters above sea level, this town is one of the largest coffee producers in India.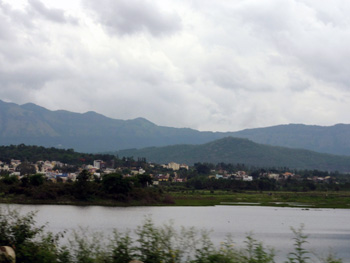 One of the most popular attractions in Chikmagalur is the peak of Mullayyanagiri. This is the highest peak in Karnataka and at a little less than 2000 meters, it is one of the most loved trekking destinations. However, the road to Mullayyanagiri is very narrow with steep curves. Unless traveling on a clear sunny day, there is every chance that the road ahead would be very foggy with very low visibility. The road ends a little below the peak beyond which a small trek takes you to the peak which houses a temple. The views are picturesque and breathtaking and provide a great spectacle of the Arabian Sea on clear days.
On the way back, we stopped at Sitalayanagiri where there is a Shiva temple. Our next destination was Baba Budangiri, known for its shrine dedicated to the Sufi saint Baba Budan. It is a pilgrimage site for both Hindus and Muslims and the place is also known as Dattatreya Peeta. The shrine is housed in a cave-like structure and attracts crowds throughout the year. Legend has it that Baba Budan had immense healing powers and hence people come here to pray for good health. Devotees are also seen picking up handfuls of earth from the region that is kept at home and worshipped.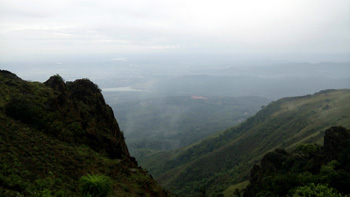 Close to Bababudan giri are the Manikyadhara Falls which again is a much visited destination. Though small, the waterfalls are frequented throughout the year as it is considered a holy site. Tourists as well as locals bathe in the water as it is believed to have divine therapeutic powers. We too had a quick dip in the waters before proceeding back.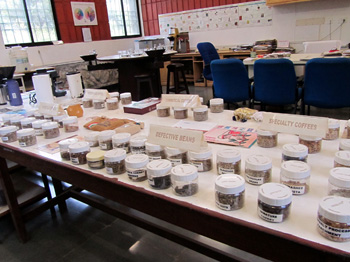 In the city, the coffee museum is yet another 'must visit'. Nestled in the greenery of the 'coffee land', this place is a store house of information on the history of coffee, its cultivation, varieties, grading and basically everything you ever wanted to know about coffee. An initiative by the Coffee Board of India, the museum also houses the coffee quality evaluation and training center. Attractive visuals and maps display interesting trivia and the place gives you a complete picture of the "bean to brew" journey. With a modest entry fee, this place can really boost your knowledge on coffee and it is recommended for adults and children alike.
M G road in the city centre is the prime shopping area, where you can shop for various kinds of coffee powder and spices like pepper, cardamom and cloves. A sumptuous snack of masala dosa, filter coffee and gulab jamoon at Town Canteen is something not to be missed while in the town. Located on R.G. road, this small eatery has been serving absolutely delicious dosas and gulab jamoon since 1960!
Chikmagalur is also located at a convenient distance to the much visited holy towns of Sringeri, Horanadu and Kalasa all of which can be covered in a day trip. Bhadra Wildlife sanctuary and Kemmanagundi are other places worth a visit.
Apart from regular hotels and resorts, Chikmagalur has a large concentration of home stays which serve as convenient accommodation options for tourists.
If You Go:
♦ By air: The nearest airport is at Mangalore, about 160 km from Chikmagalur. The airport is well connected to major Indian cities like Chennai, Mumbai and Kolkata. Bangalore airport is about 270 km away which well connected to major Indian and international cities.
♦ By train: Kadur railway station, about 40 km from Chikmagalur is the nearest railway station. Hassan railway station is 60 km away.
♦ By road: Chikmagalur is well connected to other major cities of Karnataka like Bengaluru, Mangalore, Hubli and Hassan by a number of state run or private buses.
About the author:
Rashmi Gopal Rao is a freelance writer and blogger. She is from Bengaluru, India and writes for a few travel websites. Her hobbies include travelling, reading, writing and photography. She is also passionate about home decor and gardening. You can follow her on her blog rashminotes.wordpress.com and on Pinterest (www.pinterest.com/rashmigopalrao).
All photos are by Rashmi Rao Gopal:
Chennakesava Temple, Belur carvings
Sculptures at Hoysaleswara Temple, Halebid
Chikmagalur
Mist-clad Mullayanagiri
Coffee bean display at the coffee museum