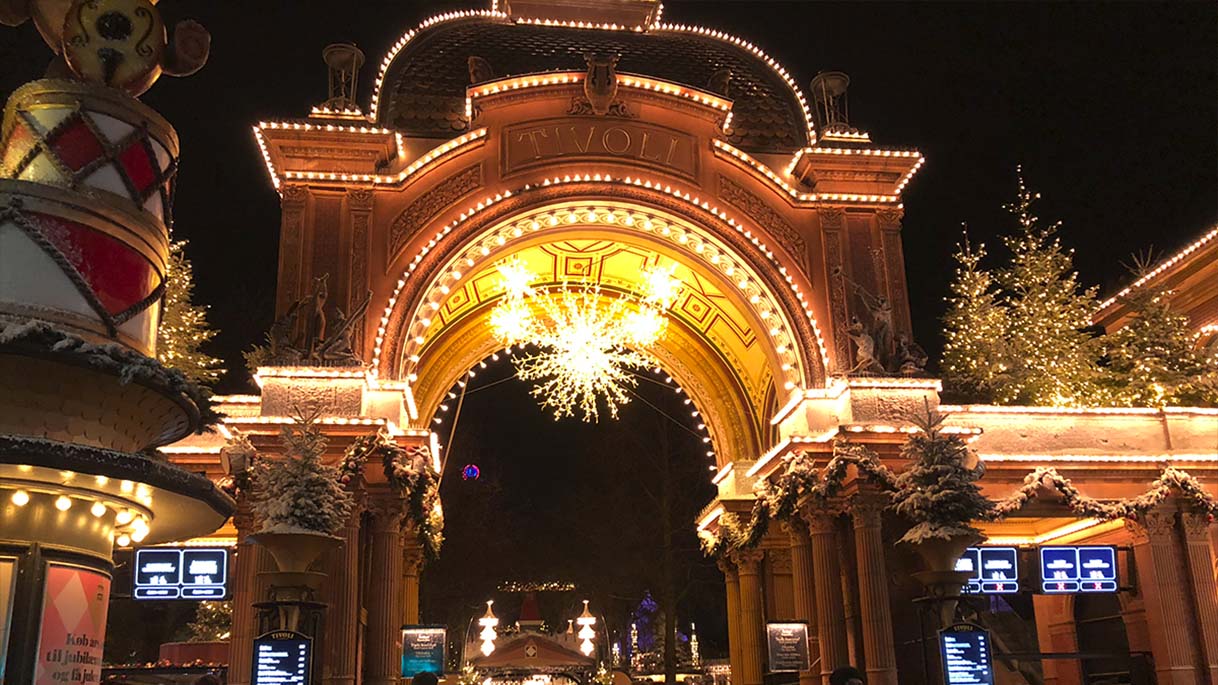 by Susmita Sengupta
When I think of December, there is only one thought that comes to mind. Christmas and New Year. The festive air and holiday cheer. In today's globally connected world, this has become even truer that no matter where we may be, without a doubt we will get to see some kind of Christmas spirit. The epitome of this is seen in the Christmas markets in towns and cities of the Northern Hemisphere. They are the perfect place to visit to soak up the holiday atmosphere.
In New York these markets are known as holiday markets and very many of them pop up all over the city. Holiday Shops at the Bryant Park Winter Village, Columbus Circle Holiday Market, and Union Square Holiday Market are the biggest ones. Each is filled with booths selling unique gifts such as artwork, apparel, jewelry, accessories and also food and drink items made by local artisans and craftspeople. While I love to stroll through these markets, what I enjoy most about Christmas in New York are the holiday windows of the department stores. The dazzling, enchanting windows are a sight to behold as each display is a gem of creativity and vision.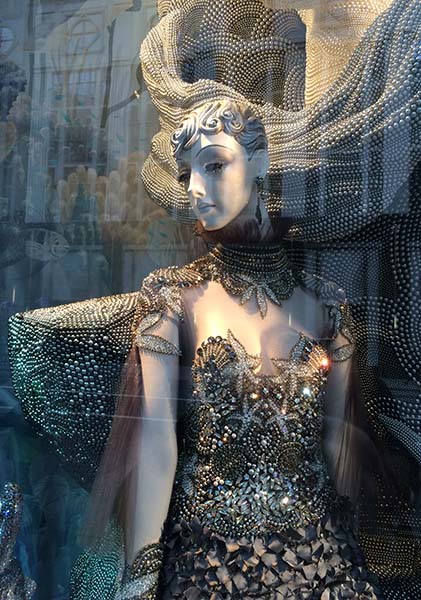 R. H. Macy of Macy's department store was the first to create a holiday window display in 1874 and was soon followed by others. Now of course, the city brims with fanciful, glitzy holiday décor. On our walk through Fifth Avenue, we marveled at the Bulgari store décor where the sides of the building was draped with an enormous crystal pendant necklace. The skyscraper with the gorgeously lighted candy canes hugging its front brought a smile to my face. The beloved children's book character, Corduroy the bear who went on a trip around a department store to find his missing button beckoned at another window. The storefront of Burberry's was adorned with British royal guards holding holiday gifts.
One of the largest Christmas market I ever visited was the Winter Wonderland in Hyde Park, London. While I had been to this prime Royal Park in the heart of London many a times during various summers, somehow I was unaware that the park transformed into a winter festival venue from the middle of November. What started as an open air Christmas market in 2006 has grown into a gigantic holiday extravaganza that draws locals and tourists alike.
On a cold, drizzly and slightly foggy evening we entered the fair along with hundreds of others, passing through a massive entrance way of beautifully twinkling Christmas lights and immediately felt as if we were entering a spectacular dreamland. We forgot the chill in the air and turned our heads this way and that looking at the rides, games, markets and stores. The choices were overwhelming. Built in the tradition of the famous Bavarian Christmas markets of which I have seen none, I was glad that I was getting a feel of what German Christmas markets are like. We came here after traversing through streets enjoying the Christmas windows and brightly festooned streets of the neighboring shopping areas and were getting hungry. So unsurprisingly the first thing I noticed was the lineup of stalls selling mouthwatering food. There was an abundance of burgers, waffles, pretzels and fries. We decided to eat a waffle each considering it to be the harmless option. The sitting area was decked up in the manner of a wooden chalet complete with wall mounted antlered deer heads and a large roaring fire pit in the center of the hall.
After our stomachs were satiated, we ventured back out and stopped at the next attraction, the Magical Ice Kingdom. Again a novelty for all of us, we entered into the world of ice sculptures. There were beautiful ice swans floating on water, deer peeping from behind pine trees, horses with riders on them, fairies and elves amidst sculpted ice trees. There were ice slides and ice chairs and much more. It was a spellbinding experience, at least for me.
Coming back out, we wended our way through the throng of people, passing by rides of all kinds when my daughter insisted on riding one. She chose the North Star Flyer, where pairs of riders sit with their feet dangling on a chain link rotating swing which soars 20 stories high as it moves up and down a tower that is more than 200 feet tall. After the exhilarating ride, we walked by booths selling all kinds of holiday delights. There were handmade Christmas ornaments and tree decorations, toys, greeting cards, cookies and gingerbread and much, much more.
Recently, again during a late November vacation, I got the opportunity to sample the Christmas markets of Copenhagen, Denmark. At the Kongens Nytorv Christmas Market, my husband, daughter and I battled our way through groups of people, all craning their necks towards a certain building that bordered the market. A young man told us everyone was waiting for the façade lighting of the Hotel D'Angleterre which signals the start of the Christmas season in Copenhagen. We had no idea what this entailed but were glad to be part of the eager crowd. Promptly at 5 pm, the windows lit up with a tribute to the famous Danish storyteller, Hans Christian Andersen and the entire front of the hotel was bathed in yellow sparkling Christmas lights.
Our hotel receptionist guided us to Tivoli Gardens, an amusement park and garden that traces its beginning to 1843. Tivoli transforms into a Christmas market from mid-November just like Hyde Park in London. It was equally impressive when we reached the entrance gates decorated with brightly colored lamps and thousands of tiny lights. The lighted archways with hanging lanterns, the glimmering pine trees, the sudden marching band playing music, all created a magical, fairy tale like mood.
Reading about its history I found out that this is the most visited amusement park in all of Scandinavia. King Christian VIII, the freshly crowned king was persuaded by Georg Carstensen, a Danish Army officer and entrepreneur to build a pleasure park ostensibly to deflect the public's attention from social and political problems. The park opened on 14th August 1843 with attractions that were an immediate hit.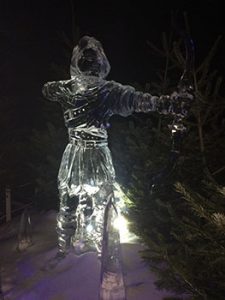 This park too is full of rides of various kinds and stalls and booths selling food and Christmas decorations of all kinds. There are also uniquely Danish and Scandinavian stores selling hand knitted socks and woolens and souvenirs of all kinds. We were captivated by the architecture of some of the buildings, most notably the one that reminded me of the Taj Mahal of India. A mix of Moorish and Mughal Indian architecture, this is the Nimb Hotel, a small luxury boutique hotel. I'm always intrigued when I find a connection to India during my travels around the world and I was not disappointed here either. First the fancy hotel and then in a Christmas souvenir shop, we spied multicolored, bejeweled jewelry boxes that my daughter immediately identified as Indian.
Christmas is not a major festival in India where 1.7% out of 1.3 billion or about 28 million people identify themselves as Christians. The festival season there is in the months of September to November and Christmas in December would mostly be celebrated in churches with the larger population typically being unmindful of this festival. But during my last visit to India in December I found a change in the atmosphere. With the proliferation of TVs and the Internet, people have become more aware of the commercial festivities associated with Christmas around the world. Indians being very receptive to festivals of all kinds have now accepted Christmas too with open arms.
So we were pleasantly surprised to see a full height chocolate Christmas tree in the lobby of a hotel whereas the lobby of another was decorated with a tableau of a poinsettia Christmas tree surrounded by white cardboard reindeer and a beautiful gingerbread house. I was charmed by the display of a parade of happy snowmen wrapped in woolens and scarves and the sleigh with Santa in it carrying boxes of gifts aptly placed in a shopping mall. And so I realized that no matter where I am in the world, whether with friends and family or complete strangers it is easy to get caught up in the celebratory air.
If You Go:
New York:
The stores on Fifth Avenue are a major draw and it can get extremely crowded but it's well worth it. Combine the walk with a stop at Rockefeller Center at 50th Street to view the gigantic Christmas tree and the décor. The tree will stay lit till Jan. 7th, 2018.
Holiday Shops at Bryant Park: From 40th to 42nd Street between 5th and 6th Avenues. Open from 11am-10pm.
Columbus Circle Holiday Market: Located at 59th Street and Central Park West at the entrance to Central Park till Dec. 24th.
Union Square Holiday Market: Located on the south side of Union Square Park at East 14th Street between 5th Avenue and Irving Plaza.
London:
Winter Wonderland at Hyde Park is open from 10am-10pm everyday till Jan. 1st, 2018 except Christmas Day.
Copenhagen:
Kongens Nytorv Christmas Market has free admission and is open till Dec.22nd.
Tivoli Gardens: Open till 31st Dec.
New Delhi:
All the major hotels in Delhi such as Hyatt, Maurya and others put up Christmas décor and there are Christmas brunches and dinners.
Visit the big malls such as the ones in South Delhi to admire their Christmas decorations.
Vasant Kunj Mall is located at Nelson Mandela Road.
And Select CityWalk is a mall located in Saket District Centre.
About the author:
Susmita Sengupta is a freelance writer who loves to travel. She and her family have visited various parts of the USA, Canada, Europe, the Caribbean, Middle East, Southeast Asia and India.
All photos by Susmita Sengupta
The entrance walkway to Tivoli Gardens in Copenhagen
A store window in New York
The lighted arched entranceway to Winter Wonderland at Hyde Park, London
An ice sculpture at the Magical Ice Kingdom at Hyde Park