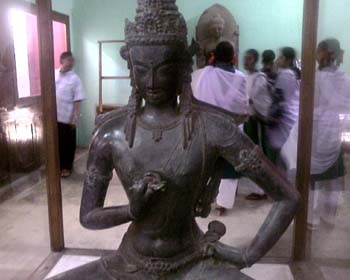 by Reema Islam
I said "Itakhola Mura." With a puzzled look he said "There is no such place here." I went into panic mode and spluttered something incoherent until his face gradually lit up and he said "Oh Ittkhola mura!" He revved up his CNG run tuk-tuk and heaved it up a hillock while we sat shaking our heads at the many phonetic wonders of our trip.
Armed with bursting enthusiasm, guide books and various brochures from the museum's dusty shelves, I with two of my trusted girlfriends had set out on an adventurous weekend to Comilla, East of Bangladesh, to check out the ancient sites popularly known as moinamoti. Comilla was known as Samatata from around 6th-13th century AD. Parts of Bangladesh fell under the region called Vanga at a close proximity to Maghada, which was quite a powerful state since the time of Asoka (304-232 BC). The Mahajanapadas or Great Learning Centers were a group of institutions that are said to have had an interactive relationship of knowledge sharing. The most famous one of these centres is said to have been Nalanda Institute in the now Bihar region of India. A corresponding university was said to be in Pundranagar, now lying in Naogaon district of Bangladesh. This centre is now designated a World Heritage Site and is called Paharpur. However a learning centre of probably a lesser kind was also discovered further South of the country.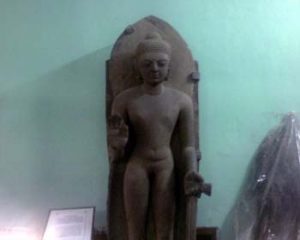 Our first stop in Comilla was the museum where the remains of a fossilized tree greeted us at the entrance. Pottery shards, huge stone mortars and pestles or "Shil & Batta" (where the mortar had caved in considerably with such extensive use) Buddha in a Vajrasattva pose (sitting in a typical lotus pose, holding a thunderbolt in his right hand which is diamond shaped, supposed to cut through anything and not be cut itself, symbolizing purity and in his left hand is held a bell to symbolize wisdom and compassion. Together these two are essential in reaching enlightenment). The museum is large and houses many relics set in simple glass shelves, from the times of the Guptas, the Palas, the Chandra Senas and also the local ruling dynasties such as the Khagdas and the Devas. Comilla was known as Samatata from around 4th-13th century AD. The name Samatata was first mentioned on the Ashoka pillar in Allahabad where the Gupta ruler Samudragupta (ruled 335-376 CE) noted this as one of the principalities of that period. With monasteries built in a distinctive style of that era, Samatata has much to reveal as it flourished through kingdoms ruled by local rulers for about 500 years from 6-11 centuries AD. Housing some of the greatest vestiges of Buddhism in the form of the various monasteries around Comilla, Samatata attracted many a pilgrim seeking enlightenment.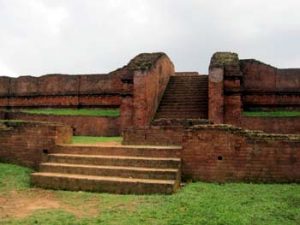 Thus when Wanderlust and an inquisitive mind made the monk Hiuen Tsang smuggle himself out of China in the 7th century AD to make the perilous journey to India, his main aim was to read up on Buddhism. His journeys through the terrains that preached the gospels of Buddha also bought him to a deltaic region, with green fields and meandering rivers. Tsang visited the famous Nalanda Institute now in Bihar and its corresponding university, Somapura Vihara, the now World Heritage Site Paharpur in Naogaon, Bangladesh. These were both part of the great Mahaviharas, or Great Learning Centers. However a learning centre of probably a lesser kind was also discovered south-east of the country. Tsang was surprised to note bustling universities and hostels for up to 2000 monks and his documents have helped us understand Samatata a little better. An institution noted by him as Kanakastupa Vihara could well be the now excavated Salban Vihara.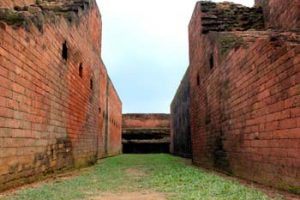 Salban Bihar or Salavana Vihara as the signboard stated (Vihara means monastery and Salbon for the sal forest that once was), confused my two friends who had yet to catch onto the phonetics of the Sanskritic versus Bengali names. The disintegrating parameters of this once ancient monastery are now surrounded by an artificial garden sprawling around it. The main part is said to be the area that housed the main monastery for the students, with little cubicles that possibly accounted for the little cells where the monks resided. 115 cells and remnants of what could be a kitchen, abbot's office and courtyard have been identified by the experts. This site is not only the most excavated one, but shows the perfect cruciform design-a crucifix shaped structure, (a popular style as seen at Angkor Wat or other Javan, Burmese sites of those days). However to inquisitive novices like us all we could make out were possible windows or door jambs or a seat.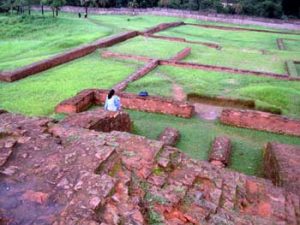 Itakhola Mura, another red brick built structure depicts either a monastery of sorts with a residence area, courtyard and maybe an office or two. With a quaint passage that has little alcoves in the wall meant for oil lamps, Itakhola also houses the largest in-situ stucco (plaster) statue of Buddha in a lotus position, found in the country. This whitish torso-less statue placed in a walled up chamber is left to dazzle its visitors. Similar alcoves in the walls surrounding it make one wonder how the people of Samatata must have lit them with lamps, considering the only way in was from one storey above. A ladder, ropes, or agile monks, Itakhola Mura left us animated and rearing to visit the next site.
Rupban Mura on the other end of the hillock has several structures strewn about. The most distinct ones here are the two votive stupas. Stupas, especially votive stupas were a tradition that were popularized by Asoka when he had the remains of the Buddha brought in and distributed them in several hundreds of urns and placed these in the various temples that he had built. Thus the dome shaped stupa structure got absorbed into Buddhist architecture and morphed into the Pagodas of Japan and the striking tall, chimney type version of the Thai, Cambodian or the Java versions.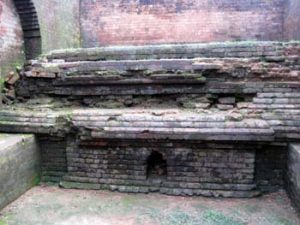 We had come to Comilla hoping to learn something about ancient eastern Bengal, but came away thirsting for more, as Samatata gave us a sneak peak at its heritage. With over 50 sites being discovered in and around Comilla, precious little is known about its people. From the Khadgas to the Devas many a ruler lived but left us little to draw a picture out of. Since we know that Samatata housed many institutions, it may be assumed that the locals supplied the monks with food and other necessities, creating a flourishing job market. But their legacy remains hidden between the disintegrating bricks of the Moinamoti ruins, a name popularized in some stray ballads and in museum brochures.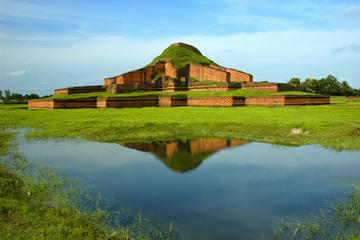 4-Day Bangladesh World Heritage Tour: North Bengal
If You Go:
Comilla is about a 2 to 2.5 hrs drive from Dhaka on a holiday. Snacking on the way is highly recommended since Comilla is home to the famous Rosh Malai & Pera, sweets made out of cow's milk curd. Local buses leave every few hours from the main bus terminals but it is recommended to hire a private car so one can stop along the way and also the many sites of Moinamoti. You can also book a berth on the local train going to Chittagong and stop off at Comilla station.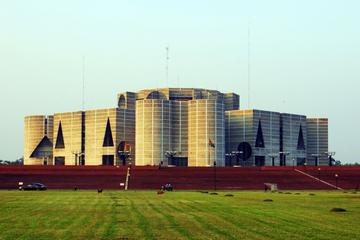 Dhaka Cultural Tour Including Traditional Theatre Performance
Photographers are as credited below:
Buddha in Vajrasattva (Tarek Murshed)
Buddha in sandstone (Tarek Murshed)
Salban Vihara (Reema Islam)
Pathway of alcoves (Sadia Faruque)
Rupban Mura (Reema Islam)
A kind of altar (Reema Islam)
About the author:
Reema is an environmentalist with an active wanderlust and luckily gets to travel through work as well. She is currently on a mission to discover ancient Bengal as she lives in Dhaka, Bangladesh and writes for national and international magazines on archaeological news, updates and general information about the sites around her country.