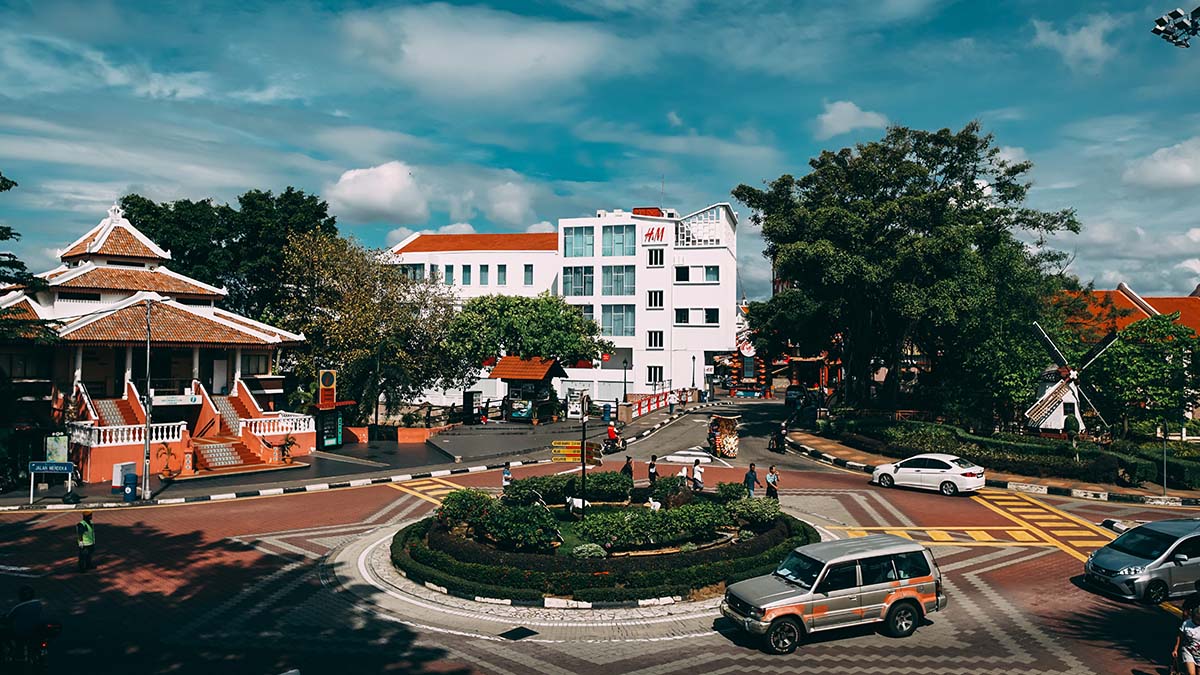 by Chris Millikan
A fugitive Sumatran prince established Malaysia's first sultanate in Malacca during the 1400's…and as it turned out, he'd recognized a good thing when he saw it!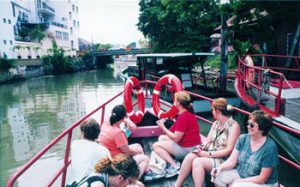 Very quickly, his sleepy seaside-fishing village developed into a prosperous cosmopolitan port, changing hands again and again over time. The Portuguese, Dutch and British all took turns battling for control, each colonizing this strategic seaport on Malacca's Straits. With a group of lively friends, my husband and I explore some extraordinary legacies left behind.
Our day trip into Malaysia's oldest city starts off with an early morning boat ride along the narrow channel dividing modern Malacca from picturesque old town. From our sunny seats up on the bow, we're reminded that countless generations have lived in this long-established river settlement.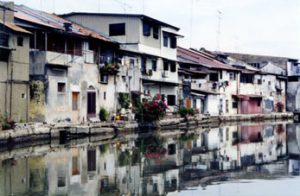 Dutch-era Heerin House remains near the jetty, low, elongated and parading its original tinted-glass windows. Scarlet and purple bougainvillea splash colour onto timeworn homes; fresh laundry dances in wafting breezes. Fishermen patiently mend tattered nets aboard cluttered traditional boats, women and children wave from weathered verandas; meter-long monitor lizards bask on doorsteps and paddle lazily under crumbling shaded porches; mudskippers flip and skitter in muddy shallows. I can only think that, Sean Connery himself must have appreciated this timeless charm when filming Entrapment along this pretty waterway…
Here and there along the way some derelict houses have been replaced. Renovated buildings have sprung up, sparkling with fresh yellow, pale tangerine or blue paint trimmed in bright white. Within a few years, more heritage-style housing and tidy brick walkway gardens could transform this nostalgic shantytown into a Little Amsterdam.
Not far from the wharf, Dutch Square's historic streets are perfect for strolling. Some pay a few ringgits to have 'kings of the road' pedal them throughout old town in gaily-decorated trishaws blaring pop music! But we opt to stroll and wander…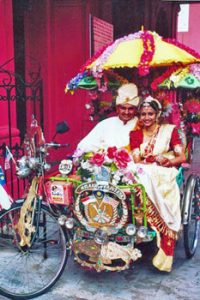 Across the small square a beautiful Hindu wedding ceremony had just ended. Dressed in magnificent crimson and gold silk, the bride walked toward red-walled Stadhuys-town hall with her handsome white-clad groom for photos out front. Settling cozily into their own special marriage trishaw bedecked with red flowers, the young couple smiled graciously, posing agreeably. As they were pedaled off into a bright future, we call out warm wishes from Canada…
Originally elegant residences for Dutch Governors, the town hall still shows off its immense wooden doors with wrought-iron hinges, louvered windows and startling red walls. Nowadays several museums share the spacious interior, exhibiting cultural artifacts that include fabrics and traditional clothing.
The Dutch Reformed Church dominates this square. Special pink bricks had been originally brought from Holland in1751 and are now plastered over with local red laterite. Single trees provided its eight-foot ceiling beams without joints; the original handmade pews have been used for years. Beautiful glazed tiles portray The Last Supper…and the brass Bible stand dates to 1773. Later transformed into Christ Church Anglican, the British added the bell tower and weathercock but left the decorated Dutch tombstones embedded in the floor.
Climbing atop Saint Paul's hill just behind the square, we soak up splendid panoramic city-views from the roofless ruin of Saint Paul's Church, built in 1521 by a Portuguese sea captain. Later a burial ground for Dutch nobility, aged tombstones lean upright against thick walls. Over 400 years ago, a much-visited open grave there had briefly enshrined St. Francis Xavier, a pioneering missionary; today, a commemorative white marble statue gazes perpetually over the renowned Straits instead.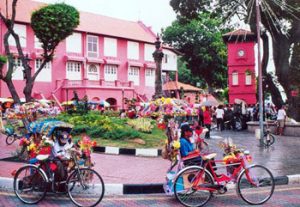 Flowerbeds border pathways winding gently downward to A'Famosa and Porta de Santiago from 1511, remnants of Malacca's once mighty Portuguese fortress. Nearby, a reconstructed Malay palace representing the earliest Sultanate in 1456 houses Muzium Budaya, a fine cultural museum. Down the block along the river, a replica of a 16th-century Portuguese galleon hosts the Maritime Museum, highlighting a turbulent history from the 14th-century to Malaysian independence in 1957.
Along Heeron Street, fondly called Millionaire's Row, the Baba-Nyonya Heritage Museum memorializes lives of wealthy Straits-born Chinese. Our young guide delights us with stories illustrating their old ways; slowly whirling ceiling fans cool the late afternoon air…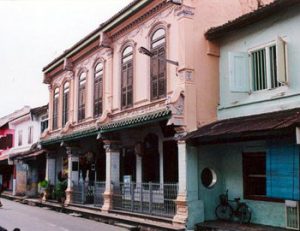 "The great-great grandchildren of Chen merchants own this 107 year-old-mansion, three lavish townhouses merged together. Adoption of the Malay culture led to distinctive fusions in language, furnishings, foods and clothing, common in Baba-houses like this one," she explained. "For example, prized silverware blended Chinese and Islamic designs." She unveils this hybrid lifestyle, pointing out hand-painted silk wall hangings from China, intricately carved fittings finished with gold leaf, elaborate wine-red brocade drapes and lacquered wedding baskets.
Priceless heirlooms dazzle as we trail through wide hallways paneled with polished hardwoods and rooms with secret peepholes for scrutinizing visitors at the door…or even spying on husbands coming home late! We climb up and down wooden stairways constructed without nails and finally into cool, restful tiled courtyards filled with greenery. In the pantry, I whisper, "I especially love these ceramic dishes…they were made in China, exclusively for this family." The guide smiles, "Blues, yellows, greens and pinks are typical of this blended culture."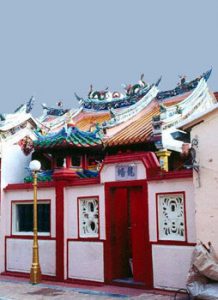 In Chinatown, we wind along Harmony Street and into Blacksmith Street where aged smithies continue their dying trade. A family on Goldsmith Street still custom-makes miniature beaded slippers in beautiful fabrics…specializing in antique 'bound feet' shoes, so remarkably tiny. "Now…verrrry expensive collector's items," beams the proprietor.
Along nearby Temple Street, three of Malaysia's oldest religious sites co-exist within two blocks. Elaborate mythical animals and flowers in porcelain ornament the Temple of the Evergreen Clouds; golden lions guard Cheng Hoon Teng, a Chinese temple from 1645. A Muslim mosque built Sumatran-style in1728, Kampung Kling features a pagoda rather than a minaret. And since the 15th-century, the Hindu community has managed Sri Pogyatha Temple. There, an elderly priest in simple regalia, chest bare and face chalked with intricate blue designs invites us to a rare glimpse of an interior altar in the cool, quiet prayer room. We are permitted to photograph a small, spotlighted elephant god backed by blue and red tiles, its ancient arms folded.
In Portuguese Square, we feast on succulent seafood and spicy vegetables prepared from ages-old recipes before making our way to popular night markets along Jonkers Street. Fondly known as second-class gentleman's street, many shops, galleries, cafes and itinerant hawker stalls have traded here in junk since the Dutch ruled Malacca. Countless items charm the curious: beaded purses with golden chains, bejeweled brooches; odd bits of furniture and painted blue tiles. The narrow, delicately engraved silver belt that I buy for such a good price would please my daughter back home…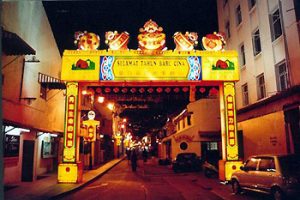 All along Jonker's Walk the warm night buzzes with laughter and friendly bargaining for curios; palm readers chart surprising futures for passersby and in little cafes, elderly karaoke stars belt out local hits for appreciative audiences sipping cups of tea. Yellow and pink lights lend a magical elegance to aging facades adorning timeless shop-houses…
Buying and selling spices, silks, exotic perfumes, teas and tobacco once transformed an early fishing village into this vigorous commercial center. Old Malacca continues actively trading, except nowadays barters her past glories, rich heritage and unique culture to intrigued travelers like us.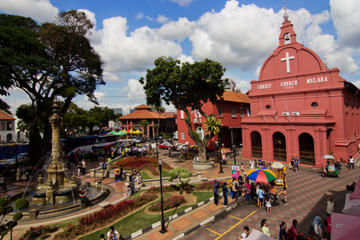 Private Tour: Historical Malacca Full-Day Tour from Kuala Lumpur including Lunch
If You Go:
For more travel details visit the Malaysia Travel website
About the author:
A retired Elementary School Principal living in Delta, BC, Chris Millikan enjoys traveling the province and the world with husband Rick. She shares her travel tales with others in local newspapers and magazines. Experiencing zany, off the beaten track, historical and cultural adventures for many years, she looks forward to introducing Willamina, her first grandchild, to the wonders of travel.
Photo credits:
First Malacca Bandar Hilir roundabout photo by Siti Rahmanah Mat Daud on Unsplash
All other photographs by Rick & Chris Millikan.