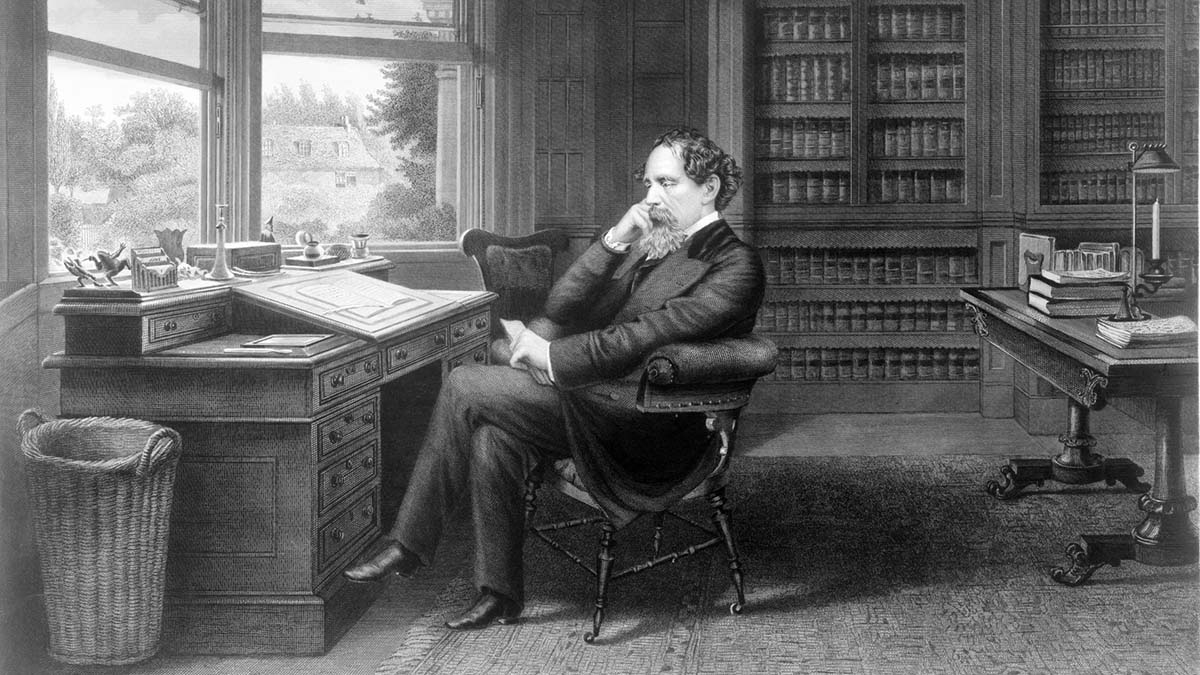 A Real "Father Christmas"
by Cindy-Lou Dale
His name is synonymous with Christmas and for many may conjure up visions of plum pudding and a warm fireside.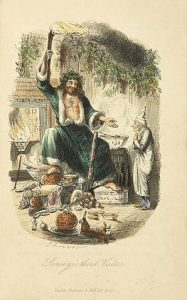 In fact, Charles Dickens probably has more influence on the way we celebrate Christmas today than any single individual (except one). At the start of the Victorian era, celebrations of Christmas began to decline but its romantic revival began when Prince Albert introduced the German custom of decorating trees and singing carols and soon thereafter Christmas cards appeared. But it was Charles Dickens' Christmas stories ( "A Christmas Carol" is one of five) that rekindled the joy of Christmas across Britain and America. "A Christmas Carol" was written during a time of decline in the old Christmas traditions. Dickens wrote it as a serial for the newspaper at a time when he was financially strapped. As a result of this Christmas "ghost story," first published on December 19, 1843, with illustrations by John Leech, Charles Dickens probably had more influence on the way we celebrate Christmas today than any single individual.
However, life back then wasn't all sugar and spice. Dickens also wrote of abused orphans and street children, a murderer, and a measly schoolmaster — drawing from his own wretched experiences on London's streets as a child. Perhaps it was because of those experiences that a talent emerged which would later lead to Dickens becoming the greatest writer of his time.
Charles John Huffman Dickens was born in Portsmouth, England in 1812; the first son to Elizabeth Barrow and John Dickens, a naval pay clerk.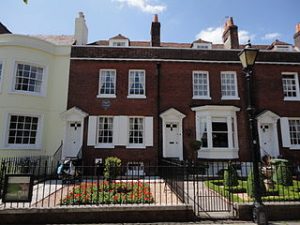 The house he was born in (now 393 Old Commercial Road) has miraculously survived and is preserved as a museum furnished in the style of 1809 which is when John and Elizabeth Dickens set up their first home together. Charles only lived in Portsmouth for the first three years of his life but returned on three occasions – once was to do background research for his novel "Nicholas Nickleby".
The pieces displayed in the museum — furniture, ceramics, glass, household objects and decoration, have been recreated in the Regency style which his parents would have chosen. There are three furnished rooms: the parlor, the dining room and the bedroom where Dickens was born. Also displayed is a small collection of memorabilia: the couch on which he died, his snuff box, an inkwell and a paper knife.
When Charles turned five his family moved to No. 2 Ordnance Terrace, Chatham, Kent, where they lived for several years. Their house is still stands and is only a few yards from the railway station.
The Dickens's were considered moderately well off and Charles attended a private school. But all that changed when his father was incarcerated in the Marshalsea Prison for debt. The then twelve year old Charles was deemed old enough to work and labored in a shoe factory to pay for his lodgings in North London and help support his family. He believed these events to have been the most horrendous of his life and haunted him to the grave; which he thinly disguised in the dark experiences of childhood poverty and feelings of abandonment in "David Copperfield".
The Marshalsea prison was eventually closed in the late 19th century and demolished sometime afterwards. All that remains of it now is a fragment of wall containing the entrance arch, which stands in a forgotten corner of a church yard, which itself has been converted into a small park. The absence of information is remarkable, in view of the historic importance of this prison. Nevertheless, a vivid portrait of conditions in this gaol can be found in Dickens' work.
Dickens began work as a law clerk soon after his father's release from prison. He quickly tired of this and became a journalist, reporting parliamentary debates which shaped his first collected works – "Sketches by Boz'" (his pen name).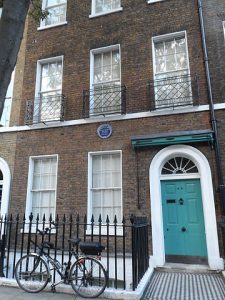 He married Catherine Hogarth, the daughter of a prominent editor, in 1836. They moved to the house at 48 Doughty Street (left) in the spring of 1837 with their new baby Charles, as well as Dickens' brother Fred who worked in the counting house of Dickens' first publisher. Catherine's younger sister Mary Hogarth was also a frequent visitor.
At this time, Dickens was on the threshold of fame with his successful "Pickwick Papers". Soon after the family moved in, Mary Hogarth died of heart failure at the age of 17. Dickens was so shocked he couldn't write and his publications of the "Pickwick Papers" and "Oliver Twist", which ran as a newspaper serial, were halted. Eventually he resumed writing and in his later fiction novels such as "The Old Curiosity Shop", the character of Little Nell was based on Mary.
In the study of Doughty St. house you can see the desk that Dickens used until the end of his life. The room is depicted in an engraving "The Empty Chair" by Sir Luke Fildes. Dickens always worked with fresh flowers on his writing table.
The Dickens family lived in London for some time and over the ensuing years, Catherine bore him ten children. But Dickens longed to return to his Kent roots and often spoke of Gad Hill Place – a home he had much admired as a child. In 1885, after he had become a world-famous author, his dream home came on to the market. After some haggling he acquired Gad Hill Place, which was the only home he would ever own.
While living at Gad's Hill he wrote "A Tale of Two Cities", "Great Expectations" and "Our Mutual Friend".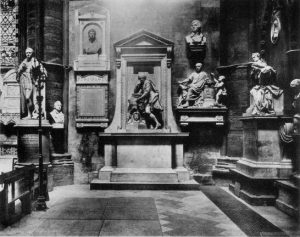 After twenty-two years of marriage, Charles and Catherine separated – a time when divorce was almost unthinkable. The year before their separation, Dickens had met Ellen Ternan, an attractive 18-year-old actress who eventually became his mistress.
Charles Dickens died at his home in 1870 while writing chapter 23 of "The Mystery of Edwin Drood". He was buried in the Poet's Corner of Westminster. The inscription on his tomb reads: "He was a sympathizer to the poor, the suffering, and the oppressed; and by his death, one of England's greatest writers is lost to the world."
The great writer may have passed but his stories, their characters and the places he wrote of will live forever.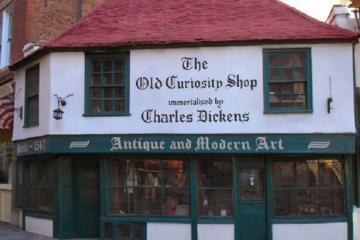 Charles Dickens Walking Tour
If You Go:
PORTSMOUTH:
The historic Portsmouth dockyard is truly impressive with the HMS Victory, the flagship of Vice Admiral Lord Nelson, moored there. The Victory is the only remaining eighteenth century warship anywhere in the world and is the oldest serving Royal Navy ship in commission.
You will no doubt be beckoned by the tranquil Victorian seafront; head off to the notorious Still & West Country House pub and listen to the landlord's yarns of the pub's history. He claims the area in which the pub stands was once the centre for Caribbean spice imports and was once the haunt of smugglers and press gangs. The view over Portsmouth Harbor is spectacular as the Isle of Wight and the Marina can be seen from the windows. A little further some of the Royal Navy's most modern warships are moored.
To walk through Old Portsmouth today, with its cobbled streets, charming pubs and restaurants is to walk through history. The narrow side streets recall a medieval community huddled together within town walls. It was in these streets that press gangs sought new recruits for the Navy.
Highly recommended accommodation in Portsmouth is the award winning Fortitude Cottage – a quaint family run guesthouse, overlooking the quayside in the heart of Old Portsmouth. The original Fortitude Cottage, dating back to the 16th century, was destroyed in WW2. Its replacement, built on the same site as the original, with pastel bedrooms and beamed ceilings is immaculately maintained.
Hop onto the water bus (operates from Easter to November) on the quay opposite Fortitude Cottage and take a five minute ride into the naval dockyard and appreciate some of Britain's proud naval history.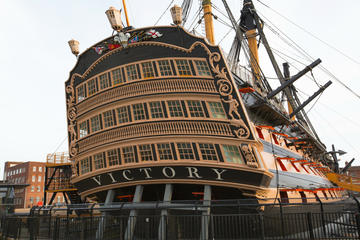 Portsmouth Historic Dockyard: All Attraction Ticket
LONDON:
The Charles Dickens Museum, located at 48 Doughty Street, London, WC1N 2LX is open six days a week, from 10 till 5.
Great accommodation nearby is the Georgian House Hotel – just 10 minutes bus ride from London's West End. They offer a variety of rooms and a great English breakfast.
London Transport Museum – Hidden London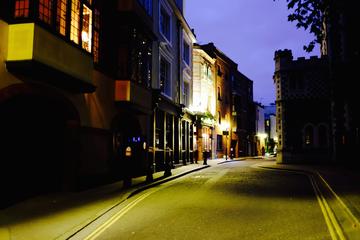 Haunted London Walking Tour: Ghosts and Criminal History
KENT:
In the first week of June, the nearby town of Rochester comes alive with Charles Dickens celebrations. The towns' folk dress up in Victorian costume and parade the streets of Rochester. Numerous other commemorative festivals are held in the Rochester throughout the year – the 'Sweeps Festivals' in May and the 'Summer Concerts' held in the grounds of Rochester Castle in July. The 'Dickensian Christmas' is a must with the aromas of roasting chestnuts filling the air, skating on the ice rink in the Castle gardens and candlelight Christmas carolers proceeding through the streets heading towards the Cathedral. Throughout December there are guided walks in the area the Dickens family lived.
Photo credits:
Charles Dickens at his Writing Desk: CC0 Public Domain
Ghost and Scrooge in "A Christmas Carol" by John Leech / Public domain
Dickens' birthplace and museum in Portsmouth: Austriantraveler / CC BY
Dickens' London house at 48 Doughty St. by Spudgun67 / CC BY-SA
Poets' Corner, Westminster Abbey by See page for author / Public domain
About the author:
Cindy-Lou Dale is an award winning writer and photojournalist who has been featured in numerous publications across the globe. She heralds from a small farming community in Southern Africa and has since lived in 18 countries. Currently her roots are in a village on the Kent coast in England.