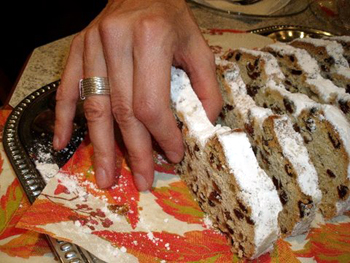 by Roy A. Barnes
Christmas in Germany is taken really seriously and has much historical significance. Decorated Christmas trees originated in Germany in the 16th century when Christians started bringing decorated fir trees into their homes (a symbol of their faith because of its triangular shape that represents the Holy Trinity). It's purported that Martin Luther was so impressed with a bright starry night amongst evergreen trees, that he re-created the scene for his family by putting up a tree in his house, substituting lighted candles for stars; and thus, starting the lighted Christmas tree craze. I got into the Christmas spirit by visiting Saxony, a region that's contributed much to this holiday season.
To Saxony's Capital for Stollen
The first Christmas market (Striezemarkt) originated in 1434 in the city of Dresden, which is in Eastern Germany, close to the Polish border. And it's here in the trendy and artsy Neustadt part of the city that I came across some really wonderful-tasting holiday season sweet bread called stollen. Stollen is made with a number of ingredients which include finely ground flour, yeast dough, butter (which makes up 1/3 of the recipe, including some that's melted and then hardened), bitter and sweet almonds, raisins soaked in rum, salt, candied orange and lemon peel, sugar. There are modifications to this as some 150 recipes exist for the city's bakeries.
When Stollen first came out in the 14th Century as a result of a contest originated by the Bishop of Nauru'burg, each loaf weighed 30-plus pounds, and became so popular, that Stollen only utensils were made. People would not eat the first or last pieces because they saved them in hopes of good luck.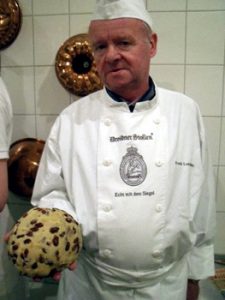 The Backerei Grundmann, near the Three Kings Church (Dreikonigskirche) emanated a pleasant fruity bread smell. A retired baker by the name of Frank Ludolphy, still active in the bakers association (and baked for a living some 45 years), gave a demonstration on how it's made by first displaying the above ingredients he used. I got to sample the Zutaten ("very fine ingredients"), and found the rum-soaked raisins irresistible. Ludolphy rolled out the dough and began shaping it. There's normally a maturing time for the fruit flavor to soak into the bread. He let me sample the dough (which he bakes at 356 degrees Fahrenheit/180 degrees Centigrade for 40-50 minutes). The raw form had an orange-like taste, reminding me of the orange sweet rolls mother used to bake for the family on Saturday nights.
No artificial preservatives are used by this bakery, which sells their stollen at various locations around the city, baking 14,000 loaves for the holiday season. It's generally available between September and January. The baked loaf is quite dense and the fruit juices can make the stollen appear to have brown spots. If you store it in a cool and dry place, the bread lasts for months. It can also be frozen and microwaved.
I had never tasted stollen before, and I wasn't let down by the incredible fruity, sweet taste of the semi-soft bread that'll get even the Scrooge-iest of people into the Christmas spirit!
Saxony's Small Towns Produce Big Time Christmas Memories!
There are so many aspects of Christmas, including the decorations and the gifts. But do people really take the time to think about where they came from? Well, some of Saxony's small towns are responsible for making Christmas memorable. The drive through Saxony to the towns of Glasshuette and Seiffen from Dresden is like driving through Appalachia with its winding roads, babbling brooks, old mills, plowed earth, and rolling hills full of trees.
It's "Time" for Christmas in Glashuette: You Don't Need Big Bucks To Appreciate Watches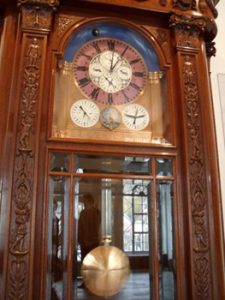 Watches are one of the most popular gifts to give for Christmas. In the town of a few thousand people about an hour away from Dresden to the south and very close to the Czech border lies Glashuette (founded in 1506), where some 10 watch manufacturers are located. You don't have to be one of the rich and famous to take a free tour of the Germany's premiere luxury watch maker Glashuette Original, whose roots of watchmaking go back to 1845. Because of the amount of components that are used, the hand assembly, and craftsmanship, these watches are not your ordinary chain store timepiece. Watch collectors and those who like status or who are "lucky" enough to receive a watch with a glass bottom to witness the working parts pay big bucks/have big bucks spent on their behalf for this brand of watch, with prices starting at about $6,700 US and going up well over $150,000 US. They're sold in over 70 countries and in chic cities like London, New York and Hong Kong. One of their customers has been Bruce Springsteen. This company uses gold screws, Louisiana alligator skin (for the watchbands), and Meissen Porcelain (for the dials) to make some of their watches.
The company produces about 8,000 watches a year via watchmakers who've had 3 years of apprenticeship training to install between 150-500 movable parts (some as small as a tiny bread crumb) per watch. They implement concepts like spark erosion technology, bronze plating (superior to gold) and complex measuring and polishing of the plates. It can take more than 40 hours to complete one watch. I got a chance to wear the guide's Senator Panorama model, dating from 2005. I didn't ask him how much he paid, but Senator models in the 2009 catalog begin at close to $7,600 US. The one I daydream about is a sleek black Senator sporty model with a perpetual calendar that costs just over $30,000 US.
After the factory tour, I took a short walk to the German Watch Museum where I got the lowdown on watchmaking in this area via pictorial and computer exhibits, many of which are in both German and English. I looked at numerous kinds of pocket watches, table clocks, and pendulum clocks on display. I got see some really nice looking timepieces, including one dating back to 1778 as well as a pocket watch from 1899 that has over 800 components called the La Grandiose Universal Watch, a 12 year project. The lobby contains a large priceless pendulum clock (pictured) that was crafted by Herman Goertz circa 19th century that not only tells the time, but the age phase of the moon and current Northern Sky representation, only taking 32 years to make.
Seiffen is all about Toys, Toys, Toys!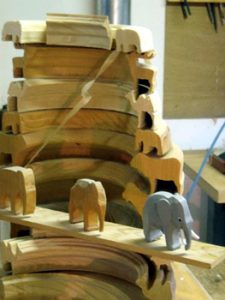 About 90 minutes southwest of Dresden near the Czech Republic is Seiffen. It's been around for close to 700 years and has a population of roughly 2,500. The town became a major toy maker for the Nuremberg market in the 18th century because of its quality products and low manufacturing costs. As I walked around town, I noticed a quaint toy shop at every turn or glance across the street. They sell Seiffen's wood-turned animal toys, nutcrackers, and intricately-crafted matchbox miniatures, the latter coming about to help cut down on the weight of toys to save on export taxes. The Seiffener Volkskunst not only sells these goodies, but you can actually watch the toymakers ply their trade making these beautiful and festive objects. The scent of wood dominates the nostrils, especially that of spruce, the principal wood used for ring-turned toys, which have been fashioned on the lathe for around two centuries to cut down on carving time.
The Erzgebrige Toy Museum or Spielzeugmuseum, located on Seiffen's main drag, is a must see for those who love toys, especially those made of wood. Over 2,000 items are on display via 3 floors at any one time that cover just about every Christmas-themed toy you can think of from trains, soldiers, smoking men, angels, games, and mining (since Saxony has quite a mining history). Their collection of Christmas pyramids really helped me appreciate all the more the artistic talents that humans have. I saw the attention to detail paid to those magical playthings that I noticed dated back to 1699. On the top floor are interactive exhibits that will keep the young and young at heart occupied.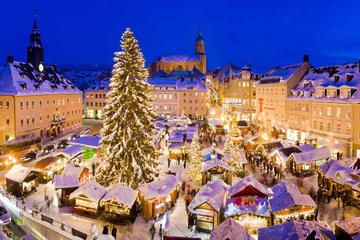 Meissen and Dresden Christmas Market Full Day Private Tour from Prague
More Information:
Backerei Grundmann: An der Dreikonigskirche 5, 01097 Dresden, Germany
+49 (0351) 656-7484. www.krenkelbaecker.de
Glashuette Original Tour: Altenberger Strasse 1, D-01768, Glasheutte, Germany.
+49 (0) 35053-460. www.glashuette-original.com
German Watch Museum: Schillerstrasse 3a, 01768 Glasheutte, Germany.
+49 (0) 35053- 46283. www.uhrenmuseum-glashuette.com
Seiffener Volkskunst: Bahnhofstrasse 12, 09548 Seiffen, Germany.
+49 (0) 37362-7740. www.schauwerkstatt.de
Erzgebrige Toy Museum (Spielzeugmuseum): Hauptstrasse 73, 09548 Seiffen, Germany
+49 (0) 37362-8239 www.spielzeugmuseum-seiffen.de
Germany Tourism: www.cometogermany.com
About the author:
Roy A. Barnes writes from southeastern Wyoming and is a frequent contributor to Travel Thru History. Note: Roy A. Barnes attended the German National Tourist Office's "The Making of Christmas" press trip, in which he got to experience these venues. But he writes his impressions freely without any editorial scrutiny from the press trip sponsor.

All photos are by Roy Barnes.