Legendary Location: Sleepy Hollow, Upstate New York
by Steve Sears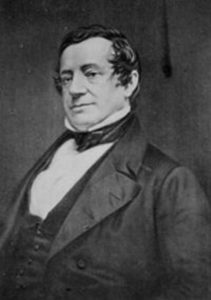 Literature fans who call New York State home are fortunate. Our country's first internationally known author "wrote" his legacy in two of Gotham's most lush spots: the Hudson Valley and the Catskill Mountains. Washington Irving (1783 – 1859) authored two of the most renowned tales in ALL of literature. Who dares step foot inside Sleepy Hollow on Halloween night for fear that the Headless Horseman may next choose they to toss his cranium at their head, as he did the feeble schoolmaster, Ichabod Crane, in The Legend of Sleepy Hollow? Or, head up to Greene County and you may hear, as Rip Van Winkle did, Henry Hudson's men playing a game of nine-pins, and readily agree to a mug of their tasty lager, and be likewise subject to a mountainside snooze of twenty years as well.
Legends aside, both areas are a lovely visit, and within driving distance of one another.
Consider Hunter in Greene County. About a ½ hour drive from Route 87 North's Exit 20, follow Route 32 to Route 32A, then to Route 23A. Here you'll reach serious peak elevations of close to 3,500 hundred feet, and any spot – especially Haines Falls, and Palenville, "The Home of Rip Van Winkle" – is an apropos place to nap. Haines Falls leads you into the tiny town of Tannersville, then into Hunter, the location of Stefania Jozic's Washington Irving Inn. Originally a private home, the building was converted into the Washington Irving Hotel in the 1940s, and Jozic, who bought the hotel with her late husband Mirko in 1986, turned it into a Bed & Breakfast. A morning breakfast and tea is offered, and there is much to do in the area. When returning home to rest, a nice in-ground swimming pool and afternoon tea await you.
The charm of the fifteen room Washington Irving Inn sets it apart. Irving never stayed here (the home was built in the 1890s), but upon entering into the front parlor of the Inn, you expect to see him seated there or wandering. The library of the 2007 New York State Hospitality & Tourism Association's Bed & Breakfast of Distinction winner features back to back chimneys, an original mantle bookcase made of pinewood, and a round table right out of Irving's era (1860). Hanging on the walls are photos and portraits of Irving and his "literary friends," creations done during his lifetime. In the first room beyond the entrance foyer, on the bar, is a display case holding a variety of Irving authored books.
While at the Inn, be sure and ask Stefania Jozic for a pamphlet describing "The Washington Irving History Trail" and see how many spots of the eleven you can visit during your stay in the area.
In wintertime, Hunter is the place to be. Hunter Mountain is perhaps the most popular skiing resort on the east coast. However, if spring or summer call you, visit the nearby Mountain Top Arboretum. 2,500 feet above sea level in the rugged high peaks region of New York's Catskill Mountains, it is a refreshing reprieve to a busy tourism day. Dining out? Nothing beats the Village Bistro in neighboring Tannersville. Comfortable, cozy, welcoming – and the food's pretty good too. The dining room isn't big, but doesn't need to be. The service and food are excellent.
Sleepy Hollow, which hugs the Hudson River in Westchester County, is the spot that Irving called home from 1835 until his death in 1859. But the area had truly always been familiar to Irving who, as a young boy, visited the woods, hunting and daydreaming, all along gathering ideas for his wonderful tales; "The Legend of Sleepy Hollow" yes, but there were others. My personal favorite, "The Birds of Spring," was a piece which appeared in his 1855 offering, Woolfert's Roost, describing the birds around his home, and the nesting habits of many under his front porch. It is a charming work.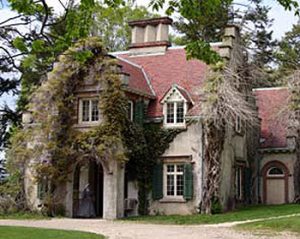 Sunnyside, Irving's snookery of a home is maintained by Historic Hudson Valley, and certainly an imperative stop. Tour guides dressed in period garb walk you through the tiny home, first starting with Irving's study, which is graced by a huge desk, a gift from his publisher, G.P. Putnam, and Irving's original collection of books. Visitors also have the opportunity to visit Irving's bedroom, the spot he breathed his last.
After touring Sunnyside, wander the grounds, visit Irving's man made "Little Mediterranean," the lake below the parking lot, and extensive gift shop. Snacks are available at the in-season café in the courtyard.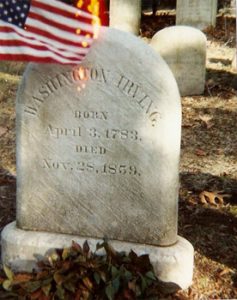 There are some other spots in Sleepy Hollow that warrant a sojourn as well. Sleepy Hollow Cemetery off of Broadway (Route 9) is a must. It's about a five minute drive from Sunnyside, and traffic often beckons in town and crawls due to the road's thinness. Irving walked and ponied up and down Broadway while alive, and you can just imagine the spot in his day, devoid of all the buildings that are there now. At the cemetery, Irving and his family members are buried in a private plot on Crane Way. (Photo above) Have fun searching the graveyard for characters from Irving's tales.
When in town, also visit Christ Episcopal Church. Inside this ancient house of worship, where Irving served as a vestryman, a special library room houses his first editions and handwritten notes. Also, on display in the church itself is the pew Irving called his own during weekly services, a plaque honoring his memory upon his death, and an altar he brought back to the United States from Luxembourg.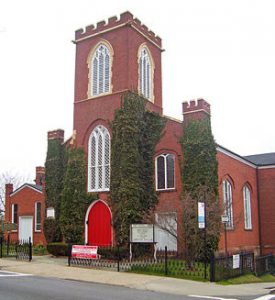 There's nothing quite like dining next to the Hudson River. A recommended spot is Sunset Cove at the Washington Irving Boat Club. With indoor and outdoor dining, as well as a separate outdoor barbecue dining deck, there are offerings for everyone. Try the Maryland Crab Cake or Cracklin' Calamari appetizer, and then top it off with a Fresh Wild Salmon or Beef Short Rib entrée. Yes, enjoy the cuisine, but most of all, take in the view of the Hudson, and the neighboring, grand Tappan Zee Bridge, which appears to be reaching for the heavens.
In town, there is no better haven for writers better than Horsefeathers. This happening pub is a jewel to literary fans, as bookshelves lined with books, and a huge mural depicting F. Scott Fitzgerald, Ernest Hemingway, Edger Allan Poe and more, dominate the main dining room.
It's the best of ALL worlds: the Catskills, the Hudson, and Washington Irving. Plan that trip!
If You Go:
Rip Van Winkle Country
Greene County Tourism – 800-355-2287
Washington Irving Inn – Route 23A, Box 675, Hunter, NY
Mountain Top Arboretum – Route 23C and Maude Adams Road, P.O.Box 379, Tannersville
Village Bistro – 6033 Main Street, Tannersville
Headless Horseman Country
Westchester County Tourism
Tarrytown
Sunnyside – West Sunnyside Lane, Tarrytown
Christ Episcopal Church – 43 South Broadway, Tarrytown, NY 10591 Open daily, 9 AM – 12 Noon (Call if you wish a guided tour)
Sleepy Hollow Cemetery – (914) 631-0081
Sunset Cove at the Washington Irving Boat Club 238 Green Street Tarrytown, NY
Horsefeathers – 94 North Broadway, Tarrytown
Catskills Tours Now Available:
Heart of The Catskills
Full-Day Ski Trip to Catskills Hunter Mountain from New York City
For More Information:
The Literature Network: Washington Irving
About the author:
Steve Sears is a freelance writer living in Bloomfield, New Jersey. He has been married for twenty years to his lovely wife, Lucille, and they have a 17 year old daughter and fellow writer named Stefanie. Visit Steve's website for details about his corporate writing services.
Photo credits:
Headless Horseman Pursuing Ichabod Crane by John Quidor / Public domain
Washington Irving portrait by: Copy daguerreotype by Mathew Brady, reverse of original by John Plumbe. / Public domain
All other photos are by Steve Sears