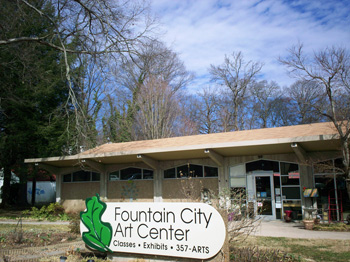 by Melanie Harless
In my junior year at Central High School in Fountain City, Tennessee, a mock funeral was held for our town, which at the time was said to be the largest unincorporated city in the country with approximately 30,000 residents. After much resistance to annexation into the city of Knoxville from the time they began proposing our annexation in 1959, the town reluctantly gave in to becoming a part of Knoxville. On February 12, 1962, six pallbearers appropriately dressed in black and Abe Lincoln stove pipe hats carried a casket for the mock funeral service down Broadway. About 350 mourners, some carrying signs with slogans such as "Died in 1962—we lived in peace" and "Surrendered with Reluctance," followed the hearse. The Central High School band accompanied the procession playing the solemn march "Pomp and Circumstance."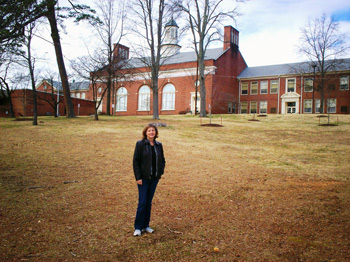 I did not attend Fountain City's funeral, but a friend told me about it later and said it was quite an event that ended with the playing of "Taps." Actually, as a teenager, I didn't notice much difference after we were annexed, except that we got street lights on our street, which was a positive effect to me. I lived in Fountain City from the time I was nine until I got married and left, so I consider it my hometown. This trip was a sentimental journey for me.
I first went back to my old high school, which is no longer a high school, but became Gresham Middle School when a new Central High was built in 1971. I am very glad I was able to attend at the old location. It is a lovely old building and campus. Prior to becoming Central High School in 1906, the campus was a college called Holbrook Normal School which had been established in l893.
We then drove down Hotel Avenue to the Fountain City Art Center at 213 Hotel Avenue.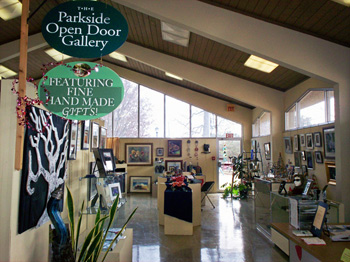 I remembered when I lived there that the building was home to the Fountain City Library. The Center was in-between main exhibits when we were there, but two new exhibits are now on display. The Knoxville Book Arts Guild and the Southern Appalachian Photography Society will be on view until April 8. Student exhibits from different area schools are also exhibited in the Center. There were some excellent works from middle school students on display when we were there.
Also located inside the Art Center is the Parkside Open Door Gallery with original art and crafts by local artists which are available for purchase. The hours for the Art Center are Tuesday and Thursday 9 am to 5 pm, Wednesday and Friday 10 am to 5 pm, and Saturday 9 am to 1 pm.
The Art Center is located next to Fountain City Park. My memories of this park go back to early childhood as a place where we had family reunions and picnics. Though the park was officially established in 1932, in researching, I found that it was used for religious camp meetings at least as early as the 1830s. Union veterans of the Civil War were also known to use the park for reunions.
The eight-acre park now has lots of colorful playground equipment in addition to the swings and slides that were there when I was a youngster. Unlike some playgrounds, it seems to get a lot of use during good weather. The park is also now circled by a paved walking path, with freestanding "porch swings" scattered along the trail where you can sit and rest and watch the people and look at the old trees and the natural spring which flows through the park into First Creek. Fountain City Park is not owned by the City of Knoxville, but is owned, operated and maintained by the Fountain City Lion's Club. The Lion's Club Building is in the park and can be rented for meetings. My late father was a member of the club and we held his eightieth birthday party there.
After walking around the park path, which is called the Fountain City Greenway, we walked across Hotel Avenue to the Creamery Park Grille. The Creamery is in an historic building with interesting décor. We were seated upstairs by the window and had a good view of the park. The food was quite good, but we decided to forgo dessert there and drive across Broadway to 2803 Essary Drive later to have our dessert at Litton's Restaurant & Market, which is famous for its desserts and hamburgers. Litton's started out in 1946 as a market and service station in the Inskip community of Fountain City. In 1980, Barry Litton, grandson of the original owner, opened Litton's Market. In 1983, Litton's Market and Restaurant was born, and in the same year they opened their bakery. In the 1990s, Litton's became a Fountain City landmark and is consistently voted East Tennessee's Best year after year for their burgers and desserts. They have been featured on ESPN and in Southern Living Magazine. We shared the coconut cream pie at the restaurant and brought a piece of German chocolate cake home to share later. Both were out of this world. The turtle brownies and Italian cream cake, which I have had in the past, are also delicious. A visit to Litton's is a must do, but they are closed on Sundays. They are open Monday to Thursday 11 am to 8 pm, Friday and Saturday, 11 am to 10 pm.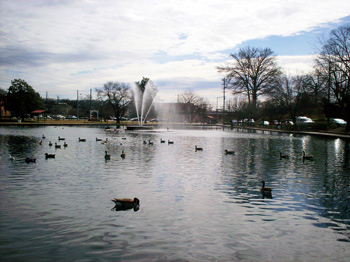 Before going to Litton's, we walked around the block of Hotel Avenue and crossed the street to Fountain City Lake, also known as the duck pond. The lake was constructed around 1890. Designed by civil engineer F.G. Phillips, the heart-shaped body of water features a large fountain in the center gushing water skyward. We walked all around the lake, being careful to watch where we stepped. There were families there feeding the ducks, young couples and older couples strolling around, and even a couple of men fishing, and lots and lots of ducks.
Fountain City was established in 1788 by John Adair, a Revolutionary War veteran and was originally known as Adair Fort. It was used as a depot for protecting emigrant families traveling west to settle in what is now Nashville. Fountain City still maintains historical pride with signs and markers that tell of the former town's history. Now a part of North Knoxville, the town of Fountain City is gone, but there is still that small town feeling and sense of community. I've noticed that most people who live there say they live in Fountain City, not Knoxville. And I, too, am gone from Fountain City, but it will always be my hometown.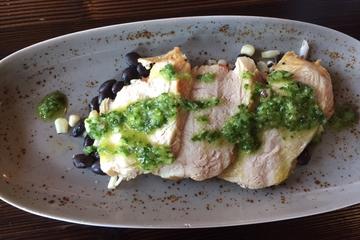 Chef's Table Tour in Downtown Knoxville
If You Go:
Fountain City is a neighborhood in northern Knoxville, Tennessee in the southeast United States. The main road in Fountain City is Broadway, a section of U.S. Hwy 441, which connects it to downtown Knoxville to the south. Interstate 640 passes along Fountain City's southern boundary, and I 75 passes through the western part of the community. Travelers to the area will also want to visit Gatlinburg, TN which is only an hour's drive away.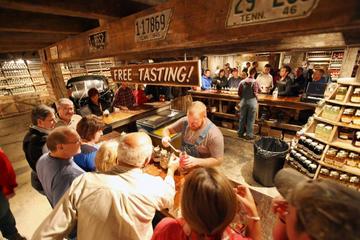 Day Tour: Moonshine and Wine Tasting from Gatlinburg
About the author:
Melanie Harless writes a column on regional travel for a local news-magazine. In addition to travel writing, she writes memoir-essays, poetry, and short stories. She also does photography. Her work has been published in anthologies, online and print magazines and newspapers. This is her fourth contribution to Travel Thru History.
All photos are by Melanie Harless.