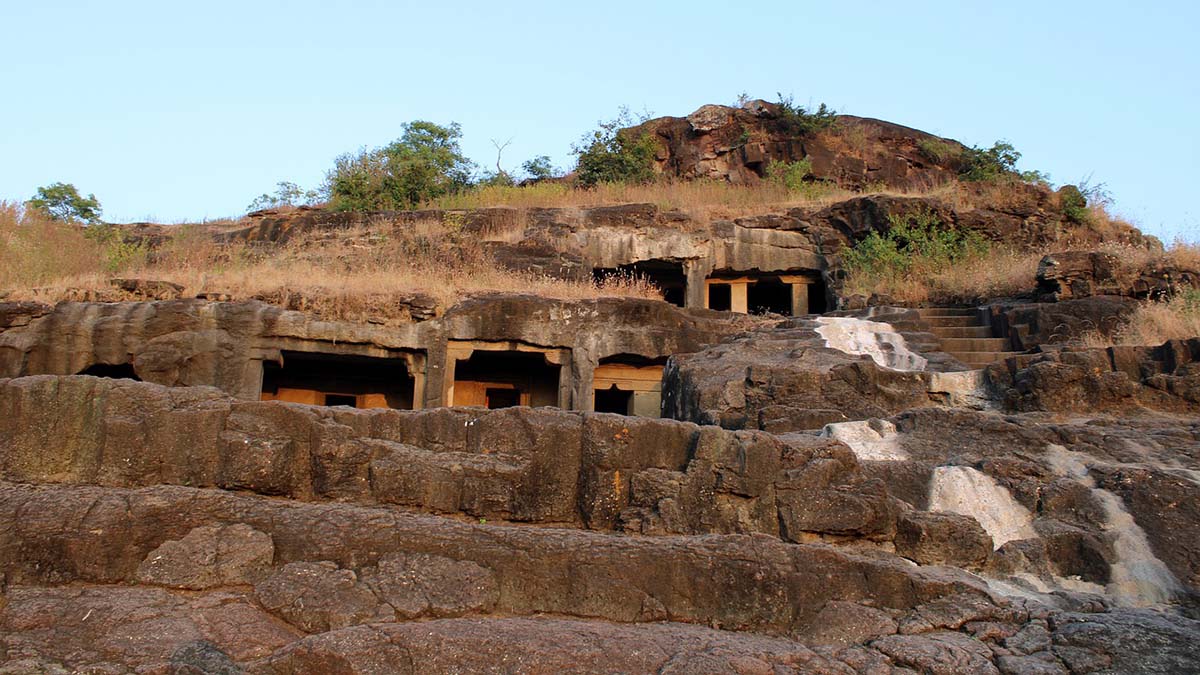 Aurangabad, Maharashtra, India
by Margaret Deefholts
Modern India preens itself as a slick, techno-savvy nation confidently brokering deals on international markets, and racing at top speed along the electronic superhighway. Its cities throb to the beat of Indo-jazz and its glamorous models strut the fashion runway in Bollywood style bling.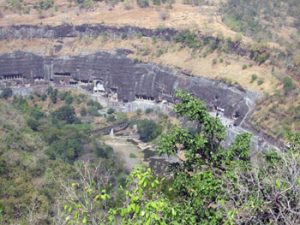 But beneath this sophisticated veneer lies another less strident India. One which has endured for centuries—a world of spiritual beliefs and mythology celebrated in an exuberance of cave paintings and temple monuments, spread across the subcontinent.
Just a couple of hours drive out of the busy town of Aurangabad (in the state of Maharashtra), I stand on a high bluff, looking down at a horseshoe shaped basalt cliff pockmarked with entrances to 29 caves (above). Ant-sized people crawl along a paved pathway and in the ravine far below, the Waghur river snakes through the jungle foliage. These are the Buddhist caves of Ajanta, built between 200 B.C. and 650 A.D. Lost to the world until 1819, it was a British Army officer, John Smith, who stumbled on them while on a hunting expedition in the area.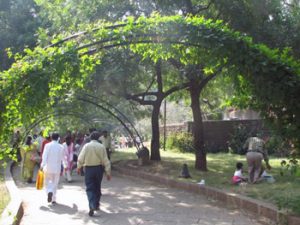 It is a sunny, but pleasantly cool weekend in mid-November when my guide Amod and I arrive at the Ajanta Tourist complex. The area is swarming with Indian holiday-makers—with just a few foreigners in their midst. En route to the spotlessly clean modern ticket office and bus depot, I shrug aside persistent touts selling garish postcards and Bollywood music CDs, but am sorely tempted to linger in a small craft bazaar with stalls displaying bright Indian shawls and readymade garments, jewellery, leather handbags and attractive curios. But time is of the essence so I hurry on.
To keep air pollution to the minimum, no private vehicles are allowed beyond this area. A green bus powered by natural gas, pants to a halt at the depot. A crowd materializes elbowing me aside as they claw and shove their way into the vehicle. I look at Amod and shrug as the bus lumbers out, packed to the rafters with babbling, excited Indians. He grins. "Leave it to me—I'll get you onto the next one!" He's as good as his word. He fights to the front of the seething mass of passengers, sits himself down and reserves a spot for me on the seat next to him. Getting off the bus at the foot of the caves, we walk through a landscaped garden rich with bougainvillea creepers and the scent of frangipani blossoms (above).
AJANTA CAVES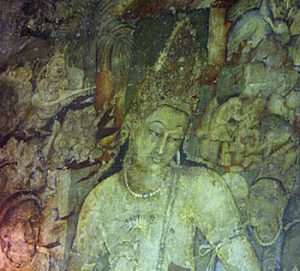 As I stand in the shadowy interior of the first cave, I'm reduced to stunned awe. The walls of the hall are a riot of murals that have endured in varying degrees of preservation over the millennia. At the far end of the room a statue of a benevolent Buddha gazes down at visitors. I'm riveted by what is probably the most photographed image in Ajanta, a painting of Bodhisattva Padmapani (left). The elegant prince, bedecked with pearls, holds an open lotus, signifying the awakening of the mystical inner self. With his golden skin, gentle smile and dreamy almond shaped eyes, he radiates a timeless serenity.
The word "buddha" means awakening (to enlightenment) and the Bodhisattvas whose images throng the walls of Ajanta's caves are those aspiring to attain Buddhahood. Prince Siddharath Gautam, who achieved full spiritual enlightenment in the 6th century B.C. is the founder of Buddhism, and these caves were once inhabited by thousands of monks seeking to follow his eight-fold path of righteousness. Five of Ajanta's caves were prayer or assembly halls enclosing stupas (symbolic representations of the Buddha); the rest were halls of residence. Buddhists, Jains and Hindus lived in harmony back then, and a great majority of Ajanta's artistic masterpieces were created by under the patronage of a Hindu king Harishena who lived in the 5th century A.D.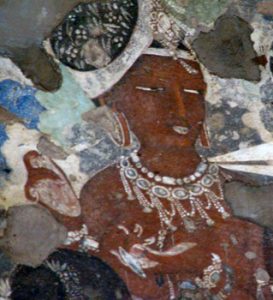 The murals are painted with red, yellow and brown pigments derived from vegetable dyes and from powdered stones such as blue lapis lazuli. Unfortunately many of them are chipped and peeling, ravaged by time and weather. Yet for all that they rivet the eye. Mythical tales, unfurl across the walls, the scenes seething with movement and colour; royal processions of elephants and horses and oxen drawn carts, common folks in everyday attire, beautiful women, languorous lovers and stalwart warriors. The details are exquisite—the sheen of tiny pearls adorning a princess, and ceilings chequered with intricate flower motifs, birds and geometrical designs.
Above the confusion of people milling through the cave, and the chatter of a group of school children, Amod asks, "Can you guess how the artists would have created such beauty, working in these dark caves?" I shake my head. He fishes out a small mirror from his jacket pocket. "They used these," he says. "Large mirrors were angled to reflect the sunlight pouring into the entrance of the caves."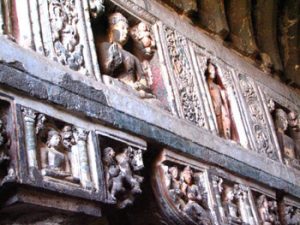 Even more astonishing is the fact that several caves were scooped out of the rock with hand held tools, working from the ceiling downwards. In the process, sculptors created free standing larger-than-life sized images of Buddha and detailed bas-relief friezes of worshippers and attendants along the walls.
On the twisting road heading back to the plains, Amod points out a site where a replica of the Ajanta caves is under construction. When completed in a year or two, it will offer cheap tickets for those who merely want to bring their families to romp through the pseudo caves and frolic around in a park setting. The result? Reduced traffic and environmental damage to the ancient site, and an opportunity for genuinely interested visitors to enjoy these extraordinary murals in an uncrowded, tranquil setting.
ELLORA CAVES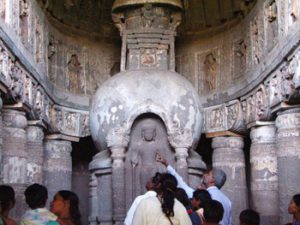 Not far from Ajanta, and about 30 km out of Aurangabad is another series of 34 man-made caves excavated from the rock face of the Charanandri hills. They came into existence between the 5th and 10th centuries AD, and although they bear little resemblance to Ajanta's murals, they are no less astounding.
The caves, 12 of them Buddhist, 17 Hindu and 5 Jain, sprawl over a large area. It takes the better part of day to cover all of them on foot. Amod accompanies me to two of the Buddhist caves, and saves the third, the Hindu Kailasa temple, as the pièce de résistance of the tour. A balmy breeze kicks up small dust devils as we trudge past a series of dormitory caves used by the resident monks, and approach the Kailasa temple, courtyard. The entrance appears to be a modest portal flanked by two large stone elephants.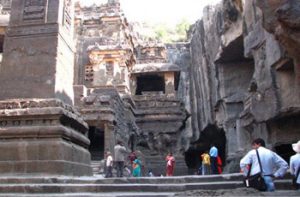 Amod watches me intently as we emerge onto the inner courtyard, and his face breaks into a huge grin, as my jaw literally drops. India's wealth of temple carvings, dazzling as they may be, are so ubiquitous that after a while, one tends to become blasé. However, I'd defy even the most jaded traveller to be unimpressed by the extraordinary grandeur of the Kailasa Temple.
Imagine, if you will, over 7000 labourers excavating over 200,000 tons of rock face, with nothing more than hand held tools, to carve from the top down, a monumental central edifice 100 feet high, flanked by 60-foot free-standing pillars and huge elephants. The entire complex is perfectly symmetrical, so the 8th century architect would have planned its layout down to the last mathematical detail even before a single hammer hit virgin rock. It is a feat of engineering unequalled in India before or since. Not surprisingly it took 150 years to complete.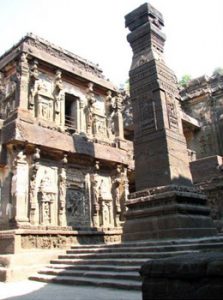 The Kailasa temple (right) is dedicated to the Hindu god Shiva whose abode in the high Himalayas is at Mount Kailash. Designed to resemble a chariot, the temple is in three parts: a dome-shaped sanctum enshrining a Shiva lingam (a phallus shaped stone symbolizing Shiva's power), the main temple which is a large pillared hall, surmounted by four rampant lions, and a secondary smaller temple just above the main entrance.
I shade my eyes against the sun and crane my neck to look at the outer walls soaring three floors above me. Larger than life sized statues of gods stand sentinel on each corner of the main temple; every inch of the lower section is banded horizontally with rows of bas-relief figures taken from the great Indian epics, the Mahabharata and Ramayana. No room for error here as stone-masons and sculptors would have chiselled into rock face working from the top of the temple downwards to plinth level. Corridors are hewn into the hillside and flank a pedestrian corridor at ground level, but as Amod and I approach the back of the temple, we are dwarfed by an enormous rock overhang. It is squared away but remains an unsupported part of the parent cliff, and I can't but feel a queasy sensation as I walk below it.
On our way out a little girl steps forward shyly and offers me a marigold flower. Her parents beam, and Amod takes a picture of me standing with the family. Behind us, sitting in the lotus position and tended by adoring elephants, is a large stone sculpture of Gajalakshmi, the goddess of wealth. She is a fitting symbol for the rich historic treasures of both Ajanta and Ellora.
If You Go:
Aurangabad Tours:
Aurangabad Private Tour: Ajanta And Ellora Caves Sightseeing Day Tour
Aurangabad Private 3-Day Tour with the Ajanta and Ellora Caves
Buddhist Caves of Ajanta Ellora
A Visit to the Fascinating Ellora Caves from Aurangabad
UNESCO's Ajanta And Ellora Caves – A Two Night Heritage Immersion From Aurangabad With Private Transfers
Aurangabad: Accessible by air from Mumbai (45 minutes) and Delhi (3-1/2 hours). The 7-hour journey on board the air-conditioned chair-car on the Tapovan Express from Mumbai costs $10 and arrives mid afternoon. Where to Stay: $75 – $120 price range: The Taj Residency, the Hotel Ambassador Ajanta and Quality Inn The Meadows offer the best in comfort and amenities, but aren't up to ultra luxurious standards.
Ajanta: Group, or individual tours to Ajanta (about 2 – 3 hours drive from Aurangabad) can be arranged at hotel travel desks, or through the India Tourism Development Corporation office in Aurangabad. Entry to Ajanta costs around $5. A private car and driver may be hired for the day at a cost of roughly $30. Private vehicles are not permitted beyond the Ajanta Tourist Complex; instead affordably priced "green" (natural gas) shuttle buses ply to and from the caves. There is a fair amount of climbing involved, but those unable to tackle several flights of steps may use the services of porters who carry people up in sedans. Negotiate rates ahead of time, and expect to pay around $12+ for four hours. Flash photography isn't permitted and shoes need to be removed before entering some caves. The caves are very crowded on weekends and school holidays, and closed on Mondays.
Ellora: The Ellora caves are only 30 km from Aurangabad, but if covering all the caves, which are rather spread out, visitors are advised to hire a car and driver for the day. Entry costs $5.00. Ellora is closed on Tuesdays.
About the author:
Margaret Deefholts is an author ("Haunting India") and an award-winning freelance travel writer and photographer. She is editor of Travel Writers' Tales and a member of Travel Media Association of Canada and the B.C. Association of Travel Writers. While much of her focus is on the Indian subcontinent, she also writes about her adventures in Britain, Europe, Australia, the U.S. and Canada.
Web Site: http://www.margaretdeefholts-journeys.com
Contact: margaret.journeys@gmail.com
Photo credits:
First Ellora caves photo by VgBingi from Pixabay
All  other photos are by Margaret Deefholts.