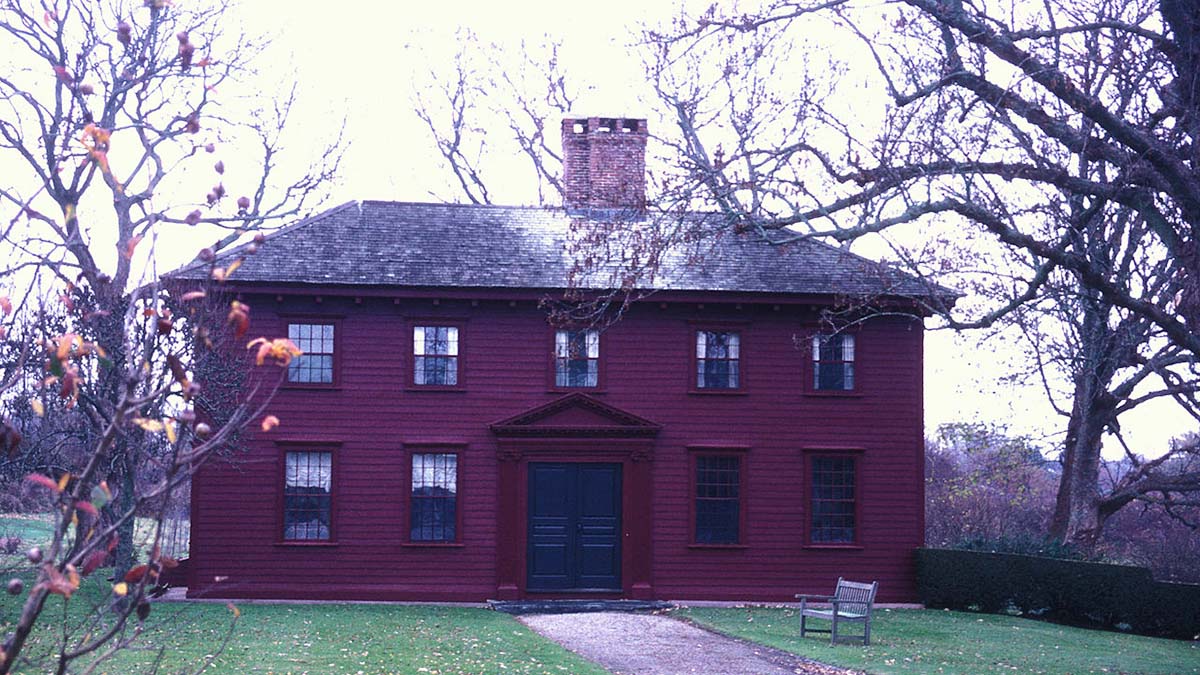 by Elisabeth Herschbach
To the casual passerby, it doesn't look like anything out of the ordinary: just a simple, wooden house on a quiet, tree-lined street in Middletown, Rhode Island. But from 1729 to 1731, the house at 311 Berkeley Avenue — a sturdy, rust-red farmhouse, two stories high — was the residence of one of the most prominent philosophers of the 18th century, the great Irish philosopher and Anglican clergyman George Berkeley.
Whitehall, as Berkeley called his Rhode Island home, was built from an existing structure on a plot of farmland a few miles from Newport. Berkeley himself oversaw the design, incorporating architectural details uncommon in New England at the time, including a hipped roof and double front door in Palladian style. After Berkeley's departure, Whitehall underwent various transformations, from tavern to teahouse to family farmstead. During the American Revolution, British officers headquartered in the house; by the 1890s, Whitehall was being used as a storage facility for hay, fast falling into disrepair until rescued by three historically minded Newport women. Since 1900, Whitehall has been maintained by the National Society of the Colonial Dames, whose members renovated the house, furnished it in 18th century style, and opened it as a museum dedicated to preserving Berkeley's legacy.
If a tree falls in Middletown, and nobody is there to hear it…
Born in 1685 in southeast Ireland and educated at Trinity College, Dublin, Berkeley was a wide-ranging thinker who wrote not only on philosophy, but also on mathematics, optics, economics, and even medicine. (During his own day, the most popular of Berkeley's works was a tract extolling the medicinal virtues of tar-water.) Today, Berkeley is most famous for his view that material objects exist only as perceptions or ideas in people's minds, a philosophical position known as "immaterialism" or "idealism."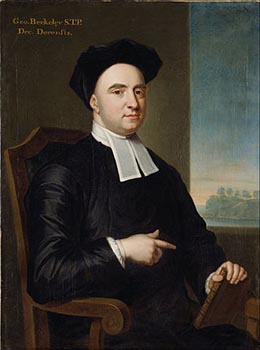 Counterintuitive as the view may be, it was endorsed by Berkeley as an answer to skeptical doubts about the possibility of knowledge. How do we know that the world actually resembles our ideas and perceptions of it? Worse yet, how do we know that the things we perceive really exist? (We are all familiar with hallucinations; can we be sure that all perception is not like that?) For Berkeley, the solution was to deny that matter exists independently of the mind. We can be sure that things in the world really are as they appear to us, he reasoned, only if material objects just are ideas in our minds. Hence Berkeley's famous slogan "to be is to be perceived."
So, to put a twist on the old riddle about the tree in the forest, if a tree falls and nobody is around to perceive it, does Berkeley's view entail that the tree itself doesn't exist? Fortunately, Berkeley had an explanation for why trees don't disappear when nobody is looking and tables and chairs don't pop out of existence every time we blink: God's always watching.
Off to Bermuda— via Rhode Island
By the time Berkeley set sail across the Atlantic in 1729, his reputation as a philosopher was long-established; his most important works had been written almost two decades earlier when he was in his 20s. What brought Berkeley to Rhode Island was not his philosophical theory of idealism, but idealism in the ordinary sense. Berkeley was on his way to Bermuda, where he hoped to found a college for English colonists and American Indians that would be "a fountain or reservoir of learning and religion" in the New World, as he explained in a proposal published in 1725. His proposal won the approval of King George I, and Berkeley was promised a grant of £20,000 to put his utopian scheme into practice.
Newly married, Berkeley arrived in Newport in January 1729, planning to use Rhode Island as a base while waiting for the promised funds to be disbursed. "I was never more agreeably surprised than at the first sight of the town and its harbour," he wrote a few months later to a friend in Dublin. The topography is "pleasantly laid out in hills and vales and rising grounds," he observed enthusiastically, and "hath plenty of excellent springs and fine rivulets, and many delightful landscapes of rocks and promontories and adjacent islands."
Details of these "delightful landscapes" made their way into Berkeley's Alciphron, or the Minute Philosopher, a work in philosophical theology written in dialogue form and composed during Berkeley's residence at Whitehall. The setting for the second dialogue, for example, is a hollow between two rocks overlooking a sandy beach, thought to refer to Hanging Rock, now part of Norman Bird Sanctuary, near Sachuest Beach, Middletown. Indeed, some still call the spot "Berkeley's Seat," in keeping with local legend that says that Berkeley penned much of Alciphron at Hanging Rock, a favorite haunt not far from Whitehall.
During Berkeley's time, Whitehall was situated on a 96-acre farm managed in large part by his wife, Anne, and intended as a source of provisions for the college in Bermuda. Unsurprisingly, Whitehall also became a center for lively philosophical discussions. The Redwood Library and Athenaeum in Newport, America's oldest lending library, traces its origins to a literary and philosophical society first formed under Berkeley's guidance.
A failed plan, but a lasting legacy
Berkeley spent almost three years in Middletown waiting for his Bermuda grant. Eventually, it became clear that the funds would not materialize, and Berkeley and his family returned to London in 1731, never having set foot in Bermuda. Unfortunately, the Berkeleys' infant daughter, Lucia, died a few days before their departure and was buried at Trinity Church in Queen Anne Square, Newport, a church where Berkeley himself had occasionally preached. Shortly after his return, Berkeley was appointed Bishop of Cloyne, Ireland, where he served for almost 20 years, until his death in 1753.
Although Berkeley never realized his dream of establishing a "fountain of learning" in Bermuda, his sojourn in Rhode Island did succeed in advancing the cause of education in the New World. Upon his departure, Berkeley donated his library and Whitehall estate to Yale University— a contribution Yale commemorated by naming both its Divinity School and one of its 12 residential colleges after the esteemed philosopher. King's College in New York, the precursor to Columbia University, was designed following a model recommended by Berkeley to its first president, Samuel Johnson, a frequent visitor to Whitehall. And Whitehall itself now functions not just as a museum but also as a research library stocked with scholarly literature on Berkeley and many early editions of his work.

Every summer, Berkeley's former home opens its doors to a number of scholars selected by the International Berkeley Society to be Scholars in Residence. In addition to pursuing their own research, the resident scholars give tours to visitors who wish to explore the museum, stroll through the adjoining18th century herb garden, and celebrate the legacy of a great philosopher who, for a short time, was also a great Rhode Islander.
If You Go:
Whitehall Museum House (311 Berkeley Avenue, Middletown, RI 02842) is open to visitors for guided tours in July and August (Tuesday through Sunday, 10:00 a.m. to 4:00 p.m.) and by appointment during the rest of the year. Admission is by donation.
For information, call (401) 846-3116, or email info@whitehallmuseumhouse.org.
George Berkeley in Internet Encyclopedia of Philosophy
18th-century Irish philosopher George Berkeley lived at Whitehall from 1729 to 1731.
About the author:
Elisabeth Herschbach lives in Maryland with her husband and son. She works as an editor, and in her spare time she likes to travel, write, and translate. Her translation of the novel Eroica by Kosmas Politis was awarded the Constantinides Memorial Translation Prize by the Modern Greek Studies Association in 2009.
Photo credits:
Whitehall by JERRYE & ROY KLOTZ MD / CC BY-SA
George Berkeley portrait by John Smibert / Public domain