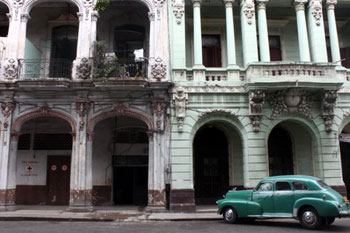 Havana, Cuba
by Rebecca Tompkins
Cuba smells of cigar smoke and guava. The rich, earthy smell of cigars assails you as soon as you step off the plane, as portly airport officials smoke Cuba's finest. The guava takes longer to place. It's juicy, pink flesh and tart taste accompanying almost every meal.
But Cuba also smells like history, like revolution, hardship and triumph. Its past, present and hope for the future is reflected in the booming voices and frequent laughter of its residents, who remain cheerful and appear genuinely happy despite the constant restrictions of ration books, rules and regulations.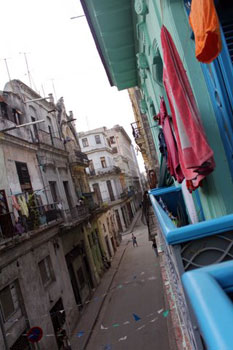 Arriving in Havana leaves even my cynical and spoiled travel mind agape. I am staying in Casco Viejo, Havana's old town, once home to rich sugar barons and real American gangsters. The elaborate mansions built by these once-residents of Havana remain. They are dilapidated, crumbling but nonetheless majestic, echoing their former glory, like grand old dames whose jewellery has lost its gemstones and once fine clothing has become threadbare and moth-eaten.
These regal remnants of a bygone era of wealth stand guard along Casco Viejo's many streets, but don't let their rundown appearance fool you, the decrepit buildings and ramshackle sidewalks of Havana are alive.
Washing hangs from every balcony, a multitude of coloured flags flying high above the street, and music and families pour out of every doorway. Women sit and gossip on the steps, calling out to one another and laughing heartily. Men sit playing checkers on the pavement corners, and children play baseball in the street, overcoming their lack of sporting equipment by using sticks as bats and bottle-tops as balls.
Now and again the baseball players part as a fifties-style American Dodge, Ford or Chevy car rattles past. These ageing automobiles are everywhere in Havana, their smooth running and excellent condition testament to the skill and ingenuity of Cuban mechanical engineering – unable to import any car parts from the US, Cubans fashion their own replacement pieces out of scrap metal.
I stay in the heart of old Havana, in one of those grand old buildings, a home owned by a large Cuban extended family. These government regulated homestays are known as 'Casas', and offer a room in the home of a Cuban family, and three meals a day if requested. For travelers on a budget, Casas are the cheapest way to accommodate yourself while in Cuba, but even if your budget allows you to stay in one of the many government owned hotels or all inclusive resorts, spending a few nights in a Casa is a must. Casas mean staying in the homes of ordinary Cuban people, giving you a glimpse into their lives and allowing you to appreciate their warm and unyielding spirit.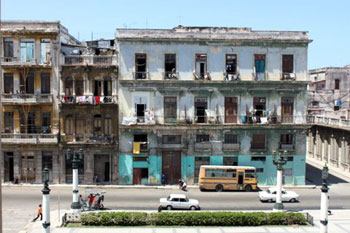 If your Spanish is up to it, or if you are lucky enough to find an English speaker somewhere along the way, it is fascinating to engage in conversation with a local, to get their take on their everyday life, their current political situation and Cuba's fascinating past.
Through my Casa experience I meet Roberto and Mariella, a smiling, effervescent couple who constantly attempt to engage in conversation with me despite my halting Spanish, who are exceedingly proud of the meals they produce for me, and who envelope me with hugs and kisses like a long lost relative when I leave. By chance, I also meet Eduardo, a 30-something, gold toothed Cuban who offers to help me back to our Casa when I become lost in Casco Viejo's rambling streets. Eduardo is the youngest of 13 children and still lives at home along with his father, most of his siblings and many of their spouses and children. His mama, he tells me sadly, making the sign of the cross and offering a quick prayer, has recently passed. Eduardo, his tongue loosened by some fine 30 year old Havana Club rum, also whispers furtively that he does not like the government, and that "everything is their fault".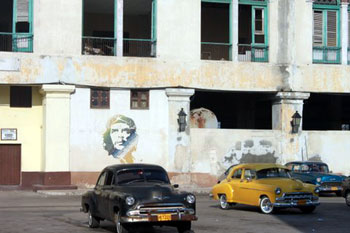 Undertones of the communist regime run throughout Havana. Some are obvious – the lines of people waiting outside the bakery to have their ration cards filled, the women approaching you on the street asking for soap or lip balm and the bare-as-a-baby's-bottom supermarket shelves. Others you have to delve a little deeper to find – the restrictions placed on television programming, internet usage and travel for Cuban citizens, and the complete absence of any form of advertising (a fact that you may not notice until you return to a capitalist country and are seemingly assaulted with advertising virtually everywhere you look).
Havana wears her heart on her sleeve. Her political situation, her music, her lively inhabitants, her colourful past, her vibrant present and her uncertain future. I cannot help but be absorbed by her.
I enjoy Cuba Libres and Mojitos in smoky jazz bars, I am amazed by the quick feet of the dancers in Havana's many salsa clubs. I delve into Cuba's fascinating history in the city's revolutionary museums, I eat churros by a roadside stall and watch the world go by, and I simply lose myself time and time again in the magical streets of Casco Viejo. Havana delights, confuses, fascinates, frustrates and captivates me. It is a truly unique and essential travel experience.
If You Go:
Be sure to stay in a 'Casa' rather than in a government owned hotel.
Make sure you take lots of cash with you as there are virtually no ATMs and very limited credit card facilities, and it's expensive due to the tourist currency.
Be sure to sample some of the 25 year old Havana Club rum and smoke a cuban cigar.
Public transport is limited. You will have to rely on taxis which don't come cheap. However, there are long haul buses between some cities. These can be booked through most up market hotels (even if you are not staying at them).
Places to visit other than Havana include Trinidad, Vinales, Santa Clara and Varadero.
Cuba Explorer has more travel information to Havana and beyond.
About the author:
Rebecca Tompkins is an environmental lawyer and part time writer. She is an avid traveler and most recently spent a year backpacking around the globe, visiting Peru, Bolivia, Cuba, Nicaragua, Guatemala, Costa Rica and Panama, among numerous other countries. She is particularly interested in developing countries and immersing herself in indigenous cultures.
All photos are by Jeremy Tompkins.