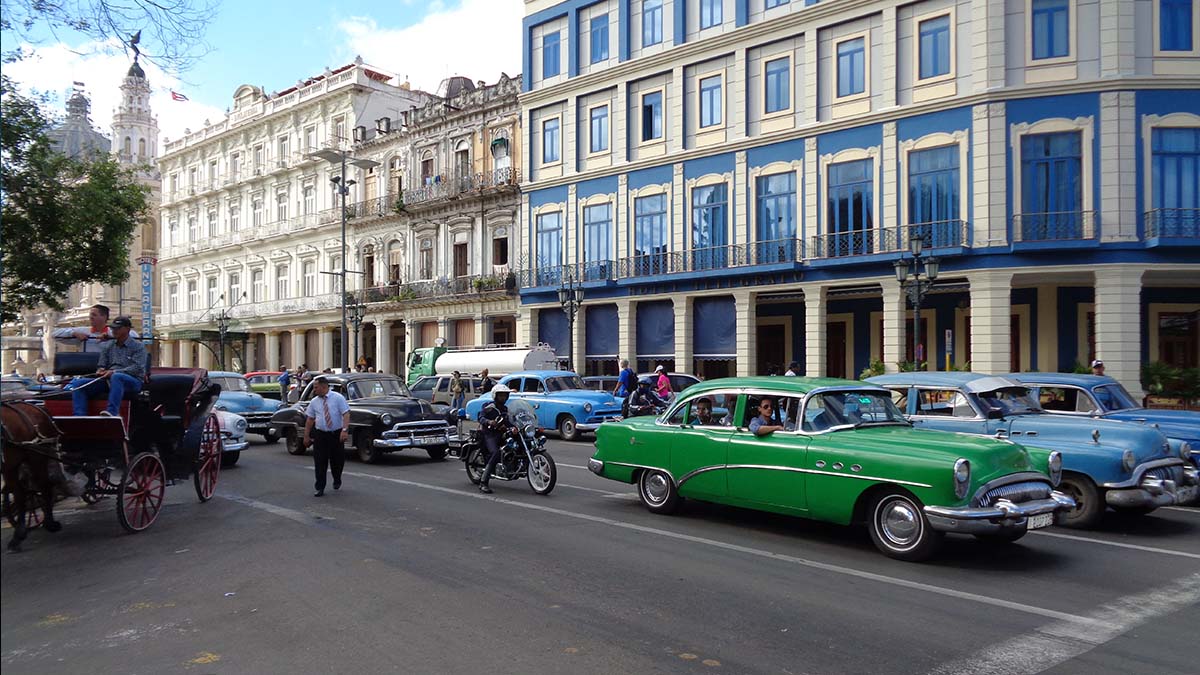 by Taylore Daniel 
Wandering between Hemingway's two favorite pubs and the hotel he lived in for seven years, it becomes clear that although he traveled extensively, he liked rambling within a small radius when he was in Havana. Both of his regular watering holes were within a five minute walk of his hotel.
Havana itself is a sprawling city of two and a half million or so. Within Havana is La Havana Vieja (Old Havana), a four square kilometer historic district where fabulous architecture, political monuments, broad boulevards, tree-shaded plazas, grand hotels, colonial houses and 1950s vintage cars rule, like Hemingway's 1955 Chrysler New Yorker convertible. Though in Old Havana, he would've had no use for a vehicle. His stomping grounds lay neatly within the parameters of Old Havana, and in fact, his main haunts were all within staggering distance of Calle Obispo.
Obispo itself is one of the liveliest streets in Havana. It's packed with new and used bookshops, hole-in-the-wall sandwich and pizza kiosks, sugared-churro carts, treed plazas, the smell of cigars and the sounds of Cuban Salsa bands erupting from the bars and restaurants. The first time Hemingway moved to Cuba, in 1932, he settled into Hotel Ambos Mundos, right on the corner of Obispo and Mercaderes.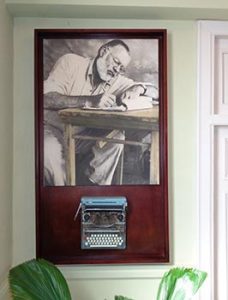 I decided to mimic Hemingway's daily route, beginning at his hotel, where he stuck to a strict daily discipline of writing from daybreak until noon or so, followed by, as he summed it up, "Mi mojito en La Bodeguita y mi daiquiri en El Floridita."
At Hotel Ambos Mundos, where he lived for seven years, I stepped inside a spacious L-shaped lobby. A bar with stools is surrounded by a piano, sofas and tables, and two whole walls are lined by windows. From the polished lobby, a caged elevator clanks up to the 5th floor of the hotel. Off the elevator, a large photo of Hemingway hangs above his black Corona 3 typewriter, a gift to him from his first wife in 1921.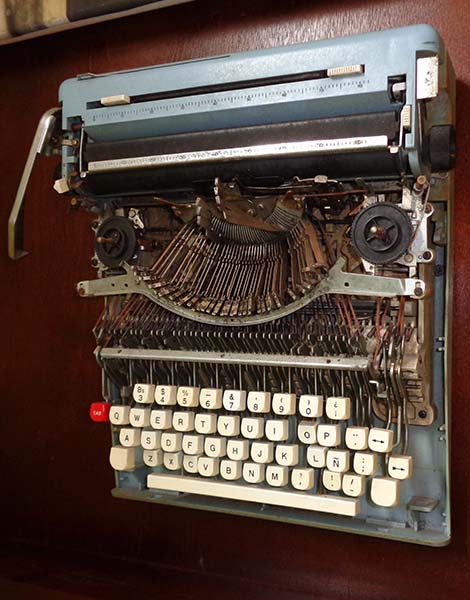 Hemingway's typewriter! Before computers, before cut-and-paste functions, before auto-correct and spell-check, before email and Word attachments, was the typewriter. Technology wise, it's like comparing fish larvae to a thrashing, 2,000 pound, adult marlin. There is something innocent and true about it. More than anything else that I saw of Hemingway's life in Cuba, his typewriter evoked a visceral sense of the man and his life here in Havana.
Down the hall is room #511, where he lived for seven years, and which is preserved as a museum. In it are a single bed, an entrance table just inside the door, and a desk drenched in sunlight that sits under a window overlooking the streets of Old Havana.
To imagine that he'd sat in this very room, barefoot, unspooling stories onto the page, letter by letter, hunched over the simple black typewriter, was moving. In this very room, on the very typewriter mounted on the wall outside, he began "For Whom The Bell Tolls" about the Spanish Civil War. To imagine this robust sportsman and adventurer sitting quietly, diligently pecking out his stories, conjures up the contrasts within this man. Though even in his writing, he had the spirit of a hunter, equating his old typewriter—with its demands for hard strikes upon each key—as his "Royal Machine Gun."
Just as Hemingway would leave his typewriter after a morning of writing to head into an afternoon and evening of drinking, it was now time to leave his hotel and check out his favorite watering holes.
Heading just two short blocks from the hotel is Calle Empedrado. Turn left and one block up is one of Hemingway's two favorite afternoon drinking establishments, La Bodeguita del Medio, which perfected Cuba's national drink, the mojito.
Before I could even see the sign for this bar, I was struck by a mass of people spilling in and out its doors, loud jazz coming from a band within. Inside, it was standing room only between packed tables and bar stools, the bartender lining up a row of mojitos, which Hemingway declared were the best in Havana. Having tried a mojito that tasted like nothing more than sugar-water in another (unnamed bar) before settling in at the Bodeguita, I can personally attest to the Bodeguita as having perfected this blend of rum, fresh-squeezed lime, sugar, soda, ice and a type of mint called yerba buena.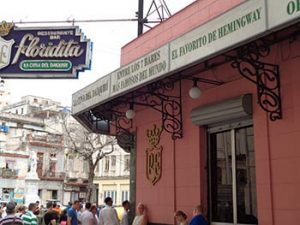 From La Bodeguita, it was a short jaunt back to Calle Obispo, then up seven blocks to Hemingway's other favorite watering hole, El Floridita Bar, just across from Museo de Bellas Artes. Here, they named a drink for Hemingway called "papa dobles," which consists of rum, freshly squeezed pink grapefruit juice and lime juice, maraschino liqueur and sugar syrup all shaken together with ice, then strained into a chilled martini glass. Hemingway clearly spent a lot of time here, evidenced by his having a drink named for him.
His heaviest drinking period, where he spent many a day at El Floridita, occurred when he was writing "The Old Man and the Sea," which won him the Pulitzer Prize for Fiction in 1953 and the Nobel Prize in Literature in 1954. Though at this time he was living twelve kilometers outside of Havana at his Finca Vigia, cajoled away from Old Havana by his third wife. He lived at the finca from 1939 until 1960, and entertained guests from Gary Cooper, Errol Flynn and Spencer Tracy, to Jean-Paul Sartre and Simone de Beauvoir.
His love of Old Havana, and of Cuba, was evident in the gift of his Nobel Prize medal to the Cuban people. Though Hemingway is now long gone, his energy and complex genius still thrum through the vibrant streets of La Havana Vieja, adding a poignant note of a life fully lived to this sensual Caribbean island. This lively Cuban bar in the heart of Old Havana was one of Hemingway's favorite haunts.
If You Go:
Money: Two currencies exist side by side, the Convertible peso and the regular Cuban peso. The convertible peso is considered "tourist money" and is worth considerably more than the non-convertible bills. Always check, if you pay with a convertible peso, that your change comes in convertible pesos. The word "convertible" will be written right on the bill.
Hotels and Casas Particulares: Book as early as you can. There are not a lot of accommodations available in Old Havana, and I'd highly recommend you book a place right in the old town. Just a street or two beyond it, the neighborhoods have narrow, often unlit roads, which are not recommended at night, and have been known to have problems with muggings even in the daytime.
Hop-On Hop-Off Bus: Highly recommend! For a mere 10 CUC (pronounced 'kook'), you'll be taken down Paseo de Marti, along the Malecon, over to the Plaza de la Revolucion, to the Copacabana nightclub, through Vedado and much more. A terrific, effortless way to get an overview of greater Havana.
About the author:
Taylore Daniel B.A. has traveled through thirty countries, and is a writer, artist and speaker. Her upcoming book is "Travel and Retire Abroad," and she will soon be re-releasing "Spain to Egypt: A Grand Tour Around the Cradle of Western Civilization." Visit her at www.tayloredaniel.com
All photos are by Taylore Daniel