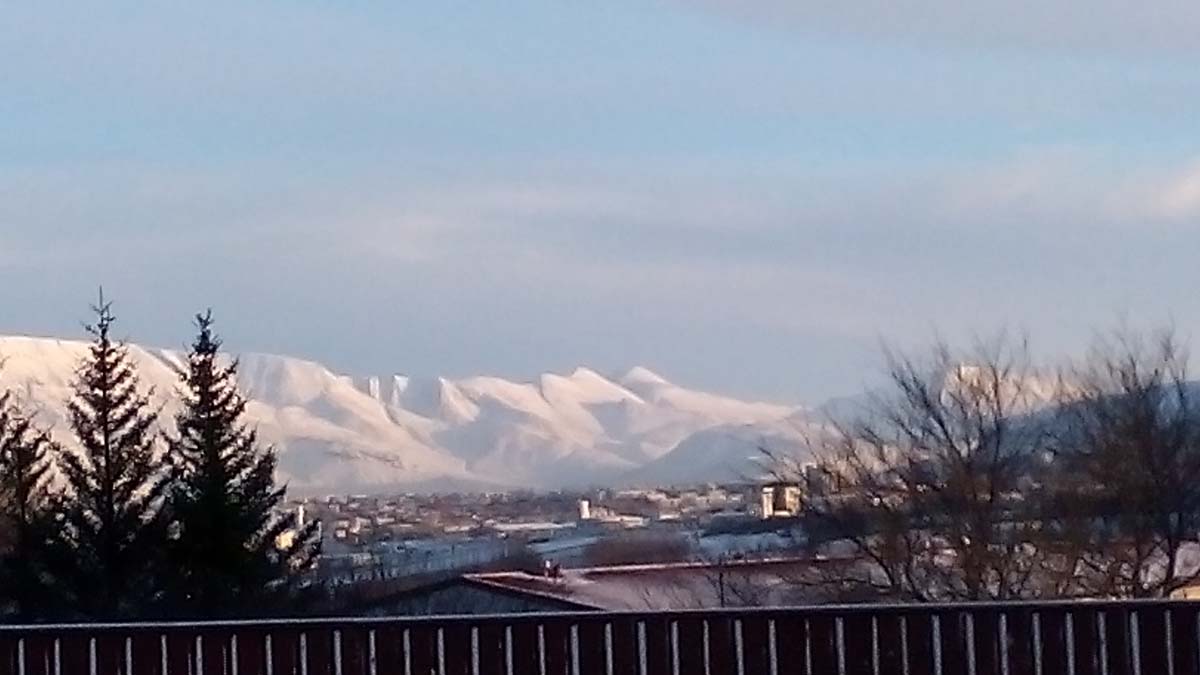 by Dr. Marc Latham
Iceland celebrates its centenary as a fully sovereign and independent state on December 1st, 2018, although it was in a union with Denmark until 1944. Before that, Iceland's men's football team will be the smallest population country to compete at a World Cup in the summer. Iceland is regularly near the top of global social performance league tables, such as equality and happiness. Its landscape has become a magnet for media natural locations, including Game of Thrones. Tourism has gone through the roof (of the world), with three times as many tourists a year as the 350,000 population.
While tourism is a boom for Iceland's economy, its media reported it's causing problems for its citizens, with so many Reykjavik flats being turned into tourist accommodation that it's pricing first-time buyers out of the market. Of course, Iceland's problems didn't start with tourism, and it is just a side-effect of a general success story; kind of like hitting the wall in a marathon.
In fact, a tourist office presenter said Iceland's tourism success started after a couple of internal disasters that shook the country to its core: in 2010 the Eyjafjallajökull volcano erupted, and the problems it caused to transatlantic flights received widespread media attention, drawing the world's gaze to Iceland's hazy natural beauty. That 'natural disaster' happened as Iceland was still recovering after the 2008 financial collapse, when its three biggest privately owned banks defaulted. However, their currency crashing helped tourism by making Iceland cheaper for tourists. It is still expensive if you 'live normally' there, but can be done cheaply, as I did.
Iceland has little arable land for growing anything, so tourism has become a precious lifeline for the country. Hopefully the popularity of wildlife tourism will outweigh meat tourism; so cetaceans, large fish and birdlife benefit from the influx of people. At the moment, puffins are in sharp decline. Climate change thawing the Arctic Circle may also increase movement through Iceland's currently isolated position near the top of the world.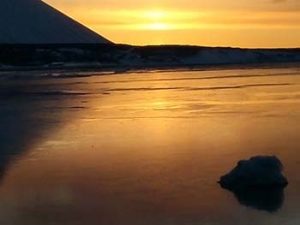 I found relative tranquility only an hour or two north of Reykjavik in Borgarnes. It was mid-January, when prices are also supposed to be cheaper than in the summer or winter peak seasons. However, I didn't go on any excursions, where the main saving can be made. I'd chosen Borgarnes because it looked to be central to the Northern Lights band forecast for that week. I didn't see them there, although I saw online they'd made it to near Vik, about 200 miles east of Reykjavik. Ironically, I think I saw the white ribbon type while strolling around the capital, first being alerted to a rainbow, which seemed to illuminate the aurora. The aurora happen any time of day, but are usually invisible to the naked eye while there is sunlight.
I was disappointed not to see the big Northern Lights show. However, it had snowed a lot the week before I arrived, and was snowing quite heavily when I flew in, so it looked as I'd imagined Iceland; although I'd seen enough media coverage to know it is often not covered in ice and snow. There were also mostly blue skies and colourful twilight times, and no travel disruption, so I considered myself mostly lucky. Reykjavik's mountain panoramas looked amazing: to the north, east and south. Arctic Sea inlets and islands, some with geothermal activity, completed the picture-postcard scenery in the west.
While planning my trip I'd thought about hiking from the airport to the nearby Blue Lagoon pool overnight, before deciding against it; that idea seemed crazy after I arrived, as freezing snow blew around Iceland's international airport in Keflavik, Reykjanesbar, making walking any kind of distance without special equipment look impossible. The bus journey to Reykjavik was like travelling through a winter wonderland. Keflavik housed an American military base during World War Two, with a plane from that era visible on the journey. The area also houses the Rock n' Roll museum.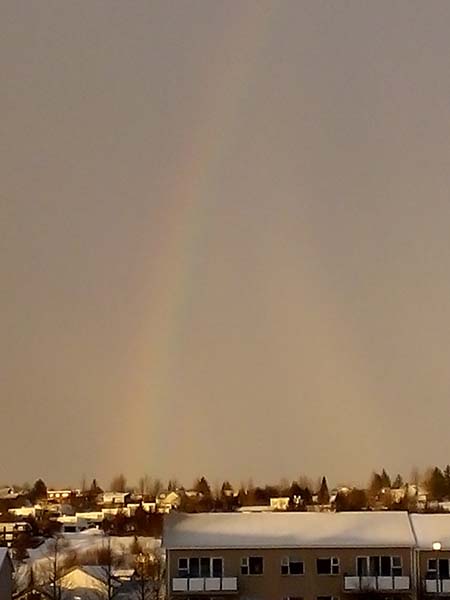 I had seen the northern panorama featuring an aurora before in the media and read the seafront was a viewing area, so walked there later in the day. After reaching Laugarnes park I walked past the interesting artifacts outside the Sigurjón Ólafsson Museum to a lighthouse facing Videy across the Videyjarsund inlet. I reached there about the sunset time of 16.30, but it didn't go fully dark for another couple of hours! I stayed out until about 21.30 before calling it a day/night.
The next morning I exited the hostel at about 11 and was delighted to see the clouds sunrise pink. After walking north the previous day I walked south, and ended up on a cycle path alongside the sea to the local airport, before heading north to the city centre. I found the small lake known as Tjornin (the Pond), which was mostly frozen, and looked particularly picturesque when crepuscular sunlight shone down in the distance, seemingly interacting with birds excitedly flying above a warm patch of water and human feeding.
I walked down to the seafront again, and was met by snow showers. After visiting a Bonus supermarket the other side of a small horseback-viking statue to buy lunch I walked inland through the centre, passing a house commemorating Torfhildur Şorsteinsdóttir (Hólm); considered Iceland's first female novelist, who lived in Canada for several years, and died a month before independence a century ago; and past the Loki cafe to the star of the Reykjavik skyline. Hallsgrimskirkja church has an impressive architectural design reminding me of Tromso's Arctic Cathedral, but on a much grander scale and complemented by a big viking statue 'guarding' its front; although it doesn't have a fjord in front and mountains behind! This mixing of Viking paganism and Christianity epitomises Iceland. I walked back to my hotel past The Perlan observatory, media and exhibition centre; a pretty colourful building providing impressive views of the capital area from a hilltop forested park.
I would have liked to go on the Golden Circle excursion on my last full day in Reykjavik before travelling to Borgarnes. Having already seen many waterfalls, although all are differently nice, the biggest attraction would have been visiting Pingvellir national park. Its rift valley housed what is thought to be the first parliament in the world. Starting in 930 AD, Iceland's leaders met for a fortnight each year in an open-air assembly called the Althing to make laws and settle disputes. It continued there until 1798, before moving to Reykjavik, where it is still sits. The park is also noted for being where the North American and Eurasian continental plates meet; causing Iceland's geological problems. It is possible to swim in the Silfra Fissure between the plates, which seems a novel thrill.
However, I thought I hadn't seen enough of Reykjavik, which was free, and I didn't have to get up early and spend an unknown time on a bus, so instead I walked a few miles out to the Mjodd bus station in bright blue sky, to recce where I was catching the bus the next day. Although I'd still like to visit Pingvellir, I was happy with my decision for a number of reasons: I saw the eastern panorama clearly, and the completely snow covered mountains were clouded over the next day; as I thought I may, I got a little lost on my practise trip, and found it straightaway the next morning with my rucksack on; I found a post office and supermarket at the Mjodd complex; and saw the rainbow and northern lights while returning.
Moreover, I got a little lost walking back too, and ended up in Kopavogur, seeing the mountain peaks of the southern panorama, as well as a nice church and fairy lights scene near the art museum. Iceland keeps its winter decorations up until the end of the Thorrablot celebration in mid-February! I later found out that Kopavogur is a hotbed for Huldufolk elves experiences/tales, so wondered if they'd somehow entranced me down there! If they did, it was a good experience anyway, as sunset turned the clouds pink after reaching a fjord inlet south of the one under below my hotel, and there was also hot geothermal water there too.
It's those little adventures and discoveries that make wandering around cities worthwhile, and especially if they are relatively expensive and safe like Reykjavik; remembering the ethos of the Beats in the 1950s, that the journey experience is what it is mostly about; enlightening movement. I had left ready for a day in the freezing temperatures; well wrapped up with layers of clothes, and knew pretty much where I was, with the western sea providing a compass point.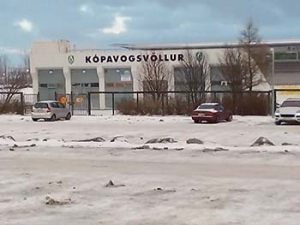 After returning from beautiful Borgarnes, on my last night in Iceland, I returned to Reykjavik's centre and saw my second football stadium at Hlidarenda, home of Valur; one of Iceland's oldest teams along with Fram (also Reykjavik); who finished fourth in the Iceland league last season. The first stadium I'd seen was the Kopavogsvoller, another gem found on my detour to Kopavogur; home of Breidablik, who finished sixth in the Iceland league last season. The stadiums only hold a few thousand people, making the Iceland men's national team's success all the more remarkable, although the international players play abroad. The women's team has always been quite successful, along with other teams in northern Europe.
After not eating or drinking in a restaurant or bar all week I celebrated the end of a relatively successful expedition; allowing myself a little Arctic-exploring-style romantic daydreaming; by spending my kroner coins on three pints of Gull at the Olsmidjan bar, which I'd noticed was remarkably cheap in the centre. Having missed the Friday and Saturday nights that I'd read were when Icelanders let their hair down and went wild I was pleasantly surprised how busy and bustling the centre was, seeing the stylish shops and bars lit up for the first time, creating a totally different atmosphere to the previous time in a daytime snow-shower. In the bar four locals looked as if they had been drinking all day, making me reminisce about similar Sunday evenings I'd experienced; not wanting the weekend to end or week begin; as I looked into the dark street past the candlelit table, not wanting my fairytale to end or reality begin.
If You Go:
I read Lonely Planet's Iceland guide
(2017) before going. Straeto run buses in Reykjavik and nationwide, both operating on the same system of paying for the distance you cover, with tickets buyable in many outlets, including the airport shop/cafe. The airport to Reykjavik, and Reykjavik to Borgarnes were both four sectors, payable by four tickets. The buses also take cards or cash, but don't give change. The airport bus leaves from the same place as the hotel and car hire courtesy buses, which are signposted.
Grayline and Reykjavik Excursions have desks at the airport with more regular buses to Reykjavik, and don't work out that much more, so are probably a good idea unless you have time for a pleasant adventure!
The excursions seem very good and hotels book them for you, so it's easy. The Straeto bus service isn't comprehensive, so it is difficult to go anywhere independently, especially in winter.
I stayed in the Capital Inn in Reykjavik, and HI Hostel in Borgarnes. The Capital Inn is on the left of the road into Reykjavik from the airport, so keep an eye out and you can get off on the next stop, if you risk the Straeto; which stops to change bus beforehand at Fjordur!
About the author:
Dr. Marc Latham travelled to all the populated continents during his twenties. He studied during his thirties, including a BA in History, and spent his forties creative writing. He lives in Leeds, now writing from the https://travel25years.wordpress.com/ website; having completed a decade-long fantasy fiction concept. The last of a trilogy of comedy fantasy travel by web maps and information had an X-Files theme, before the return of the series after a long hiatus. I also found out while researching this Iceland trip and article that my concept theme has an uncanny correlation with the recent musical output of Iceland's biggest superstar, Bjork; she started writing her Utopia album in her homeland's countryside when I was finishing my trilogy in Iceland. On my trip to Iceland, I think I experienced a little of Bjork's inspiration. My books are available on Amazon: http://www.amazon.com/author/marclatham
Photos by Marc Latham
Eastern panorama
Borgarnes sunset
Rainbow and Aurora
Kopavogsvoller Stadium